From "Wow, is it really that cheap?" to "I guess it's time to take out a second mortgage on the home" expensive, we run down the best hardware synthesizers on the market today.
It's an amazing time to be alive if you like synthesizers. A few decades ago, you'd be lucky if you had more than a handful to choose from. Now trying to come up with a list of just 10 has been quite the exercise. We're frankly spoiled for choice, with plenty of incredible instruments available for every price range and in all manner of synthesis packages.
Frustratingly, we had to draw the line somewhere, and so we did with keys. All of the synths featured here have some sort of built-in keyboard, whether that be proper blacks and whites or just rubber buttons. We've also excluded grooveboxes so while an onboard sequencer is OK, anything that you could seemingly use as a drum machine has been left out in the cold. (Sorry, Elektron.)
As always, products are listed in order of ascending price. Here we go.
Cre8audio West Pest
West Coast synthesis is experiencing something of an explosion of interest lately. Once relegated purely to hardcore Buchla enthusiasts (wait, is that statement redundant?), the other analog synthesis has become decidedly less esoteric as of late, with even Korg making the West Coast-style Volca Modular. Eurorack company cre8audio is doing its best to further spread the word with the West Pest, an extremely affordable (£219) monophonic semi-modular desktop module.

West Coast synthesis does things a little differently than East Coast (sorry, Marc Doty). Rather than a VCO/VCF/VCA signal path, the synthesis architecture designed by Don Buchla starts with an oscillator (here developed by Pittsburgh Modular) and then passes through a wave folder. Called Waveform Contour on the West Pest, this is a big component of the West Coast sound and can create all kinds of harmonically rich waveforms. After that, it goes through a unique Dynamics Controller AKA a lowpass gate, which acts like an envelope shaper and VCA. Add LFO, a patchbay with 20 points for expanded synthesis, a sequencer, and MIDI/CV connectivity.
The West Pest sounds incredible and will give you a taste of West Coast synthesis without freaking you out. It also plays well with the East Beast, cre8audio's companion East Coast synthesizer. If you've been wanting to get into West Coast synthesis but don't know where to start, this is your entry point.
PWM Malevolent
With a name like Malevolent, you already know what you're in for: evil tones. The debut instrument from new British company PWM (with help from Future Sound Systems), this semi-modular monosynth may be lacking in the kinds of advanced features that we've come to expect in the 21st century but it's certainly not lacking in character. Like the monster analogs of yesteryear, Malevolent has it where it counts.

The signal path is classic analog monsynth: two VCOs with saw, triangle and pulse, a multimode Sallen-Key two-pole filter with low, band, and highpass modes, and two envelopes. So far so what, but the key to the sound of the Malevolent lies in all of the sound-shaping options, like oscillator shape control, two knobs for FM, overdrive on the VCA, frequency modulation inputs on the oscillator and filter, and much, much more. It all adds up to a beefy and muscular sound that's saturated in analog goodness.
At £439, Malevolent will give you boutique power without the artisanal price. Throw in all of the semi-modular patch points and connectivity for Eurorack and a sequencer, and you've got a must-have instrument.
Arturia MiniFreak
Arturia's original MicroFreak was a surprise: a funky little synth with a capacitive touchplate keyboard, it's unabashedly digital and raw. The French company's new MiniFreak is just as much of a surprise, this time because they've taken the same digital engine and turned out a versatile instrument (with real keys!) that can be rough like its sibling but also sweetly beautiful.

The key to its versatility lies not just in the digital oscillator – which, like the original, has 22 different engines including some from Mutable Instruments and Noise Engineering – but in the fact that there are two of them and thus the possible combinations. You can also process one oscillator through the other, resulting in some unique timbres and tones. The analog SEM filter is the same, although this time it's true polyphonic, with one for each of the six voices. (The MiniFreak can also do 12-voice paraphonic.) A slew of effects (10 to be precise) serves to transform the sound even further.
There's more, of course, much more than we have space here to list, but suffice it to say that the MiniFreak is a triumph and a joy to play and program. It also feels like a true, modern synth, one that isn't trying to recreate the past but instead forge a path to the future. At £529, it's worth every penny.
Modal Electronics Cobalt8
Founded less than 10 years ago, the UK's Modal Electronics has quickly made a name for itself with a string of solid instruments that lean towards the digital side of synthesis. The company has recently updated its Cobalt8, a virtual analog synth released in 2020, with version two firmware and the improvements have taken an already excellent instrument and made it legendary.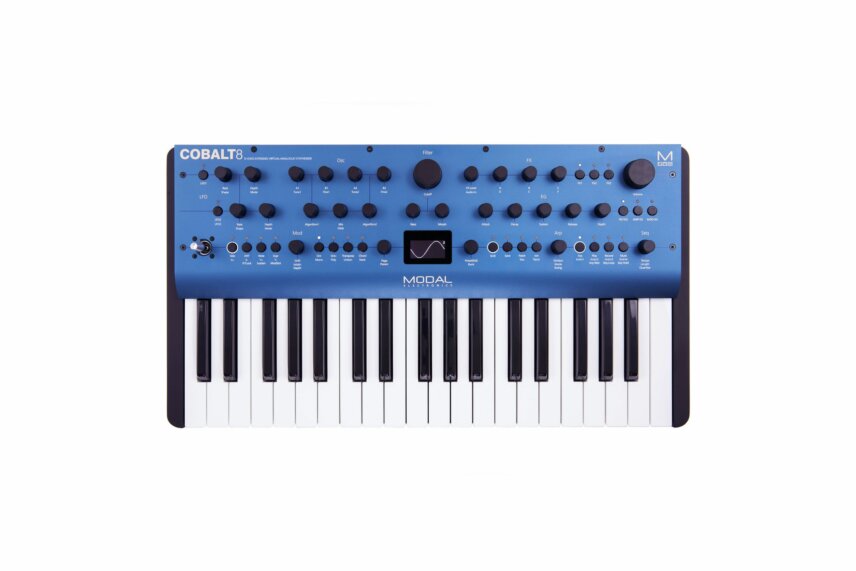 Why buy virtual analog in 2022 when there are so many great-sounding actual analog synthesizers available? Honestly, because virtual analog can do things that regular analog can't – and so much more of it. Take the Cobalt8 for example. This eight-voice, MPE-compatible synth has 64 oscillators (that's eight per voice for those who slept during math class) with more than 40 different oscillator algorithms, from the usual square and sawtooth to more out-there fare. The recent firmware upgrade has pushed the filter type count past 30. There are also three envelopes, three audio-rate LFOs, a sequencer, an arpeggiator, and 26 effects. The update has also added a Vintage Parameter for emulating the behavior of vintage synths.
Cobalt8 sounds lush and huge with a wide variety of sound possibilities. It's also extremely affordable at £574. Level up to the Cobalt8X to lengthen the keybed from three to five octaves.
Korg Modwave
Although analog tends to hog all the attention, we're well and truly in the middle of a digital synthesis renaissance with no signs of slowing down. Korg's Modwave is one such instrument and part of a trio of digital synths which also includes the Wavestate and Opsix.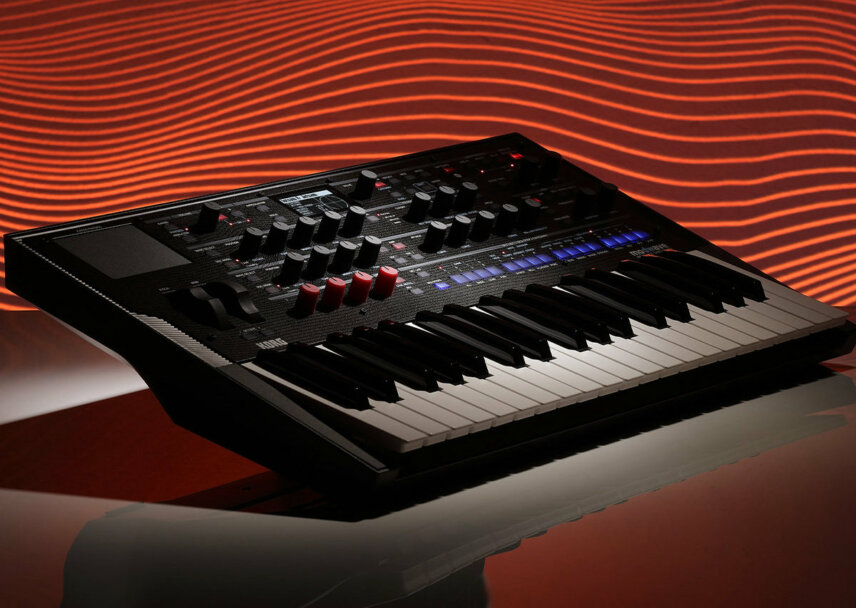 The Modwave is a surprisingly deep, 32-voice wavetable synthesizer. The instrument comes loaded with 200 wavetables, each with up to 64 waveforms. You can then modify and morph these in a number of different ways. You can also blend wavetables and even load in your own. Each of the two oscillators can hold two wavetables, meaning you can layer up to four at time. These then pass through the filter, which like the wavetable section is complex and varied, with MS-20, Polysix, and other emulations included. There are plenty of modulation options as well, including four envelopes, five LFOs, and even a Kaoss Physics touchpad.
As you've probably guessed, the Modwave is something of a synthesis powerhouse and one for those who like to program their own patches. The £585 price tag shouldn't turn too many off.
Moog Grandmother
One of our favorite recent analog synths is Moog's Grandmother, a monosynth that owes more to the company's modular history than the Minimoog. Semi-modular, the synth has lots of synthesis capabilities that can only be accessed by patching and that makes it something of a puzzle box, revealing more functionality the more you play it.

Start with the dual Moog oscillators, each with sawtooth, triangle, and two pulse waves. There's just something about Moog oscillators. They have a profound power that you don't hear in other analogs. The Moog Ladder filter is also gorgeous, chewy and creamy. At the end of the signal, there's even a spring reverb tank, which adds a delicious sense of atmosphere to the signal.
What makes Grandmother so much fun to play with though are all the patch points. Just having a mult and attenuator opens up so many options. It's extremely intuitive as well. Engage the arpeggiator or sequencer, grab some cables, start patching and see what happens.
Moogs can be expensive. If £988 is too rich for your blood, try the Moog MAVIS, the company's entry-level kit synth.
ASM Hydrasynth Keyboard
Ashun Sound System's website boldly declares, "Digital is the new analog." Before playing with the company's Hydrasynth, we might have dismissed that claim as marketing hyperbole but once we heard what it was capable of, we had to agree. Digital can often be cold but, like analog, the ASM Hydrasynth really does sound alive.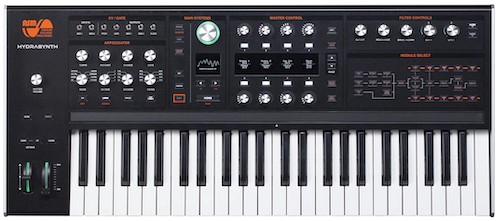 Hydrasynth is, at its heart, a wavetable synthesizer. Each of the three oscillators can run one of 219 single-cycle waveforms. These can then be placed in any order you like, a process ASM calls wavelisting. You can then alter the wavetables with Mutators like FM, sync, pulse width, and others. There are two filters that you can run in series or in parallel, with the first having 16 different models to choose from. There are also LFOs (five of them), envelopes (another five), an arpeggiator, and much more.
We're recommending the Keyboard model as it offers the best combination of ease of use and price (£990). Players may wish to splurge on the large Deluxe while those just after the sound could probably get by with the Explorer or Desktop, although at the cost of some physical controls. No matter how you slice it, though, the Hydrasynth is an excellent machine.
Roland Juno-X
Roland's Juno-106 is a bonafide classic. Buying a vintage 106, though, is a bonafide pain in the ass, with failing parts and rising prices making it almost more trouble than it's worth. Roland famously refuse to chase ghosts but they will take inspiration from their past and update it for the present. That brings us to the Juno-X, a modern, digital synth with not one but three Juno synths inside, plus a whole lot more.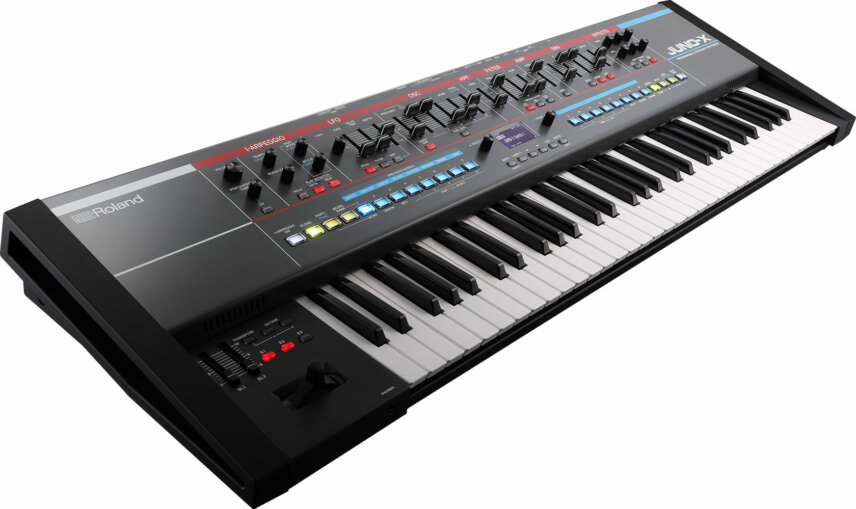 Primarily a virtual analog synth (although not strictly), the Juno-X uses Roland's ZEN-Core synthesis engine to create emulations of the Juno-106 and its older brother, the Juno-60. It also contains a new engine, called Juno-X, which takes inspiration from classic rave and dance music. Think hoovers and lush 808 State-style pads. It's also got an entire XV-5080 inside, itself a super module with loads of dance sounds from the old JV-1080 and JV-2080 boxes. In short, it's a rave in a keyboard.
We love the Juno-X and find that the Juno-look-alike form factor makes sound programming a breeze. The price is a little higher than we'd like at £1769 but you do get a lot of instrument for the deal. If you make dance music and only plan to buy one synth, this is the one to get.
Sequential Prophet-5
Sequential Circuits' Prophet-5 is the stuff of legend. Designed by Dave Smith and released in 1978, the five-voice poly had digitally programmable patch memory (a first!), sounded amazing, and looked sexy as hell, something of a first for an instrument that was usually played by bearded guys in capes. Fast forward to the 21st century and Dave Smith's company has been shortened to just Sequential and the Prophet-5 has been re-released, now with all three original revisions plus a new number four all in one still very sexy synth.


The new Prophet-5 features two Curtis chip analog VCOs and one-per-voice Curtis filters as in the original, along with new 2140 low-pass filters designed by Dave Rossum of E-mu to replace his original Rev 1 and 2 2040 filters. A switch lets you choose between filter designs. To take it even further, twist the Vintage knob to go from the very stable and modern Rev 4 back to the wild and woolly Rev 1. The rest of the signal path is as you'd expect, with Unison mode and characteristic Poly Mod section present and accounted for. Velocity and aftertouch are welcome new additions.
The Prophet-5 isn't cheap, with prices hovering around £3100. It was a premium instrument in the '70s and remains one today. However, for the dedicated synthesizer player and programmer, owning a Prophet-5 is like being part of history.
Oberheim OB-X8
Dave Smith: I think I'll remake my classic synth and include all the versions.
Tom Oberheim: Hold my beer.
If the new Prophet-5 is the Cadillac of synths, that makes Oberheim's OB-X8 the Rolls Royce of synths. A super Oberheim of sorts, it's got the three big Obie polys – the OB-X, OB-XA, and OB-8 – all rolled into one eight-voice machine. And yes, it sounds like classic Oberheim: massive, gooey analog power.

It's not the most complex signal path, with two VCOs with saw and pulse per voice, discrete SEM-series filters, dedicated filter and volume envelopes, a single LFO, unison mode, and that's about it. But you don't judge a car by the number of controls on its dashboard, you judge it by how it drives, and boy, does the OB-X8 ever cruise down the road… er, sound amazing.
To be fair, the OB-X8 also boasts an arpeggiator, a bi-timbral mode, and programmable per-voice panorama for ultra-wide sounds, but honestly, you pay the big bucks for the big sound. The price tag of £4899 is indeed big bucks, but thankfully the OB-X8 also has the big sound you want… nay, need.
FOLLOW ATTACK MAGAZINE
*Attack Magazine is supported by its audience. When you purchase through links on our site, we may earn an affiliate commission. Learn more.