Replace your current set of monitors or grab a second pair for mixing from this list of studio speakers that won't make your wallet cry. In a cost of living crisis it pays to know the best bang for your buck.
There's a tendency among producers to focus on the things that make noise: synthesizers (both hard and soft), drum machines, and fancy effects plugins and outboard gear. None of that matters, however, if you don't have a solid pair of studio monitors to hear all that great noise. (Don't forget about monitor placement and acoustic treatment as well.) In recent years, the price of monitors has really come down, and that gets even better when you decide to buy used. Whether you're looking for your first set of monitors, some replacements, or even a second pair for mixing or mastering, there's something for everyone on this list of the best monitors on Reverb under $1,000.
Note that all monitors featured here are used and come as a pair. As always, items are listed in order of ascending price.
Pioneer DJ DM-40D Active Studio Monitors
Not every monitor purchase has to be the best that you can afford. There's plenty to be said for having a cheerfully cheap pair of speakers in your studio to check your mix. After all, most of your listeners won't be enjoying your music on an audiophile-grade system. Knowing how a tune will sound on a variety of speakers is key to a good mix.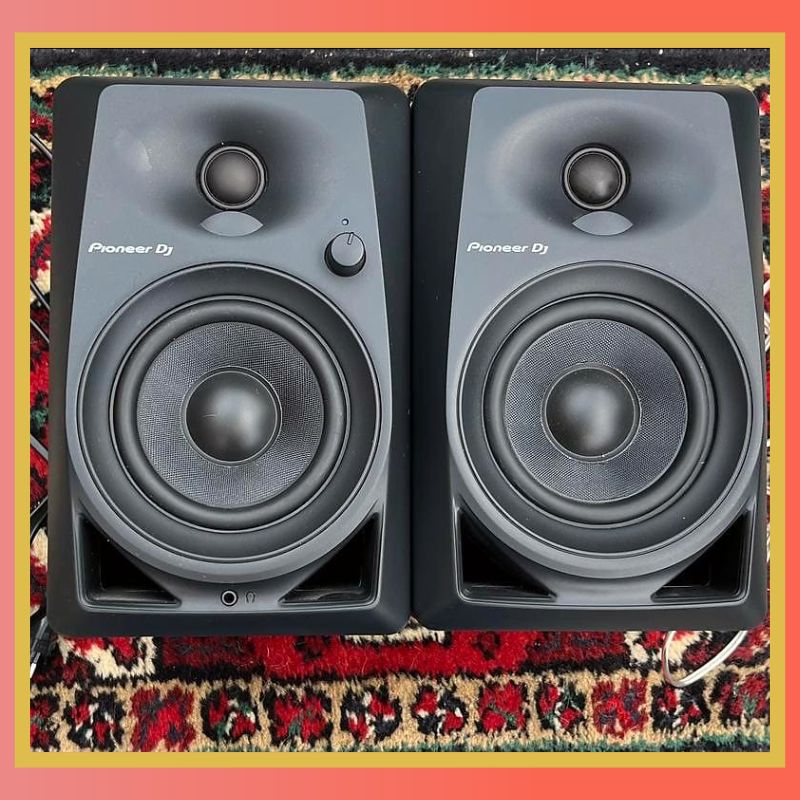 Pioneer DJ's low-cost DM-40D active monitors are versatile as well as affordable. Aimed at DJs and producers, they have a switch to go from DJ mode to Production, with the latter presumably flatter than the DJ option. They have four-inch woofers (hence the 4 in the name) and 3/4-inch tweeters.
You don't get studio gear this cheap without cutting a few corners, and the DM-40Ds are no exception. Only one speaker of the pair is active, with the passive getting juice through a standard speaker cable. Inputs are also limited, with an RCA pair and minijack for ins, and minijack and headphone outs.
The listing claims the speakers are in excellent condition and it's backed up with a 14-day return policy. Take them home for $133.
PreSonus Eris E4.5 Active Monitors
Everybody has to start somewhere. For those just getting started and on a tight budget, even a pair of KRK Rokits could be out of reach. If this is you (and no shame if it is!) this pair of PreSonus Eris E4.5 active monitors is up for grabs.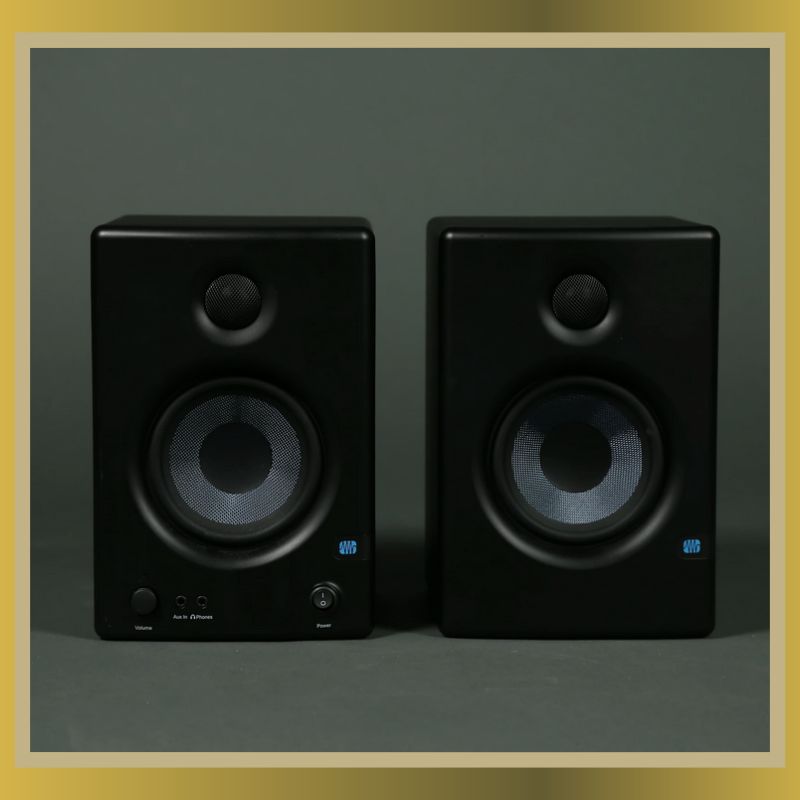 As with the Pioneer DJ DM-40Ds above, Eris E4.5s are active but only one unit has the amplifier. The second is passive and requires a speaker cable to make the connection. However, they have solid connectivity options for monitors at this price point, including RCA, minijack, and 1/4-inch in and a headphone out. It also has high and low EQ adjustment knobs. Nice for something at this price.
PreSonus pitches the speakers as an all-in-one playback solution, with music production just one of many suggested listening activities (gaming, content creation and general listening are also mentioned). Given that, you shouldn't expect the flattest response – it has to sound good in a number of situations – but it's competitive for the price and miles better than computer speakers.
The units in the listing are mint ("Excellent condition! No noticeable blemishes on the monitors") and are going for $139.95.
JBL 6208 Bi-amplified Active Studio Monitors
With a few exceptions (see the Yamaha monitors below), producers tend to generally not go for older monitors. You may want to make an exception for these though.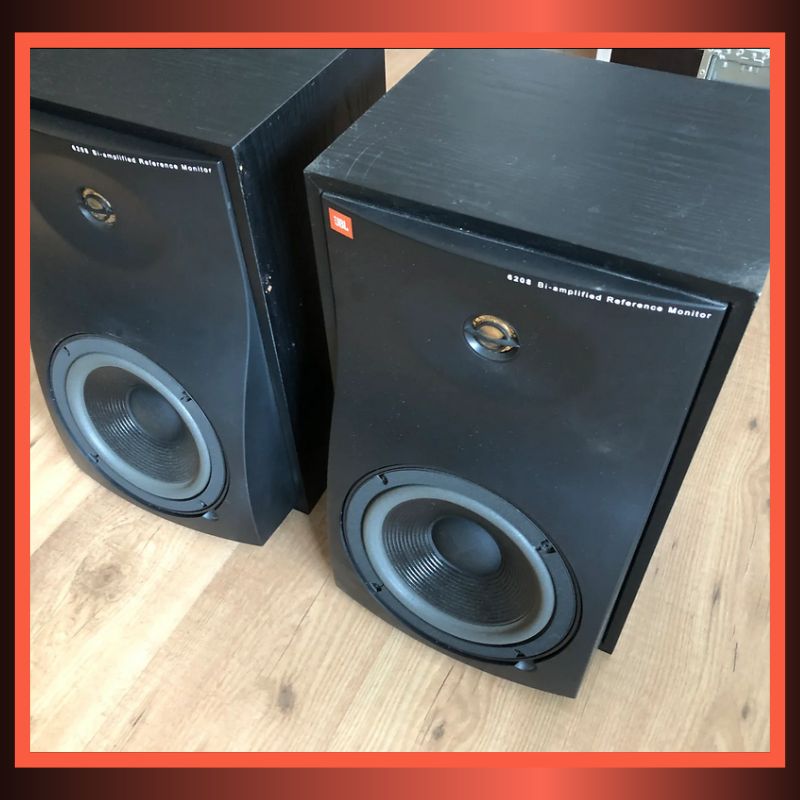 This listing from Belgian vintage gear store Turnlab for a pair of JBL 6208 bi-amplified active studio monitors is one you may want to consider if you're looking for something with a little more power. With a peak loudness of 300W, they can get loud. They have a frequency response of 60Hz‑20kHz as well.
The speakers in the listing are quoted as very good, come with a warranty from the store, and include the original foam grills. They're currently on sale for $204 with a significant price drop from the original listing.
KRK RP5 Rokit G4 Active Studio Monitors
If you're on Attack reading this then you likely already know what Rokits are. But if you found your way here through some SEO magic and have never seen the famous yellow Kevlar speakers before, then here's a quick recap: KRK make affordable monitors that are extremely popular with electronic music producers. They're up to the fourth generation of speakers, and that's what we've got here: a pair of RP5 Rokit G4s.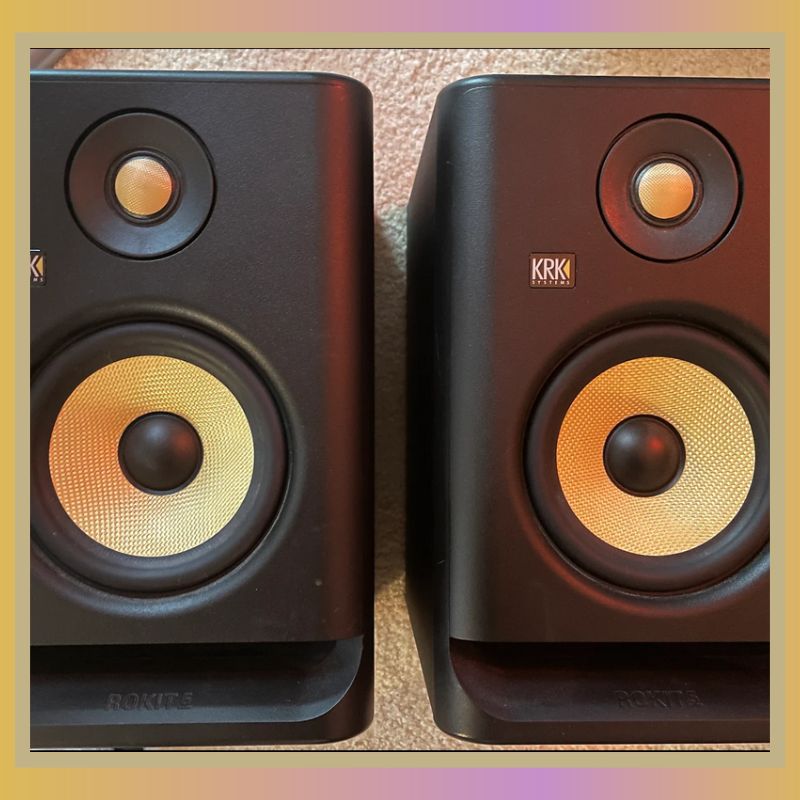 These five-inch nearfield monitors have a frequency response of 43Hz to 40KHz and a maximum SPL of 104dB, meaning they're loud (and bassy) enough for what you need. The fourth generation has an improved Class D amplifier, new enclosure and an onboard EQ with visual LCD for fine-tuning the speakers for your room.
These are listed as in excellent condition and even still have the protective plastic film on the LCD screen. You don't often see G4 speakers so cheap but this pair is only $250.
Adam Audio T5V Powered Studio Monitors
A recent trend has seen high-end monitor manufacturers taking the technology from the tops of their lines and working them into affordable speakers. Adam Audio's T5V speaker is one of the latest to get this treatment.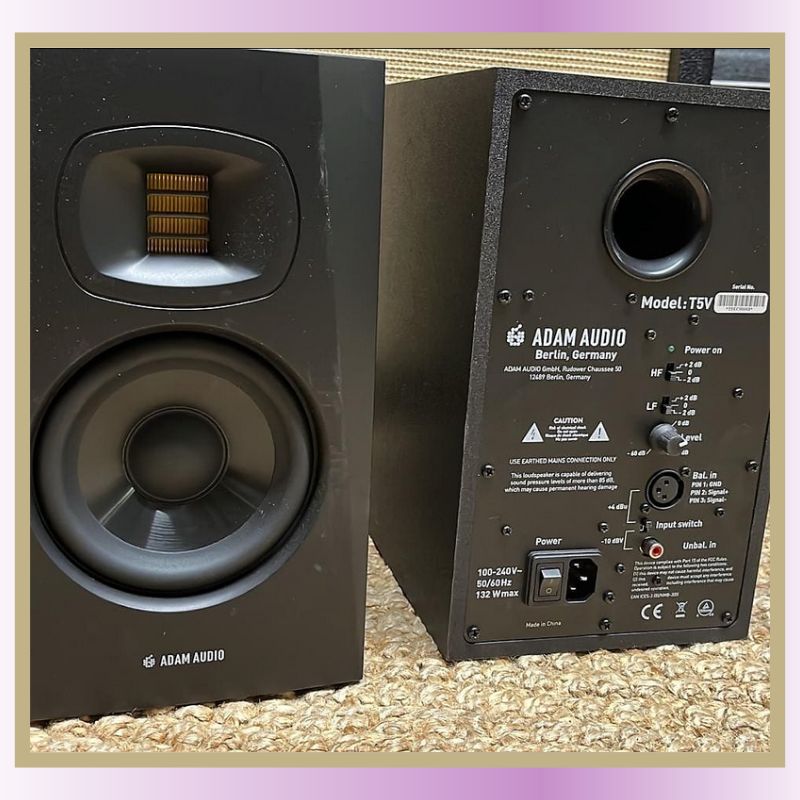 The big selling point is the tweeter. Called U-ART, the 1.9-inch tweeter is based on designs from the X-ART and S-ART tweeters in the AX Series and flagship S Series speakers. Together with the HPS Waveguide, they feature a wide sweet spot that is less dependent on a single listening point. The tweeter is paired with a five-inch woofer and rear-firing bass port. The result is a detailed and flat response that suits mixing and mastering needs.
The speakers are listed as very good and include a set of stands. A credit card and $262 and they're yours.
Equator Audio D5 Coaxial Active Studio Monitors
As with the Adam Audio monitors on this list, Equator's D5 speakers feature tech from their much more expensive speakers but at a budget-friendly price. What makes these a little different from most monitors though is the coaxial design. Yes, the tweeter is housed in the center of the 5.25-inch woofer.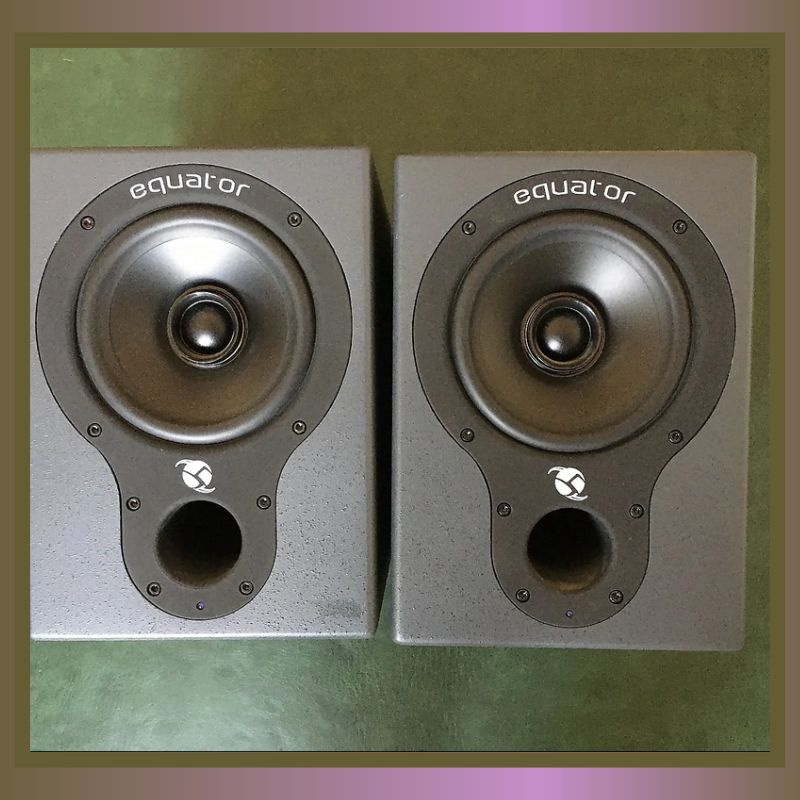 Where the D5s shine is in clarity. They're praised for having a clean and precise mid-range, with strong stereo imaging as well. They'll honestly reproduce your audio, highlighting every flaw without flattery – necessary for a proper mix down.
The set on offer is listed as excellent, with the seller claiming they're in "immaculate condition." Includes a set of power cables for $297.
Kali Audio LP-6 Studio Monitors
While many may debate KRK vs. Adam, if you're not considering American manufacturer Kali Audio's debut LP-6, you're missing out. Designed to be as accurate as possible, these speakers sound much more expensive than they really are, making them a serious contender for placement atop the speaker stands in your studio.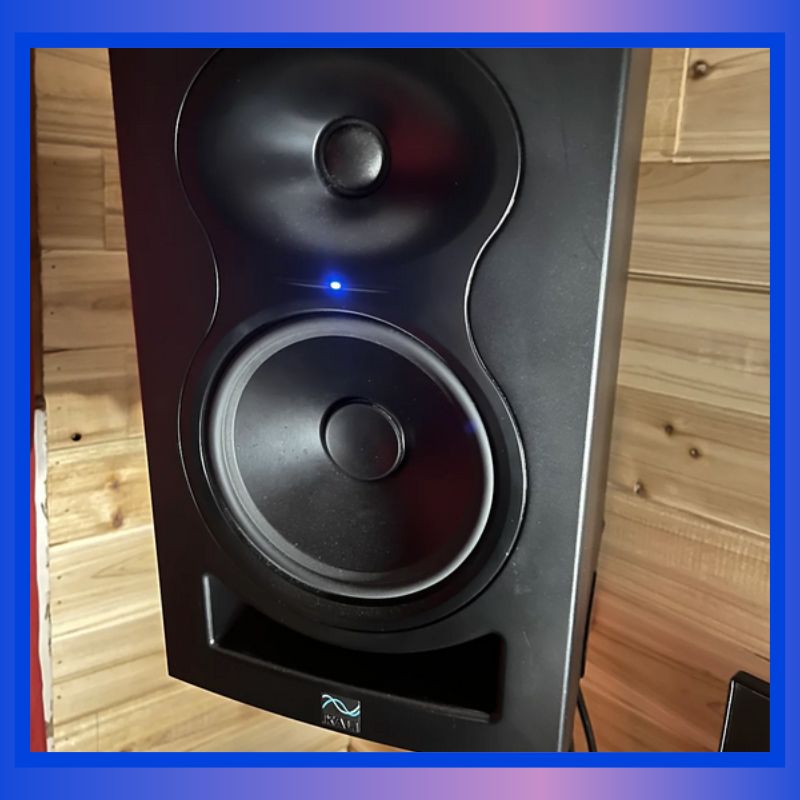 With a 6.5-inch woofer and a one-inch tweeter, they feature 85dB of output at two meters. This is enhanced with a 3-D Imaging Waveguide around the tweeter for a wide and deep stereo image. The big selling point is the flat response though, and this is the reason to buy. Bonus points for the dip switches around the back for settings depending on your studio setup.
The set in the listing is in excellent condition, with the seller helpfully adding, "These are amazing for recording and listening to your mixes." You can do just that for $300.
Yamaha NS-10M Studio Monitors
You've certainly seen them before, these black hi-fi speakers with white woofers. But what are hi-fi speakers doing in a studio monitor roundup? The story goes that mixing legend Bob Clearmountain wanted a pair of the worst-sounding speakers he could find, and with their brutal boost in the mid-range, the original NS-10s qualified. If you could make a mix sound good on them, your song would sound good anywhere.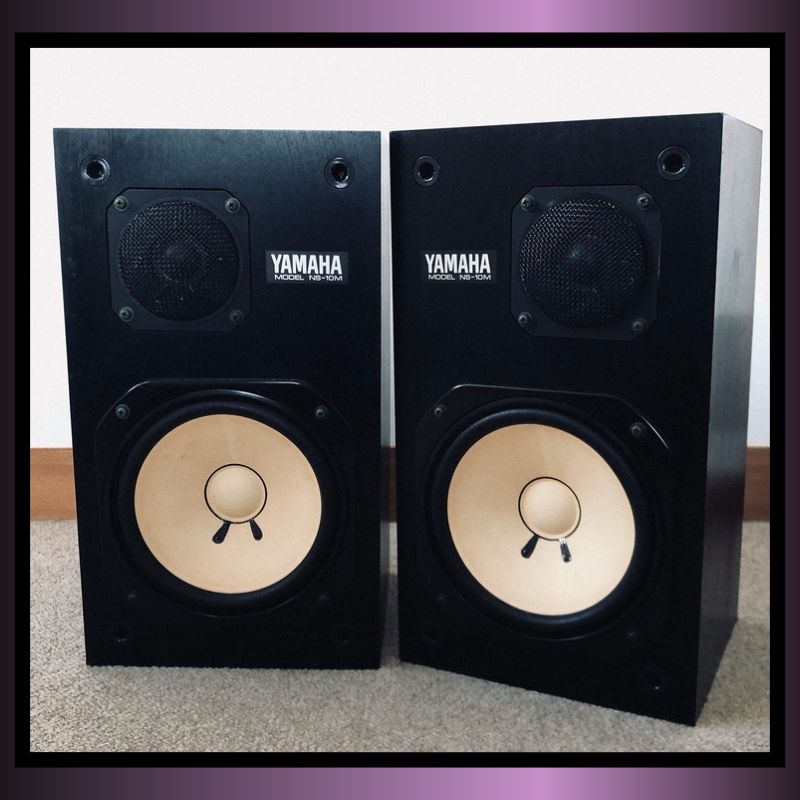 Yamaha soon realized that mixing engineers were buying their speakers so they made a few tweaks, oriented it sideways, and called it the NS-10M. That's what we're looking at here. This is a vintage pair from Japan from the 1970s and they're in very good condition. As these are hi-fi speakers, they're passive, meaning you'll have to pair them with an amplifier.
Yes, they're supposed to sound bad but some people can't even get on with them as a way to double-check mixes. They're an acquired taste so before you splash out the $420 plus shipping from Japan, make sure that they're what you want.
Genelec 8030A Powered Nearfield Studio Monitors
These days, tiny speakers are much more common than in the past. Thanks to advances in DSP and general monitor technology, companies are able to get better and better sound out of smaller and smaller packages. Genelec have been at this game for a while though, and their 8030A compact studio monitors, in production from 2005 to 2013, are what is on offer here.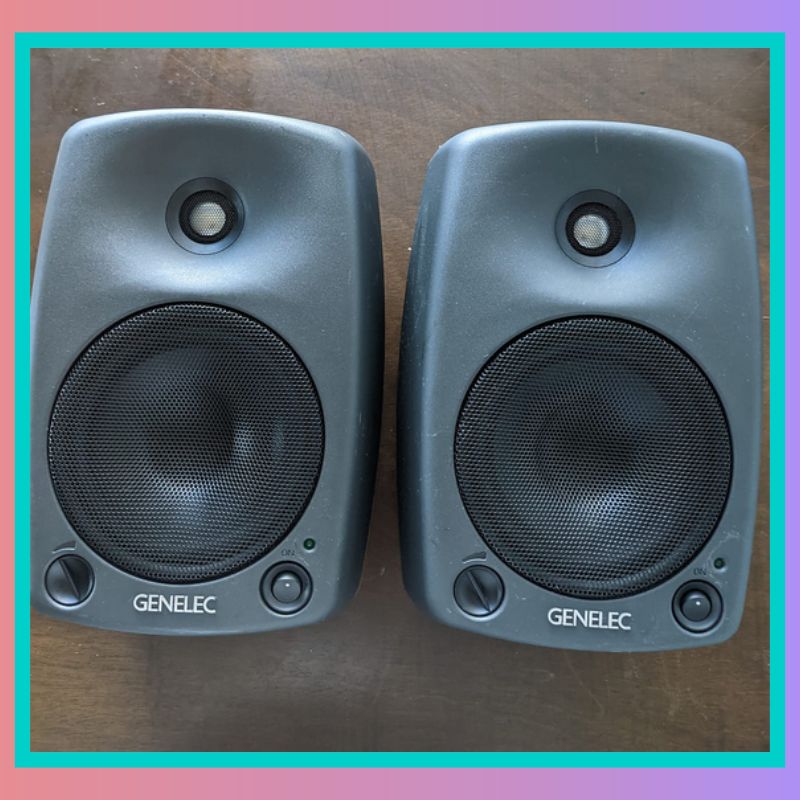 The 8030As are often praised for their lovely stereo imaging. The sound is clean and clear although perhaps a little bright in the highs and light in the bass, with low-end response stopping at 58Hz. If you need anything lower than that, you're going to need to consider a subwoofer as well. For the size, though, you'll be surprised at how good they sound.
The units in this listing are very good with only a few scuffs and come with a set of branded hanging wall mounts. The current price of around $855 comes after a significant price drop.
Neumann KH 120 A Active Nearfield Studio Monitors
Neumann are better known for their microphones but they also make studio monitors. This makes sense when you consider that it's actually longtime monitor brand Klein + Hummel handling the design under the Neumann badge.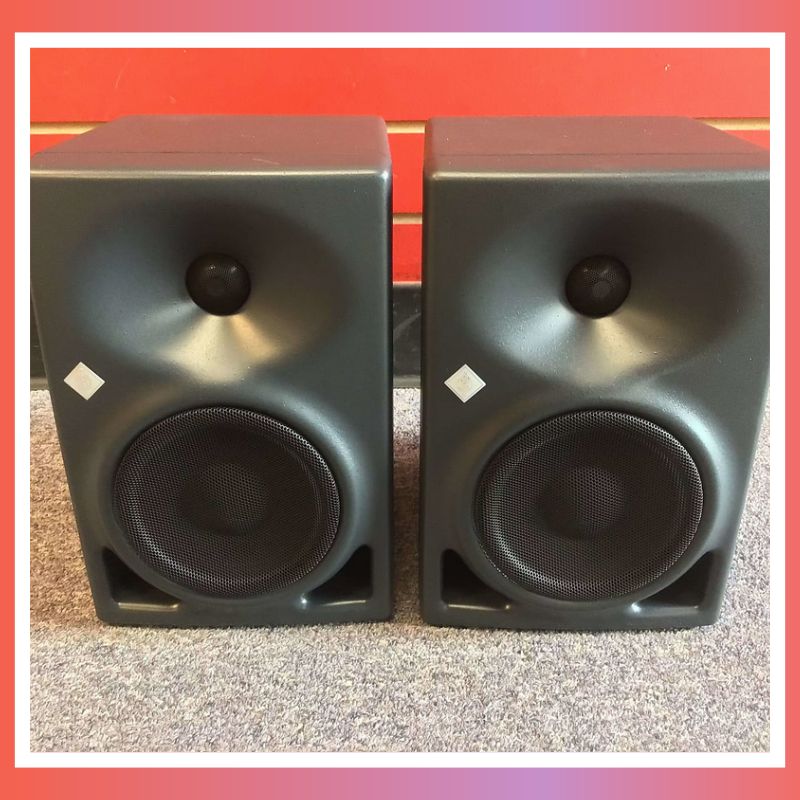 The company's KH 120 A is one to jump on, an active nearfield monitor that sounds much better than the price and size would suggest. With a bass response that goes down to 54Hz and as high as 20kHz, it's got you covered (and if you need more lows there's an optional subwoofer as well). The sound is neutral and transparent, ensuring every flaw of your mix will be revealed. It can also go loud.
The pair on offer is listed as very good and include the original boxes. Introduce them to the rest of your studio for $999.99.
*Attack Magazine is supported by its audience. When you purchase through links on our site, we may earn an affiliate commission. Learn more.