Modal's latest is a virtual analogue poly that aspires to reinvent the aesthetic of traditional analogue sound.
A sibling to Modal's acclaimed ARGON8 Wavetable synth, the COBALT8 is an eight-voice polyphonic virtual analogue synth with a few tricks up its sleeve. With the exception of its swanky metallic (presumably cobalt) blue paint job, it bears a close resemblance to the ARGON8, but under the hood lurks a totally different eight-voice virtual analogue synth engine. Where the ARGON8 uses wavetables as the basis of its sound generation, COBALT8 aspires to "reinvent the aesthetic of the traditional analogue sound, to deliver a new era of virtual analogue synth textures". This is achieved with two independent oscillator groups, each containing up to four oscillators, for which there are a total of 34 algorithms on offer. Each algorithm, in turn, has two editable parameters, tailored to the character of that particular algorithm.
It'S A Modal (And It's Looking Good)…
Built like the proverbial tank, COBALT8's solid and stylish steel and aluminium construction means you can really feel where your money went. The beautiful metallic blue fascia panel boasts a pleasing array of 29 endless encoders, neatly arranged in logical order, and parameter adjustments are represented graphically via the central 1.54-inch OLED display.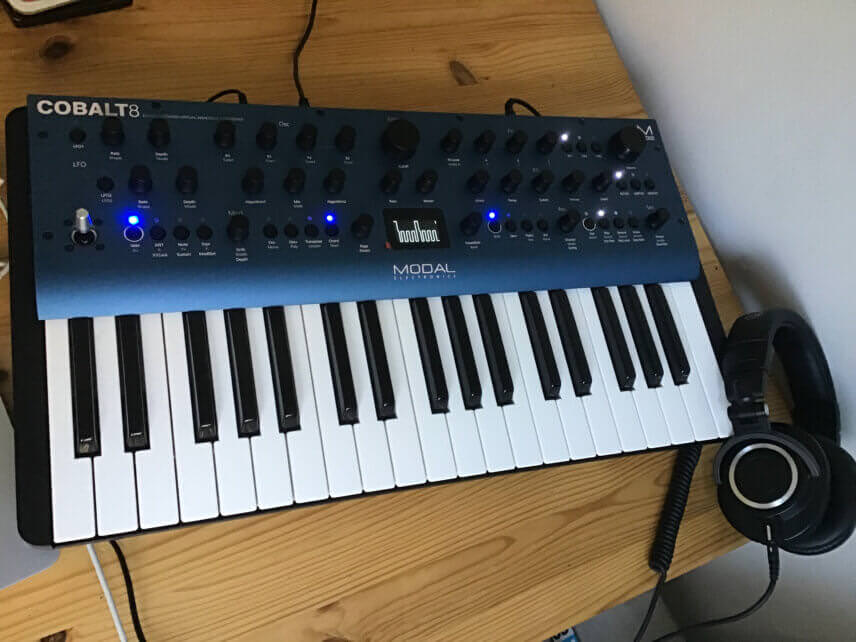 To minimise menu-diving, the 'one knob per function' ideal has evidently been high on the list during the design process. Like the hidden second layer of a box of chocolates, however, most controls do double up in combination with the Shift button, a notable exception being the Filter Cutoff control, whose large, centrally-placed dedicated encoder reflects its rightful VIP (Very Important Parameter) status.
Socket To 'Em
The rear panel is well-appointed, with all the usual suspects and then some. Aside from the standard 6.3mm headphone and individual left/right outputs, a 3.5mm stereo audio input allows you to process external sounds through COBALT8's effects processors.

There's a USB port for MIDI transmission and communicating with the Modal editor app, a pair of sustain and expression pedal inputs, and a couple of five-pin MIDI In and Out ports. Two 3.5mm Clock Sync In/Out connectors are provided for driving the onboard sequencer and arpeggiator from external CV sources, or syncing other CV clock-enabled gear to COBALT8's internal clock. A 9V mains jack for the supplied PSU and an on/off switch complete the lineup.
S'up, Player?
COBALT8's premium 37-note, full-size Fatar keybed feels lovely under the fingers, with a really nice amount of pushback for a synth-action keyboard. The channel aftertouch seemed to require substantial pressure to bring on the effect though and considering that the COBALT8 is fully MPE-compatible, it's a slight disappointment not to have polyphonic aftertouch, which would add expressiveness on a per-note basis rather than to all held notes.
However, it's great to see an instrument that's clearly been aimed at players. Little details point to this, such as the default pitch bend range setting of two semitones rather than 12, to facilitate expressive wiggle vibrato and musical bends when soloing. Furthermore, the aluminium, four-way joystick is a thing of beauty that feels wonderful to use.
Under The Hood
Besides that bristling oscillator bank, under the bonnet, you'll also find a four-mode, morphable four-pole resonant ladder filter. Morphable means that you can change the response of each of the four filter types by, for example, morphing the Resonant Low Pass filter from four-pole lowpass, through bandpass, to one-pole lowpass, allowing for the creation of some fairly unique filtering effects through modulation of the Morph parameter.

Modulation routing is pretty easy on the COBALT8—simply tap a button for, say, LFO 1, then adjust the control for the target parameter to set the modulation depth. A total of 12 modulation routing slots are on offer, four of which are fixed routings (Note Pitch > Cutoff, Joystick Y Positive Axis > LFO1 Depth, Aftertouch > Cutoff and Velocity > Amp Envelope Depth). That leaves eight slots which are user-configurable, but we'd have liked to see a few more of these available for even greater flexibility.
Elsewhere, we get three independent ADSR envelopes for amp, filter and modulation respectively, with eight selectable preset envelope types for the amp and filter, three flexible-rate LFO's—two of which are polyphonic—plus three independent digital stereo FX slots, each loaded with 100 factory effect presets.
To round off the package, there's an integrated 512-note Realtime/Step sequencer with four animation lanes allowing for parameter automation, together with a 32-step programmable arpeggiator with performance features such as Chord Hold, Inversions, Transpose and Sustain Latch on offer.
Analogue With Attitude
What makes the COBALT8 unique are its 34 oscillator algorithms. Somewhat reminiscent of the architecture of synths like Yamaha's legendary DX7, these are like prefabricated building-block oscillator combinations, each of which has two tailored editable parameters (labelled A and B) assigned. It's a great idea that makes it just that little bit easier to build your own sounds from scratch.

Example algorithms include VA Sweep that offers the ability to sweep through basic virtual analogue waveforms such as sine, sawtooth and square, with parameter A assigned to pulse width and parameter B handling oscillator detune or 'spread'. Another is Fractal Saw, a complex synced oscillator algorithm with control over sync ratio (A) and an asymmetry control (B) that allows every second cycle of the wave to have a different sync ratio to the first. Any of these parameters can be defined as modulation destinations, allowing for an extremely broad scope of sonic tomfoolery.
Sound Investment
Sound-wise, the COBALT8 offers everything the discerning analogue connoisseur might expect. Resonant, 303-style bleeps? Check. Massive stacked sawtooth pads? Sorted. Soaring synced leads? Definitely. Thick, brassy '80s polys? Tick. Roaring techno arpeggios? Of course. Snarly, pumping basses? Absolutely. Beautiful, ring-modulated bells? You bet. You'll find all of these ticked off within the first few preset patches, with hundreds more nicely-crafted and just downright usable examples beyond. Of the 500 patch memories, 300 contain presets, so there's plenty to be explored.
Modal's stock-in-trade seems to be very rich, stereo sounds that take full advantage of that massive oscillator bank and glittery effects section. Clean, clear, wide, rich and warm are all valid adjectives when describing the sound, and the sheer multitude of oscillators on tap and intuitive control layout makes it easy to dial up huge sounds very quickly. A full user manual is provided via the Modal app, but with just a cursory glance over the quick start card that ships in the box, we were able to start designing our own sounds very rapidly.
Modal App
Available for macOS, iOS, Windows, and Android, the free Modal app can be used to edit all Modal devices, not just the COBALT8, over their USB connection, and it does an admirable job of adding useful visual feedback and providing an alternative input method when controlling the synth. It's also useful for programming the sequencer and arpeggiator, as well as saving and editing presets, and can be run within a Digital Audio Workstation (DAW), with VST3 and AU versions available.

If we were nitpicking it would be nice to have some way of searching or categorising presets within the app, instead of just having them listed by bank, and menus for things like oscillator algorithm selection, rather than just a click-through sequence of options, might make a useful addition to future software upgrades.
The Element In The Room
Not as glassy-sounding in general as the ARGON8, COBALT8 is a different animal that appeals more to the broader classic synth community than its wavetable-based stablemate. If the ARGON8 were a diesel-engined/electric hybrid car, COBALT8 would probably be its equivalent, shamelessly sporty, petrol-engined variant.
If you're a fan of analogue with a hankering for something a little different, COBALT8 doesn't take long to win your heart. It looks great, plays great and sounds great, and at less than £600 it's astonishingly affordable. After barely a week in its company, the biggest question remains—do I really have to give it back?
The Verdict
The Final Word
Great-sounding, easy to use, versatile and forward-thinking, this ultra-affordable VA polysynth has a lot to offer.
*Attack Magazine is supported by its audience. When you purchase through links on our site, we may earn an affiliate commission. Learn more.