ASM's all-digital Hydrasynth is packed with features and is certainly impressive on paper but does it live up to its promise?
Last year, ASM came seemingly out of nowhere. Known fully as Ashun Sound Machines, the Hong Kong-based manufacturer (which includes former Akai and Arturia product manager Glen Darcey and Daniel Troberg from Elektron) surprised everyone with the Hydrasynth, a wavetable synthesizer released simultaneously in keyboard and desktop versions. With its recent and significant upgrade to system 1.5, we thought we had better take a look (and listen!) to the Hydrasynth and see what all the fuss was about.
Unabashedly Digital
The Hydrasynth is an eight-voice wavetable synth. There is nothing analogue about it. The signal path (aside from the DA converters at the end) is entirely digital. If you're an analogue purist, you'll have to stop reading now. However, to do so would be to miss out on a truly gorgeous-sounding instrument. Digital or not, the Hydrasynth is absolutely stunning and should dispel any notion that digital synths are just VSTs in a box.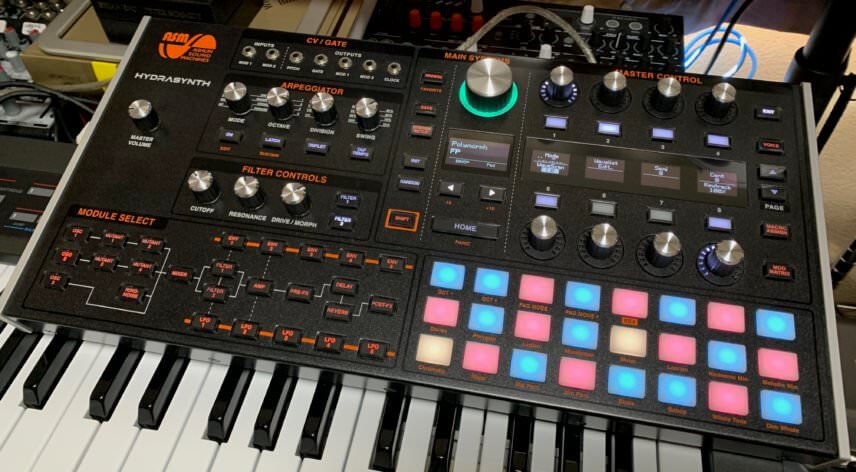 While the Hydrasynth can certainly do cold—it's got both wave scanning and FM in its arsenal—this is no icebox. The sound is genuinely warm, lush and full. There could be a number of reasons for this, including the filter modelling, effects, and analogue-like touches such as filter drive and the Analog Warm parameter, which unsurprisingly dials in analogue-style warmth. We think it may also be down to the quality of the converters. But no matter the reason, the result is the same: this is an astonishingly beautiful-sounding synthesizer.
Modular-Style Modules
Let's take a look at the synthesis architecture and see if that reveals any of Hydrasynth's secrets. Both Darcey and Troberg are modular synth fans, and that shows in the way the signal path is laid out. Their experience in design has also helped make what could be a very complicated instrument into an intuitive experience. "We really wanted to make this a sound designer's dream synth but keep it fairly easy to use", Darcey told us.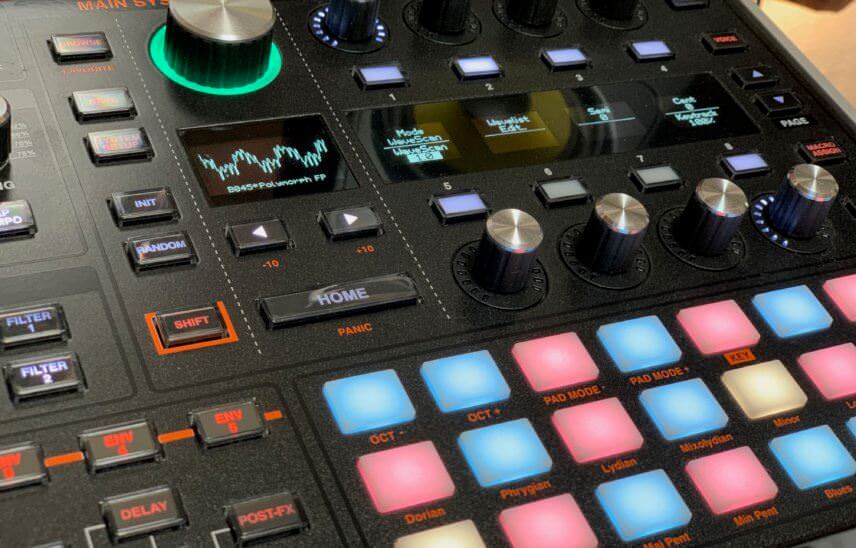 Unlike the Roland Jupiter-Xm, which is similarly deep but not particularly intuitive, we hardly had to reach for the manual at all when exploring the Hydrasynth. The Module Select section at the lower left is organized in terms of signal flow. Pressing a button for a module reveals the parameters on one of two LED screens (the other displays graphical information like envelope shape). Endless encoders then allow for adjustments. There's also very little menu diving—most everything is accessible at the top level.
There are three oscillators per voice. The first two are capable of wave scanning through user-created wavetables while all three can play one of 219 waveforms. These range from the standard sine and sawtooth to more esoteric and digital-sounding waves. Oscillators One and Two next pass through two Mutants, or mutators to further modulate the sound. Here is where linear FM can come in. There are also three kinds of pulse width, some extremely unique, plus things like wave stacking for supersaw-like patches.
After the mixer stage, the sound is then fed through two filters, either in parallel or series. Filter One has 16 types, many inspired by classic circuits such as ladder or MS-20. It also has a drive control. Filter Two has a pair of SEM-like state variable configurations with a Morph control to blend between states. The filters are just lovely and having so many options really opens up the sound design possibilities.
Modulation And Effects
If you've ever complained that a synth didn't have enough LFOs, the Hydrasynth is for you. There are five, along with another five loopable envelopes with plenty of trigger options. There's also a very extensive modulation matrix to take advantage of them. As Darcey explained, "(Product Manager) Dominic (Au) and I come out of modular backgrounds so being able to route anything to anything was in our DNA, so to say."
The Hydrasynth is also packed with very usable effects. There's a pre-effects stage, with options like chorus, flange, phaser, and distortion, then delay and reverb stages, each with multiple types, and finally a post-effects stage with the same offerings as the pre-stage. The effects go a long way towards making patches unique and are part and parcel to the sound of the Hydrasynth.
Pad It Out
"The desktop was something I wanted early in the project. As the engine started to become clear, I knew that it might have some traction with the modular and techno markets. Those markets tend to be more desktop-centric and less about keyboards so we pushed to get both versions launched at the same time."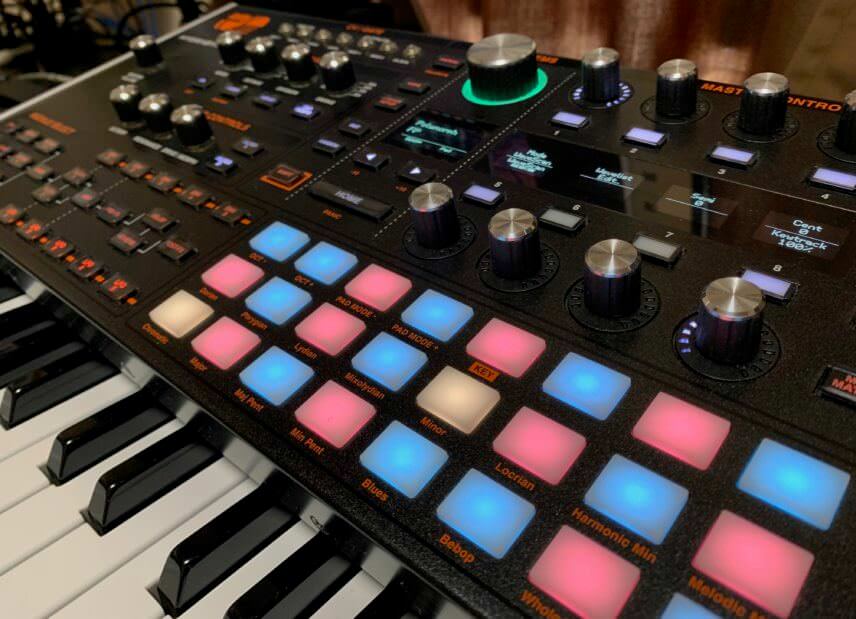 This was Darcey explaining why he wanted the desktop unit released alongside the keyboard version, rather than as an afterthought to extend the product life. We specifically requested the desktop unit for review as it seemed to appeal more to us as dance music producers. Key to this is the section of 24 LED-backed pads. These can be used to enter notes, as expected, but they're also equipped with poly pressure, making them performance tools in their own right. There are a number of scale modes included as well, which is very handy to have.
Hydrasound
As you'd expect from a wavetable synth, the Hydrasynth is at its best with long, evolving pads, thanks to the wavescanning and plethora of modulation options. However, it also does typical tinkly FM sounds well. And, given its analogue waveforms and filter options, it's no slouch in the analogue emulation department.
Although ostensibly a wavetable synth, Hydrasynth is really a jack of all trades. Pads, leads, bass—it can do them all, and handily. It's no exaggeration to say that it could be the centrepiece synth in any studio.
Shockingly Affordable
The Hydrasynth does a hell of a lot. We haven't even mentioned the eight macros, ring modulation, the arpeggiator or the CV/gate connectivity. And yet it never feels overly complicated thanks to its intuitive design. The experience and care that went into the Hydrasynth are abundantly clear.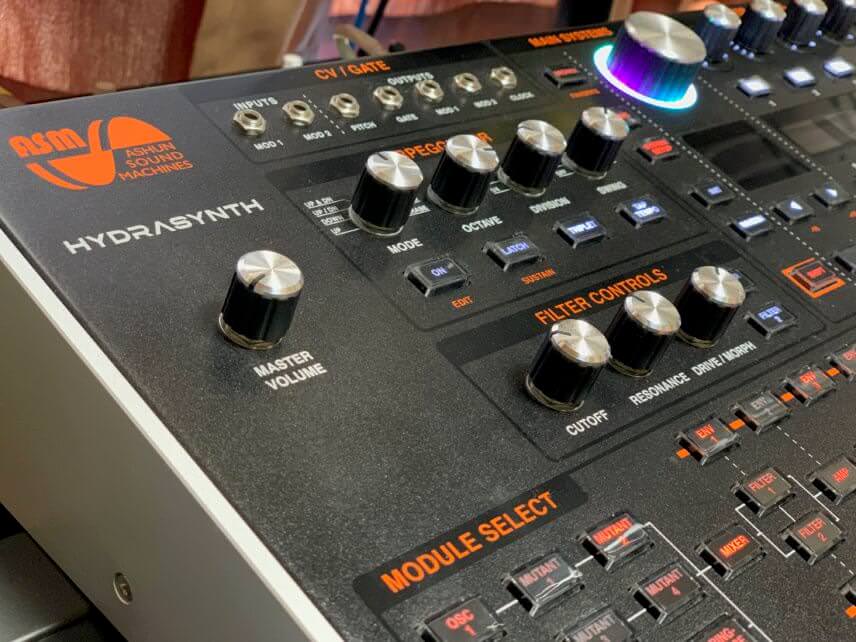 At under £800, it's also shockingly affordable given that it has eight voices and does just about everything except mix itself. This is doubly shocking when you consider the build quality. It's hefty and has a good weight to it, and feels like it was made to last.
At this price point, the Hydrasynth's closest competitor is likely the Modal Electronics Argon8. For a little less you can get the 37-key version, although it has fewer waveforms and filters.
If you're on the lookout for a hardware digital synth, the Hydrasynth should really be at the top of your list. Wavetables are, of course, its bread and butter, but with FM and even analogue modelling on the menu, consider yourself covered for almost anything you need to be done.
The Verdict
The Final Word
More than just a wavetable synth, Hydrasynth covers all the digital bases
*Attack Magazine is supported by its audience. When you purchase through links on our site, we may earn an affiliate commission. Learn more.