The iconic Solid State Logic has always been known for its incredible but pricey analogue and digital audio mixing consoles. With the SSL 2+ USB audio interface, the company improves on its predecessor, while keeping it in the budget gear category.
Since the late 1960s, UK-based Solid State Logic has been known for the warmth and color of its analog mixing consoles. While iconic for its analog offerings, Solid State Logic also makes digital audio consoles. Whatever the signal path, the company's boards appear frequently in professional recording studios, film audio editing suites, and broadcast rooms. But, this all comes at a hefty, premium price tag.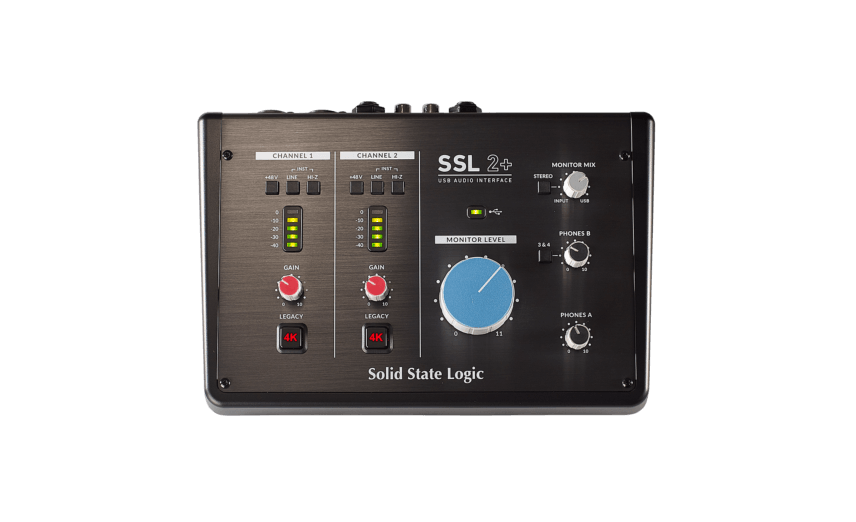 With Solid State Logic's recent SSL 2+, the company brings the latest iteration of its two-channel digital audio interface, informed by its analog past, to musicians, DJs, and podcasters. And at £239.99, the company does so by making it a budget solution for creators.
SOLID STATE LOGIC'S SOUND IN A BOX
With some exceptions like the Universal Audio Apollo Twin MKII, the best budget audio interfaces are typically dominated by Focusrite and Presonus, although the Native Instruments Komplete Audio 6 MK2 is a worthy budget contender. While these interfaces are capable, the SSL 2+ puts Solid State Logic's superior audio engineering into a small box. Suddenly, the budget portability option becomes all the more intriguing.
Similar to the Apollo Twin MKII, the SSL 2+'s form factor is that of a table top unit. That is, musicians and producers can look down on the SSL+2's controls, unlike interfaces by Focusrite and Presonus. This gives the SSL 2+, with its vintage-inspired knobs and LED levels, the feel of an old school mixing board as well, albeit in extreme miniature.
FEATURES
Like its predecessor, the SSL 2+ connects to a computer via USB, which is also how it is powered. While both ship with Type-C sockets and cables (for USB 3.1 connectivity), it's worth noting that they are USB 2 devices. But, this does not mean the interface is lacking in USB connectivity.
For audio, SSL 2+ features two inputs and two outputs. It also features MIDI In/Out, two headphone outputs (for a second headphone mix), RCA outputs, and two SSL-designed microphone preamps. Some people might raise an eyebrow at the RCA jacks, but Solid State Logic featured this on the SSL 2+ to appeal to DJs who are these days more often dabbling in live electronic performances as well (see: Aphex Twin).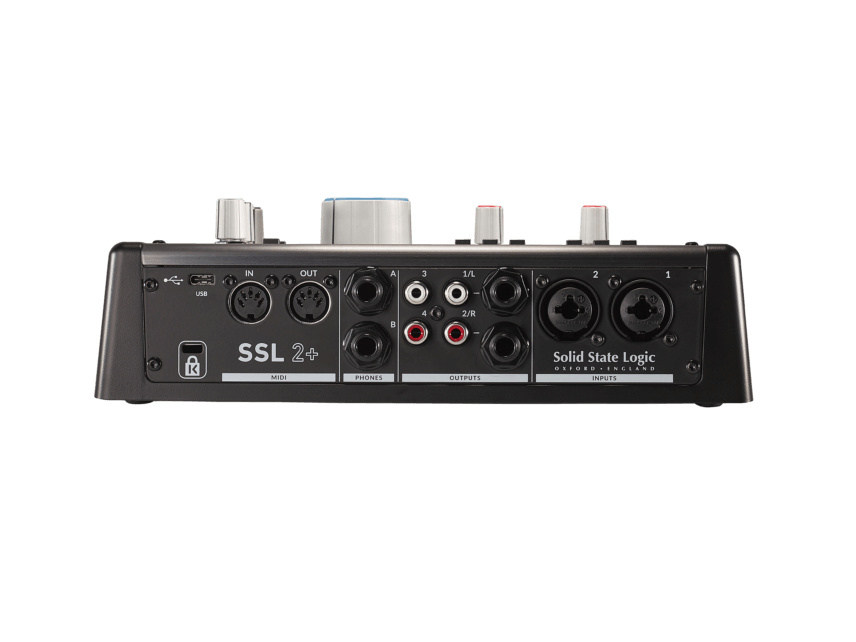 With its 24-bit/192 kHz AD/DA AKM Converters, SSL 2+ offers a clean, warm, and professional sound. And if musicians find that they want a bit more edge or a bit of a boost, hitting the Legacy 4K acts as a real analogue "colour" enhancer. In fact, this feature took inspiration from Solid State Logic's legendary and oft-used 4000 series consoles. For monitoring, the SSL 2+ has balanced monitor outputs and a Monitor Mix Control, making it good for musicians who like portability but also need to hear their tracks coming out of studio speakers.
To sweeten the deal, so to speak, Solid State Logic bundled the SSL 2+ with two native plugins as well as a 6-month license for their other plugins. These plugins are meant to emulate the sound of SSL's range of consoles and other products. And, as is standard for audio interfaces, the SSL 2+ comes with "lite" versions of music software—in this case, Ableton Live, Native Instruments Komplete, Protools, as well as Loopcloud's huge sample library.
THE VERDICT
For that Solid State Logic sound and the portability of a modern audio interface, all at a highly attractive budget price, the SSL 2+ is hard to resist. The company doesn't skimp on sound with this audio interface. Quite the contrary, it's packed with as much as one could expect from what is the industry standard for factor for 2×4 USB audio interface.
Sound-wise, the SSL 2+ has a colour that seems to be missing from other USB audio interfaces in its price range and feature set. And the 4K switch is always there to give the mix added depth.
While its legacy analogue charm no doubt appeals to musicians and producers, whatever the genre, the SSL 2+ also presents itself as a solution for DJs incorporating live electronic instrumentation into their sets. That said, time will tell if the SSL 2+ can truly appeal to the DJ market. If not, musicians and producers might well migrate to it from their existing USB audio interfaces.