We pick our favourites from the current crop of desktop audio interfaces, from the cheerful and cheap on up to pro studio-grade units.
If you're anything like us, you've probably splashed out plenty on a computer, monitors, and possibly even hardware synths and drum machines. But what about an audio interface? In the rush for exciting sound sources, we often forget about recording. Or perhaps you're just getting started in music production and don't want to blow half a year's wages on some ins and outs.
We hear you, and that's why for this 2020 update of our list of ten of the best audio interfaces, we're going to keep prices well under £1000. We're also going to restrict ourselves to desktop units more suited to the needs of the computer-based musician. We're guessing you're not going to be tracking any live bands and so won't be needing rows and rows of inputs. Should this need arise, however, remember that most of the interfaces featured here are part of a line with a number of different options and price points. Feel free to use this as a starting point for your own research.
Before you open your wallet, it would be a good idea to jot down exactly what you need. Of course, the number of inputs and outputs is important, but there are a few other things to consider as well. First and foremost is connectivity. Most audio interfaces connect to your computer via USB, but there are also FireWire and Thunderbolt units. Make sure the one you have your eye on is compatible with your studio setup. The next is MIDI. Many audio interfaces conveniently have five-pin MIDI DIN ins and out but not all do. If you plan to work with outboard hardware, a lack of MIDI could be a dealbreaker for you. Other things to consider are recording quality, mic preamps (is recording vocals high on your list?), and iOS compatibility.
Let's get to it then. As always, products are listed in order of ascending price.
1
PreSonus AudioBox USB 96
www.presonus.com
£89
We start our list with the Presonus AudioBox 96, a very diminutive audio interface from the company behind the DAW, Studio One. At this end of the price range, you might not expect very much in terms of bells and whistles—and you'd largely be right—but what you lose in functionality you gain in quality.

The AudioBox 96 has two combination inputs, made to accept both instruments and microphones. It also has 48V phantom power (necessary if you're working without a separate microphone preamp) and records at 24-bit/96 kHz, which is great for this price point. It has two 6.3mm balanced outputs for connecting to monitors, and a headphone out jack (sadly in the rear of the unit). We are, however, big fans of the balance control for blending between input and playback signals.
The AudioBox USB 96 is entirely USB 2.0 bus-powered, which means it's extremely portable. PreSonus has manufactured it with this in mind, with a steel chassis "so it can take a serious pounding and remain completely reliable," according to the company. While we're not in love with the blue face, there is also a black version.
If you need a portable audio interface for basic live gigs or mobile recording, the price is certainly right. Includes a bundle of PreSonus software.
2
Focusrite Scarlett 2i2 3rd Gen
focusrite.com
£133
Focusrite has been a leader in making quality audio interfaces affordable. Now on the third generation of its Scarlett line, the units offer a variety of connectivity and extras at a very reasonable price. The Scarlett 2i2 is Focusrite's best-selling audio interface and it's not hard to see why.


The Scarlett 2i2 is a two-in/two-out audio interface with a little more. On the front are two combination inputs made to handle both 6.3mm instrument/line cables and XLR microphone cables. This unit's big selling point is the inclusion of two Focusrite mic pres (preamps) plus Air, a mode that adds high-end sparkle to recordings. There's phantom power as well and it records at 24-bit/96kHz.
The front panel has a large, easy-to-grab volume knob, plus a button to turn on direct monitoring. Very handy. There's also a headphone out jack and headphone volume knob. Around the back, there are two balanced line outs for connecting to studio monitors. Unfortunately there's no MIDI, which could be an issue for those with hardware in the studio.
The Scarlett 2i2 is USB bus-powered and includes a C to A USB cable, plus a bundle of plugins, including Focusrite's Red 2 equalizer and Red 3 compressor. It's become a project studio standard for a reason: you get a lot of audio quality for your buck.
3
Steinberg UR22C
new.steinberg.net
£145
As with Native Instruments and Arturia, Steinberg has also entered the audio interface market, with a lineup of products from basic to more advanced. Our choice, the UR22C, is the company's entry-level unit, but don't let that deter you. It has a number of features that help it punch above its weight class.

This two-in/two-out audio interface features 32-bit/192kHz recording, something of a rarity for this price point. Instrument input jack two has a Hi-Z switch for electric guitar while its microphone jacks feature Yamaha-made D-PRE preamps with +48V phantom power. Monitoring can be switched between input and DAW, and can be summed to mono if necessary. Around back, there are two 6.3mm output jacks as well as MIDI in and out.
The UR22C uses the USB 3.1 Gen 1 SuperSpeed standard, which means it's compatible with both computers and iOS devices. If your computer doesn't have USB 3, it will also accept USB 2.0 (but this will require an optional power supply). It has a sturdy metal housing, making it portable, and includes a bundle of Steinberg software, making this a no brainer if you're a Cubase user. Others may be swayed by the 32-bit recording.
4
Native Instruments Komplete Audio 6 Mk2
www.native-instruments.com
£189
The first Komplete Audio 6 made our list of the top 10 audio interfaces in 2015. While the since-released Komplete Audio series now includes two more basic models (Komplete Audio 1 and Komplete Audio 2), we're going with Komplete Audio 6 MK2 for this roundup, as it does quite a lot for not a lot of money.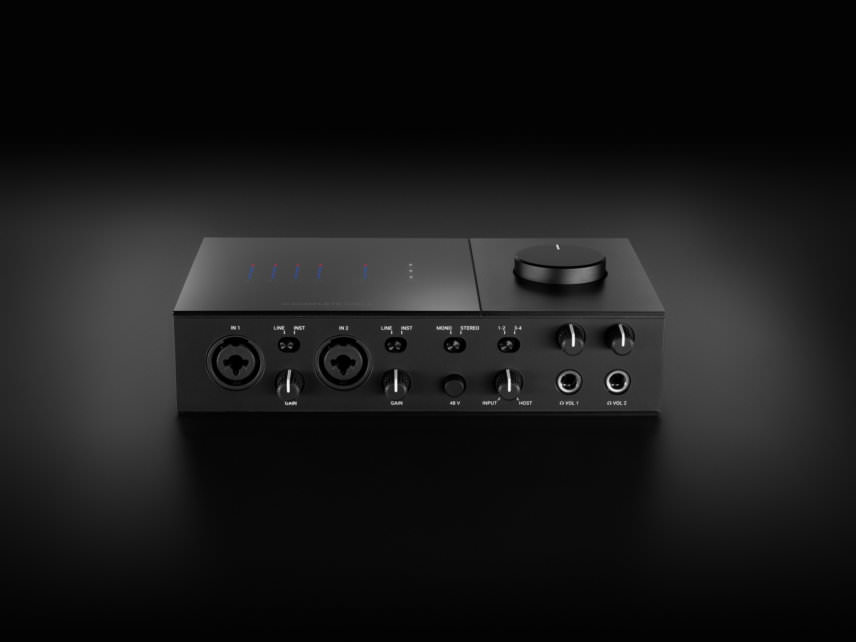 Around the front we've got the usual two combination ports for line-level instruments and microphones, with the obligatory +48V phantom power. Monitoring can be changed from stereo to mono with a switch, and you can blend between direct monitoring and host output. There are also two headphone outs plus independent monitor level knobs, useful for when you're recording someone singing or playing an instrument.
Around the back, there are two additional inputs (line only), as well as digital I/O. There are four outputs, handy if you're using two sets of monitors or want to route audio out from your DAW into a mixer or other external hardware. Lastly, there's MIDI in and out, and the whole thing runs on USB 2.0 bus power. There's also a nice bundle of NI software, as you'd expect.
With its black chassis, classy monitoring LEDs, and oversized monitor knob, it really looks the business. It sounds it too.
5
Audient iD14
audient.com
£205
One of the more exciting developments in audio interfaces recently has been manufacturers including technology originally developed for their high-end products. For example, analogue mixing console company Audient's iD14 is crammed with top-of-the-line components.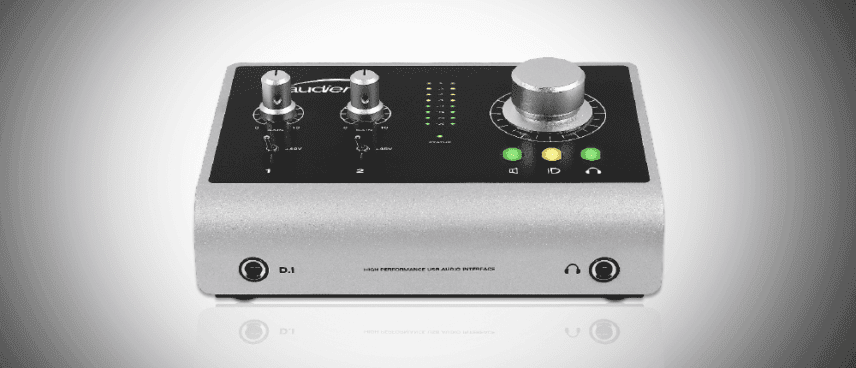 At its heart, the iD14 is an analogue two-in/two-out audio interface with combo instrument/microphone jacks. Things get really interesting when you take a closer look. Those line-level inputs are actually JFET D.I. (direct input) ports, much like on a classic valve amp. This makes them ideal for guitars but can also benefit synthesizers and drum machines. Audient have taken their Class A mic pres from their high-end gear and included them as well. Even the Burr Brown +AD converters are classy.
Other extras include expandability with the combination ADAT and S/PDIF digital I/O, should you wish to add more mic pres or line inputs, plus the large scroll wheel can be assigned to control parameters in your DAW or software. Note, however, that there are no MIDI ports.
If you're finicky about sound quality and don't need MIDI connectivity, the USB 2.0 Audient iD14 is well worth a look (and listen).
6
Solid State Logic SSL 2+
Solid State Logic should need no introduction. Makers of some of the best mixing boards in the world, the company is rightly famous when it comes to high-quality sound. Previously limited to extremely expensive pro gear, the company has recently started creating products to appeal to the less wealthy producer, with both entry-level mixers and audio interfaces now available.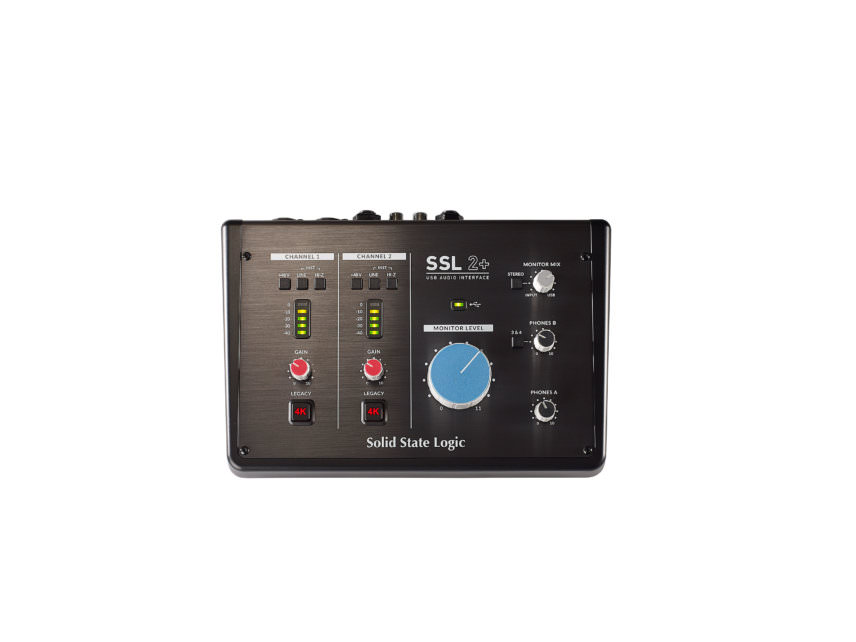 At first glance, the SSL 2+ ticks all the boxes. It has two ins that accept both line instrument and microphone, plus two 6.3mm balanced outs. Unusually, it also has two sets of RCA output pairs for connection to DJ mixers. There are two, independently controllable headphone outputs, plus MIDI in and out, which is welcome to see.
Now let's get to the good stuff. This USB-C audio interface features SSL-designed mic pres incorporating low-noise transistors, 24-bit/192kHz +AD AKM converters, Alps pots, and Neutrik converters. And then there's the Legacy 4K analogue enhancement, which adds a high-frequency boost as well as subtle harmonic distortion. We should point out that this is not DSP but analogue circuitry. And it's all USB bus-powered.
SSL analogue circuitry in an affordable audio interface? You had us at SSL.
7
Apogee Duet
apogeedigital.com
£499
The Apogee Duet helped pioneer the idea of building high-quality components into a basic audio interface. While this product has been on the market for a while, it still offers a good deal for producers looking for top sound at a home studio-price.

The Duet has two analogue inputs with high-quality microphone preamps, plus phantom power to handle both line-level instruments and mics. It features Apogee's famous +AD converters for recording at 24-bit and 192kHz. In terms of outputs, there are two analogue outs for speakers or other gear, plus headphones. The OLED display is lovely to look at, and the touchpads can be configured for output function access. While the Duet does have MIDI, it only supports USB MIDI. The Duet is, however, compatible with iOS.
In 2015, we featured it on our list of the best audio interfaces, where we said, "If you only ever record one or two audio tracks at a time, or if you're willing to multi-track your parts rather than record everything simultaneously, the Duet gives you superior sound quality to most other two-input options." That still holds true today. It's classic for a reason.
8
Arturia AudioFuse Rev 2
www.arturia.com
£539
Sometimes you need more than the basics. Sometimes you want am audio interface that's going to do pretty much everything. If that's you, then the newest AudioFuse from Arturia could be the box you've been looking for.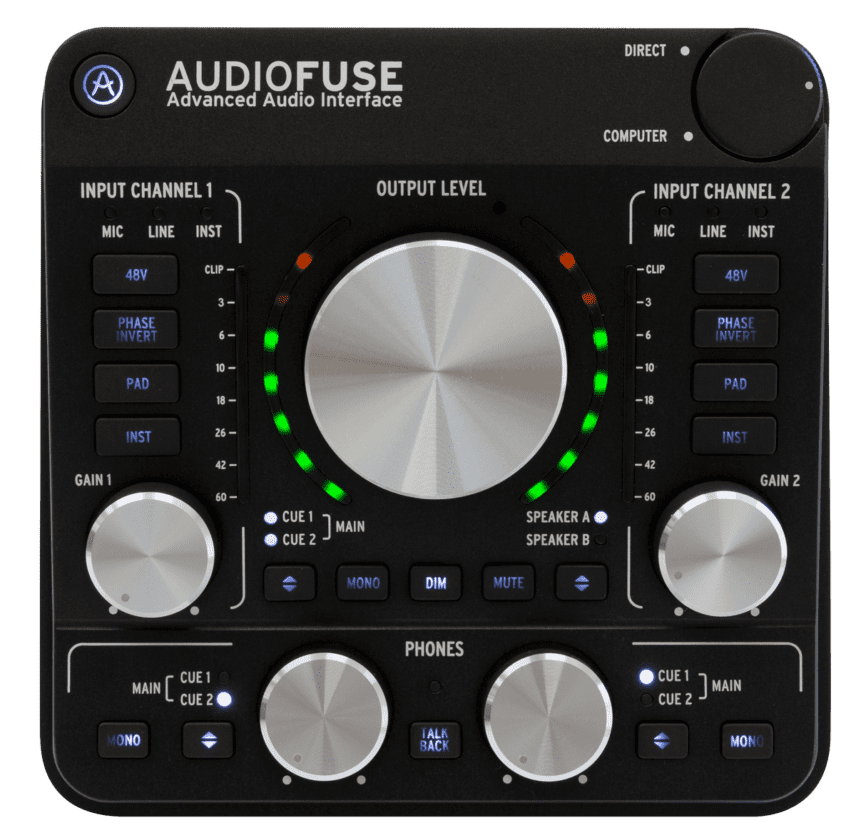 The AudioFuse may look imposing but at its heart it's a basic four-in/four-out interface. The difference is, Arturia have included just about every option you might need. There are two XLR microphone inputs with the company's proprietary DiscretePRO preamplifiers. There are four line-level inputs in total, two in combination with the mic ports in the front and an additional two in the back. It also has phono stereo inputs (including a ground jack!), digital I/O in both S/PDIF and ADAT formats for expansion, and even insert jacks for sending your signal to hardware effects.
We're just getting started here. This thing really does have everything: two headphone outputs with both 6.3mm and mini jacks, cue switches, and even talk back. It's got four outputs so you can listen on two sets of monitors, and can act as a USB hub with three ports. It even includes a mouth-watering bundle of Arturia effects.
If you need rackmount features in a desktop unit, the Arturia AudioFuse has you covered.
9
RME Babyface Pro FS
The latest update to RME's Babyface audio interface, the Pro FS, is what you reach for when you're really serious about recording. It's not cheap—far from it—but if high-quality is what you're after, it's hard to overlook this beaut.

Despite its small size and minimal design, most everything you could want is present and accounted for. It has two microphone inputs with phantom power and four analogue line-level inputs. Interestingly enough, two of those line inputs are via the microphone XLR connectors. There's digital I/O for both S/PDIF and ADAT, meaning expansion is available should you need it. There are two outputs (in the form of XLR) as well as two headphone outs, one 6.3mm and one mini-jack.
The babyface Pro FS features RME's SteadyClock FS timing circuit, which keeps jitter to a minimum by stabilizing the converters and signal. While it will look (and sound) stunning on your studio desk, the Babyface Pro FS is also meant to be taken on the road. It's USB 2.0 bus-powered and is housed in an aluminium chassis made from a single block of metal. There's also MIDI in and out, which is lovely to see on an audio interface like this.
The RME Babyface Pro FS is decidedly pro and might be overkill if you're just getting started. However, for serious studio applications, this is one to reach for.
10
Universal Audio Apollo Twin MkII
www.auaudio.com
£699
Universal Audio occupies a unique niche in the world of recording. They make plugins but these only run on their own hardware. The benefit is that the hardware bears the burden of processing, freeing your computer up for other tasks. Their plugin emulations of classic gear are top-notch and include the kinds of EQs and compressors that only big-time studios (and very rich musicians can afford). The Apollo Twin MkII brings them within reach.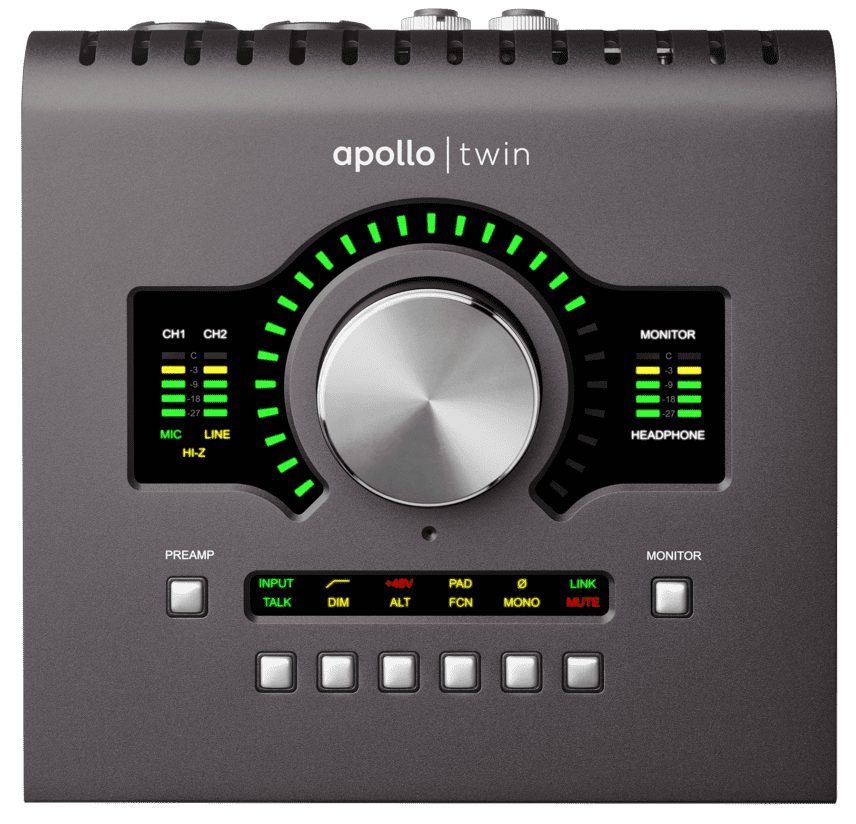 With two Unison combination microphone/line inputs plus two analogue line outputs, as well as two digitally controlled analogue monitor outputs, there's plenty of connectivity for a desktop interface. There's also a single Hi-Z instrument input for guitars, a headphone output jack, plus digital I/O. Here's the stickler: the Apollo Twin MkII is a Thunderbolt device, meaning if your machine doesn't have Thunderbolt, you're out of luck. (There is a USB version but it's Windows only.)
Let's talk DSP. Along with built-in Unison technology, which models classic preamps from Neve, SSL, and more, plus guitar amps and stompboxes, there's a collection of UA emulations, including Teletronix LA-2A, 1176LN, Pultec EQs, and the Unison-enabled UA 610-B Tube Preamp.
The first Apollo Twin made our list in 2015. We said, "The Twin isn't cheap … but the price premium is entirely justified when you consider how much you'd have to pay for a similarly high-quality interface plus, say, a UAD Satellite". The MkII is much the same. A quality interface plus all that UA power? Sign us up.
*Attack Magazine is supported by its audience. When you purchase through links on our site, we may earn an affiliate commission. Learn more.