We pick 10 of the best semi-modular hardware synthesizers currently on the market.
The first synthesizers were modular behemoths, great big beasts that commanded the room and obliterated the savings of anyone lucky enough (foolhardy enough?) to own one. The first two big synthesizer manufacturers, Moog and ARP, both started life with modular systems, and both soon progressed to smaller machines. Moog developed the Minimoog Model D and set the blueprint for hardwired synthesizers. ARP took a different approach and came up with the 2600, the first synth with semi-modular architecture.
Semi-modular differs from modular in that there is a normalled signal path under the hood—like a traditional hard-wired synthesizer, it doesn't require any patching to make sound. However, it is also fitted with patch points that allow the operator to go beyond the set audio signal and control path, opening the door to more creative and complex patches. The semi-modular synth may have many additional functions that can be accessed only by manual patching.
For the purposes of this roundup, we're going to restrict our focus to semi-modular synthesizers currently on the market. They also must be "true" semi-modulars, in that they offer a normalled signal path in addition to patch points.
Let's get patching. As always, entries are listed in order of ascending price.
1
Korg Volca Modular
www.korg.com/uk
£145
Curious about modular? Have a passing interest in West Coast synthesis but don't know if you're ready to splash out for a Eurorack system yet? Korg are here to be your modular gateway drug dealer. The Volca Modular puts the basics of modular synthesis into a small package while still offering lots of unique synthesis options.

Given the size (about the same as a VHS tape—remember those?), you won't find many Eurorack-standard mini jacks. Instead, there are 50 tiny slots for pin cables and these allow you to make patches between eight modules, including synthesizer elements, digital effects, and sequencer. Being West Coast-inspired (think Don Buchla), there's no filter, just a triangle wave oscillator, wavefolder circuit, and dual LPG (low pass gate). There are also function (envelope) generators, splits, multis, and a digital reverb.
With a design that recalls Eurorack manufacturer Make Noise, and a color scheme that seems inspired by the Buchla Music Easel (see below), the Volca Modular should satisfy any entry-level modular cravings. Best hand over the credit card to the wife for safekeeping after this exploratory purchase though, as the Eurorack habit can get expensive fast.
2
Behringer Neutron
Although Behringer seems to be most famous (or should that be infamous?) for their clones, they do also release original synthesizers, like the Deepmind series, the Crave (which is another semi-modular worth a play), and the Neutron, the latter of which offers a 32-in/24-out jack matrix, making it a rather flexible little analogue synthesizer.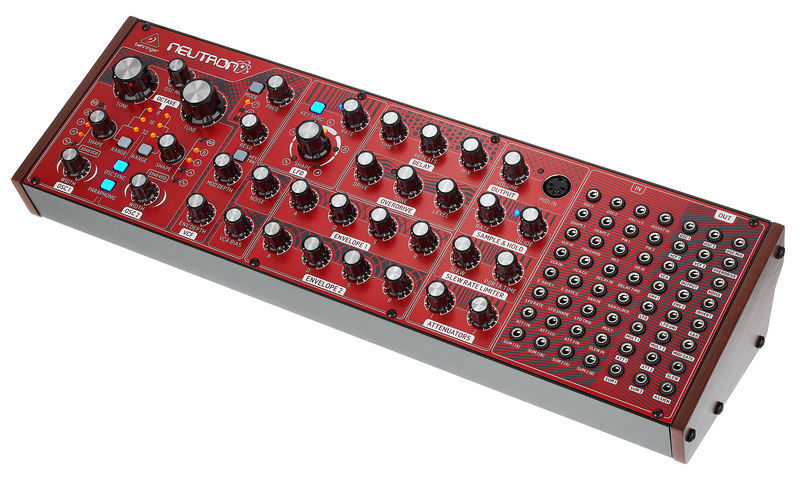 It also has a number of hardwired controls that are unusual at this price point. The sound starts with two 3340 analogue oscillators. These are the same chips that were used in Sequential Circuits' Prophet-5, among others. You can blend between waveforms, which include tone mod, pulse, sawtooth, triangle, and sine. It's also paraphonic, meaning the oscillators can be played independently. Of course, there's also a filter (self-oscillating), two analogue VCAs, and a bucket brigade analogue delay.
The fun doesn't stop there though. It's got overdrive, a sample and hold circuit, slew, attenuators, noise… and a very red front panel. If you're looking for an affordable monosynth or even a soft entry into the world of Eurorack (the Neutron is Eurorack-ready), this could be a great place to start.
3
Arturia MiniBrute 2
www.arturia.com
£395
The original MiniBrute from Arturia was one of the first of the low-priced monosynths to upset the synth market. Its aggressive sound and affordable price point certainly helped spearhead the analogue synth revival. Now upgraded with a semi-modular architecture, the MiniBrute 2 sees the popular monosynth expanding its possibilities.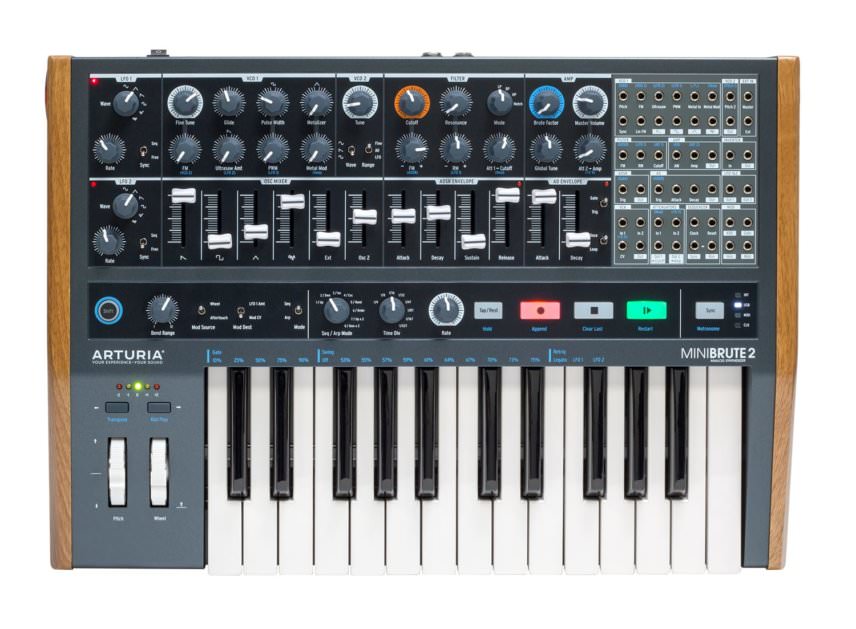 Like the Korg MS-20, the MiniBrute 2 doesn't play nice. With its 2-pole Steiner-Parker filter, oscillator metalizer, frequency modulation options, and Brute Factor drive, the MiniBrute 2 has a unique, rough sound palette that's very punk. It might not be your go-to synth for funky bass or creamy leads but it will definitely do the job in more, let's say, demanding situations. Think of it as the John Wick of monosynths.
With plenty of CV/gate patch points on hand, plus a step sequencer, arpeggiator, and compatibility with Arturia's RackBrute powered Eurorack case, there's lots to recommend here. The sound might not be for everyone but if you need aggressive, give the MiniBrute 2 a call.
4
Make Noise 0 Coast
Make Noise are one of the bigger players in the world of Eurorack and their modules are some of the most sought-after. The tabletop 0-Coast (pronounced "oh coast") sees them enter the world of the semi-modular synthesizer, and as it's meant to bridge the divide between West and East Coast synthesis (hence the name), it's a great way for West Coast newbies to get in on the fun.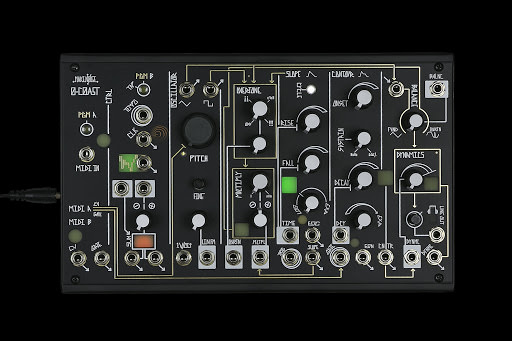 Like a conglomeration of modules in a desktop package, 0-Coast features a single-voice triangle core analogue VCO (also capable of square waves), balance control for adjusting harmonics, overtone and multiply functions, a transistor-based low pass gate (which acts like a filter does in East Coast synthesis), and two channels of MIDI to CV and MIDI to gate, plus sync to MIDI clock. And of course, plenty of patch points.
With its distinctive lettering, unusual design, and unorthodox architecture, the Make Noise 0-Coast is one of the more unique instruments in this list. If traditional musicality is what you want, you'd be better off taking the on ramp in the direction of the East Coast. But if your goal is experimentation, this could be just the ride you've been waiting for.
5
Dreadbox Nyx V2
Greek boutique synth company Dreadbox have been building unique, quality synths for a while now. They've somehow managed to stay relatively under the radar, despite their excellent track record. That's a shame, because with gear like Nyx V2, they really should have a much wider audience.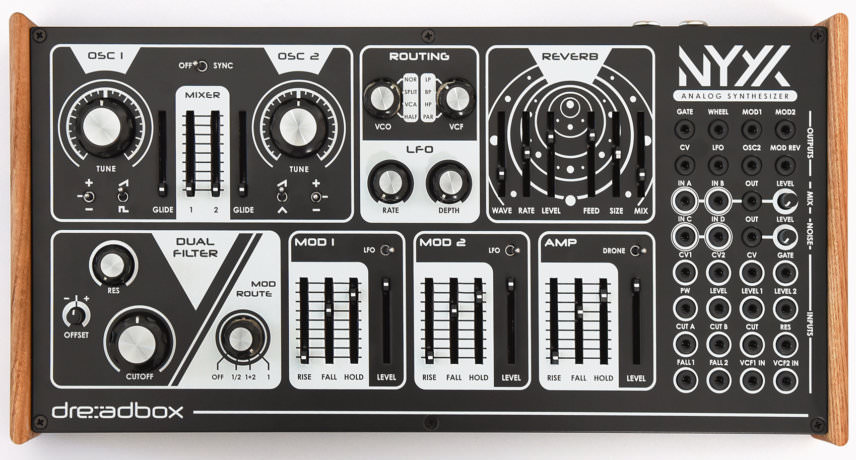 A semi-modular analogue desktop paraphonic monosynth, Nyx V2 deserves our attention as much for its sound as for its unique routing possibilities. As with much of their instruments, it's beefy and very "analogue," recalling some of the big analogues of the '70s in tone and girth. What makes it particularly unique, though, is its dual multimode filter, which can be coupled with its two oscillators in a number of unique ways, including in series or in parallel, and in low or highpass modes. Couple this with loopable envelopes and a drone function, and the wild synthesis options begin to become apparent.
With 30 patch points, there's plenty of ways to get crazy with the signal. There's also a modulatable reverb and input for processing external gear. Whether you want to go down the experimental rabbit hole or recall the heyday or 1970s analogue monosynths, Nyx V2 will have you covered.
6
Korg MS-20 Mini
www.korg.com/uk
£495
In 2013, Korg re-released its own synthesizer, the MS-20, kick-starting a trend of reproductions and copies that shows no signs of slowing down. The MS-20 Mini, as it's known, is 86% of the size of the original, with mini-keys and minijack patch-points instead of quarter-inch ones, but other than that, it is supposed to be nearly identical to the 1978 original.

The MS-20 Mini is a two-oscillator monosynth, and even when played without patching, it's a rough little monster. It's most famous for its resonant filters (both lowpass and highpass), which can get extremely squealy when pushed hard. There's also a ring modulator setting on VCO 2 in case the regular waveforms weren't tough enough.
Over on the patch panel, there are options for sample and hold, additional LFO shapes, and external signal in to run stuff through the filters. It also does pitch tracking should you wish to replicate Daft Punk's "Digital Love" guitar solo.
The build-quality on the MS-20 Mini is a little contentious (especially compared to the original) but it's worth it for the sound. Keep an eye out for the MS-20 FS as well, coming later this year.
7
Analogue Solutions Fusebox
www.analoguesolutions.com
£1299
The UK-based Analogue Solutions makes unique, boutique synths, such as the Colossus, their EMS Synthi 100-inspired giant, the Impulse Command, and the orange-liveried Fusebox.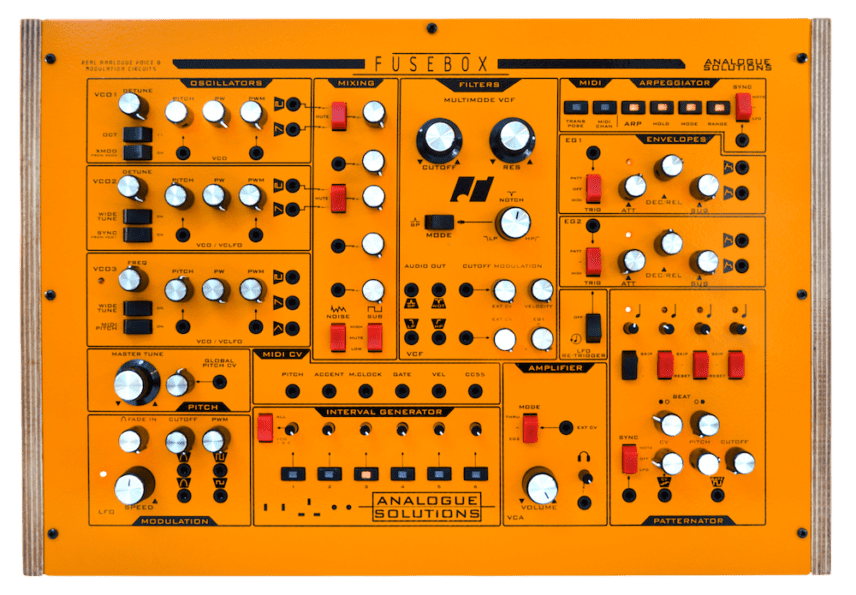 The Fusebox is a striking semi-modular monosynth that's meant to recall the classic analogues of yesterday. Like a Moog Minimoog, it has three oscillators, each with sawtooth and square waves, and oscillators two and three can be muted and used as additional LFOs. The 12dB filter appears to have ben inspired by the Oberheim SEM design, with a knob that sweeps smoothly from low to highpass with notch in-between. It also has a bandpass mode. Additionally, there's a step sequencer known as the Patternator, an Interval Generator, which allows for instant transposition of oscillators, and a programmable arpreggiator.
Being semi-modular, it has both normalled connections and patch points yet, uniquely, many of those normalled connections can be adjusted, much like with a regular modular synth.
The Fusebox isn't cheap but for the adventurous synthesist with money to spend, it's well worth a look.
8
Moog Matriarch
www.moogmusic.com
£1985
We admit that we torn between the Matriarch, Moog's four-note paraphonic semi-modular, and the Grandmother, its monophonic mother. While both sound amazing, and both have unique features (you have to love the Grandmother's spring reverb), we eventually settled on the Matriarch because, well, it's just more.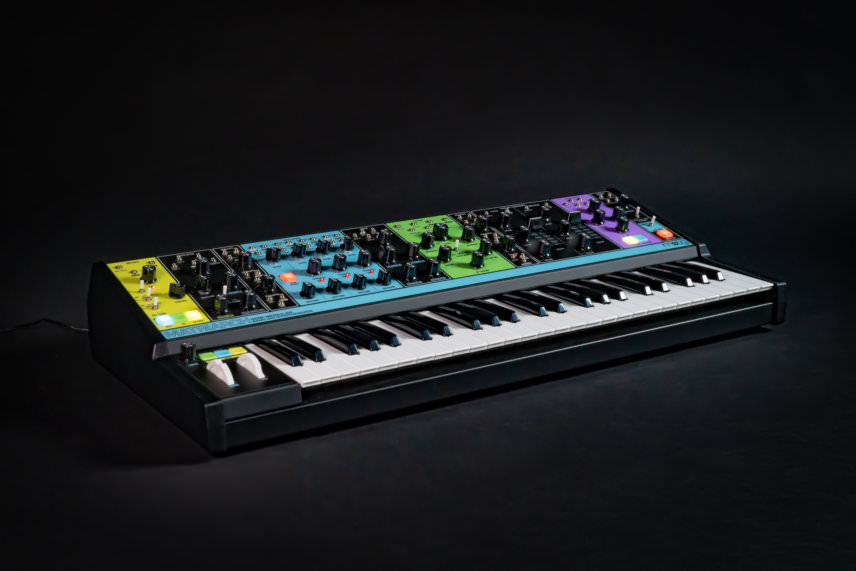 Looking like a electronic science kit with a keyboard, the Matriarch has four oscillators and can be operated in mono, duo, and four-note modes. The VCOs then pass through stereo Ladder filters. Wait, stereo? Yes, and that stereo signal continues with the stereo analogue delay. It's both traditional and modern in one multi-coloured shot.
It's also both a modular and a fixed synth, in that the circuitry was inspired by Moog's classic modulars rather than the usual Minimoog design. With 90 patch points, there are plenty of routing possibilities, with mixer, utility and envelope generator "modules" also present. And it's Eurorack compatible.
And we haven't even mentioned the sound yet. All this comes at a price but, to paraphrase Ferris Bueller, "If you have the means, I highly recommend it."
9
Korg ARP 2600 FS
www.korg.com/uk
£3200
OK, so this is technically cheating. As far as we know, Korg's 2020 recreation of the ARP 2600 was limited to a certain number and is no longer in production. But close enough. The ARP 2600 is a stone cold classic—and if you look hard enough, you just might find one still on the market.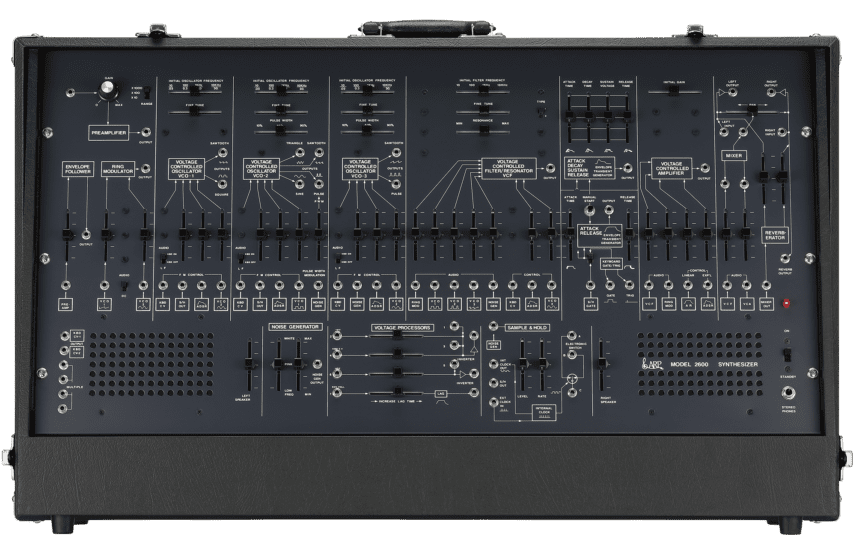 Originally released in 1971 and in production for 10 years, the 2600 was the first semi-modular synth, and arguably the one that all future semis have aspired to. With three famously stable VCOs (voltage controlled oscillators), each with simultaneous sawtooth, square, triangle, sine, and pulse waves, you're able to craft dense, harmonically rich sounds. The 2600 had different filters throughout its run—Korg has included two of them here, and there's even a slider to adjust the pitch of the self oscillation. Two envelopes, a VCA with linear and exponential controls, spring reverb, keyboard, and even a speaker round things out.
Korg have tantalizingly called their version the ARP 2600 FS, with FS meaning "full size." Perhaps we'll be treated to a mini version, a la the MS-20 Mini and ARP Odyssey, at NAMM 2021.
10
Buchla Music Easel
buchla.com
£4759
As the story goes, Bob Moog and Don Buchla each independently developed their own version of analogue synthesis in the mid-1960s. While Moog focused on musicality, Buchla was more interested in experimentation. Moog went on to become a household name, while Buchla continued to toil in the synthesis underground, with only the recent interest in modular synthesis helping bring his ideas to a more mainstream audience.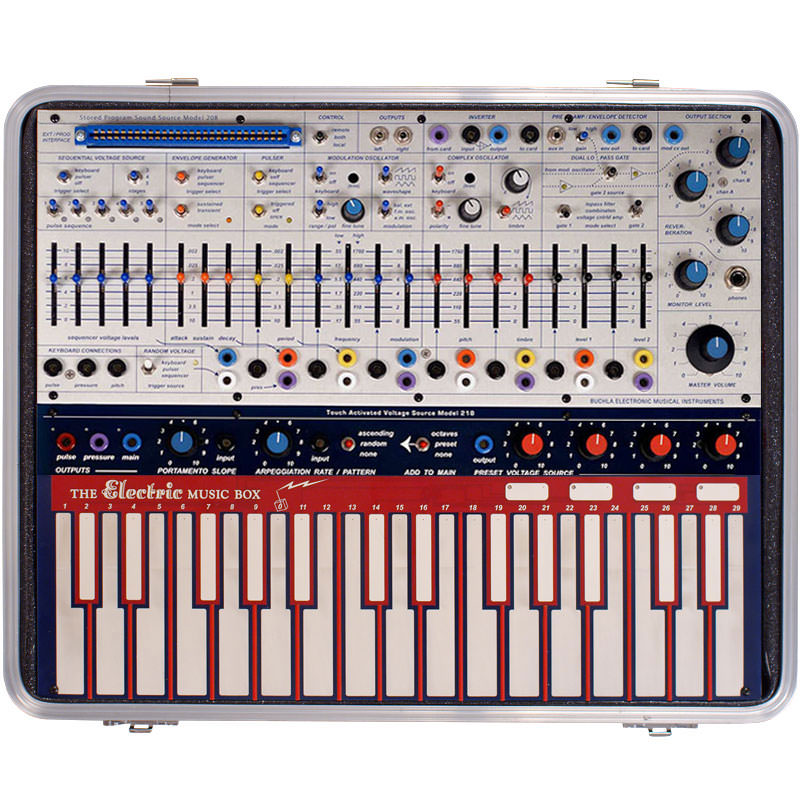 The Music Easel, originally released in 1973, was intended to be a portable, performance-oriented version of a Buchla modular system, something like a West Coast Minimoog. Recently re-released, the Music Easel is just as gorgeous, confounding, and wild as it ever was. Housed in a suitcase, the top part is all knobs, sliders, and patch points, while the bottom has a touch keyboard. It was designed to be as close to the original as possible, and even supports the preset Program Cards.
With an onboard sequencer, complex oscillator, dual low pass gates, plus envelope generator, the Buchla Music Easel sounds like nothing else around. If you're finding yourself bored with traditional East Coast synthesis, and you don't mind dropping £4759, the Music Easel is a performative, hands-on way to get deep into West Coast synthesis.
For those of us without so much expendable income, Arturia have made an excellent software version.
*Attack Magazine is supported by its audience. When you purchase through links on our site, we may earn an affiliate commission. Learn more.