Korg has updated its popular Volca Sample with USB sample import. But is it enough to justify the price bump?
First released in 2015, Korg's diminutive Volca Sample brought hardware sampling to the masses. Though it was a hit and tons of fun, the fact that samples had to be loaded through an audio cable via a third-party program was always something of a bummer.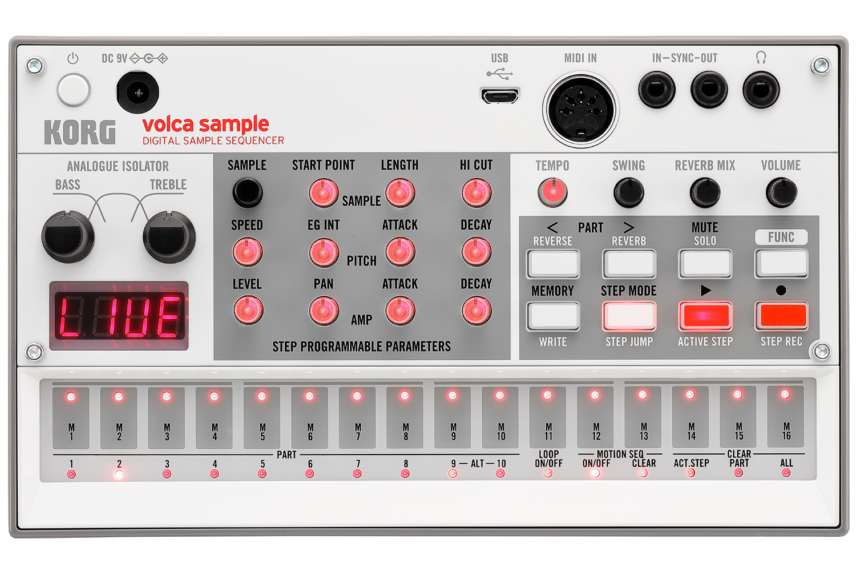 Five years later, Korg have finally addressed that issue by updating it with a USB port as well as adding a few other extras. As much of the Sample2 is exactly the same as its predecessor, we're going to jump right to the new stuff. (If you need a refresher on what the Sample can do, check out our original review and tutorial.)
What's New?
At first glance, the new Sample looks almost exactly the same as the original. It still has the Analogue Isolator filter, the cluster of 16 knobs, and the usual 16 Volca-style keys. The only real difference is the body plate, which is now a rather nice grey, and the micro-B USB socket (cable frustratingly not included).

You still can't sample directly with the Sample2 but you can load samples via USB and the Volca Sample Librarian, available for free on the Korg site. It's quick and painless. There are no sample-editing functions, unfortunately, so you'll have to do that in a DAW or other software. Korg have also doubled the number of sample slots to 200, with 50 empty user slots.
The USB port also allows the Sample2 to be controlled from a DAW, with both sync and note triggering available. You can set MIDI to affect all 16 samples (yes, 16 up from 10) globally or individually by MIDI note. This is great, especially if you want to use the Sample2 as a kind of sample processor. It has the same warm and gritty 16-bit, 31.25kHz sample engine as the first model.
Other new functions include alternative step jump modes, sample start delay for creating offset effects, and pattern chaining. It does seem to have lost song mode though. There is also still no chromatic mode, which for us is a real disappointment. It's already been done in a third party firmware upgrade so why not officially?
Should I Sell My Old Sample?
At around £160, the Sample2 is £45 more expensive than the original version. Are a USB port and first-party sample librarian software worth that to you? If you've been on the fence about buying a Sample, the new one is a no-brainer. If you already own a Sample, upgrading is a hard call to make. It certainly is more convenient, and the MIDI implementation is nice to have.
As it stands, the Volca2 is still a great buy and perhaps the cheapest sample player on the market. It sounds as great as always and is just as fun as the original. We just can't help but feel that it could have been even better.
The Verdict
The Final Word
The Sample2 adds a much-needed USB port but lack of a chromatic mode feels like a missed opportunity.
*Attack Magazine is supported by its audience. When you purchase through links on our site, we may earn an affiliate commission. Learn more.