Does Roland's Juno reboot sound as good as it looks? We put the Juno-X to the test.
These days it seems like every new synthesizer has some kind of connection to the past. Whether it's a new instrument with the DNA of an older one, a clone, or a modern recreation of a classic instrument, reboots are ubiquitous.
Roland are no exception, and the company's most recent is the Juno-X, the latest in a long line of Juno synthesizers and something of a super Juno. It even looks the part, with a design that clearly references the classic Juno-106. Does it deserve to be called a Juno though?
Do Juno Your History?

Roland debuted the Juno name in 1982 with the Juno-6, a single-oscillator polysynth meant as an affordable counterpoint to the immensely popular (and expensive) Jupiter-8. This was followed almost immediately by the Juno-60, which added patch memory.
MIDI arrived in 1984 with the Juno-106, perhaps the most classic of the Juno line. The last analog Junos rolled out in 1986 as the Alpha Junos 1 and 2 (the latter having a longer keyboard), famous for their hoover sounds.
Roland brought the Juno name out of retirement in 2004 with the digital Juno-D, and the modern line continued with the Juno-G, Juno-Stage, Juno-Di, and Juno-Gi. These are machines that reflected the Juno name in spirit (comparatively affordable, performance-oriented synthesizers) more than in sound.
Like A Jupiter
As the name suggests, the Juno-X follows on from the Jupiter-X and Jupiter-Xm, modern digital synths that take design and sound-generation cues from past instruments. They all feature ZEN-Core synthesis, which Roland uses across a number of instruments (MC-707, modern Fantom instruments) as well as in software form (Zenology).
The new Juno also has a very similar synthesis architecture as the recent Jupiters, with layers (up to five), slots for plugin-like Model Expansions, drums, an AI-based arpeggiator, and more.
106 It


At first glance, the new Juno is a dead-ringer for a classic Juno-106, complete with a red, white and blue colour scheme and a similar panel layout. It's not a clone though. There are plenty of differences too. Like the original, it's got five octaves of full-size keys. However, these have channel aftertouch, something that players will really like.
The chassis is made from aluminium and is pleasingly hefty, although not so much that you wouldn't want to take it to a gig, should that be your thing. The panel also looks familiar, although these sliders and knobs are high-resolution for precise adjustments. The whole thing screams premium and is honestly much better made than its original DNA donor.
But, enough about how it looks. How does it sound?
Super Models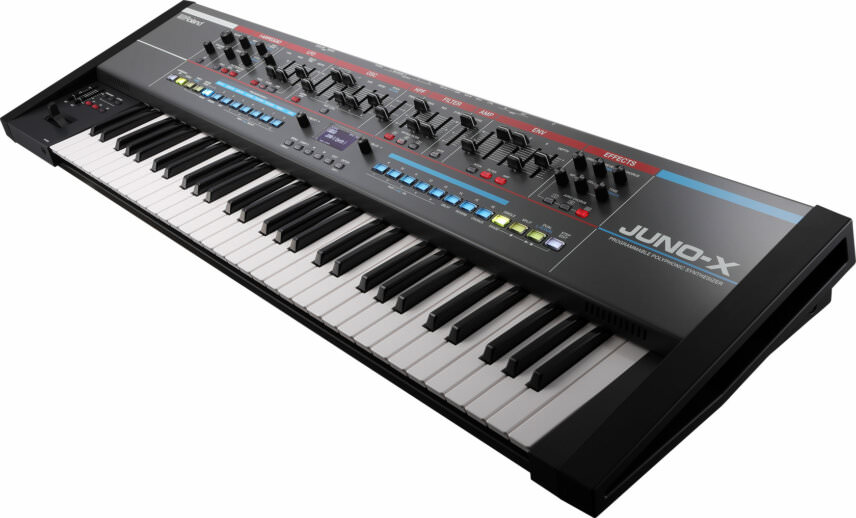 The key selling point for the Juno-X is undoubtedly the two bundled classic Juno models, Juno-60 and Juno-106. Like all the other ZEN-Core-based models in the Roland stable, they use a virtual analog synthesis system that the company calls Analog Behavior Modeling (ABM). This is less exact than Analog Circuit Behavior (ACB), which powers the Roland Cloud plugins, but less exact also means less CPU taxing so Roland is able to get much more polyphony out of it (up to 256 notes).
Is the difference audible? Not to us. They sound like the Junos in all the right places, from the 106 low-frequency bass bump to the squelch in the filters. Roland have replicated the controls on the panel as well, making sound design a quick and inspiring experience. And yes, it has the famous chorus, with buttons for I, II and even III (the first two simultaneously). They've even gone one step further and allowed you to press any combination of chorus mode at the same time for really thick and juicy modulation.
The two Junos aren't the only Models though. You also get the XV-5080, RD Piano, ZEN-Core synth engine, and a vocoder, with support for the Jupiter-8, JX-8P, SH-101, JD-800 and VocalDesigner, which are sold separately on Roland Cloud. The Juno-X also works flawlessly with Roland Cloud Connect, a Wi-Fi-enabled USB memory stick that connects the instrument to Roland's online store for patch and Model purchases.
Juno-X Marks The Spot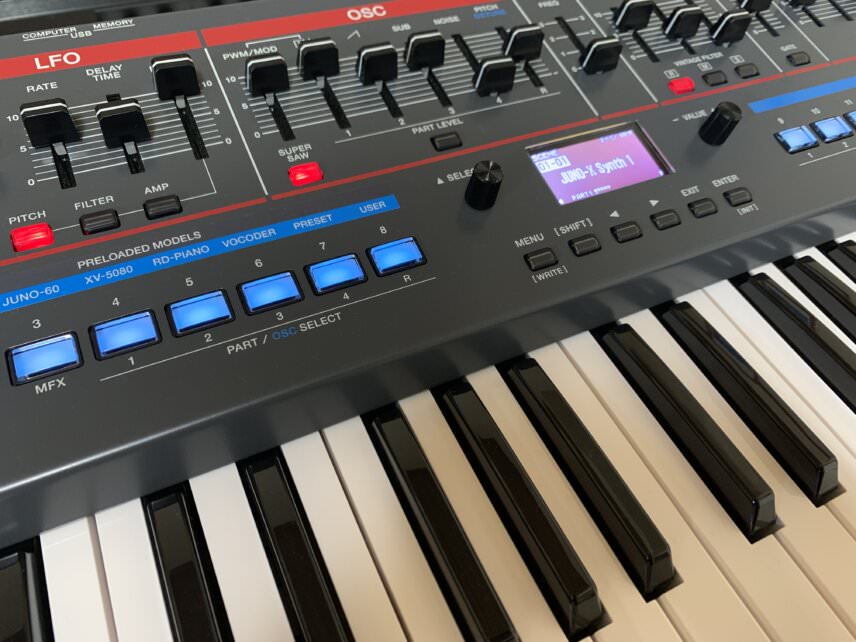 While most people will focus on the Juno models (and with good reason), for our money, the most exciting part of this new instrument is the dedicated Juno-X sound engine. Completely new and meant to represent the best of the entire lineup, it has a distinct focus on electronic music, with a detunable supersaw waveform (just in time for the trance revival), as well as an Alpha Juno-style pitch envelope, perfect for hoovers and other rave sounds.
As with the Jupiter-X, you also get three filter types: R (for Roland), M (a Moog-style Ladder filter), and S (the Sequential Prophet filter). All of this adds up to a flexible and fun synth engine with plenty of sound design potential.
Layers and Layers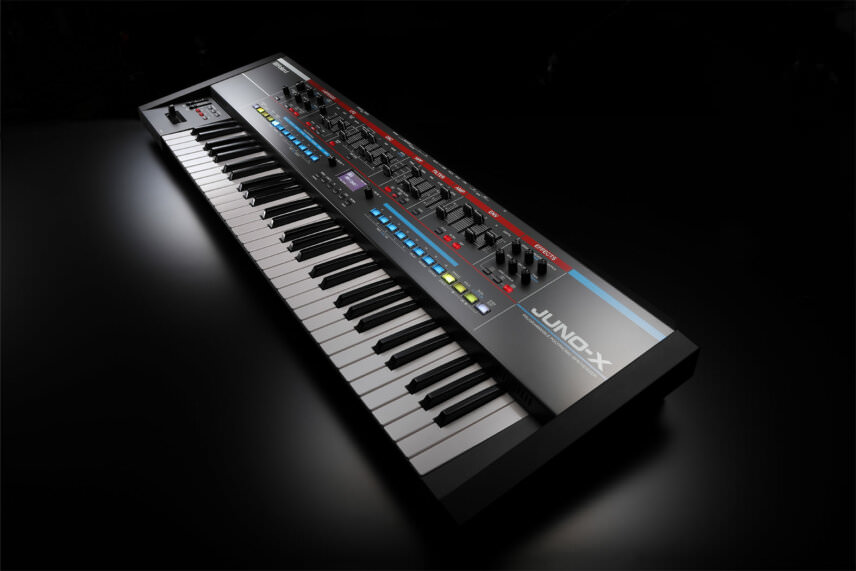 Speaking of sound design, the Juno-X offers more than just a series of emulations that you can access one at a time. Like the Jupiter-X, you can have up to five layers (four instruments and a drum track), allowing for seriously lush sounds. You aren't restricted to virtual analog either. The Juno-X has thousands of PCM waves from the XM-5080 (and thus going all the way back to the JV-1080). Combining Juno pads with XV bells and sampled plucks allows for some pretty sweet audio combinations.
There's also a comprehensive effects section with more than 90 multi-effects available for each layer, plus at higher levels as well. The effects are solid across the board. We particularly like the drive algorithm, which can dirty up the tones in a very modern and decidedly non-Roland way.
Too Much Of A Good Thing?
There's a lot more than we have time to cover here, like the step sequencer, USB MIDI and audio, onboard speakers, Bluetooth connectivity, and Main Stage integration. While some of these are undoubtedly useful, it's hard to see the broad appeal of speakers on a modern synthesizer.
We can't help but feel that these bells and whistles are unnecessarily adding to an already rather high price tag. At $1999, it's quite a commitment and not that much cheaper than the Jupiter-X ($2499), which comes pre-loaded with additional Models.
The Final Say
With its overall theme and strong main sound engine, however, the Juno-X is much more of a unified instrument than the Jupiter-X, which always felt like a cluster of emulations orbiting an empty centre. The 106-style panel layout on the Juno-X contributes to this sense of cohesion as well and makes it eminently tweakable.
Like the classic Junos, it's easy to quickly build up solid sounds from an initialized patch. However, with its ZEN-Core sound engine, plus thousands of PCM waves, you can get deep with it if you want to. It's expensive, yes, but the Juno-X is clearly a top-shelf instrument and for the most part, it justifies its price. This is especially true when it comes to the sound quality: the Juno-X is all-around, drop-dead gorgeous, so much so that you may forget to care that it's not actually analog.
While you're here you may enjoy...