Arturia's returns with their brand new V Collection 9, packed with a number of new plugins and presets.
Arturia is back with a significant refresh to their flagship instrument plug-in bundle. Including 14,000 presets from a stable of respected sound designers, four new instruments, and notable revamps to some of their most beloved emulations, their v9 collection is the most full-featured to date.
While the abundance of presets is naturally accessible on a per-instrument basis, the Analog Lab plug-in acts as a simplified hub. It provides an easy way to navigate them all from a single device, where you can search by sound category (leads, bass, etc.), instrument emulation (MS-20, CS-80), or sound designer. Loading a patch provides access to well-programmed macro parameters for instant tweakability, often providing a starting point without overthinking it.
Renowned for their immaculate digital reproductions of analog synths, Arturia adds to their library of classics with the semi-modular Korg MS-20 V. A legendary monosynth, Arturia models its oscillators and trademark filter circuit with uncanny precision, adding a sequencer and built-in effects for good measure.
KORG MS-20 V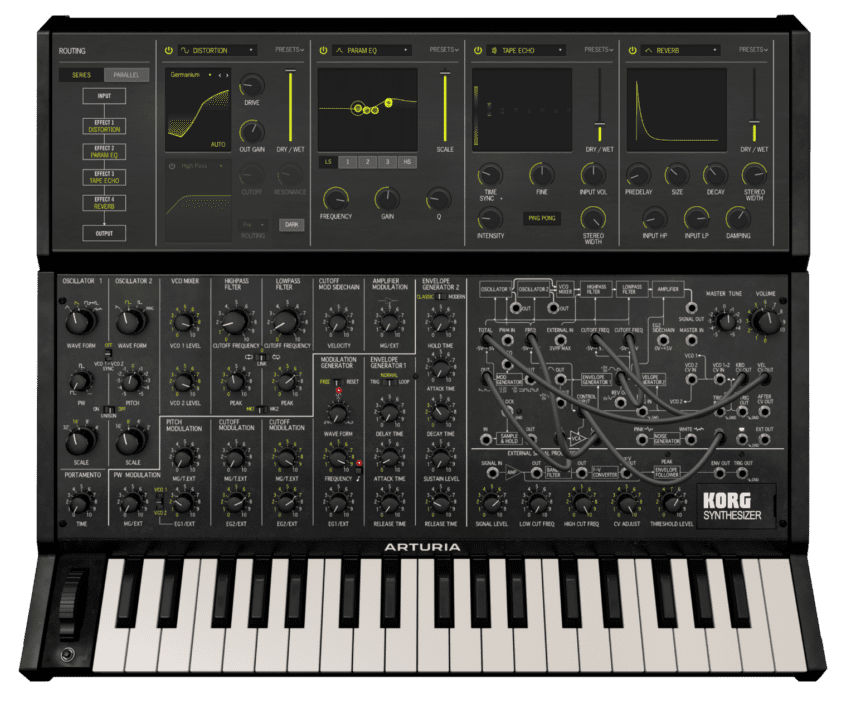 Due to its intuitive virtual modular patch-bay, the MS-20 V is a sound design powerhouse, easily rewarding producers looking for a starting point, and those willing to get more involved with flexible routing options. Better still, it offers polyphonic playback modes – a clear advantage to the digital emulation the original could never offer.
Combining digital circuitry with analog filtration, the SQ80 V is a versatile, lo-fi polysynth that has plenty of crunch and character. Previously introduced as a standalone offering, it's a welcomed addition to the V collection, complementing the DX7 and CZ in their vintage digital selection. Speaking of vintage digital, the Prophet VS has been updated for v9 with advanced modulation options, including highly customizable envelopes and built-in effects.
SQ80 V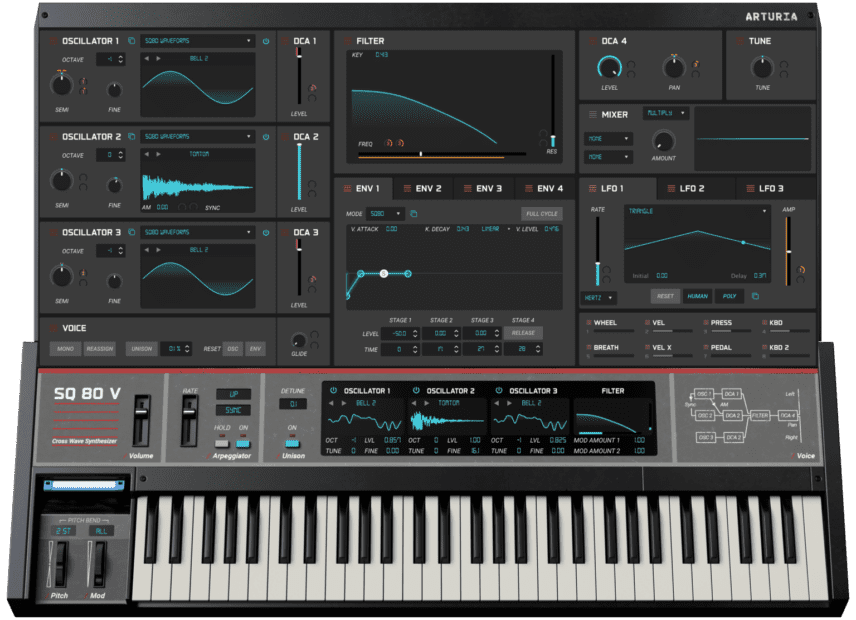 This brings me to the Prophet 5 V – another updated emulation of a legendary analog synth. With a simple interface that lends itself to intuitive programmability, the Prophet 5 excels at soaring leads, thick bass, and lush pads alike. Along with its unique Polymod features, the addition of modern modulation and effects brings it into the fold with the rest of the v9 collection, while providing numerous advantages over the actual analog version, offering plenty of new inspiration for sound design in the process.
PROPHET 5 V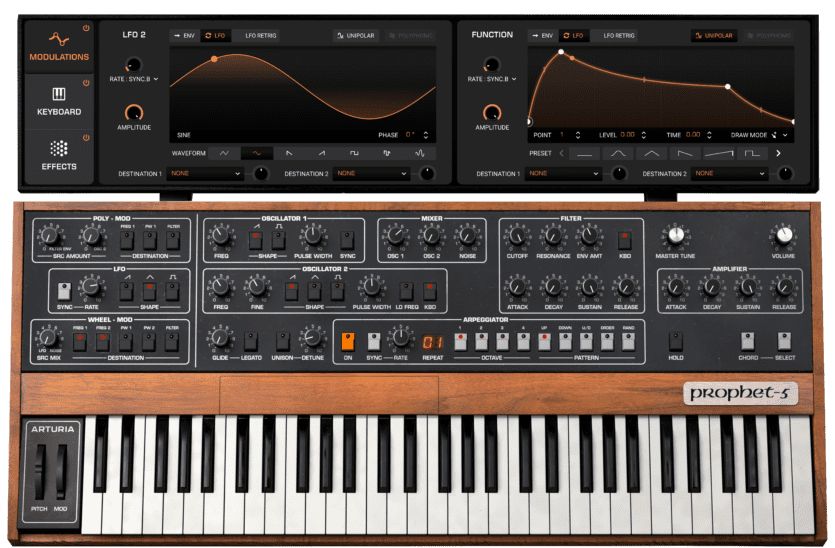 Piano v3 has been significantly updated too, providing some of the lushest, most realistic piano sounds available in the virtual domain. Easily select from numerous grand and upright piano models, adjust the macros, and open the advanced tab to access built-in effects. Plus there are modelling controls that provide unconventional sound design possibilities.
Arturia's celebrated emulation of Yamaha's mighty CS80 sees a major boost with v9. Adding digital effects, advanced keyboard input control, and powerful modulation, the modernization of this beloved plug-in is well worth the price of entry.
Custom function generators provide sequenced modulation of any parameter, while the unique modulation mixer allows for mathematical combinations of two modulation sources – say, a function generator and an LFO multiplied together – to produce a new, combined modulation source that can be assigned to up to three destinations. The effects of course sound fantastic, but the addition of advanced modulation opens up new and tantalizing possibilities for this distinctive virtual synth.
CS80 V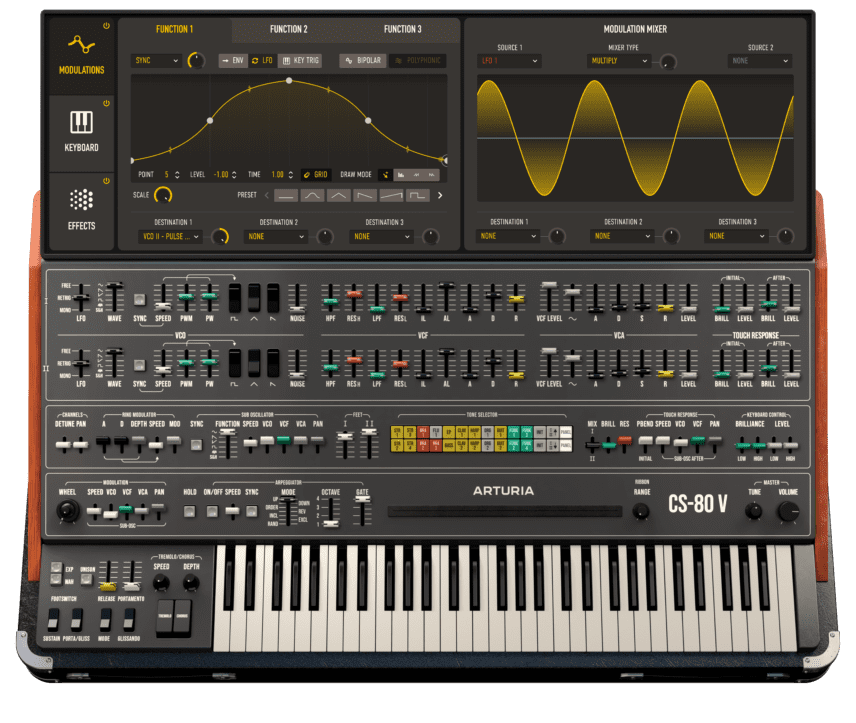 Augmented Voice and Augmented Strings
Two of the most significant instruments added to the v9 collection are the newly-introduced Augmented series: Augmented VOICE and Augmented STRINGS. Both combine dual sample and synth layers into an attractive modern interface with simple macros in the default view.
Under the hood, you'll find a huge variety of controls available, from individual layer controls to in-depth modulation options, including multiple LFOs, customizable function generators, random signal generators and more. Add this to a pair of effect sections – one for the layers, and one for the main output – and you've got access to a wide array of lush, layered, textural sound design options.
All the presets sound impressive, and provide excellent entry points to any instrument. While they both perform well in a variety of contexts, Augmented STRINGS, as one might expect, excels at sumptuous pads with plenty of motion. Augmented VOICES provides the complement of choral textures one might expect based on the name – along with a surprisingly versatile selection of basses, leads, keys, and more. If you're not in the mood to dive too deep, fear not, as those friendly main page macros give you much of the control you might need.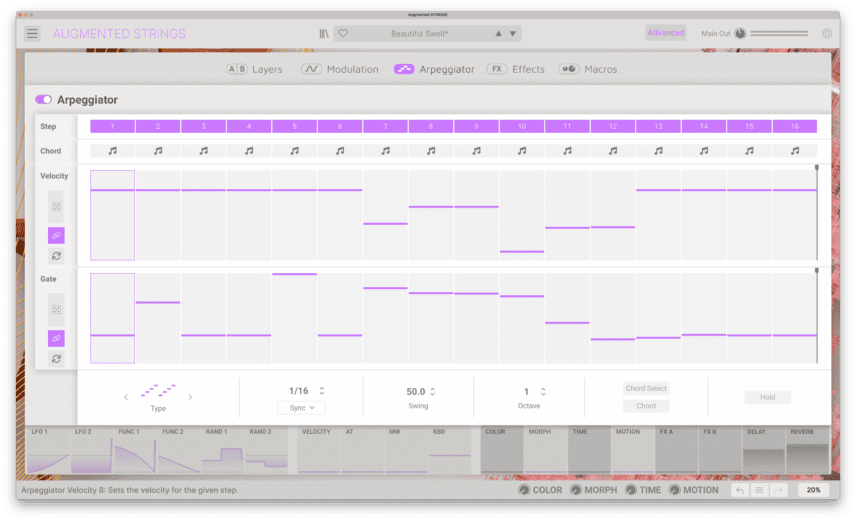 Final Word
In combination with all their established library of vintage synthesizers, electric pianos, samplers, and organ emulations already included. This update to Arturia's collection convincingly modernizes existing plug-ins while adding powerful new instruments and a wealth of excellent presets to their already industry-standard collection. Whether you're looking to expand your current Arturia rig or add a virtual vintage library to your studio, Arturia's flagship Collection has further cemented itself as the industry standard with v9.
While you're here, you may enjoy...