Next up on the review bench is the OneOdio Monitor 80 headphones, an open back pair of cans for budget-conscious music producers.
OneOdio has a wide array of different units. It seems not a week goes by that we don't receive a new pair. We have reviewed the A79, A30 and A11 models which are their wireless offerings. We've also used the Monitor 60s which are wired and their more premium range.
Next up is the Monitor 80s which are the sister product to the Monitor 60s. Do you get that extra 33% as the title suggests or is it just 1/3 more on price?
Monitor 60s vs Monitor 80s
The Monitor 80s are an enhancement, rather than a replacement, for the OdeOdio wireless Monitor line. In short, for the extra spend, you are getting a more advanced set of headphones. What immediately sets apart the latest Monitor 80s is that they are open-back. The Monitor 80s are $129, currently on sale for $99 whereas the Monitor 60s are $89 but currently on sale for $79.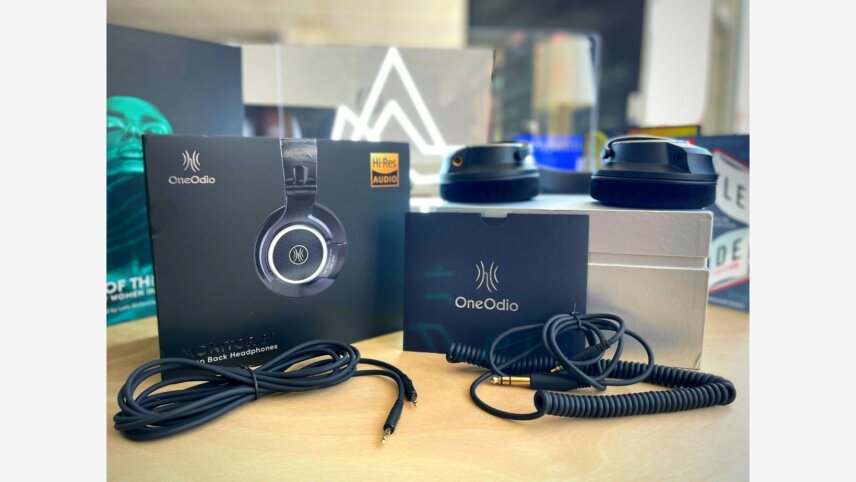 What are open-back headphones?
Open-back headphones are typically more expensive high-end offerings. They allow an air stream to hit the rear of the speaker driver, in the cans. This helps reduce or eliminate low-frequency build-up caused by the rear enclosure. Think of Beats by Dre as a comparative offering, as closed-back headphones, they offer more in the low-end. Open-back headphones are designed for critical listening, mixing and mastering but also for audiophiles who want the best listening experience.
Having said that, open-back does not offer as good isolation as their closed-back cousins. You will hear things going on around you. However, if the desired use is the studio, then presumably it's a quiet environment and open-back cans will be in their element. If you're looking for precise mixing cans, choose open back if your mixing room allows.
Unboxing the Monitor 80s
First impressions are that the Monitor 80s are a step up in quality from the 60s. The box and headphone case are pretty well designed and the pamphlet/ instruction manual enclosed has a considered black and silver design. They come with:
OneOdio Monitor 80 headphones
A hard shell carrying case
A 9ft coiled cable with a 3.5mm jack plus a quarter-inch plug for the right ear cup
A straight cable (about 9 feet as well) with a 3.5mm jack on both ends (plugs into left ear cup)
Instruction manual
The headphones are light, weighing only 297.67 grams. Rather than faux leather, vegan leather or alcantara, they are made with velvet. The ear cups offer a 180-degree swivel function and sit comfortably on the head. You should find they don't tire you down over long protracted use.
The extra cables are a good touch. Typically wired headphones are better quality, and that remains true here. It's only AIAIAI that has attempted to turn the wireless market on its head with their zero-latency TMA Studio 2 offering from last year. AIAIAI aside, you should stick to the wired options for better quality, especially when run through a good amp or interface.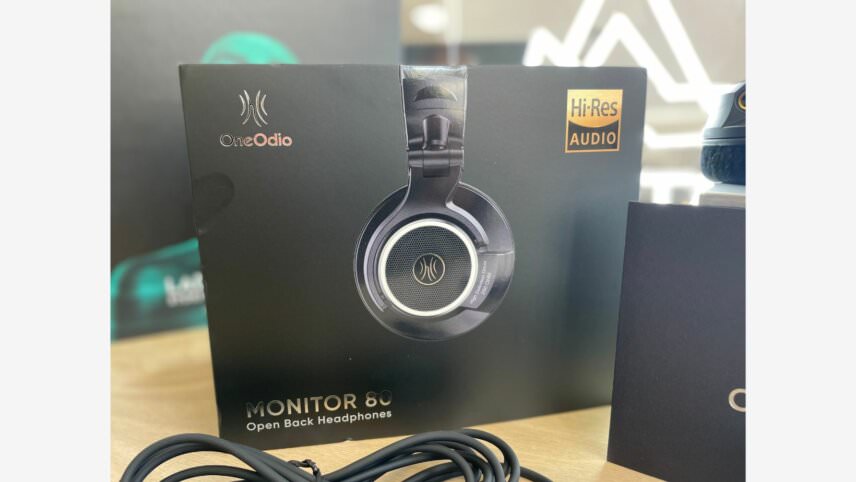 How do the Monitor 80s sound?
Firstly, they sound like an open-back pair of headphones should! There is a great deal of transparency but as mentioned a lot of background noise. Working in the Attack office, we could hear all sound distractions in our vicinity. Also, we were listening with them plugged into a 2019 Mac Book Pro.
However, the instructional pamphlet suggests that the Monitor 80s perform better through an amp. Back in the studio, we tried them with our Apollo Twin and the difference was noticeable. We listen to an array of electronic music from LF System to Bodzin to Dua Lipa and compared the results. Overall the sound is balanced, without any nasty surprises. The sound was flat and not overly dimensional either. They are built to offer clarity and accuracy of sound rather than DJ functionality. As such, you get a very revealing pair of studio monitor headphones with clear, neutral sound and solid bass extension.
For a bargain price, currently just $99, they perform well. You won't be disappointed if a comfortable, affordable listening experience is what you desire.
If you have a quiet studio or bedroom working environment, the Monitor 80s will likely do the job. However, if you're looking to track microphone recordings using them, we'd tread carefully and perhaps jump for a closed-back alternative, perhaps the Monitor 60s if you're looking to work on a budget.
A product in comparison that recently had a noticeable impact is the Beyerdynamic DT 900 PRO Xs. They are over double the price of the Monitor 80, granted, but the quality upgrade is substantial. Music Radar assigned them the best open-back cans available at the time of writing. If you are working in a professional capacity jump for the Beyerdynamics. However, if you're starting out, then the OneOdio 80s will be a sound first investment.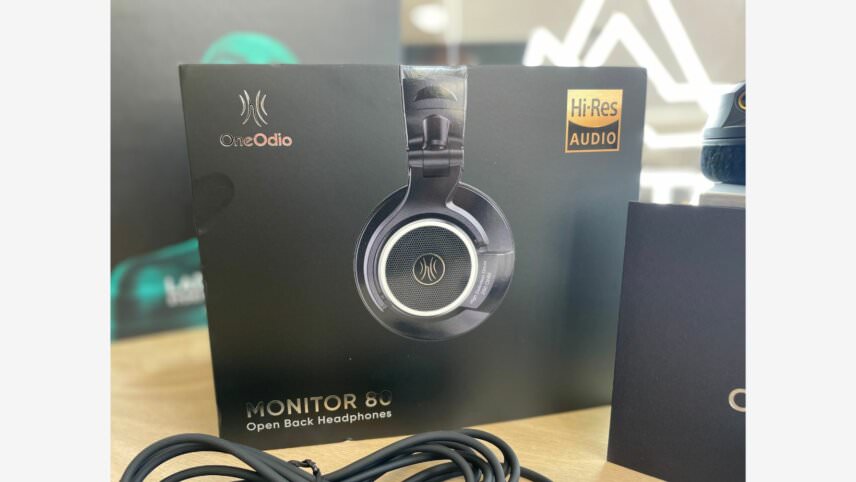 OneOdio Monitor 80 Specs
Model Name: Monitor 80
Frequency Range: 10 Hz-40000 Hz
Impedance: 250Ω ±15%
Sensitivity: 100dB ± 3dB
Distortion: ≤1%
Max Power: 1600mW
Plug Type: 1/8 (3.5mm) /1/4 (6.35mm) jack/plug
Size: 20 x 10.5 x 20.5 cm
Weight: 230 Grams
Final thoughts
Open backs are for critical listening. If this is your first foray into using headphones for sensitive and surgical music decisions, you'll enjoy it. If you're a professional, perhaps keep to the high priced models.
As a final note, we wouldn't suggest these for DJing. If you want to review headphones for DJing you can read our headphone roundup here.
*Attack Magazine is supported by its audience. When you purchase through links on our site, we may earn an affiliate commission. Learn more.
Attack Reads get 20% off the Monitor 80s!
Just use the discount code Obtenir20% at checkout:
OneOdio also offering a great deal on the F1 True wireless earbud.
Use the discount code ONE618 for over 65% off. Wireless earbuds for $9.89 (not including shipping).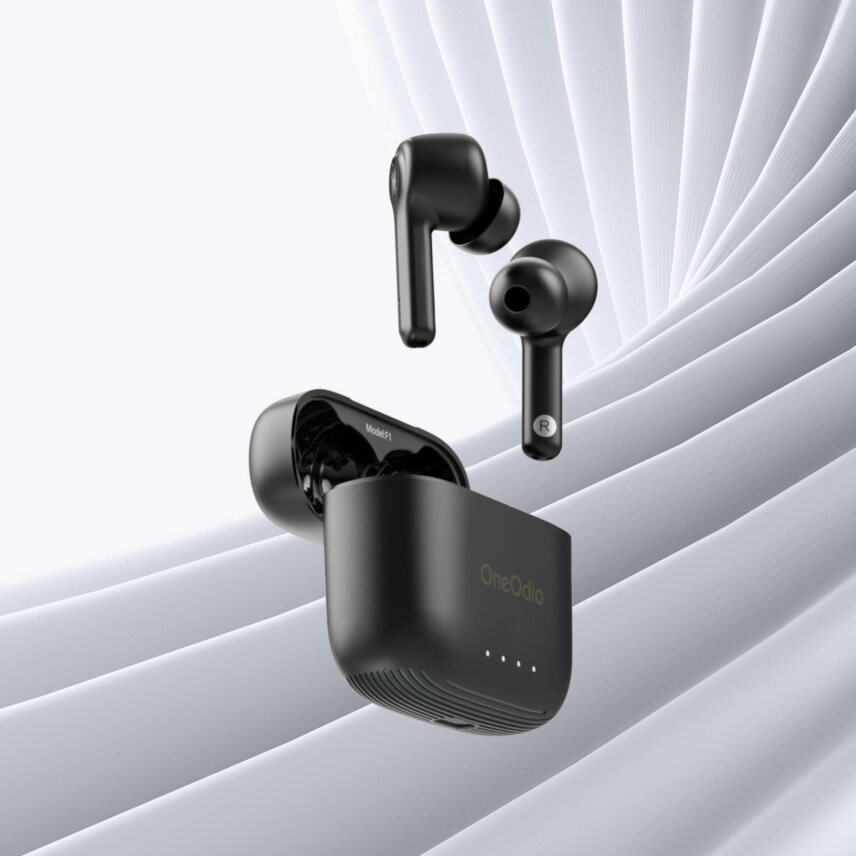 The Verdict
The Final Word
Won't hurt the pocket and offer entry level open back sound.