In this latest edition of our roundup series, we update our list of ten of the best studio headphones, from happily affordable to hardly obtainable.
It's arguable that there's no single more important piece of gear in your home studio than a pair of headphones. While monitors are up there as well, you won't get far without a good pair of cans to check your mix. And, depending on your living situation, they could be your main method for monitoring. Nothing kills the vibe faster than the neighbours (or your mum!) pounding on the walls.
While a good rule of thumb is to get the best pair that you can afford, there are a number of practicalities to consider above and beyond price. The first is closed back or open back. Closed-back headphones are designed to prevent sound from leaking out. This makes them better suited to tracking vocals and recording instruments. It also makes for a more immersive listening experience. Open-back headphones, as you can imagine, allow the sound to escape. These are generally preferred by mixing and mastering engineers as they sound more 'realistic' and open.
When looking at headphones, you should also consider the frequency response. Obviously, headphones with a wider frequency response are going to be better for music production. This is especially true if you don't have a sub and plan to use your headphones to check the low-end. As with monitors, you may also want headphones that don't hype any particular frequency range and are as 'flat' as possible. This is doubly important for mixing. Any heavy boosting could result in a mix lacking in that frequency band.
Comfort also needs to be considered. As you'll likely be wearing them for long periods at a time, you want headphones that don't pull or pinch. Lightness may be a contributing factor in this regard. You also want to look at whether the headphones are on-ear (sit directly on top of your ears) or over-ear (the cup surrounds your ears). Note that in-ear headphones are a different category and will not be covered in this guide.
Lastly, it's worth noting the impedance of the headphones. Low-impedance models are meant to be used with audio interfaces and consumer devices like phones. They don't need much power to sound good. High-impedance models require a hot signal from a dedicated headphone amplifier, which could add to your purchase price if you don't already own one. (Most of the headphones in this guide are low-impedance, although not all.)
Really, though, the best way to choose headphones is to spend some time with them. How do they sound? How do they feel on your head? Like monitors, you need to hear them in person to know if they're going to work for you. Think of this list as a way to narrow down your search.
As always, items are listed in order of ascending price. Were there any that we missed? Let us know in the comments.
1
AKG K240 MKII
www.akg.com
£58
We start our guide with the AKG K240 MKII, a budget pair of headphones that punch well above their weight class. Thanks to their semi-open construction, the K240s can function as both monitoring and playback headphones, which makes them something of a standard in the recording industry. We first encountered them in broadcast when DJing at a college radio station in the early 1990s and were immediately taken by them. You may have seen them in the video for Eddie Murphy's 'Party All The Time'. If not it's time to refresh your memory.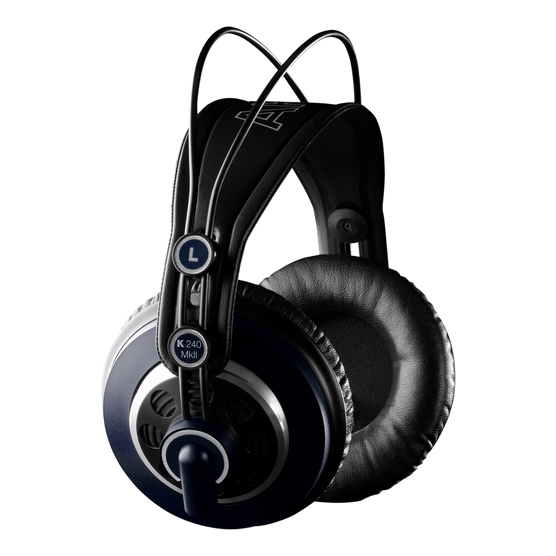 AKG designed the K240 MKII's to have a neutral sound. They have a frequency range of 15Hz to 25kHz, which is not bad, although they're a little lacking in the sub bass department. They're also not as crisp as more expensive headphones, but at this price they're really very good. They have an impedance of 55 Ohms, meaning they'll work fine with your audio interface. They can also pull double-duty as general listening headphones.
We especially like the K240's for their comfort. Some may find them bulky but we appreciate the lightweight construction and generous, over-the-ear cups. The strap expands automatically so they always fit as they should. It also has a removable cable, handy if you accidentally step on it.
For the budget-minded producer, or for someone looking for a second pair of cans for tracking, the AKG K240 MKII's should be high on anyone's listening list.
2
Sony MDR-7506
pro.sony
£89
Where the K240's have a nice sound, the Sony MDR-7506's tend towards the unforgiving. These are not general-use headphones, these are production cans. They're extremely popular, and there's a reason they've been in production since 1991: they reveal flaws. Unflattering, yes, but absolutely necessary when producing music.

Let's check out the specs of these closed-ear headphones. The frequency response of the MDR-7506 is 10Hz to 20kHz, so no slouch in the bass department. It has an impedance of 63 Ohms, so they're plenty loud when they need to be.
Most headphones are either on-ear or over-ear. The MDR-7506 have a hybrid on/over design, with plush earpads that fit snug around your ear, with the centre part sitting on your ear. They also fold up and come with a carrying bag, perfect for outside sessions.
They're not going to win any beauty contests though. These are utilitarian headphones that haven't had a need to change their cosmetic appearance since raves were in their infancy. However, for a solid set of studio cans that won't sugarcoat your mix, these are definitely worth a listen.
3
Sennheiser HD-25
Sometimes you need a pair of headphones that can get loud. Maybe you're tracking a band and you need to hear what's happening over amplified guitars and drums. Maybe you're a DJ and need some cans for cueing tracks. Or maybe you just like it loud. If this fits your description, Sennheiser's HD-25 headphones could be for you.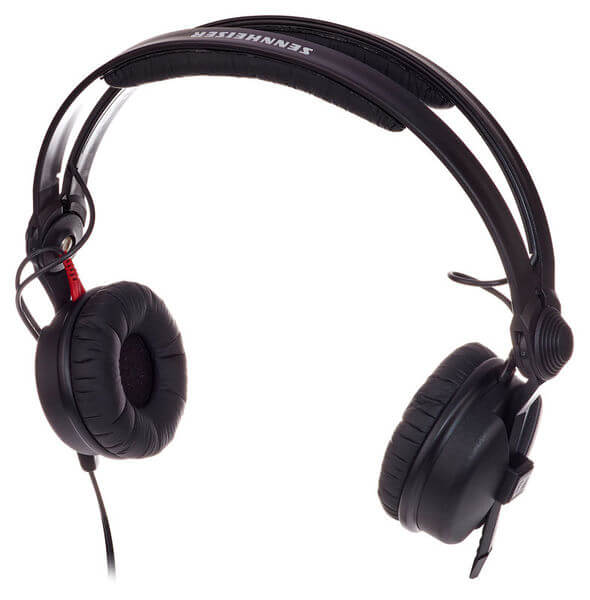 Something of an industry standard for DJs, these on-ear headphones have an impedance of 70 Ohms and a maximum sound pressure level of 120dB. That's the same as a jet taking off. It's fair to say that they can get loud. They can also handle the strain and won't break up under pressure. The frequency response of 16Hz to 22kHz is decent too. The closed-back design means all the sound goes right into your ear.
Designed with DJs in mind, the HD-25's have rotatable capsules for single-ear monitoring. They're also lightweight and particularly durable. The price is right too.
While they might not be your choice for in-studio mixing, for any situation where volume is a requirement, these are the ones to reach for.
4
Audio-Technica ATH-M50x
From what we've seen so far, it's clear that the mid-range studio headphone market is fairly crowded with solid-sounding units. Here's another: Audio-Technica's designed their popular ATH-M50x headphones for studio use, and their wide range of features and specifications means they sound good in almost every application.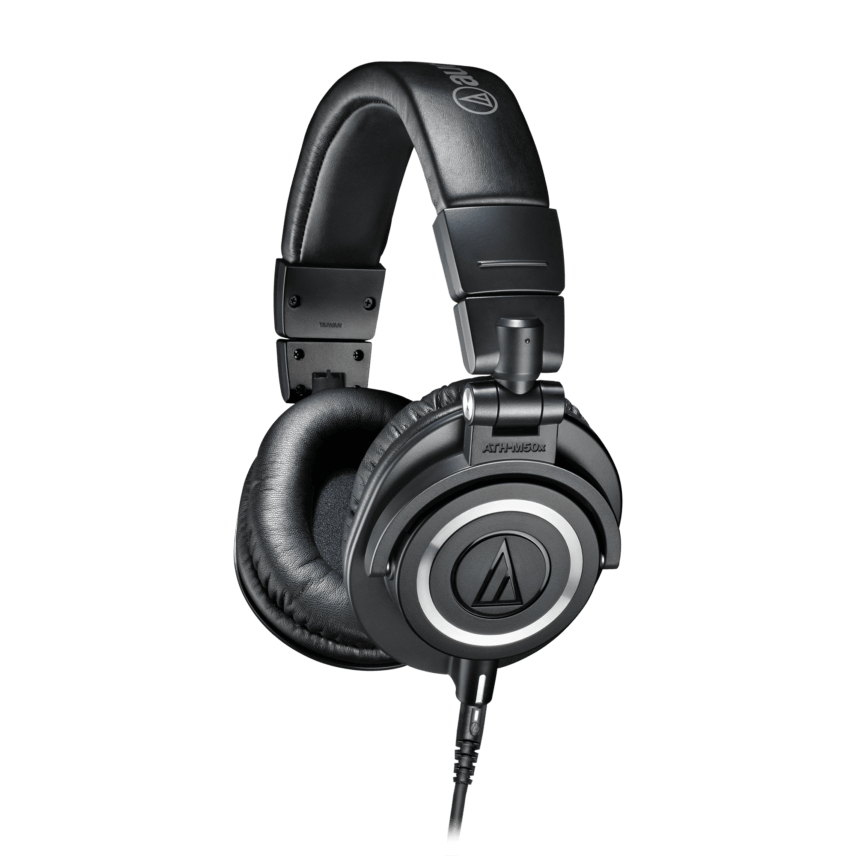 Let's look at the specifications. These closed-back headphones have an impedance of 28 Ohms and a frequency response of 15Hz to 28kHz. They have a solid bass and treble response that is clear yet avoids ear fatigue.
The ATH-M50x's have an over-ear design to help with isolation in loud environments. The cups swivel 90 degrees for DJs, and the cable is detachable. In fact, they come with three separate cables: a 1.2m-3.0m coiled cable, a 3.0m straight cable and a 1.2m straight cable so you're free to switch them out depending on your environment.
The ATH-M50x's are excellent general-use studio headphones and great value for the money. All that remains is for you to try a pair on.
5
Audio-Technica ATH-R70x
Until now, we've looked at closed-back headphones, or cans that create passive isolation by blocking out outside sound. Audio-Technica's ATH-R70x model is open-back. These tend to have a larger sound stage than closed and are the type of choice for mixing and mastering engineers. They're also more expensive, as the jump up in price will attest.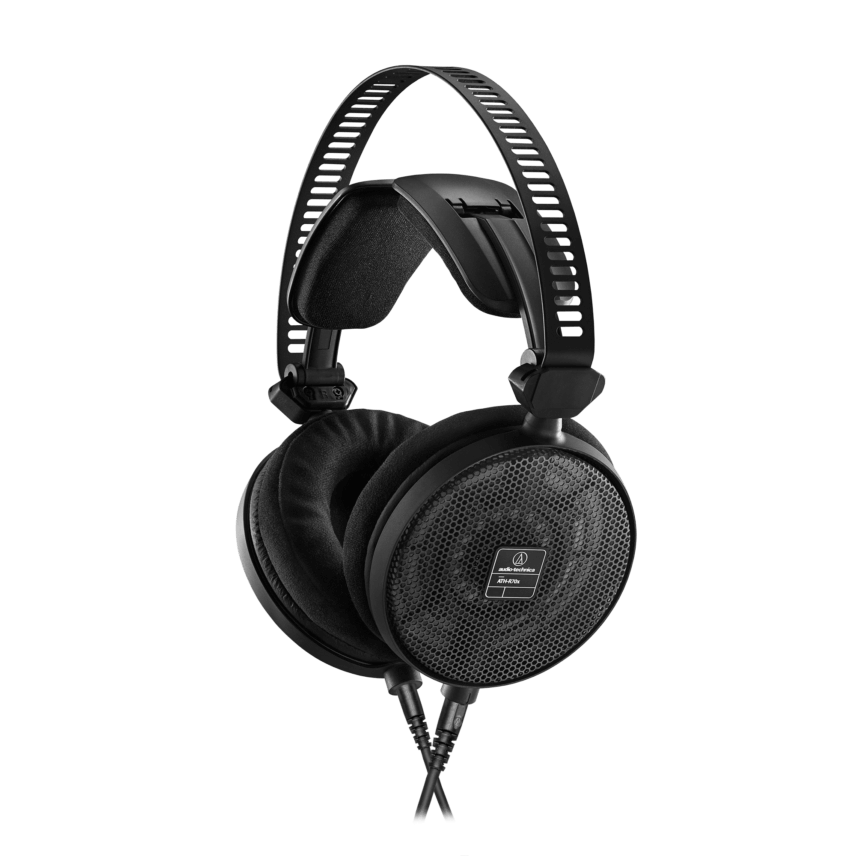 Audio-Technica's first open-back headphones, the ATH-R70x's have acoustically transparent housings made from aluminium honeycomb mesh. They're extremely lightweight and, with Audio-Technica's 3D Wing Support straps, made for wearing for long periods of time.
Designed for pros, they have an impedance of 470 Ohms, meaning you'll need a headphone amplifier to get the best out of them. And get a gander of their best: they have a frequency response of 5Hz to 40kHz. But what makes them worth checking out is the neutrality. The R in R70s stands for 'reference' and it's clear the good people at Audio-Technica had music mixing in mind when they designed them.
While just on this side of expensive, the ATH-R70x's still represent good value for money.
6
Sennheiser HD-650
We continue our rundown of mid-priced studio headphones with Sennheiser's HD-650's. These are getting on in age, having wowed professionals and audiophiles for some years now. But like they say about something that's not broken…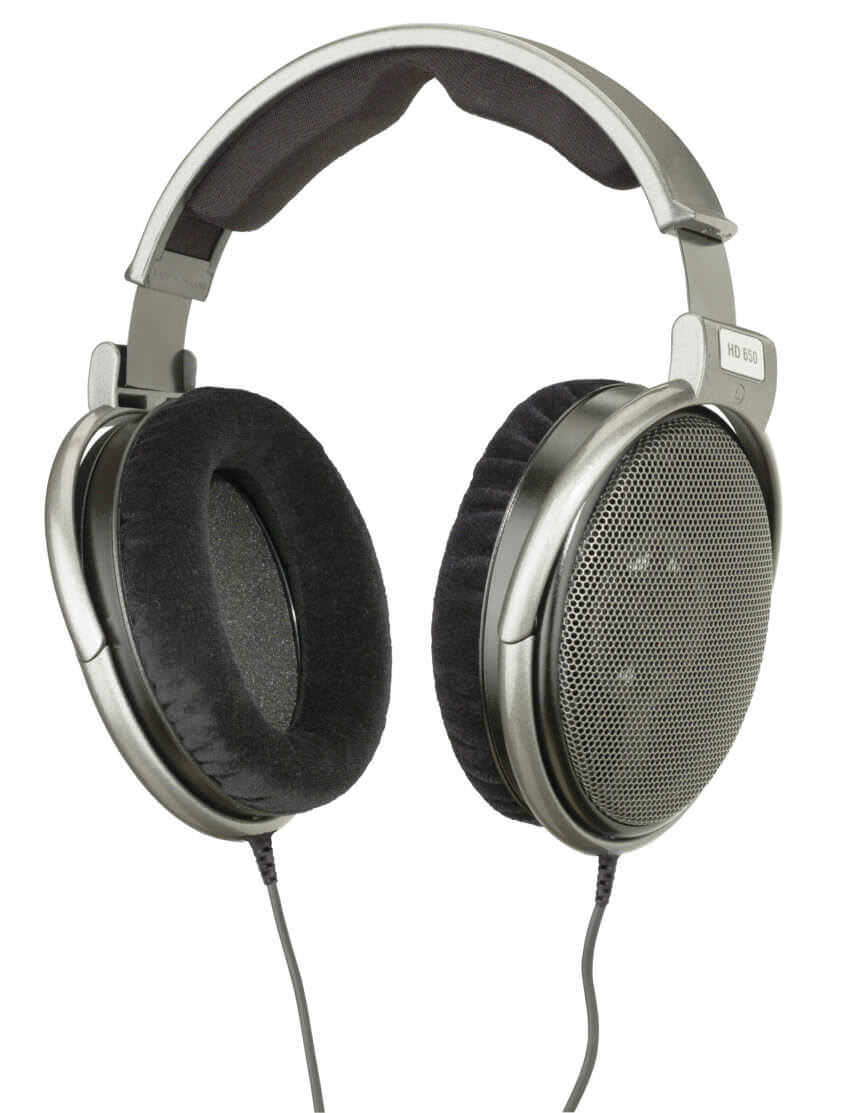 The HD-650 is an open-backed set of phones, and thus best for mixing and mastering. They have a generous frequency response of 10Hz to 41kHz, and remarkable balance between left and right drivers. They're also extremely neutral. Developers Sonarworks called them "pretty much the most neutral headphones available on the market" and use them as in-house reference headphones. While they do have an impedance of 300 Ohms, you may be able to get away with driving them with just an audio interface.
They're lightweight and meant to be worn for long periods of time. As you'd expect from open-back headphones, they're over-ear, with cups with an elliptical design adapted to the shape of the ears.
Sennheiser's HD-650 have become something of an industry standard for audio professionals. That's good enough for us.
7
Beyerdynamic DT 1770 PRO
Beyerdynamic was founded in 1920 and remains the oldest audio company still active. We'd bet they've picked up a trick or two along the way, so it's no surprise that their DT 1770 PRO headphones sound as exceptional as they do.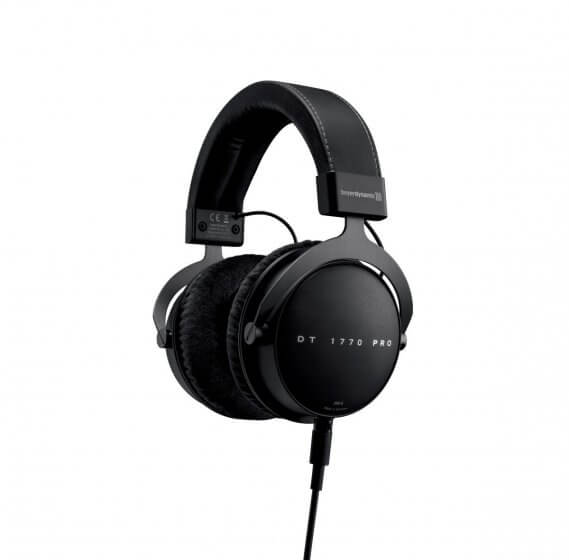 We're in a price range now where it isn't enough to just have good frequency response, although these do, stretching from 5Hz to 40kHz. It's also not enough to talk about impedance (250 Ohms, at home with either a headphone amp or audio interface). At this level, it's all about the details. For example, the transducers. Beyerdynamic uses a technology they call Tesla that reduces distortion at even high output levels, resulting in more headroom, and thus more detail in the sound. They also have the kind of soundstage you usually don't hear at this price level.
The DT 1770 PRO is a closed-back headphone, meaning it can work in both recording and mixing situations. To further this, it comes with two types of cup, leatherette and velour. Choose leatherette for tracking and the more open-sounding velour for mixing. It also comes with two (detachable) cables, a 3m straight and 5m coiled one.
When you need an absolutely clear and unmuddied representation of your music, strap these on.
8
Shure SRH1540
www.shure.com
£398
Headphone weight is important when you wear them for hours at a time. Shure's SRH1540 headphones are exceptionally light, weighing in under 300g. The key to this is the material. With a yoke made from aircraft-grade aluminium alloy and a carbon fibre cap, they're both light and durable.

Of course, this wouldn't mean very much if they didn't also sound the business. With a frequency response ranging from 5Hz to 25kHz, the SRH1540's have a wonderful presence in the bass region. They're also no slouch when it comes to reproducing transient detail, something that mixing engineers need to pay careful attention to. They're also devilish at reproducing a full soundstage.
These closed-back cans are over-ear, with cups made from Alcantara, a soft, suede-like microfibre. They also come with an extra set of cups and a replacement cable, ensuring a long lifespan.
While the price is leaning towards the upper end of the spectrum, you really do get what you pay for when it comes to the SRH1540's.
9
Focal Clear Professional
www.focal.com
£1,135
Focal may be best known for their studio monitors but they also make headphones, and the Clear Professional is their top-of-the-line model.

These open-backed headphones are designed for both professionals and audiophiles, and thus boast a sound that is both neutral and pleasant to listen too, particularly in the low end. They have a frequency response of 5Hz to 28kHz and an impedance of 55 Ohms, meaning they can be comfortably driven by even your phone.
They're also extremely comfortable, with a leather and perforated microfibre headband and solid aluminium yoke. Indeed, Focal states insist that they're "so comfortable that you forget you are wearing them".
They come with two cables, a straight 1.2m-long one and a curly 5m cable. They also include two spare ear cushions, should the originals wear out.
There's no denying these are expensive headphones but for the ultra-serious professional, they just might be worth it.
10
Audeze LCD-MX4
www.audeze.com
£2,799
Audeze have been making waves in the headphone world with an approach to headphone design that includes flexible circuit material designed for NASA and magnetic planar drivers. These come together in the LCD-MX4, their studio-focussed unit.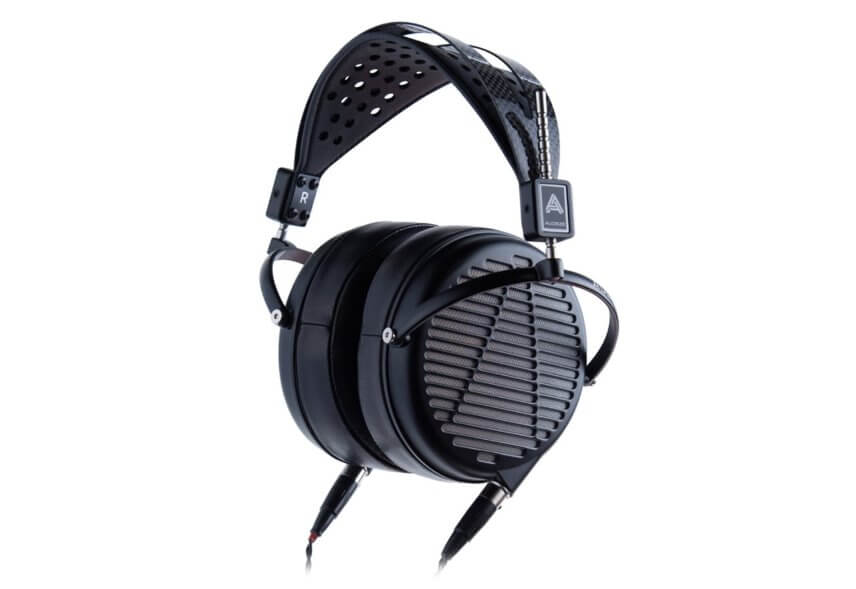 These open-back cans were designed for mixing and mastering applications, and feature a frequency response of 10Hz to an astonishing 50kHz. They also have a remarkably low impedance of 20 Ohms, although with headphones of this quality you're likely going to want to pair them with an equally high-end headphone amplifier.
As the over-ear LCD-MX4's are for studio work, Audeze has designed them to be balanced, neutral, and transparent. They're also incredibly precise and detailed, with a tight and fast response.
While not the lightest headphones on this list, the carbon fibre band helps keep the weight down, while the leather-covered memory foam cups ensure comfort during long listening sessions. They come bundled with a 1.9m 1/4-inch to dual four-pin mini-XLR cable and a sturdy travel case.
The Audeze LCD-MX4 headphones are extremely expensive, and thus out of the reach of most musicians and producers. But for the truly discerning professional, they're something of a pinnacle of headphone technology.
*Attack Magazine is supported by its audience. When you purchase through links on our site, we may earn an affiliate commission. Learn more.