We go behind the scenes at Audio-Technica's Tokyo headquarters to learn more about the company's dedication to analogue audio, their flagship product the AT-ART1000 cartridge, the Analogue Foundation movement plus we took a trip of some of Tokyo's best record stores.
The period following World War II was a real turning point for Japan as a nation. While the rest of the world busied itself with the Cold War and the space race, Japan turned its attention inwards, focusing on rebuilding not just the physical damage inflicted on its cities, but also its economic infrastructure.
From as early as 1946 with the creation of the SONY Corporation, the country's path to becoming a giant of the electronics industry was set and would see it continue to dominate the sector for decades to come. Post-war land reforms and an improved education system led to an upsurge in technological development, and with rapid advances in the miniaturisation of transistors and superconductors, Japan's bright technological future was assured. It wouldn't be long before, in a curious juxtaposition of ancient culture and modern innovation, the words 'Japan' and 'technology' would become virtually synonymous.
It was against this backdrop in 1962 that 42-year-old Hideo Matsushita, drawing on his passion for high-quality, high-fidelity sound and fascination with the gramophone, abandoned a ten-year tenure as curator of Tokyo's Bridgestone Museum of Art and established the Audio-Technica Corporation in a rented, one-story building in the city's Shinjuku district. Their first ever product – the iconic AT-1 turntable cartridge – was released almost immediately after, the beginning of what was to become a lifelong quest to bring quality audio to the masses, a vision that still drives the company to this day.




Over the subsequent six decades, Audio-Technica has evolved into a truly global brand, with regional offices, factories and subsidiaries located everywhere from the States to the UK, Taiwan, Singapore and China. The majority of product design and development, however, along with a sizeable chunk of manufacturing, still takes place at home in Japan.
Based in the Machida suburb of Tokyo, Audio-Technica's luxuriously-appointed HQ was built in 2015 on the site of the previous 1982 building that had occupied the site since the company relocated there from central Tokyo in 1965. Operations here are spread across two buildings – the main HQ, split between Sales and Marketing offices on the South side and Research and Development in the North – and the neighbouring Naruse factory that specialises in fabricating hand-crafted items, including some microphone and headphone models as well as the company's new flagship product, the ART1000 cartridge.
Mass production of the company's broader product range, including turntables, microphones, headphones, wireless PA systems and, somewhat surprisingly, sushi-making machines (under the sub-brand Autec), is handled by a second factory 200 miles to the west in Fukui, along with another large manufacturing plant in Hangzhou, China.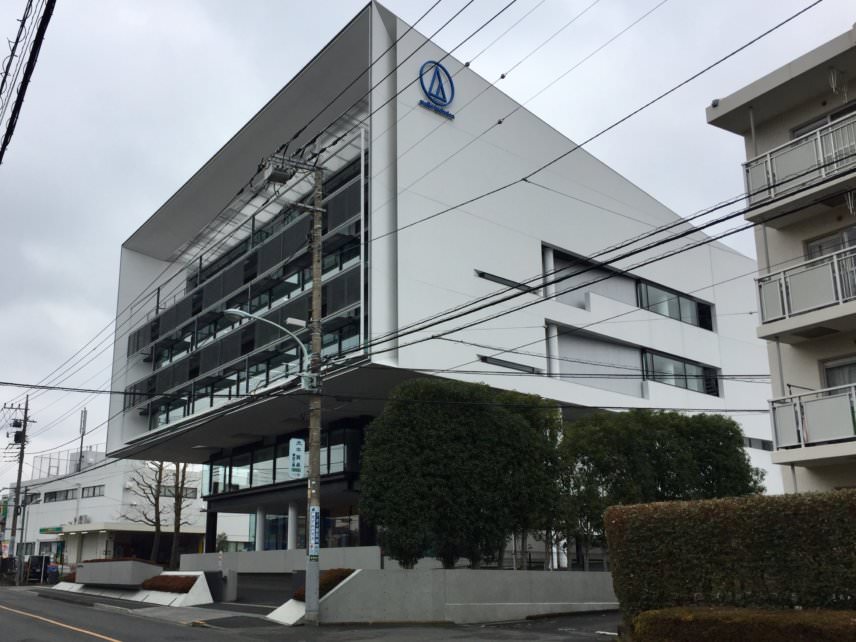 The Machida HQ building – affectionately dubbed 'Moby Dick' by employees, due to the passing resemblance of its exterior to an open-mouthed white whale – is something of a fusion of office building and art gallery, a naturally-lit expanse of white walls and light wood floors, richly furnished with choice items from Matsushita-san's expansive art collection. These include an original Picasso in the lobby, flanked by an impressive selection of antique gramophones, nearly all of which still work.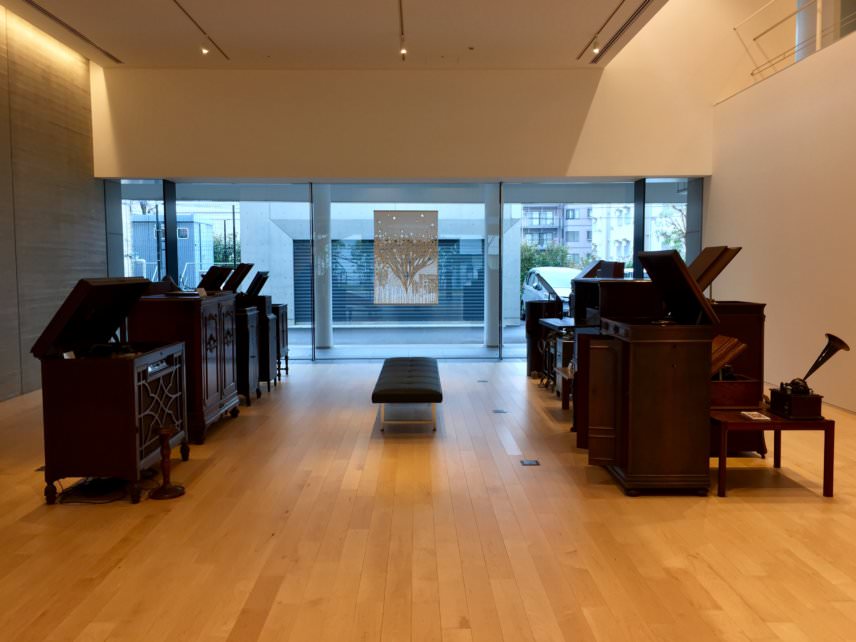 There are numerous other objets d'art scattered throughout the building's five floors, along with antique Scandinavian furniture and stained glass windows preserved and relocated from the auditorium that existed in the previous building – a deliberate nod to the company's impressive 58-year history.
A tour of the building reveals sumptuous boardrooms on the top floor, leading down through numerous offices housing industrious sales and marketing teams, and we're afforded a brief glimpse of the R & D department, where new additions to Audio-Technica's already prolific product range are brought to life.
One of the more impressive features in this area is the purpose-built evaluation chamber used for product testing. Entered by means of a massive, four-foot thick swing door and furnished from floor to ceiling with a regular pattern of sound-absorbent panels, the room is finished off with a wire mesh floor that effectively isolates it from the fabric of the building.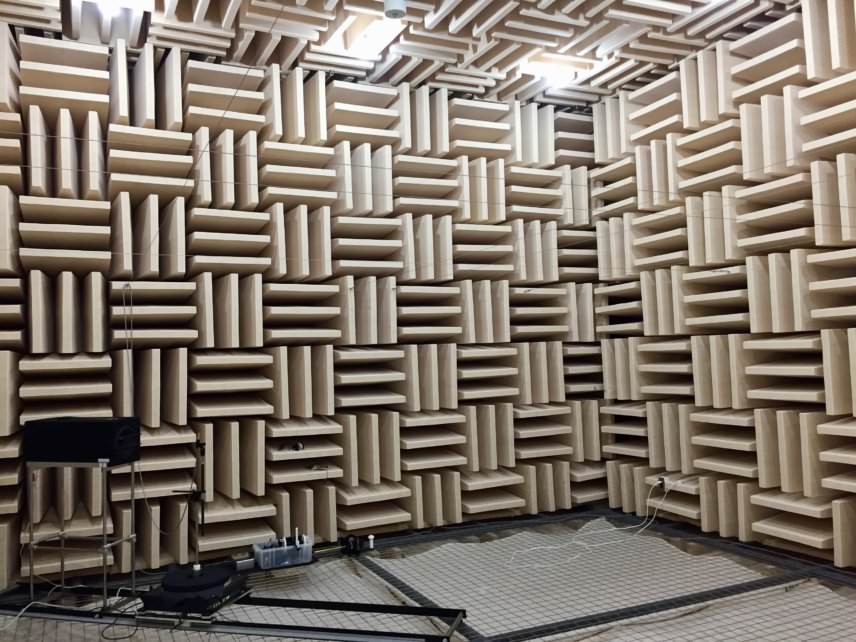 The AT-ART1000
30 years in the making
Upon entering the building, you're struck by a discernible corporation-wide attitude to excellence, and there's no more fitting symbol of this than Audio-Technica's flagship AT-ART1000 Direct Power Stereo Moving Coil cartridge. ("ART" stands for Audio-Technica Reference Transducer).
Hideo Matsushita's son and current company president Kazuo Matsushita hails this cartridge as the pinnacle of what the company wants Audio-Technica to be for their customers. "It's a very high-end product with a unique design that currently no other company in the world has been able to implement successfully," claims Matsushita-san in the company brochure. "We believe the sonic qualities of the AT-ART1000 will be difficult to surpass in the future."
Turntable cartridges work by using electromagnetism to convert the movement of a stylus in the groove of a vinyl record into an electrical signal. The signal is generated by transmitting the stylus' movement via a cantilever into a coil of wire situated between a pair of magnets.
Global Product Manager Kurt Van Scoy and Product Development Manager and co-designer of the ART1000, Yosuke Koizumi, elaborated: "generally, cartridges fall into two categories – moving magnet and moving coil," Kurt explains. "Basically, in a moving coil type, it's exactly what it says, the coils move in the gap between the magnets, but in a moving magnet type, there are two magnets at the back of the cantilever and it's those that move." The ART1000, however, uses a unique spin on the moving coil principle.
We believe the sonic qualities of the AT-ART1000 will be difficult to surpass in the future
"Typically, in other moving coil cartridges," Koizumi-san points out, "the coils will be found at the bottom of the cantilever, but the unique thing about the design of the ART1000 is that the coils are located just over the top of the stylus, so this cartridge can generate movement directly from the grooves in the vinyl record. The idea is very easy from an engineering standpoint, but manufacturing this product is quite difficult!"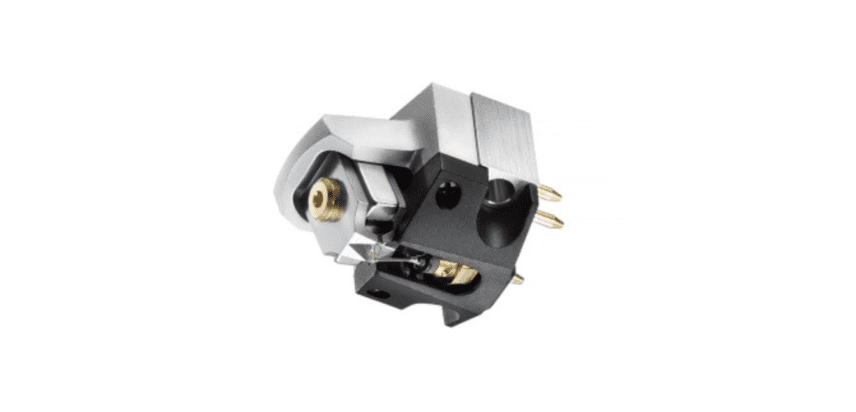 This intricate manufacturing process is one of the main things that make the ART1000 such a high-end product. The unique design, and the fact that it's assembled by hand from high-quality materials, like boron for the cantilever and titanium for the housing, results in an extraordinarily detailed sound. It also means that the finished product retails for a mouth-watering £4,450.
So how did such an unashamedly high-end product come to be in the first place? Koizumi-san explains: "The engineer who came up with the original concept thirty or so years ago, Mitsuo Miyata, is now in his sixties I think, and he's actually already retired from Audio-Technica. He has had a very unique career. As you know, in the 1980's the cartridge business dropped significantly, so Miyata-san switched to the development of headphones – he designed our ART Monitor Series headphone, with its unique 3D wing headband design – and then eventually he came back to cartridge development. Thirty years after joining the company he was approaching retirement age and he wanted to make this special cartridge to be marketed. Then I studied with him and it happened!"
"I think the ART1000 was about the last thing Miyata-san did before his retirement," continues Kurt. "It was introduced maybe about a year and a half or so before he retired. And then he championed the production part of it even after retiring, just to make sure things were running ok!. But the initial design was done a long time ago in relation to when it came out, more towards the time that cartridges started to fall out of favour because of the advent of the CD. I'm not sure of the exact timing of it, but for whatever reason, they didn't bring it to market at that point in time."
"The design of the ART-1000 is a little different than anything you'll see because a lot of the structure is open," Kurt goes on. "You have to take care when cleaning it, that you don't use any liquid stylus cleaner, so we give you a special brush to use to remove any dust or debris that you might pick up off of a record. So it's not typical of what you would see at all – it's our flagship model, we can only produce two a day – there's only one person other than Koizumi-san and a couple of the other engineers that can do the assembly on them, so that's the reason for the limited production rate. It was never seen as a high-volume piece, as it's something that's hand-assembled."
At that point, we take a walk across the road to the Naruse factory to take a closer look at the assembly process. There, amidst a scrupulously clean, more low-key environment, in which small groups of skilled workers sit diligently assembling components for headphones and microphones, we find the sole employee currently responsible for the assembly of the ART1000.
Hunched over a digital microscope, necessary for handling the tiny size of the components, Takahashi-san agrees to demonstrate how he hand-winds the minuscule coils for the cartridge, using breathtakingly thin, oxygen-free copper wire. At a mere 20 microns, it's thinner than a human hair and can barely be registered by the fingertips when holding it. As we watch the process, amazed, via the microscope screen, four turns one way, four turns the other, a dab of isopropyl alcohol and it's done. Six months in the job, Takahashi-san appears relatively young – around 25 – for such a responsible position, but as he explains, he's been trained by the inventor and, being so young, has the sharp eyesight and steady hands required for such a task. When Kurt mentioned about the ART1000 being hand-assembled, he wasn't kidding.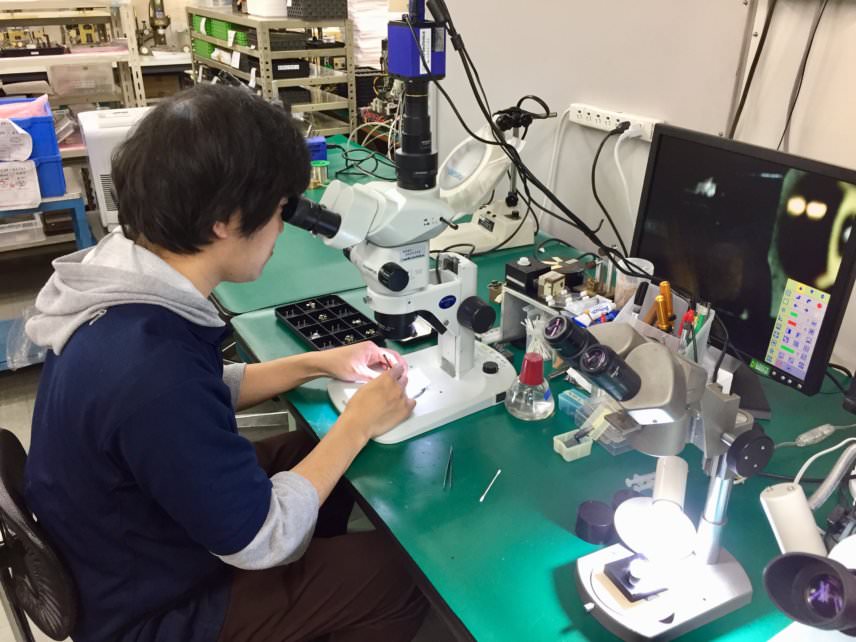 "People are inquisitive about the ART1000 when they see it," Kurt explains. "They recognise the performance characteristics of it, but really you don't appreciate it until you've heard it. It has some very interesting capabilities – if you did a direct A/B comparison to a standard moving coil cartridge of similar output, you would notice some differences on quicker tracks on transient passes, and there are some other really interesting areas, like stereo channel separation, that this cartridge can really dig out from the vinyl." Koizumi-san agrees: "Because the coils are located directly above the stylus, the level of transient detail is very good."
Of course, the next step in our journey is to hear it for ourselves. We retire ourselves, back to HQ and its dedicated listening room, with its interchangeable acoustic panels and an impressive stack of exotic analogue hi-fi equipment, including a towering pair of Bower & Wilkins 802 D3 speakers connected to a huge pair of Pass Labs power amps, an Accuphase preamp, Luxman phono stage, Audio-Technica step-up transformer and a high-end Spiral Groove turntable, fitted – of course – with an ART1000 cartridge.
The design of the ART-1000 is a little different than anything you'll see because a lot of the structure is open
Koizumi-san graciously asks what we'd like to listen to, so a vinyl copy of an industry-standard reference recording – Donald Fagen's 'The Nightfly' album – is pulled from the racks, the needle descends and, as expected, goosebumps happen. The best word we can think of
to describe the sound is 'creamy', with an incredible stereo image and revelation of mix detail that has to be heard to be believed, especially in the upper-mid range. It's as if the musicians are in the room with us, every string squeak, foot rustle and stifled breath can be discerned – a truly remarkable and pleasurable experience. We would hardly describe ourselves as audiophiles, but this scenario makes it clear that this is how music is meant to be
listened
to, rather than just heard. "I don't know of anybody that we've sent the ART1000 to that's had a negative reaction," Kurt smiles. "Really it's a case of, when you give it to a reviewer, it's been hard to get it back sometimes!"
Tokyo HQ
For the next stage of our visit, we make the journey across town to Audio-Technica's central Tokyo office, located in the city's Yushima district. Technica House won an architectural design award soon after it was built in 2001, and in a case of architectural jocularity similar to the Machida HQ, is purposely designed to resemble a hi-fi speaker cabinet.
Spread across eight floors, the company's central sales, marketing, logistics and promotions hub also houses a smaller version of the Machida HQ's evaluation chamber, as well as a fully-featured recording studio, equipped with a vintage Amek Media 51 desk and 65sqm live recording space on the ground floor. Other floors house a collection of legacy Audio-Technica products displayed in glass cases – including the original AT1 cartridge that started it all – a well-stocked bar with an adjacent roof terrace for entertaining clients, and a residential penthouse suite where employees can stay over if required to work late.


Analogue Foundation
It's in one of the second-floor conference rooms that conversation turns to one particularly important aspect of Audio-Technica's marketing strategy.
It's well documented that vinyl as a format has been enjoying a renaissance not just in Japan but globally, with positive knock-on effects to cartridge sales. "We've enjoyed some increases actually," says Kurt. "We've started to see gradual increases as far back as 2008/9, and really it hit more of a kind of feverish pitch around 2014-15 when you look at turntable and cartridge sales. And it still continues to do well, there are some things that we're doing to try and support the industry and make sure that there's continuing education and support for vinyl LP's, and of course turntables and cartridges and some of the other associated analogue equipment."
One project that's spearheading this movement is the Analogue Foundation – a collaboration between Audio-Technica and two other founders – Grammy-winning recording engineer Russell Elevado, who's worked on a number of critically-acclaimed albums with a
variety of producers and artists and a creative group called the
Soundwalk Collective
, an international art and music group based between New York City and Berlin, who create concept albums, sound installations and live performances. 
An attempt to spread the gospel of analogue sound, particularly amongst the children of the CD and MP3-generation, the Analogue Foundation sums up Audio-Technica's lifelong passion and commitment to the world of analogue audio. "The Analogue Foundation was established as a way of communicating the benefits of analogue culture to our potential users," explains Manager of Advertising & Promotion, Takayuki Matsunaga. "It's based around the Globe-Trotter X Analogue Foundation Listening Station.
This is a portable listening station comprised of an Audio-Technica turntable, cartridge, phono stage and headphone amplifier, together with a selection of our headphones, built into a beautifully-made, portable flight case housing that was devised in collaboration with the Globe-Trotter bespoke luggage company. We provide this equipment globally, in places like retail shops, so that people can listen to high-quality sound."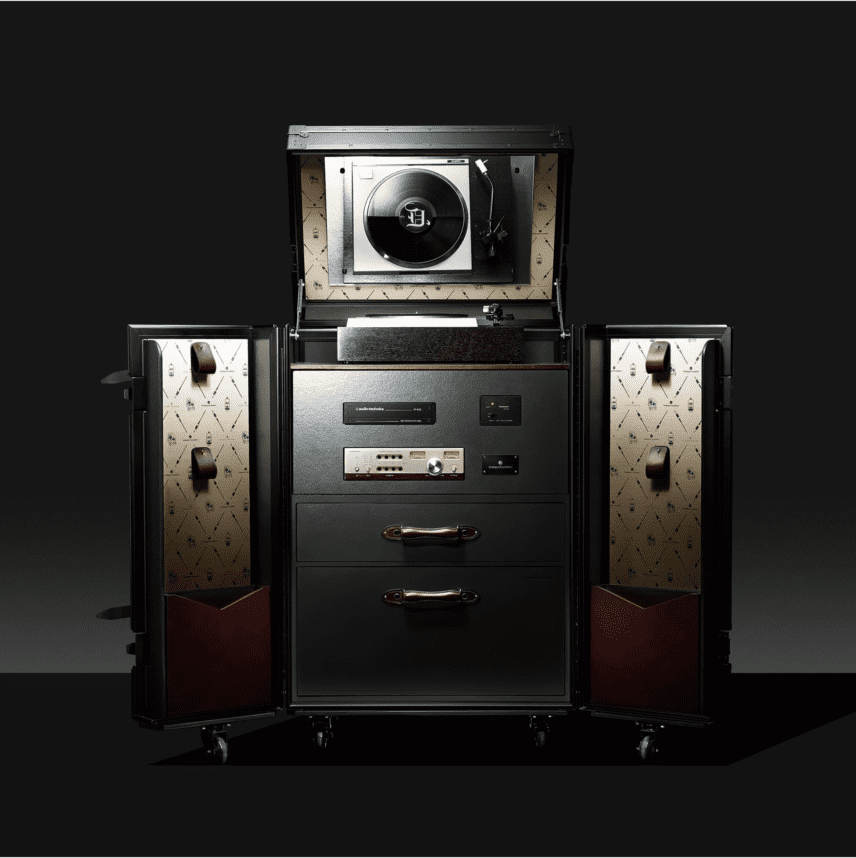 Alongside this, the Foundation also hosts special listening events throughout the year, through Giant Steps, the travelling sound system from the team behind one of London's top listening venues and Japanese eateries, Brilliant Corners in Dalston.
Past events have included 2017's Houghton Festival, guest DJ's at which included Floating Points, Donna Leake and Cedric Woo, and a semi-permanent installation at Swan Wharf, a Victorian warehouse complex in Hackney Wick, London, that ran from May 2018 up until September 2019. "Our main purpose behind the project is to make people more aware of analogue culture," continues Matsunaga-san.
"For this, we provide the equipment for any possibility, conduct interviews with famous musicians and create events across the world. The fact that the listening station is portable gives us the opportunity to demonstrate high-quality sound for anybody, anywhere in the world. There's one unit on the road all the time – it's actually in Bali at the moment – and it's designed to be on the road as much as possible."
Even in this age of digital streaming, it's evident that in Japan, vinyl records and CD's have never really gone away. For evidence of the popularity of vinyl here, you need to look no further than the proliferation of vinyl shops and cafes across Tokyo. You'll find enormous, multi-genre second-hand record stores such as Shibuya's Recofan, Tower Records is still a big presence for new music here with an enormous, eight-storey shop close to Shibuya Station, and there are plenty of HMV's to be discovered in Shinjuku and Shibuya. Meanwhile, for serious collectors, the area to the north-west of Shinjuku Station known as Shinjukunishiguchi is well-known for an abundance of quirky record shops containing hard-to-find items.
One particularly successful record store chain is Disk Union, with eight branches alone within a few blocks of each other in Shinjuku, each tending to specialise in one genre of music. The main Shinjuku store is an eight-floor cavern of delights for vinyl junkies, but we made the trip to one of the smaller stores, located close to Ochanomizu Station, that caters for everything from UK Pop / Rock to J-Pop, Hip Hop, House and Reggae. There's a wide variety of vinyl on offer, with a large focus on Western New Wave and Japanese rock from the 1970's and 80's.
A staff member told us: "Prices may be high for premium items, but customers are able to inspect records for scuffs, wear and scratches, even play the records. So no leaving things to chance like you get with online buying, here you can buy with confidence and absolute peace of mind." With this variety of stock in just one of its many branches, Disk Union's ubiquitous presence alone is a convincing sign that vinyl culture in Japan isn't going anywhere anytime soon.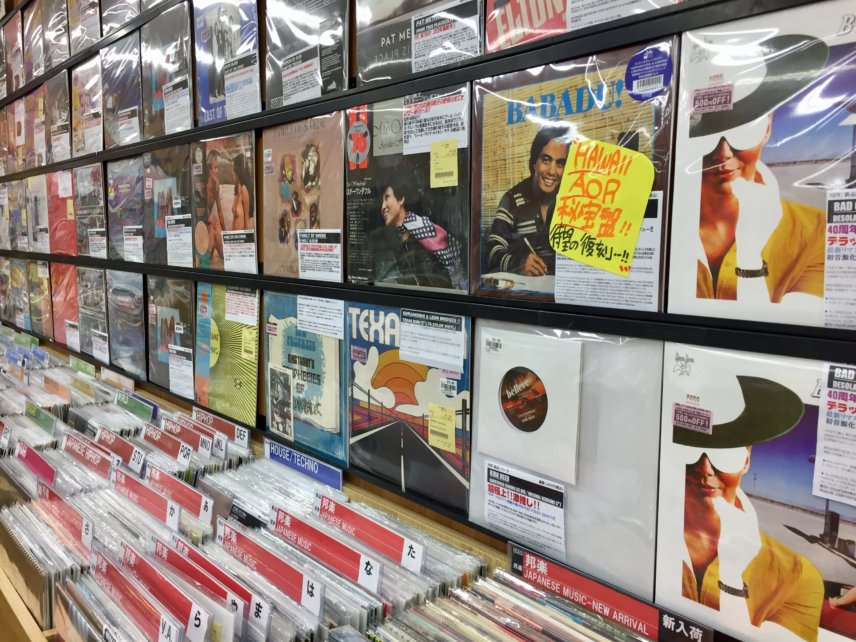 As a final stop on our tour, we decided to check in at one of Tokyo's popular vinyl cafés. Listening cafés in Japan owe their roots to the Jazz café culture that sprang up after World War II. Imported records and the equipment used to play them were something of a post-war luxury, so listening to the latest US and European releases in a social setting quickly became the norm for a generation of urban Japanese Jazz fans. Although numbers diminished as home listening habits increased over time, the cafés that remain still echo this particular remnant of Japanese culture.
let's face it, who wouldn't want to chill out with a home-brewed ginger ale to the strains of Joe Jackson, Lyle Mays or even Kraftwerk?
Located a few hundred yards from Kiyosumi Shirakawa station in Fukagawa, in a neighbourhood often referred to as "Coffee Town" due to its high number of artisan coffee shops, Café Ginger (named after the owner's cat!) is a tiny, turntable-equipped haven for crate diggers in need of a break from hunting down whichever rare item is currently top of their wish list.
Café proprietor Akira Takayama has been collecting vinyl for 40 years and has built up an impressive library of albums and 7" singles spanning multiple genres, not just jazz. As well as spinning great tunes for his day-to-day clientele – let's face it, who wouldn't want to chill out with a home-brewed ginger ale to the strains of Joe Jackson, Lyle Mays or even Kraftwerk? The café hosts regular special events for discerning vinyl geeks, each with a particular theme. The next event due after our visit, for instance, was a celebration of 1970's UK rock music, featuring the likes of Led Zeppelin, Pink Floyd, Genesis, 10cc, Bad Company, Wishbone Ash, Wings and more, with a healthy calendar of similar events scheduled for the upcoming weeks and months.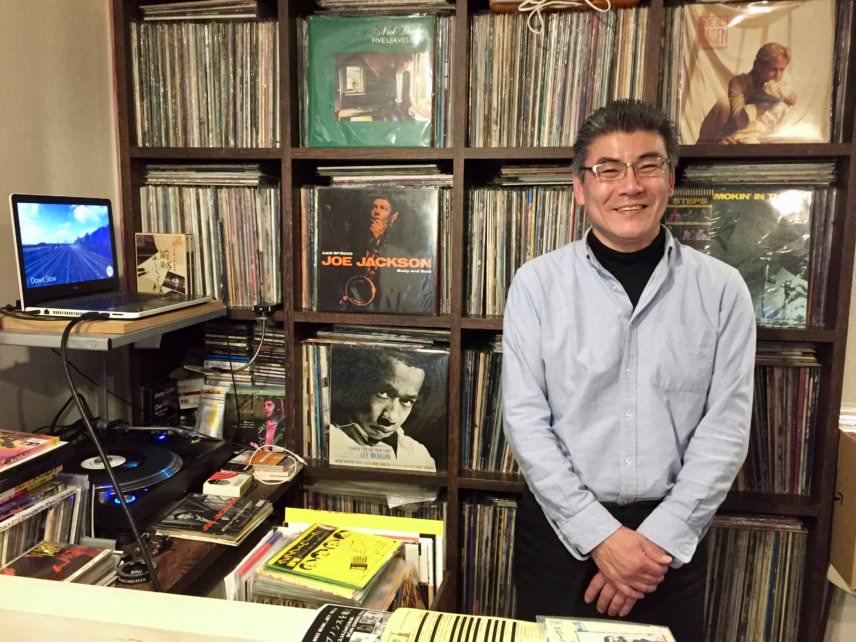 So as our time in Japan comes to an end, exquisite echoes of a rare 7" pressing of the Doobie Brothers' "What A Fool Believes" lingering in our ears, there are plentiful indications that the vinyl revival continues apace, buoyed by the remnants of a café culture rooted in a bygone age, swelled by current consumer trends and spurred on further by initiatives like the Analogue Foundation.
Audio-Technica's motto – "Always Listening" – emphasis their persistent aim for quality audio. To summarise our journey east, a quote from the Analogue Foundation's website rings true – "Audio-Technica hasn't lost sight of its original vision, nor forgotten the transcendent power of sound," it affirms. "Through sound, Audio-Technica aims to heighten connections to the world so that all may enjoy ever more meaningful and vibrant lives." A sound philosophy keeping both company and consumer "Always Listening".