In this instalment of Ten Of The Best, we run down the top, must-have wavetable soft synths available.
Who could have guessed it? Until the 2000s, wavetable synthesis was something of a backwater architecture. First developed by Wolfgang Palm and released in the form of the PPG Wave series in the early 80s, it allowed electronic musicians to add an element of 'reality' to their songs thanks to its ability to play sampled waveforms. It wasn't just a proto-ROMpler though. With its wavetables—clusters of samples—users could scan across the waveforms like a drone flying over mountainous terrain, with the machine interpolating smoothly between samples. It was a hit with bands like Tangerine Dream and Depeche Mode, and while Waldorf continued releasing hardware wavetable synths when Palm closed up shop to design DSP for Steinberg, it had always played second digital fiddle to first samplers and then analogue modelling.
Fast forward to 2007 and the release of Native Instruments Massive, a prophetically named soft synth based around wavetables. Thanks to its wide variety of sampled waveforms, it had the ability to handle just about anything you needed and was soon being installed in computers around the globe. Its immense popularity led to wavetable soft synths becoming the synthesis style of choice, so much so that it wouldn't be an exaggeration to say that they pretty much dominate the soft synth market, at least for dance music production.
In this piece, we'll look at ten wavetable-based soft synths worth having in your arsenal. While some of them may feature additional types of synthesis, they are all wavetable-centred. Please note that prices are subject to fluctuation. As always, the list is organised in order of ascending price.
1
Ableton Wavetable
www.ableton.com
Free
We usually like to start Ten Of The Best with a freeware instrument but there is a frustrating lack of good freebie wavetable soft synths available cross-platform. However, if you're an Ableton Live Suite owner, you already have a top-notch wavetable synth at your disposal. Called simply Wavetable, it's extremely powerful and also a great introduction to this type of synthesis.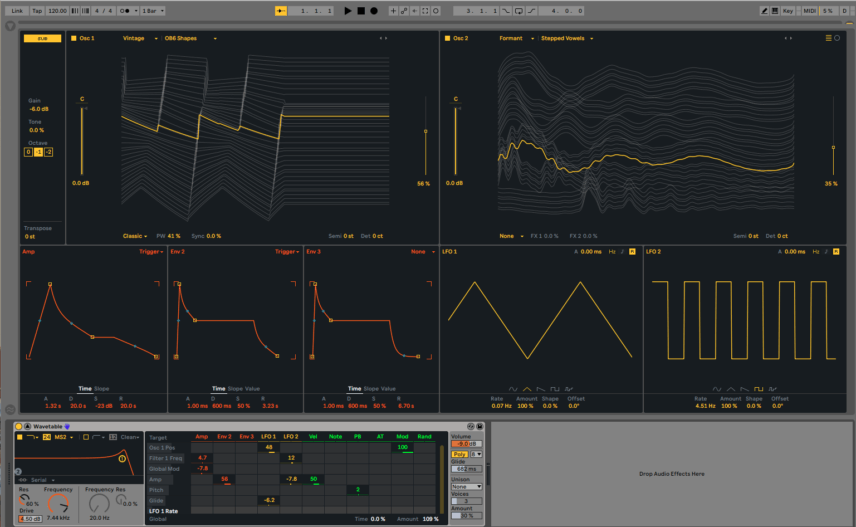 Start with the two oscillators. Each oscillator has over 100 wavetables available, with waveforms from both synthetic and acoustic sources. The wavetable is displayed graphically so it's easy to get a visual understanding of what's happening. Additionally, the wavetable in Osc 1 can be swept via the LFO or envelope for that classic wavescanning sound.
Next, there's a pair of filters with a number of different models and types. You can also change the pole from 12 to 24. There are two envelopes as well as a dedicated Amp envelope, plus two LFOs, and everything can be controlled via the Modulation Matrix. Additionally, there are some unique Unison modes for extra tweaking.
Wavetable may not be as powerful as some of the top-tier soft synths in this category but it sounds excellent and will get the job done.
2
SoundSpot Union
www.pluginboutique.com
£12.90
Most wavetable synths are based around the playback of wavetables. Union, however, from developer SoundSpot, is based on the creation of them. It's an interesting twist that makes this a rather unique wavetable instrument.

Union starts with two analogue modelling oscillators with a complement of basic wave shapes: sine, square, etc. Envelopes, LFO modulation, and filter adjustments can be made for the two oscillators independently. Each oscillator can also play up to 32 voices for massive unison patches. They then pass through a bank of four effects, including phaser, delay, distortion, and reverb.
Here's where it gets interesting. Hit the Generate Wavetable button to turn this blend of two oscillators and effects into a wavetable. The wavetable can now be played back alongside the first two oscillators. Of course, being a wavetable synth, you can modulate the table's position for wavescanning effects. You can also decouple the wavetable's stereo link and modulate the position differently on either side of the stereo spectrum.
SoundSpot Union is a unique and shockingly affordable wavetable sound design tool. Just look at that price. For about the same cost as a decent dinner, you could be generating your own wavetables.
3
Waves Codex
In general, wavetable synthesis happens in the oscillators. After that, it's largely just your typical subtractive synthesis. Wolfgang Palm realised this early on and added analogue filters to his instruments to blunt the very digital sound. But it's the wavetables, and specifically the wavescanning, that really identifies a wavetable synth.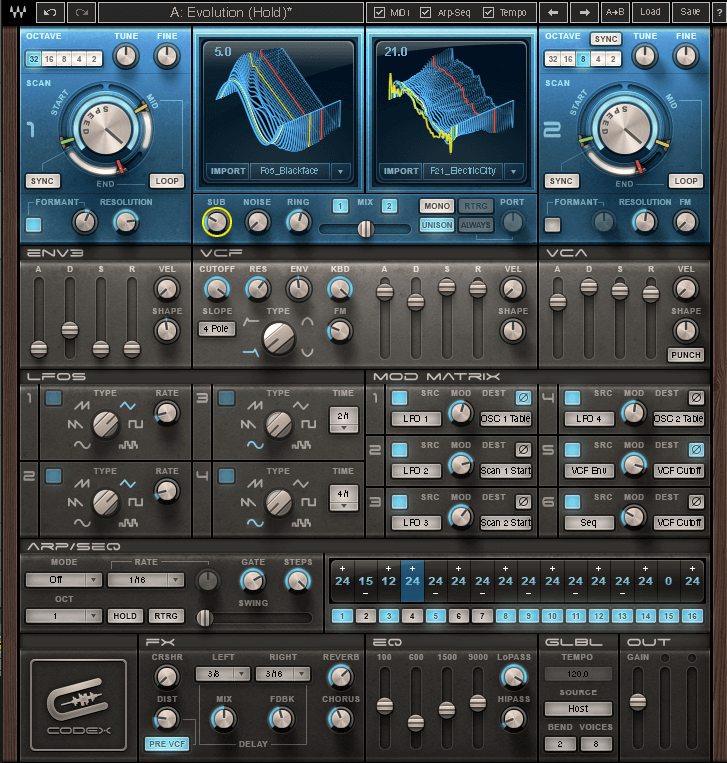 Waves' Codex is like the logical extension of the work started by Palm in the 1970s. All of the heavy lifting happens at the oscillator stage, with quite a few unique processes that make this a superb-sounding wavetable synth.
Waves call it a granular wavetable engine. Each of the two oscillators can load a wavetable (and import user tables as well). The synth makes use of advanced formant control technology that delivers "consistent resonance character that is true to the original signal and gives you direct control over the acoustic resonance of the sound". We'd be lying if we said we understood that completely but what it translates to is a very impressive sound engine. The morphing between waves in the table is also particularly smooth.
With additional features like a modulation matrix, an arpeggiator/step sequencer, and beautiful effects, Codex is a wonderful wavetable synth in the classic sense. It's also terribly affordable and extremely underrated.
4
Initial Audio Sektor
Sektor by German developer Initial Audio is a wavetable synth of the thoroughly modern type and should be familiar to anyone who's used instruments like Massive or Serum. It is, however, quite a bit less expensive than those more famous plugins and so could be a great option for the producer on a budget. It's also been designed to go light on the CPU.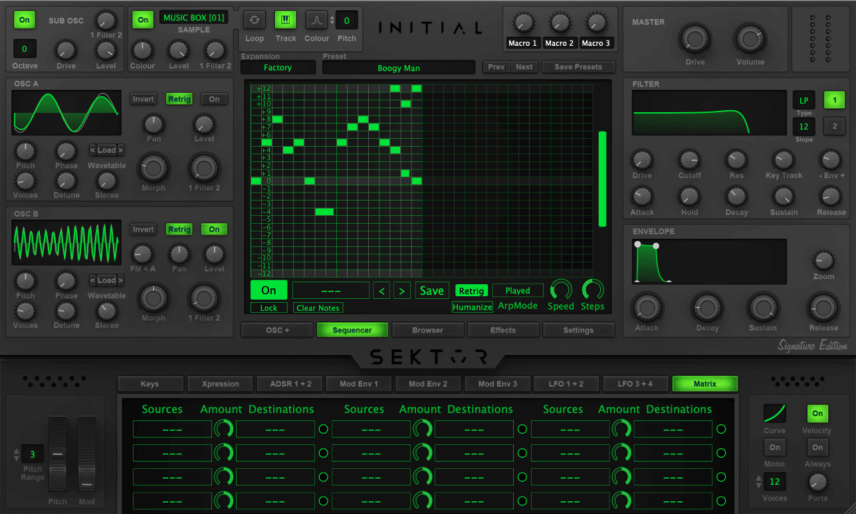 Sektor starts with two oscillators, each capable of loading one of 200-plus wavetables. The wavetable can be morphed and inverted, and its phase adjusted. You can also set the number of voices per oscillator and further tweak the pitch, pan, detune, and wavetable position of each voice for exceptionally huge sounds. There's also a sample player and sub-oscillator.
The sound then passes through up to two filters and a number of effects, with a global envelope linked to amplitude for volume shaping. Three modulation envelopes, four LFOs, per-oscillator ADSR, a modulation matrix, a sequencer, and effects round things out.
This is a solid instrument at a very affordable price point and shouldn't be overlooked.
5
Kilohearts Phase Plant
kilohearts.com
£130
"With so many excellent soft synths on the market today, it takes more than just a couple of wavetable oscillators and a big reverb to make an impression. Phase Plant, Kilohearts' flagship synth, does indeed have wavetable oscillators and a nice reverb, but it has so much more than that." This is what we said in our review of Phase Plant, and we still believe it to be true.

While not strictly a wavetable synth—Phase Plant also has analogue waveforms, samples, and noise—it's at its best when acting as a wavetable player. However, to think of Phase Plant as just another synth would be missing the point. It's more of a synthesis environment, with more flexibility than an Olympic gymnast.
Start with a sound generator, add filters and effects, then send it through multiple lanes of effects, and control it all with an insane amount of LFOs and envelopes, as many as you need (or your computer can handle). With so much modulation, Phase Plant is obviously great for evolving pads and effects but it also excels at huge Reese basses or anything that needs some movement. It can also do FM, currently a big part of bass music production.
Phase Plant is as deep as you need it to be. It works best when you pony up for the extra Kilohearts effects but even without them, it's still a powerful tool.
6
Tone2 Icarus
www.tone2.com
£136
Now up to version two, Icarus from Tone2 is something of a sleeper. It's incredibly big and powerful yet you don't hear it mentioned very often. This is a real shame as it's a monster and has quite a few unique and surprising tricks up its sleeve.

It starts with three oscillators, each capable of running a single waveform or a 3-D wavetable, the latter of which displays in a unique way. Rather than flying over a terrain, as with most wavetable graphical displays, Icarus models its wavetables as vector shapes that move towards you. As with other high-end wavetable synths, it also has a morph function, which is like a wavefolder for the whole table. You can then render this to a new wavetable if you like.
Icarus does so much, it can almost be a little overwhelming. There's a bewildering amount of filter types, tons of LFOs, an arpeggiator, a mod matrix, a glitch section, effects, even resynthesis and a vocoder.
None of this would really matter if it didn't sound the business, but it does. Dance music genres like drum and bass and trap are obvious starting points, but with so many options and wavetables there's something here for everyone.
If you're looking for a powerful wavetable synth that does things a little differently, Icarus could be the one for you.
7
Waldorf PPG Wave 3.v
waldorfmusic.com
£133
Wolfgang Palm's PPG Wave 2 was first released in 1981. With eight voices of polyphony and 8-bit samples, it doesn't sound very impressive today. However, it was a big step away from the limitations of analogue subtractive synthesis and one of the first success stories of the digital era. Later versions upped the oscillator count from one to two per voice, added 12-bit sampling, and there was even a digital sequencer available.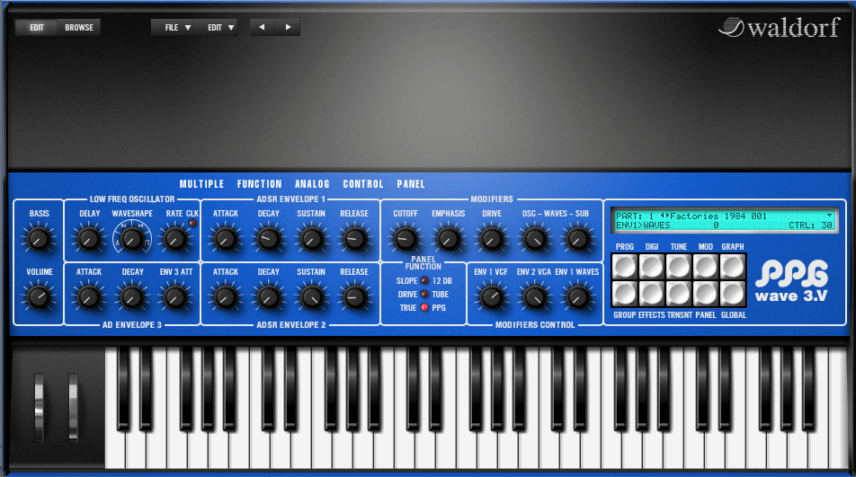 Waldorf, who took over making wavetable synths after Palm closed PPG, have recreated the Wave in plugin form and called it the PPG Wave 3.v. Compared to most of the other soft synths in this list, it's fairly simple. However, for fans of 1980s digital synths and synth pop in general, it's a gritty, alias-filled dream come true.
As with most wavetable synths that came after, PPG Wave 3.v starts with a wavetable oscillator (two actually, one is a sub). You can set the position in the table and even scan by using one of the envelopes. All of the famous early wavetables are here as well. If you've ever heard Depeche Mode's A Broken Frame, you'll be in familiar territory.
While it's not nearly as complex as modern wavetable synths, PPG Wave 3.v still has some useful extra features, like an arpeggiator, effects, and a modulation matrix.
The price may put off some casual users but hardcore digital synthesis fans will find plenty to love here.
8
Xfer Records Serum
xferrecords.com
£149
Along with Massive, Xfer Records' Serum is probably the most influential wavetable synth currently on the planet. Its look has been copied ad nauseam and its sounds have found their way into countless bangers. It really is the soft synth of the last five years, and for good reason: it sounds amazing.

While we sang the praises of the previous synth on this list (the PPG Wave 3.v) precisely because of its aliasing, Serum goes the other way and is breathtakingly alias-free. It's cleaner than a Singapore street—so clean, in fact, that you may find yourself reaching for the noise parameter to put a little dirt back in.
Sounds start with two wavetable oscillators capable of all kinds of sonic mangling, from basic scanning to what Xfer calls Warping. Each oscillator can also go up to 16 voices in Unison mode for huge, wide sounds. The filter is delicious and has about 100 modes, including comb filtering, EQ and phasing as well as the usual low and highpass suspects.
There's a very extensive modulation section (as expected), which includes three envelopes and five LFOs plus a modulation matrix. Lastly, there's a clutch of effects, with everything from chorus and phaser to reverb, delay, and distortion.
Serum is incredibly popular and with good reason: it's set a very high standard in terms of sound quality and functionality.
9
Arturia Pigments 2
www.arturia.com
£175
Best known for their spot-on emulations of classic hardware, Arturia made its original synth debut with Pigments, a wavetable-based instrument. Now up to version two, Pigments shares some functionality with its other plugins and should be immediately familiar to veteran Arturia users.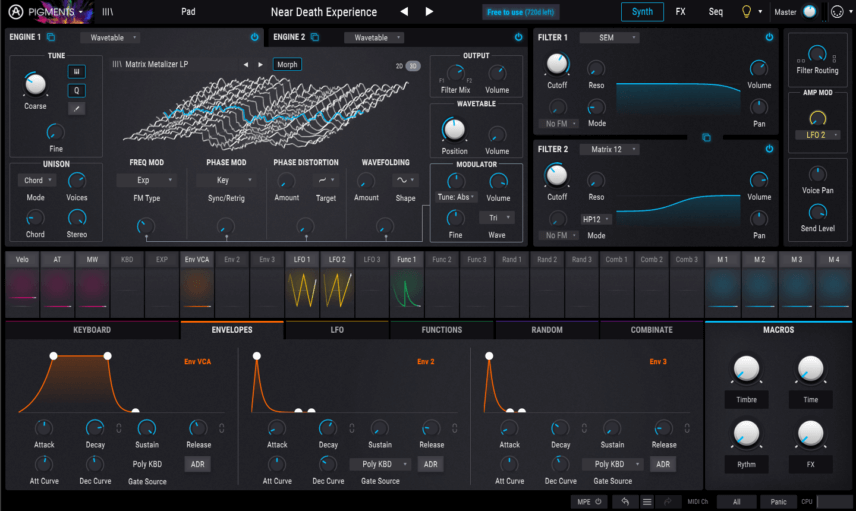 Pigments starts with one of three different sound generators: wavetable, virtual analogue, and granular synthesis. With wavetables, you can adjust playback position, as well as tweak them in interesting ways by applying frequency modulation, phase modulation, phase distortion, and wavefolding. You can also import your own. There are similarly useful ways to alter the analogue and granular oscillators.
As with other wavetable synths, the signal next passes through a filter section. There are two, with nine models taken from Arturia's emulations, such as a Moog ladder filter, Oberheim SEM and Matrix 12, and Buchla-style Low Pass Gate. There's also a ton of modulation options, effects, and a sequencer.
As the name implies, Pigments is colourful and gorgeous to look at. The modulation animations make it easy to understand what's happening at a glance. It also sounds wonderful, very smooth and sophisticated.
Given its sound engine, Pigments is the wavetable synth to reach for when you want a smooth, evolving pad or lush melodic element.
10
Native Instruments Massive X
www.native-instruments.com
£179
Massive X is the long-awaited follow-up to Native Instruments' game-changing Massive. With so much buildup and anticipation, there was bound to be some disappointment but it's best to think of Massive X as an instrument in its own right. While the original's DNA is clearly present, this is a descendant, not a clone.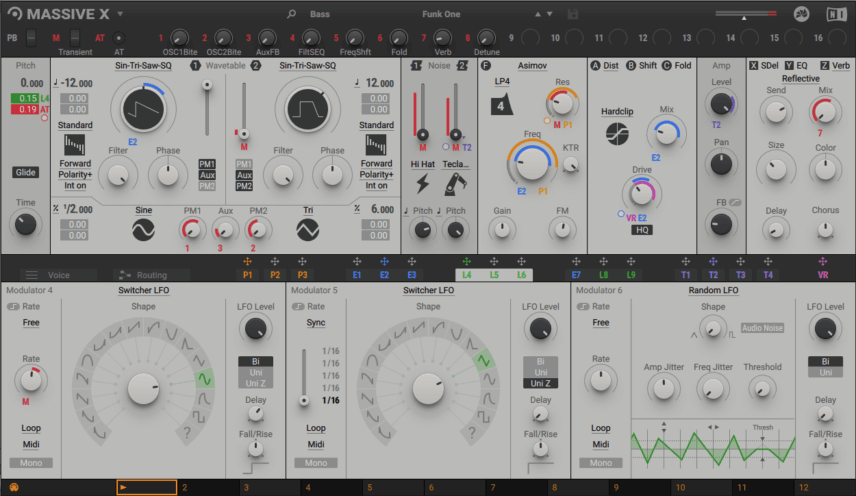 Massive X actually looks like a cross between Reaktor 6 and Massive. With its Blocks-like panels and modular-style routing options, Reaktor users should feel right at home. It even sounds a bit like Reaktor 6, especially in the punchiness of the bass. There's a real thwack to the transients that make this perfect for bass music production.
However, there's more to Massive X than just a big bottom. With over 170 wavetables and 10 unique ways of tweaking them, plus two phase modulation oscillators, it's capable of almost anything you need. A number of filters and effects, plus familiar Massive-style modulators and the aforementioned modular-style routing section, extend the possibilities.
Massive X may not be as immediately intuitive as its predecessor—NI have chosen rather cryptic names for some parameters like Asimov and Gorilla rather than descriptors—but this is part of the fun. It's also a great all-around synthesizer that just happens to do amazing bass and leads.
Massive X is a worthy addition to NI's stable and should fulfil any of your wavetable synthesis needs.
*Attack Magazine is supported by its audience. When you purchase through links on our site, we may earn an affiliate commission. Learn more.