Twisted Electrons TherapSid
€399 with SID chip (€333 without), twisted-electrons.com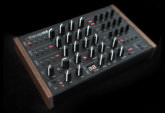 Twisted Electrons' TherapSid is based around the MOS Technology SID ('sound interface device') chips found in early 80s home computers such as the Commodore 64. There are other synths on the market that follow a similar approach (and Eurorack modular users should check out the Busy Circuits ALM 003 SID Guts module), but what sets the TherapSid apart is its unique focus on hands-on control of parameters.
Unlike most chiptune-style synths, it's incredibly easy to tweak the tone and adjust the deeper parameters of the TherapSid from the array of front panel controls. What's more, there are also software editors (including, soon, an iPad app), which allow for even more immediate control over the sound.
There's also a simple but powerful 16-step sequencer which allows you to store 'snapshots' of parameters for each step, something like the parameter locks found on Elektron gear.
At €399, the TherapSid is very good value (you can also save €66 if you have your own SID chip). It might not initially seem like a particularly versatile synth for many styles of electronic music, but the depth of the programming options makes it surprisingly capable.
If you fancy something similar but with a slightly different approach, you should also check out Twisted Electrons' excellent six-voice polyphonic AY3 synth, built around two General Instrument AY-3-8912 synth chips and available for a very reasonable €197, hand built to order.