MeeBlip Anode
£110, meeblip.com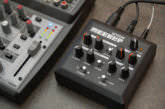 The Anode isn't strictly an entirely digital synth. (Send your complaints to the usual address – we make the rules around here, so we'll break them however we want.) Why does it get included on the list? Because despite the presence of an analogue filter at the end of the chain, 90% of the signal path in this desktop module is digital, making the Anode a hybrid that leans much more toward digital than analogue.
What's most clever about the Anode's design is that the synth has been programmed to sound different depending on what you try to do with it. Play bass notes and the digital oscillators generate waveforms in real time, complete with aliasing for a dirtier, more aggressive sound. At higher frequencies, the oscillators switch to a wavetable mode with clean, anti-aliased waves for a more precise sound.
The monophonic Anode is the successor to the first-generation MeeBlip. Like its predecessor, it's an open source synth, but that doesn't mean it's only for the tech heads (as with so many other open source synth projects that sometimes seem to require soldering ability, programming skills and a basic working knowledge of quantum physics to get a sound out of the thing). The Anode comes ready to use straight out of the box and there's absolutely no need to dig into the more complex mods – but that option's still there for those who want it, making it a particularly attractive option to those taking first tentative steps into the world of digital synth DIY.
What do you get for your money? A small, simple synth with a huge, dirty sound. The Anode excels at nasty bass but it's also more than capable of doing leads and FX. The recently released version 2.0 firmware also adds a wealth of options including new oscillator wavetables and much more extensive LFO options.
At just £110 ($130), the Anode is one of the best value synths on the market.