Teenage Engineering Pocket Operators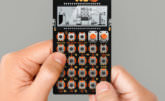 When Teenage Engineering's flagship OP-1 synth was released back in 2011, a lot of reviewers weren't quite sure what to make of it. As a premium-priced, pocket-sized synth which looked something like a Casio VL-1 reimagined for the 21st century by Jonathan Ive, the OP-1 was always going to be a niche product, but what a lot of its critics failed to notice is that underneath the cutely styled exterior lies a stunningly forward-thinking digital synth with innovative approaches to synthesis, sequencing and recording.
The newly released Pocket Operator series is an entirely different prospect. Regardless of whether the technology inside these calculator-sized units is a direct trickle-down from the OP-1, they're clearly close relatives of their bigger brother, and they represent what we'd speculate might become the most important budget-priced synth series since Korg introduced the analogue Volca range in 2013.
The range comprises three options: the PO-12 Rhythm for drums, PO-14 Sub for bass and PO-16 Factory for melodies. The latter are of most interest here (although frankly we're excited about all three).
What do you get for your money? A surprising amount considering these are some of the cheapest synths on the market. Hidden under the slightly awkward front panel controls, you'll find flexible synth editing options plus a seriously competent step sequencer with parameter locks. Perhaps most importantly of all, there's also a sync option, which means that the Pocket Operators aren't just individual toys but real instruments that can be incorporated into a bigger setup.
Just like the OP-1, we're sure the Pocket Operators will start appearing in a lot of studios over the next couple of years. At this price, it seems crazy not to check them out.