In this new Beat Dissected, we program a swung halftime-style drop in the style of Nikki Nair.
In this article, we're going to program a swung slow drop that can work well as a switch-up section for high-BPM tunes.
The inspiration for the beat is Nikki Nair's single "step 2", released earlier this year. The track starts out with some 160 BPM acid-electro madness, before sliding into a drunk-drummer-ish halftime drop at the 01:40 mark. Nikki Nair has fast become a favourite in the Attack office for his eclectic production style. Broadly fusing lots of electronic genres, his production style is polished but full of character and fun. A good example of that is Starstack.
Instantly switching up a track to halftime can surprise the listener and cause havoc on the dancefloor (with some good execution that is!).
While moving through the steps we'll look at techniques like programming manually swung MIDI drums, using track delay and sidechaining bass to multiple elements.
Here's what we're going to produce:
Want to follow along? Download the midi files using the contact form below! It will work in any DAW:
You can now also follow the Beat Dissected series on YouTube.
Make sure to like and subscribe so we can keep bringing you great content!
Step 1
We're starting things off with a kick and snare pattern. Before getting to the samples, let's load up Ableton's Drum Buss effect over the whole Drum Rack. This is so we can add some drive, crunch and low end before we start programming the beat.
The quality of the samples used and their punchiness is much more important than the number of elements in this style. As a result, it's a good idea to get a large sound early on. We'll also add a limiter to the master channel and increase the gain by 4 dB for a larger sound.
For the kick, we're using DTM_Kick_007 from Ableton's Loopmasters Mixtape pack, and for the snare, we're using OS_KYO_Snare_Shadow from Origin Sound's Kyoto – Trap & Hip Hop pack on Splice.
The key to getting to the right rhythm is to have all of the kick and snare hits slightly rushed. In the MIDI below, they're all hitting earlier than they would if the beat was quantized. There are also changes in velocity that add a natural rhythm.
Here's how the kick and snare sound with a click:

Step 2
In Beat Dissected, we usually exclude instrumental elements. However, the bass is essential for the rhythm, so we want to introduce it early on.
It's good practice to nail down the bass before adding hi-hats. This is because you can play or program in the bass notes as if they were replacing the hats.
Load up an FM-style bass preset on a separate MIDI channel – we used Kilohearts' Phase Plant's Front FM Bass preset and layered it with a kick sub-sample (Kick FM Bass from Ableton's Core Library). We're only going to program one repeating note and then modulate its pitch envelope.
You'll get the best results here by playing the part live, even if it's on your computer keyboard! You can also use Ableton's Track Delay feature to have the bass channel play a number of milliseconds earlier, or later than programmed. We set it to 25 ms later to add an additional "dragged" effect.


To modulate the pitch, double click the bass MIDI clip, select the envelopes tab, select MIDI Ctrl under Envelopes, and then click on the Pitch Bend envelope. You can then click on points, on the piano roll, to draw in a modulation envelope. Here, we simply have the pitch descending over four bars.
The bass' duty for the rhythm is to both drag and rush at different times to create both a pushing and pulling effect.
Here's how the bass we played sounds with a click:
You can hear that at the start that it's very late compared to the click hits, then it catches up, but at the end, it starts to be late again.
Sidechain compression also plays a major rhythmic role here, so we're going to try sidechaining the bass to both the kick and the snare with two different compressors. Your threshold settings can be quite low here, as we really want the bass to duck out for the big kick and snare hits!

Here's how the kick, snare and bass parts sound:




Step 3
For the hats we'll be using one closed hat and one open hat.
We're using ESM_Die_One_Shot_Hi_Hat_Hip_Hop_Vintage_Sample from Epic Stock's Drums To Die For – Street Hip Hop pack on Splice and MJ_TR909_OpHat1 from Ableton's Loopmasters Mixtape pack.
You can't go wrong by starting with the open hi-hat, so you can quickly find that perfect moment in each bar for an off-beat hat hit.
Here's how the open hat sounds with the kick, snare and bass:
We muted the last open hat hit in the fourth bar to leave room for some effects fills that we'll look at in the next step.
With the basic rhythm laid down, it becomes easier to use your ear to program or play a manually swung closed hat part. Even a very simple hat pattern can work! We went for a swung 16th-note feel.
If you look at the MIDI below, you'll see that the closed hats are nowhere near being quantized, as we played them in live while listening to the beat.
Here's the full drum groove:
And here's our progress so far: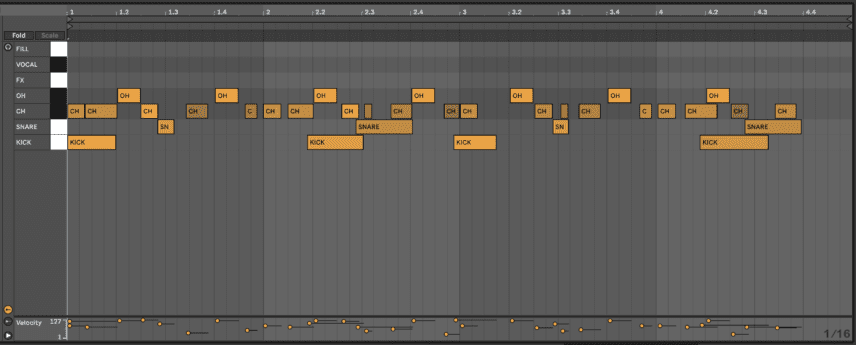 Step 4
The final step is using effects and fills in the space we left at the end of the fourth bar.
For the first loop around we'll use a textural sample and a vocal one-shot. We're using TextureB from Ableton's Loopmasters Mixtape Pack and MR_HUDSON_vocal_hoding_on_F#min from Splice's Mr. Hudson: Sad Robot Music pack.
We'll have the textural sample hit at the same time as the last snare and then program in the vocal one shot to create tension before the beat comes in again. You can also pan these elements for a more stereo effect.
Here's how our first fill sounds:
We'll take a bit of a production shortcut for the second fill and use a pre-made snare roll sample – PMMH_Drum_Fill_150_Trvp_Roller_2 from Production Master's Havok Trap pack on Splice.
Here's how our second fill sounds:


With all of the elements grooving and ready to go, here's our final beat:
While you're here, you may enjoy...