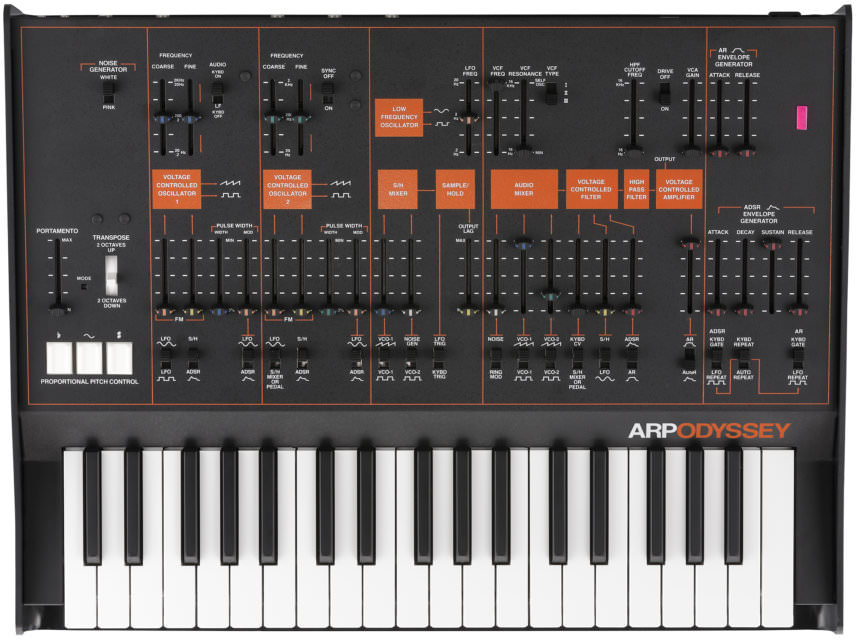 £779
The re-release of Korg's iconic MS20 monosynth in 2013 was one of the defining moments in the current wave of analogue synths: proof that Korg could still build proper analogue instruments and proof that they could faithfully recreate the sound of their vintage circuits.
It wasn't at all surprising that Korg would revive one of their own classic models, but their next move came from out of the blue: rather than reissuing another vintage Korg synth, they instead announced that they'd be releasing a version of the Odyssey, a duophonic synth produced between 1972 and 1981 by their American rivals ARP.
In terms of its sound, the Korg version is virtually indistinguishable from the original. The biggest difference is the fact that the Korg allows you to switch between three filter modes, based on the three separate revisions of the VCF circuit in successive Odyssey models. Like the MS20 Mini, Korg's Odyssey is slimmed down from its original size, measuring up at 86% scale, with slim keys. Not everyone was pleased about that when it was announced, but if you insist on full-sized keys you could always play it with a controller thanks to the addition of MIDI (a luxury not found on the pre-MIDI original). Either way, the Odyssey is a real player's synth, with an expressive range of tone and a unique character.