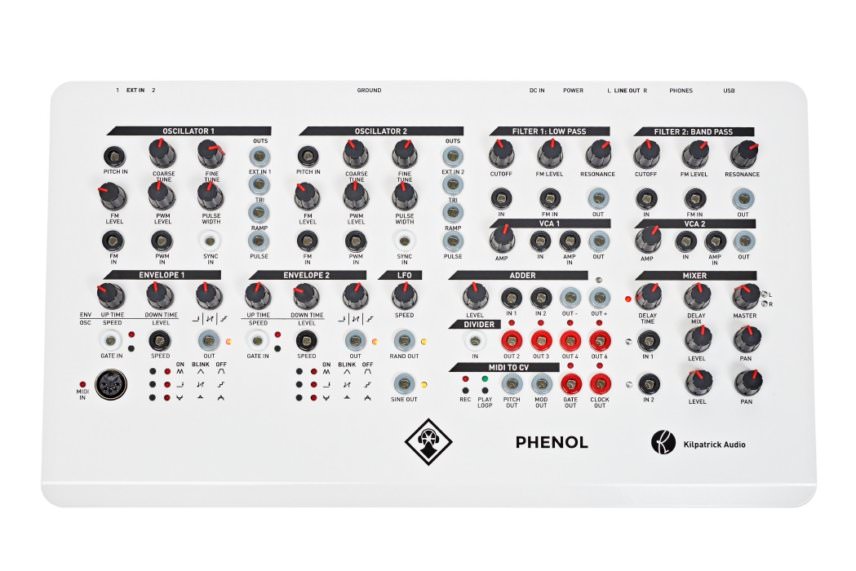 $849
Kilpatrick Audio is a small operation founded in 2009 by Toronto's Andrew Kilpatrick. They're still best known for their Eurorack modules, having made their name with products like the K4815 Pattern Generator. Launched via a successful Kickstarter campaign just over a year ago, the Phenol is the company's first all-in-one synth: a patchable, modular-inspired unit with a great sound.
Unlike semi-modular synths such as the Moog Mother-32 (which have internal signal routing that can be modified using patch cables), you have to reach for the patch cables before the Phenol will even make a sound, much like a real modular synth. Kilpatrick claim that it's the easiest route into modular-style synthesis thanks to the fact that the single unit contains everything you need: the setup includes two oscillators, resonant low-pass and band-pass filters, two envelope generators, an LFO and versatile modulation options. It's a great setup, which encourages a bit more of a considered approach than the other synths on our list. If you really want to get stuck into the synthesis process, perhaps with a view to moving on to a full-on modular setup in future, the Phenol is a really good option.
The best news for Kilpatrick fans is that the innovation looks set to continue. The company just successfully crowdfunded the Carbon sequencer, a desktop module that promises to "take the Pattern Generator concept to a whole new level". We look forward to seeing what else the Kilpatrick team have up their sleeves in years to come.