Arturia update Pigments to version 3. Can this colourful plugin hold its own in a very crowded softsynth market?
Until recently, Arturia were best-known (software-wise, at least) for their emulations. That all changed in 2019 with the release of Pigments, their first original softsynth. With a mix of virtual analogue and wavetable engines, it offered a nice compromise for musicians who wanted the sound of the former and the convenience and complexity of the latter. It also sounded wonderful. Not content to set it and forget it, the driven developers at Arturia released Pigments 2 later that same year, adding a sampler and granular engine among other tweaks. We were impressed enough to include it on our list of the best wavetable synths available.
Now, just about two years on from its original release, Arturia have dropped Pigments number 3. The French company has clearly been busy, as version 3 arrives with yet another synthesis engine, an additional filter type and new filter routings, a clutch of new effects, and more. However, in the two years since Pigments was originally released, the competition has heated up, particularly in the wavetable department. Can Pigments 3 still compete? (Spoiler alert: oh, yes.)
Start Your Engines
While Arturia have buffed up Pigments' existing synthesizer engines, including a ramp waveform for the Virtual Analogue engine, 64 new wavetables, and a Utility engine with sub oscillator and two noise generators, the real star of version 3 is the Harmonic engine. Likely inspired by the company's Synclavier emulation, the Harmonic engine brings complex additive synthesis to the table.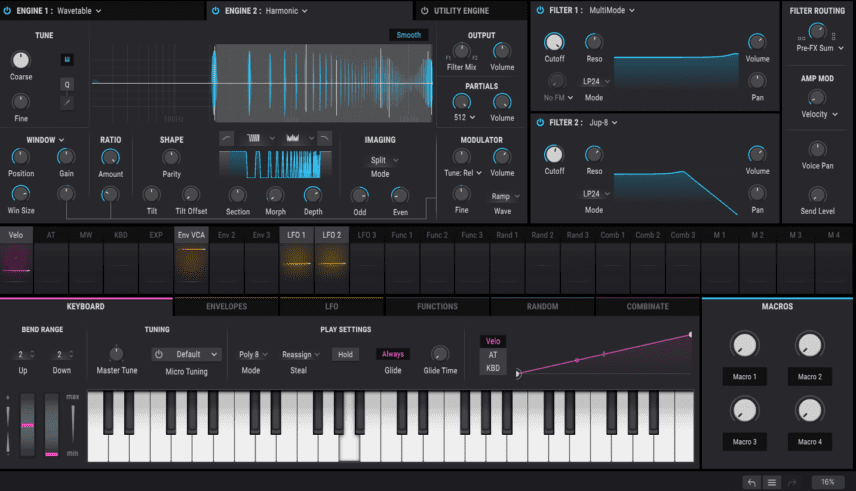 Additive is actually a very old form of synthesis. It's how organs work. Unlike subtractive synthesis, in which you start with a harmonically rich oscillator and remove frequencies with a filter, additive starts with a simple sine wave and adds harmonic partials (like drawbars on an organ). Pigments 3 can handle up to 512 partials but it doesn't stop there. There's a host of functions to customise your sound, allowing for all kinds of unique and esoteric synthesis possibilities. It also sounds incredible when layered with the VA or wavetable engine and then run through some effects.
Change Your Filter
Pigments already had a ton of filter types – kind of a greatest hits from Arturia's V Collection of emulations – and version 3 adds another, the lowpass filter from their Jup-8 V4. This one is smooth with a nice resonant hump, and makes a great complement to the SEM, Mini Ladder, and other types.
Remember, Pigments has two filter sections, and 3 now allows you to control how the filters are routed to the effects section. They can be run in series or parallel, of course, but you can also control the amount of each filter sent along to each effects slot. This allows you to great extremely surgical in your sound design. You may never even use it but the fact that it exists and is there should you want it is pretty fantastic.
Special Effects
Speaking of effects, Pigments is packed with them, and version 3 sees four new ones come on board. One is a multiband compressor, allowing for precise dynamics control over three frequency bands. Useful for taming the bass without having to shelf it out with a highpass, for example. Also now along for the ride is the Chorus JUN-6, a recreation of the famous chorus circuit in the Roland Juno-6. And, unlike the hardware version, you have control over finer parameters such as phase and dry/wet balance. There's a pitch delay, for creating Eventide-style shimmer effects, and our favourite, the BL-20 Flanger, which is nice and airy.

How About That Competition?
As we mentioned at the top of the page, the market is teeming with softsynths in the Pigments price range ($199). Native Instruments' Massive X is more expensive but is a wavetabale powerhouse, although it won't do VA or additive. Phase Plant from Kilohearts is another contender. At $180 it's very affordable (and flexible), although additional effects have to be bought separately and that can add up.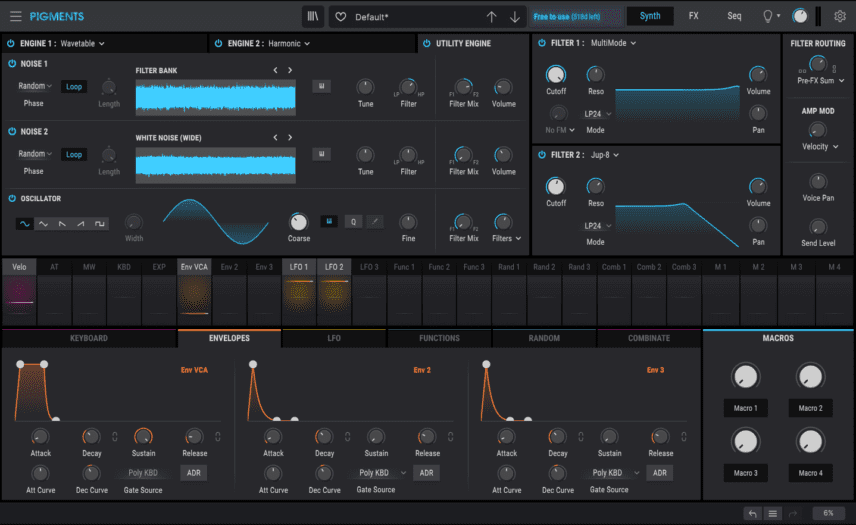 If you already own Pigments 2, version 3 is a free upgrade so you have no excuse (other than a bad wi-fi connection) for not downloading it now. If you haven't bought one yet, Pigments 3 is very attractive. With its now four synth engines, multiple filter types, and effects section, not to mention all of the modulation possibilities, built-in sequencer, and onboard preset store, Pigments 3 is fast becoming a super synth. It really is a one-stop synthesizer solution.
The Verdict
Price: $99 (includes the Spectrum Sound Pack. Price rising to $199 after May 13)
Purchase: Arturia Pigments 3
The Final Word
Pigments 3 takes the already powerful Pigments synth and supercharges it.