Korg's hardware sequencer seems to have it all but how does it perform in the studio?
Hardware sequencers have been exploding in popularity as of late. If you had suggested ten years ago that hardware sequencers would soon be making a comeback, you'd probably get some eye roll emojis in response. And yet here we are. With all the modular, semi-modular, and desktop instruments we now have in our studios, we need gear that will talk to it all. It used to be that just having a few MIDI cables around was enough – now we need CV, gate, trigger, and USB, too.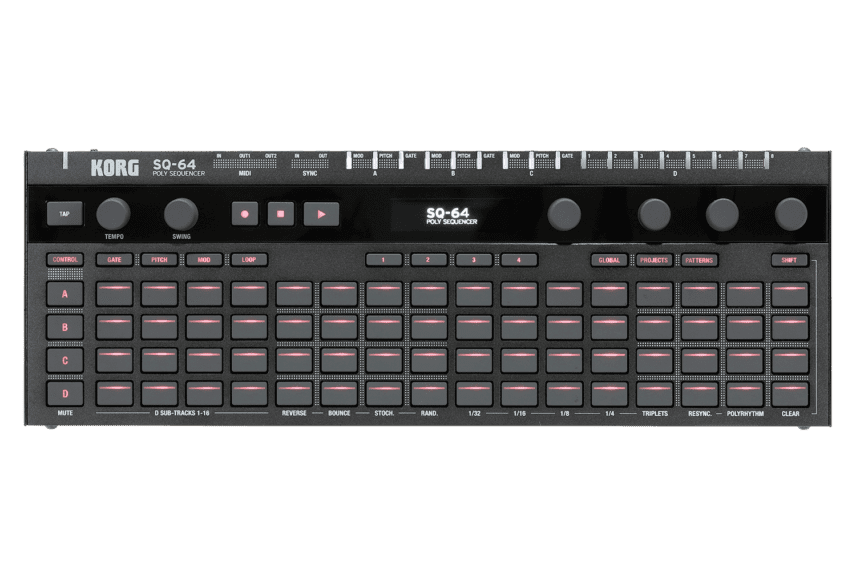 While the affordable hardware sequencer market has been largely dominated by Arturia and its Beatstep and Keystep lines, Korg are hoping to shake things up with its new SQ-64. A step up from the simple and monophonic SQ-1, the polyphonic SQ-64 seems to have everything present and accounted for, with plenty of connectivity and functionality. Could this be the machine for you?
Sleek And Sturdy
While the SQ-1 is fairly chunky and utilitarian, the SQ-64 is anything but. It's sleek and sturdy, and with its black face and red LEDs it looks like something you might find on an Imperial Star destroyer control panel. It also has a satisfying heft to it – it will stay put, no matter how hard you bang on it.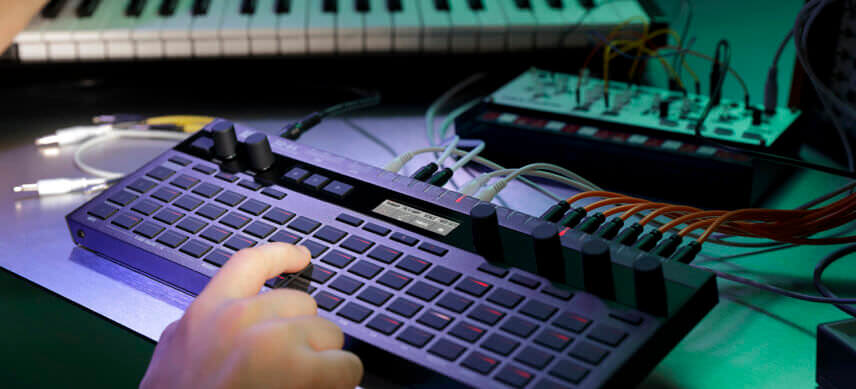 The main real estate is dominated by four lanes of 16 buttons, or 64 in total. These are where you do most of your work: triggering notes, choosing parameters, etc. To the left are buttons for selecting the four sequencer tracks (labelled A-D). Above the button array is a selection of function buttons, transport controls, and six endless rotary encoders for tempo, swing, and other functionality. There's also a small but welcome OLED screen.
It's all very minimal yet extremely tasteful. We love the dark, sci-fi look of it, especially when compared to the Beatstep Pro, which we honestly could never bring ourselves to buy because of the colour scheme. Shallow maybe but aesthetics do count.
Get Yourself Connected
Connectivity is one of the most important things to consider when buying a hardware sequencer. Will it talk to your gear? The SQ-64 is pretty well equipped, with mini jack connections for MIDI (one in and two out), Volca-style sync in and out, modulation, pitch, and gate sockets for each of the three Melody tracks, plus eight trigger outs for the Drum lane (the other eight drum triggers are via MIDI).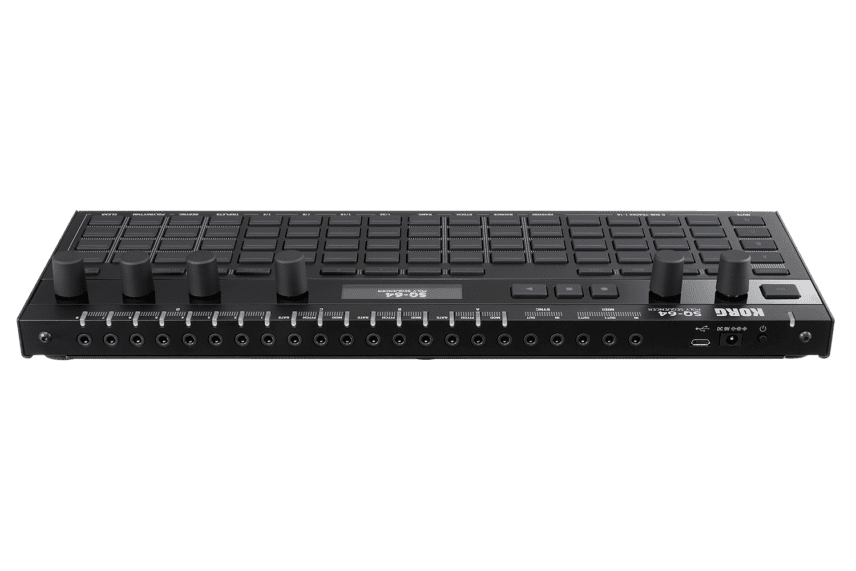 Eagle-eyed readers likely caught that MIDI connectivity is also mini jack, not DIN. While it's certainly understandable that Korg opted for mini MIDI jacks to save space, breakout adapters are frustratingly not included. This makes sense for budget items like the SQ-1 and NTS-1. However, they really should come bundled with the SQ-64. The Beatstep Pro is significantly cheaper and does.
Also, be aware that there are three different standards for MIDI breakout adapters. Korg uses the MIDI TRS A type, the one approved for MIDI 2.0. However, Arturia, Elektron, and Dreadbox (among others) use type B. We have a drawer full of adapters here but none of them was compatible with the SQ-64. Getting them online can be frustrating, as retailers will often not list the type. We ended up buying some from Teenage Engineering. It's an extra headache that could have been avoided if the adapters came bundled with the unit.
Function Is The Key
So how does the SQ-64 work? Much like the Beatstep Pro, there are four tracks. Numbers one to three (or A to C) are for note information. Called the Melody tracks, these can handle pitch, gate and modulation. The fourth, D (for Drum, naturally), is geared towards percussion and is further subdivided into 16 trigger tracks.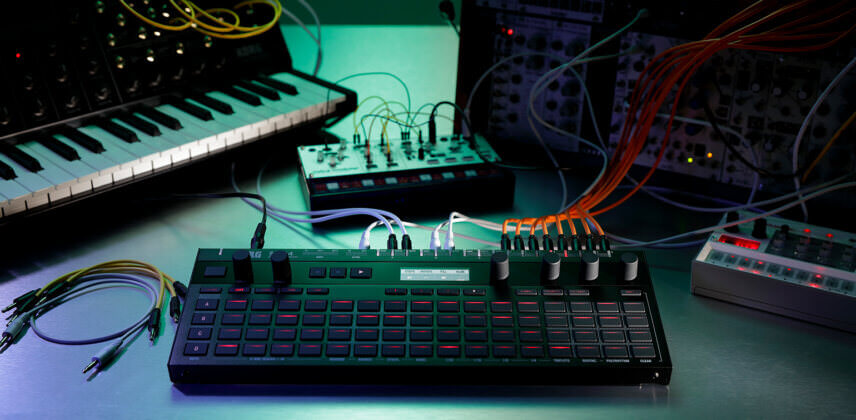 Let's look at the Melody functions first. Note information can be entered in three different modes: Keys, which uses the buttons to cleverly simulate a piano-style keyboard; Isomorphic, where the keys are displayed symmetrically in rows; and Octaves, with the same scale displayed across three lanes of buttons. Gate mode controls whether a note sounds or not, and for how long. Lastly, modulation allows users to send non-pitch information, such as for velocity or opening the cutoff on a filter. There are 16 Melody patterns up to 64 steps each. Melody tracks are eight-note polyphonic.
The Drum section sends triggers (either V-trig or S-trig). First, select the subgroup then press the lane buttons where you want to the drum to sound. Each sub-track has 64 monophonic steps.
You aren't limited to just looping, of course. Patterns can be chained together and stored as up to 64 projects. There's more, including interesting chord and arpeggiator modes.
Playback And Performance
One of the exciting aspects of modern hardware sequencers is all of the options for playback. Chance and probability have emerged as must-have elements to keep sequences interesting. Korg have included a number of playback and performance functions in the SQ-64 to keep things randomly interesting.
Along with standard playback modes like Reverse and Bounce, in which playback goes forwards and then backwards, there are Stochastic and Random modes. While Random is just that – entirely up to chance – Stochastic is a little more interesting. At each step, the next move is decided randomly among four choices: one forward, skip one forward, one backwards, or repeat the same step. Additionally, a different probability is assigned to each choice every time you enable the mode.
Furthermore, you can change the time division of each track (from 1/4 to 1/32), add triplets, and resync the track to its first step. SQ-64 also has a polyrythm mode, which lets the track play without synchronizing to the longest track. In Loop mode, you can restrict the range of the loop as well as loop only selected steps.
All of these options go a long way towards spicing up sequences and are great for generating variations on the fly.
In Use
We hooked up the SQ-64 to our Roland System-100 as well as a Volca Drum to test out the functions and settings. Although there's quite a bit of button pressing to access different function levels, it's not really hard to learn – although it may take some time to develop muscle memory. (It also should be said that the manual seems to have been written as a reference for people who already know what they're doing. It's not particularly helpful when just getting started.)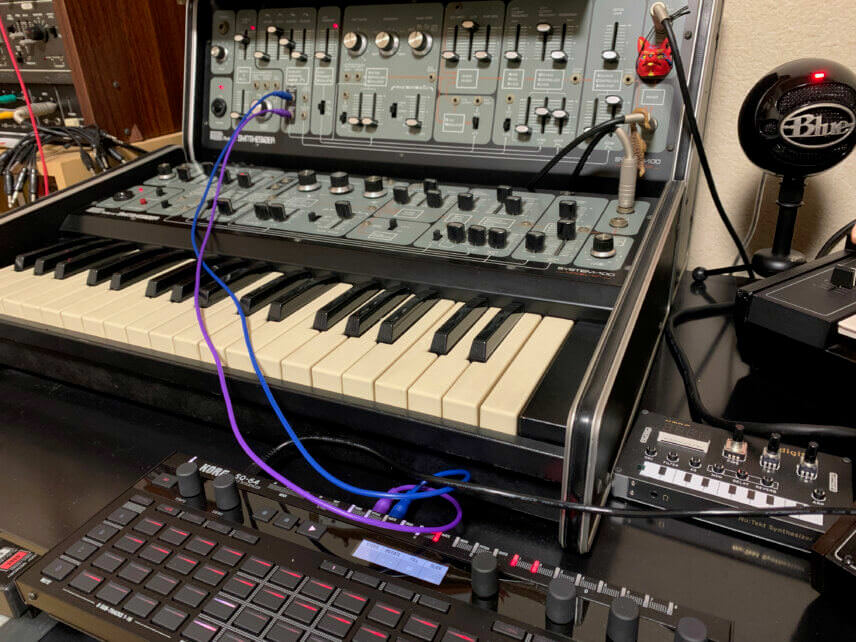 Once familiar with the layout, it's easy enough to program in note and gate information. The performance modes and all of the randomization possibilities are particularly fun. It's not hard to see the SQ-64 at the centre of a DAWless setup or even in a live context.
The LEDs make it easy enough to see what each track is doing, and while we aesthetically like the uniform red, different colours for each track would have made it even more clear. The blinking LEDs at each connectivity point is an especially nice touch.
The Competition
At around £220, the SQ-64 is still affordable, although the fact that it doesn't include MIDI adapters nor a power supply is a little frustrating. While it does include a micro USB type B cable and is USB bus-powered, any real DAWless jamming will require a power adapter.
The Arturia Beatstep Pro, at £165, is the closest competition and does, as previously mentioned, include an adapter. Korg's own SQ-1 is only £70 but is rather limited, function-wise.
If you don't already own a hardware sequencer, Korg's SQ-64 should be high on your list of options. It's relatively affordable, fun to use, and looks dead cool. It can also function as a controller in its own right as well as convert MIDI to CV for modular gear and vintage synths. It also plays nice with just about anything.
The Verdict
Price: £230
Purchase: "Korg
The Final Word
Korg's SQ-64 is a flexible and fun hardware sequencer solution.
*Attack Magazine is supported by its audience. When you purchase through links on our site, we may earn an affiliate commission. Learn more.