Roland's SH-4d is a multi-timbral virtual analogue desktop synth as well as a groove box with dedicated sequencer tracks for synths and drums.
In recent years Roland has seemed to develop a bit of a fixation on releasing emulations of their classic synths. Currently, you have the option to purchase not one, not two, but eight different Roland products that market themselves as emulations of the legendary TR-808.
In steps the SH-4d, a brand new desktop synth and groove box. Of course, it wouldn't be a new Roland release without being capable of emulating classic Roland gear but SH-4d also takes things much further.
With 11 different oscillator types including virtual analogue, digital, and sample-based oscillators the SH-4d can create vintage Roland tones with ease but also take you into much wider sonic territories.
SH-4d Oscillators and Filter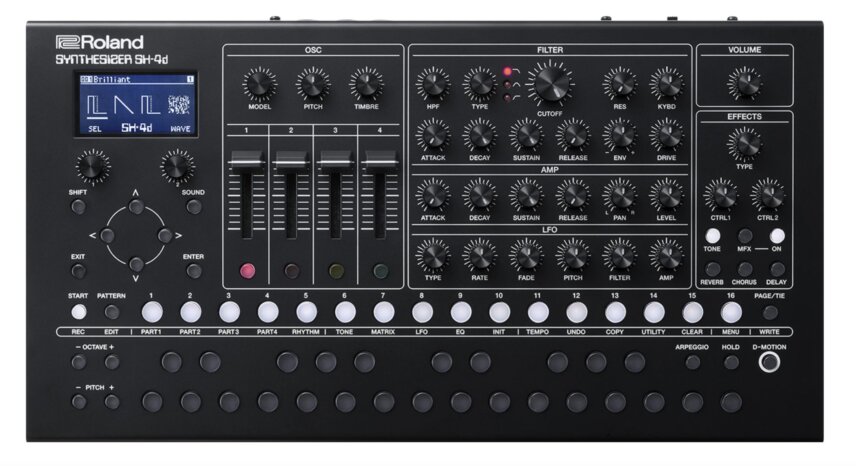 The synth engine of the SH-4d is based on the Zen-Core format utilized in Roland's synths such as the Juno-X and Juipter-X. However, unlike Roland's other Zen-Core synths, the SH-4d is not compatible with Zen-Core patches and expansions.
To make it easier to control the highly-complex Zen-Core patches Roland has broken down Zen-Cores capabilities into eleven different mini engines or "Models" as they are referred to by Roland. These Models have the same function as a traditional oscillator in that they are the sound sources for the synth.
The Models include traditional virtual analogue oscillators, emulations of iconic Roland oscillators from the SH-101 and Juno-106, wavetable oscillators, an FM oscillator, a Ring Modulator, PCM (SH-4d's sample-based oscillator) and more.
A particularly interesting Model is Drawing. This mini-engine allows you to create a custom waveform using the instrument's rotary encoders and faders.
The oscillator section has three dedicated knobs for controlling Model, Pitch, and Timbre as well as four sliders. The sliders have different controls for each of the 11 oscillator types.
The oscillators, following traditional subtractive formatting, feed into a digital multimode filter with resonance and drive controls. The filter has its own envelope as well as an additional high-pass filter for rolling off unwanted low-end.
SH-4d Sequencer and Keyboard
SH-4d has a five-track 64-step sequencer with four tracks dedicated to polyphonic or monophonic synth sequencing and one track dedicated to drum sequencing.
The instrument is multi-timbral with up to 60 voices of polyphony which means that it is more than capable of playing four synth parts and a drum track all at the same time.
You are able to record notes into the sequencer using SH-4d's built-in two-octave keyboard. SH-4d also allows you to record in real-time automation for any parameter.
For the drum sounds, you have access to the percussive kits included by Roland. These kits feature samples from their classic drum machines.
Watch Carl Craig show off the capabilities of SH-4d's keyboard and sequencer!
FX and More:
The SH-4d has global sends for Reverb, Chorus, and Delay as well as three assignable effects slots, one Master and two Inserts. There are over 90 effects to choose from including phasers, distortion, rhythmic effects and more.
The instrument has a built-in two-octave keyboard with octave up and down controls. As well as two different arpeggiators, a traditional arp and a physics-based Visual Arpeggio.
The Visual Arpeggio has five different modes which allow you to control the arpeggio using two rotary encoders and in certain modes even tilting the machine itself.
SH-4d has up to two LFOs depending on the Model being used as well as a Mod Matrix.
To get the full specs on SH-4d visit Roland's website.
Follow Attack Magazine