Roland, together with Outernet  London, has announced a brand-new Roland store and customer experience on London's Denmark St, is now open.
Roland, which is celebrating its 50th anniversary this year, is marking the occasion with their own, and first, store. The Roland Corporation has previously had store-in-store experiences, but this is a new proposition. Think Nike World vs buying Nike's in JD Sports. Or M&Ms Leceister Square – but for Roland..!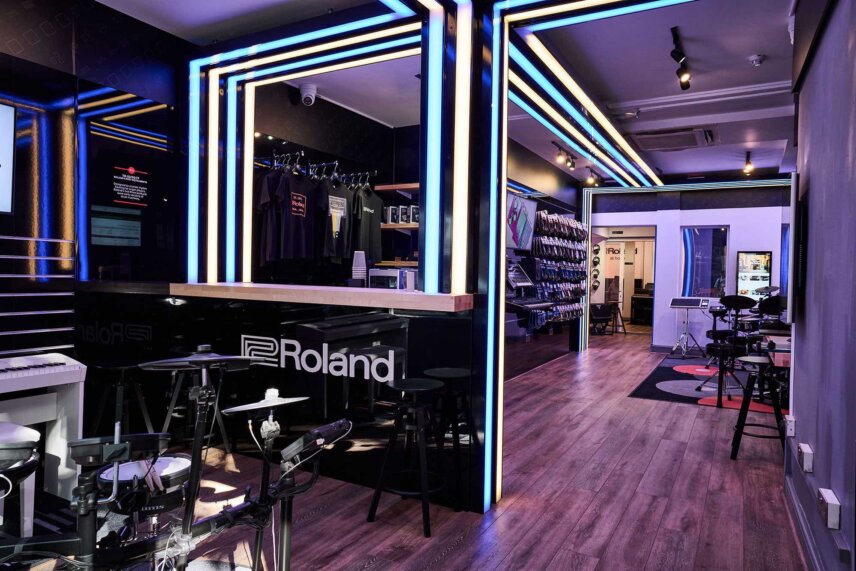 The location is intended to offer a full Roland customer experience with a wealth of in-store features. Customers at Roland Store London can pre-book demonstrations on an extensive range of Roland and BOSS products, via the Demo-On-Demand service. There are plans to include vintage products down the line and there are regular onsite workshops and masterclasses. Furthermore, Roland are giving 121 aftersales care sessions.
The store will also include Roland's proprietary ASX (Audience Specific Experience), where the store's lighting, audio and video content are tailored to customers' tastes. At the click of a button, the environment can be tailored to the taste of the individual customers.
Customers also get to enjoy a special edition gold Jupiter X – one of only four in the world.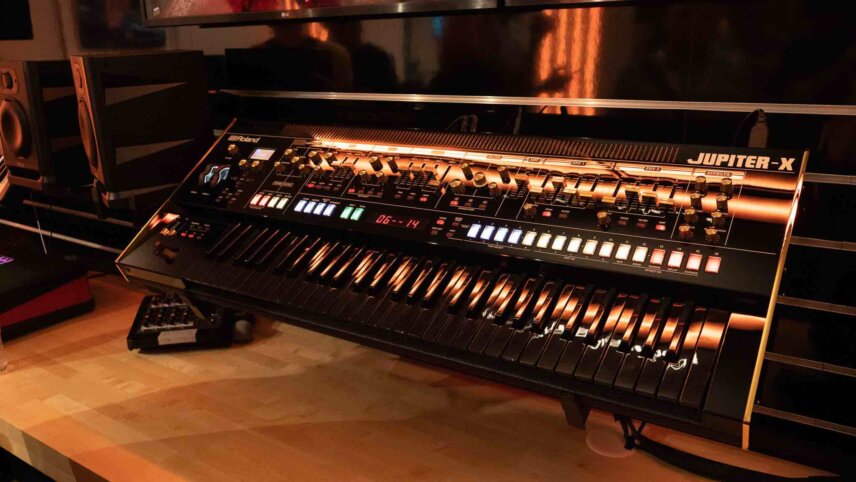 As guitars dwindle, the machines rise
Denmark St is one of London's most famous music locations. Running from Charing Cross Road to St Giles High Street, since the 1950s it has been associated with British popular music. This association began first with the publishers of the day, many of who still operate in new locations and later by recording studios and music shops, in particular guitar stores.
At the turn of the century, Denmark St had bubbling energy with Turnkey and a Virgin Megastore (also with a Roland store inside) nearby. After a retail rush to move operations online, it left customers unable to try before you buy. The number of guitar stores dwindled, while Turnkey and the Virgin Megastore closed over a decade ago.
David Vazquez, CEO of Roland Europe mentioned in his opening speech that Roland hopes to get 'closer to the customer' with this new vision for Roland. Despite the high street decline, there is a sense the limitations of internet retail are now apparent and customers wish for more. Denmark St could potentially enter Denmark St MK III as there's every chance other brands might follow and Denmark St's tenants reflecting the tastes and habits of today's music fans and producers.
Pro-Audio Gets Serious
It's not new for an individual brand to have its own store but it's rare. It's far more common for a retailer online or high street to stock a wide range of brands. However, with the growth of pro-audio and home-based musicians over the past two decades, certain companies are now exploring having their own locations. With enough legacy and appeal, it's possible. As Roland caters to all facets of home musicians, there is a demand for a Roland customer to have somewhere to visit.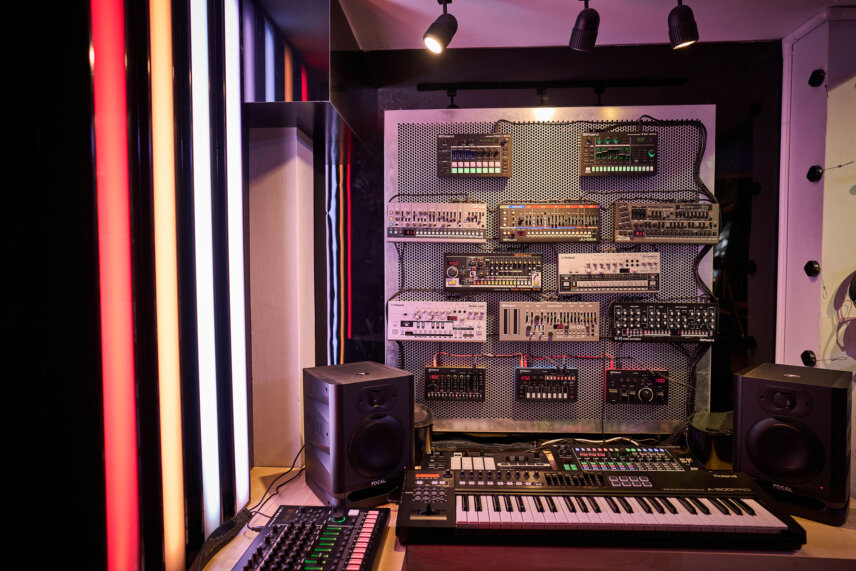 In 2019, Novation opened a pop-up store in Shoreditch which offered customers a Novation experience. Korg had a store (Experience Lounge Shibuya) for a short while in Tokyo. The difference between these examples is Roland's store is not temporary but intended as a significant shakeup in its retail operations.
Together with Outnet
Outernet London is an immersive media, music, and culture district, at the heart of which is The Now Building—the world's most advanced experiential public space, featuring 23,000 square feet of floor-to-celling screens. Within the district is Outernet Live, a new 2,000 capacity live events venue and the reborn and revamped former 12 Bar Club. Also set to open is The BPI Recording Studio, a professional quality pro-bono studio, as well as the unique Denmark Street apartments and session rooms of Chateau Denmark. Music lies at the heart of Outernet London. Situated on Denmark Street, the area is often described as the birthplace of the British music industry, where iconic artists such as Elton John, The Rolling Stones, Sex Pistols and David Bowie hung out, made music, and lived. 
Find out more on the Roland Store website.
Pics: Attack Media and Roland Corporation
While you're here you may enjoy: