Korg has revealed a truckload of new hardware for NAMM 2021, from classic synth revivals to a modern drum machine.
NAMM 2021 may be happening entirely online but that hasn't stopped manufacturers from making major product announcements. Case in point is Korg. The Japanese company has already unveiled a plethora of new releases and the week-long event isn't even over yet.
Here is what they've unveiled as of Wednesday evening.
ARP 2600 M
As we predicted, Korg have announced a mini version of their analogue ARP 2600 recreation. The ARP 2600 M is a smaller version of the 2600 FS, which was first announced at NAMM 2020. The new version is 60% the original size but has all of the original's features (minus the keyboard). A semi-modular monophonic synthesizer, the 2600 M has DIN MIDI as well as USB-A and B sockets. It also has both original ARP filter types. The FS unit was limited and sold out quickly. The new M is not a limited edition, however, and will stay in production as long as the company deems necessary. Price is reported to be €1,799.

miniKorg 700 FS
Now here's one we didn't see coming. A remake of their first analogue synths, the miniKorg 700 and miniKorg 700S, from 1973, the new 700 FS features the same unique styling and layout of those early beauties. The most striking feature of the monosynth is its control panel, which sits under the keys rather than above. This was to make it easily accessible when placed on top of an organ or other large keyboard. Many of its features are also unique, based as they are on instruments from the dawn of synthesizer time. Particularly noteworthy is the filter, or 'traveller' section, which features both low- and highpass filters in sideways sliders. New features include MIDI and patch saving. The limited-edition miniKorg 700 S comes with a case and is expected to retail for €1,999.

modwave
Korg's digital division has also obviously been busy, with the modwave set to join the wavestate and opsix in its current lineup of digital polysynths. Taking inspiration from the DW-8000 (1985), the new modwave has two wavetable oscillators pulling from over 200 wavetables. Wavetables can be modified, morphed and blended. There are a dozen digital filter types (including those modelled on the MS-20 and Polysix), plus a host of modulators. Korg has also added a Kaoss engine which models "a ball rolling on a surface and/or bouncing off walls". This is controllable via the Kaoss Pad on the front panel. There's lots more, including motion sequencing borrowed from the wavestate. No price point has been announced yet but we expect it to be similar to the opsix and wavestate.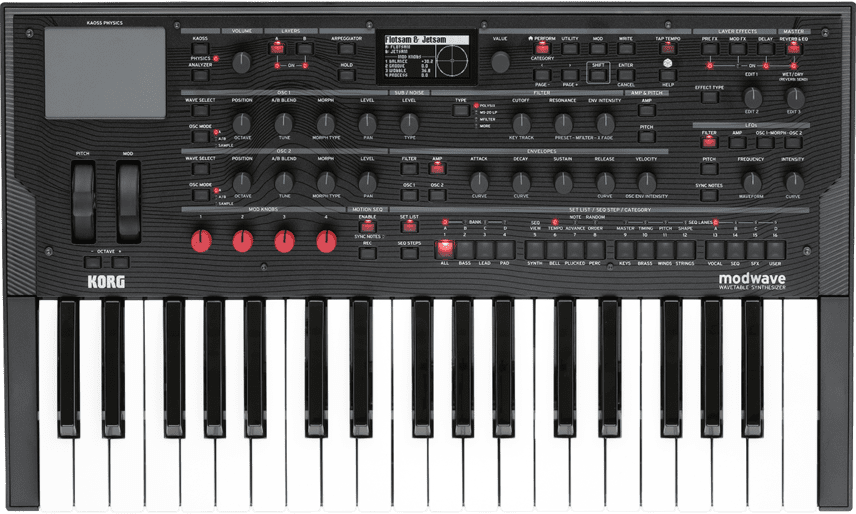 Drumlogue
While Korg are staying secretive about the Drumlogue, they have revealed that it will be a hybrid analogue/digital groovebox. The machine, which is still in the prototype phase, will feature analogue drum synthesis, a digital 'longue SDK Multi-Engine oscillator, as well as PCM samples, which can also be custom-loaded. Korg are further promising an effects section and "intuitive hands-on control for quick editing as well as a dedicated librarian for easy patch and sequence management". We're particularly excited about assignable individual outs.

wavestate SE
Korg have announced the wavestate SE, a 61-key revamp of the wavestate digital polysynth released last year. The new machine will also feature aftertouch, something a lot of users were hoping for on the original. Accordingly, all of the sound programs have been optimized for the new functionality. Korg have also added new internal programs. The build will be slightly different as well, with an aluminum panel and knobs. Here's hoping the opsix and modwave get the SE treatment as well.

Korg Gadget VR
Lastly, there's the announcement that Gadget, Korg's cross-platform music-making suite, will soon be making the jump to VR. They're being particularly cryptic about this, with only the phrase, "Create music using virtual reality" to go on. The accompanying video teaser shows what is clearly the Gadget music-making environment inside virtual reality. Per the video, this is slated for a 2021 release.