Pioneer DJ have announced the DJM-S7 two-channel battle mixer, the successor to the DJM-S9.
Leaked photos revealed there was a new Pioneer DJ two-channel mixer on the way. That mixer turned out to be the DJM-S7, the follow-up to the discontinued DJM-S9 and relative to the more full-featured DJM-S11.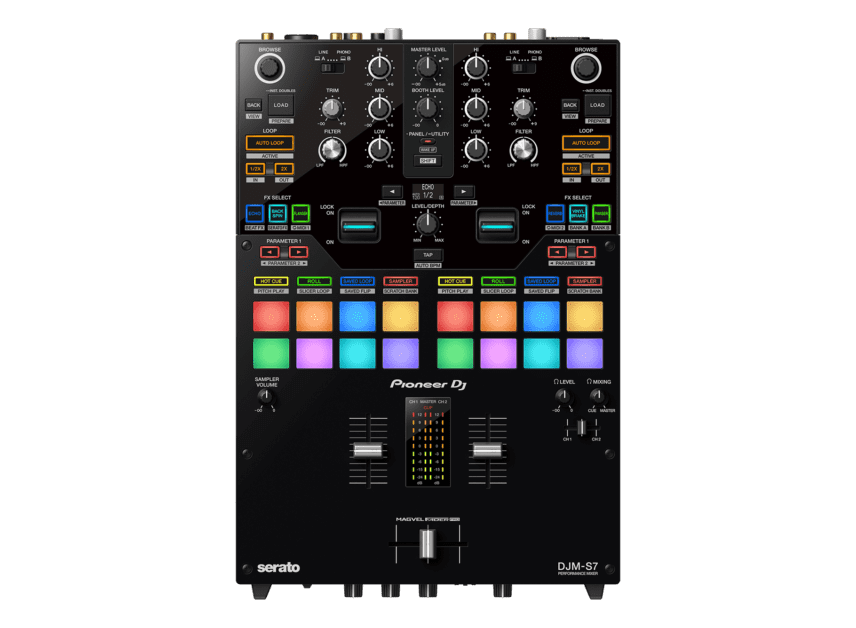 A two-channel battle mixer, the DJM-S7 is being aimed at scratch DJs and those in need of a separate mixer. It's Serato DJ Pro and rekordbox ready, and will automatically unlock performance features in those two software packages. Additionally, you can access the software FX in the two programs directly from the mixer.
Being a battle mixer, Pioneer DJ are placing importance on the crossfader. Accordingly, Pioneer DJ have enhanced the feeling of the Magvel Fader pro and increased the rigidity of the knob mounting shaft in the vertical direction by 30 per cent. This, claims the company, will allow you to "scratch with even more confidence".
Much like the DJM-S11, the S7 has eight Performance Pads on each channel for firing off Hot Cues and samples. It also features effect levers for accessing the 22 FX ported over from the S11. And, while there's no large S11-style screen, there is an OLED one for displaying effect information.
The DJM-S7 also supports Bluetooth connectivity, so you can access music from a mobile device. Additionally, you can use Loop MIDI to send MIDI signals to your software to affect the length of a beat cycle. Two built-in USB hubs, a Scratch Bank for housing scratch samples, and a Combo Pad mode for using two Serato DJ Pro modes simultaneously round out the features.
The DJM-S7 will retail for $1399 and will be available in mid-February 2021. See Pioneer DJ for more information.