This month, we highlight the top seven free plugin instruments that you need in your music-making arsenal.
It really is a glorious time to be a music producer. Just a few decades ago, even a home studio built on a strict budget cost about the same as a used car. Now you can do most everything with just a computer. While there may be pricey plugins, there are plenty of free ones as well. You don't have to be a Scrooge McDuck with a vault full of gold to get your hands on top-quality instruments.
You also don't have to worry about limited synthesis options. There is top free software for most anything you could want: virtual analogue, FM, wavetable, sample playback, and more.
With so many excellent plugins out there, how to choose 'the best'? Out of necessity, we decided to be a little strict in our selection process. First, all instruments had to be cross-platform and known to work well on both Windows and Mac (that's you out, then, PG-8X). We also decided to exclude cut-down or 'lite' versions of pay instruments. While Vital and Pendulate are both excellent, they're unfortunately not original instruments in their own right.
With those caveats out of the way, let's get to the list. Usually, we present our picks in order of ascending price, but as these are all free we're going with alphabetical by instrument name.
Mouses at the ready. Let the downloading commence.
1
Dexed
asb2m10.github.io
Free
The original Yamaha DX7 is a stone-cold classic. It popularised FM synthesis and continues to inspire in a variety of software emulations. While there are plenty of great ones to choose from, including Arturia's DX7 V, there's also an incredible freeware emulation: Dexed.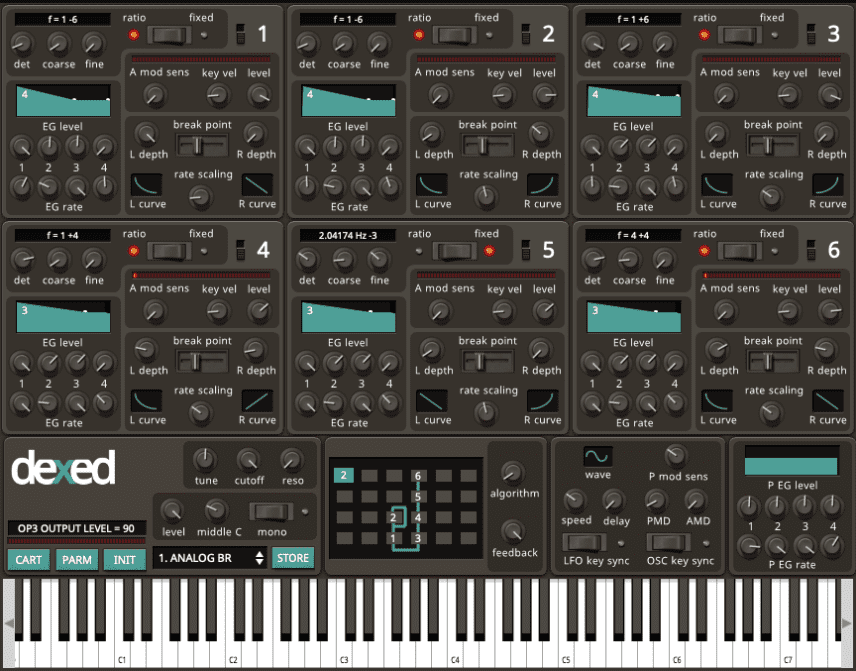 Dexed is an open-platform FM synthesis polysynth that closely copies the architecture of the DX7. There are six operators, just like the original, plus all of the (occasionally bewildering) options available when working with frequency modulation. Thankfully, where the original keyboard forced you to do all your programming through a one-line LCD screen, Dexed is visual. The graphic representation of FM synthesis goes a long way towards making it more understandable.
Along with the classic DX7 functions, Dexed adds some welcome, new features. There's a resonant lowpass filter, which is something we're always happy to see. This can help tame some of FM's more harsh edges. And speaking of harsh, while Dexed defaults to a pristine 24-bits, this can be degraded to match the original DX7 or even lower for more experimental timbres. It's also extensively automatable, with 144 control points.
The plugin also pulls double duty as an editor and patch librarian for the DX7 (and expander module, TX7). This means it can load any DX7 SySex patch, of which there are tons online.
If you're at all interested in FM synthesis or '80s sounds, Dexed is a must-have powerhouse. Grab it now.
2
Full Bucket Music FB-3300
www.fullbucket.de
Free
All hail Full Bucket Music. These German developers seem to have made it their mission to emulate every classic Korg synthesizer ever made, and we love them for it. In fact, we've featured the instrument on the spotlight here before but it deserves mentioning again. It's just that good.

FB-3300 is a modern software recreation of Korg's PS-3300, a completely polyphonic semi-modular synthesizer from 1977. Yes, you read that right. Completely polyphonic. Every single one of the 48 keys had its own oscillator, filter, and envelope. That must have made it incredibly expensive, you say. Yes, it did, and they continue to command astronomical prices.
Full Bucket's much more attainable version has kept the full polyphony as well as the original's rich, creamy sound. This comes from the three 'blocks', each with its own oscillator, filter, envelope, and modulators. It's like having three separate synths sounding per note. Each block also has a bank of bandpass Resonators, which add additional harmonics. There's lots more you can do with this beast, including change the per-note tuning on each block, allowing for some truly odd Aphex Twin-style microtonal adventures.
Korg only manufactured 50 or so of the original PS-3300. Thanks to Full Bucket Music, however, we don't have to just imagine what it sounded like.
3
Spitfire Audio LABS
Spitfire Audio are probably best known for their film scoring libraries, like the Contemporary Drama Toolkit. But they also make sample-based instruments with non-composers in mind too, such as Darkstar – Haunted House, made with the Warp artist, and LABS, a freeware sampler player that goes beyond your basic ROMpler.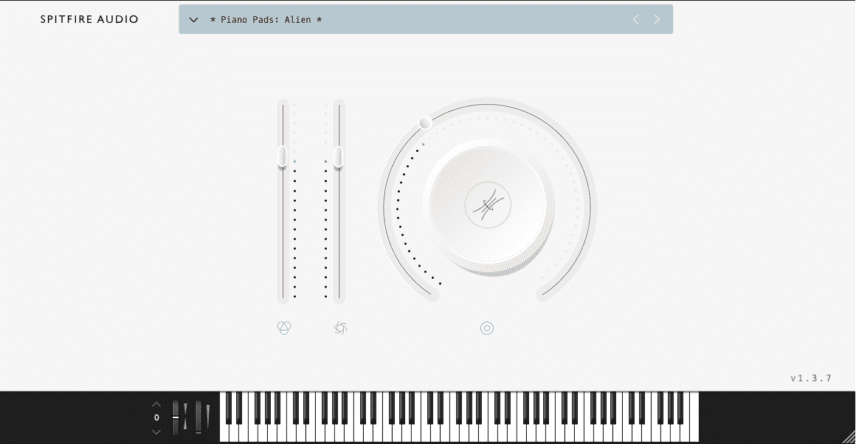 Unlike many of their libraries, LABS is a standalone plugin so you don't need Kontakt at all. Download the instrument first and then choose the sounds you want to use via the company's installer. The sounds then show up in the LABS browser organized by instrument type. Don't expect your Gran's pianos though. While there are some bread and butter sounds, most are more experimental in nature, with the heavy processing already having been done for you. And, this being Spitfire Audio, the quality is superb.
LABS also provides a number of controls to affect the sound. While the GUI may at first seem spartan, a quick play with the controls will reveal volume, filter, and a multipurpose control section. Clicking the button at the centre of the wheel-like slider reveals different settings depending on the sound chosen. While some may wish for more control, think of it as a sound set curated by experts and ready to play with.
With Spitfire adding new sounds all the time, LABS is a treasure trove of experimental and unique sounds.
4
Cherry Audio Surrealistic MG-1 Plus
cherryaudio.com
Free
Cherry Audio's first product was Voltage Modular, a plugin modular synth with impressive sound. The company has since turned its attention to hardwired synthesizer emulation, including ones of the ARP 2600 (CA2600) and Roland Juno-106 (DCO-106). The latest is the Surrealistic MG-1 Plus, a freeware version of the lesser-known Realistic Concertmate MG-1.

Made by Moog and sold at RadioShack (sometimes called Tandy) starting in 1981, the MG-1 was a reworking of the famous synth company's Rogue. It offered two oscillators, a Moog ladder filter, a very basic ASR envelope, an LFO including sample and hold, and ring modulation (called "bell tone" of all things). It also had polyphony in the form of a divide-down organ sound that could be blended in.
Cherry Audio have recreated this oddity with all its quirks intact and, it has to be said, it sounds absolutely wonderful. The filter is dead-on and detuning the second oscillator is sure to bring a tear of joy to the eye of any analogue synth fan.
While the MG-1 used to be a cheap way to get that vintage Moog, prices are now climbing. Thanks to Cherry Audio, we can all access one for free.
5
DiscoDSP OB-Xd
www.discodsp.com
Free
Starting in 1979, Oberheim released a trio of polyphonic synthesizers that would go on to be considered some of the best ever made. While the second, the OB-Xa, is most famous (it was the sound of 'Jump' and recently got the revival treatment courtesy of Arturia), the OB-X, the first of the series, has been turned into a cracking freeware instrument called OB-Xd.

Built by developer 2Dat and recently updated by DiscoDSP, OB-Xd has all the hallmarks of the original: a creamy two-pole lowpass filter with dedicated envelope stage, polyphonic sample and hold and – most famously – two oscillators so fat you might gain weight. To this, the developers have added a new continuously blendable multimode and four-pole mode for the lowpass. The voice variation section is also welcome, adding varying amounts of analogue-style slop plus per-voice panning for massive poly sounds.
As this is a free release, there are no effects, sequencer or arpeggiator, but it more than makes up for it in sound. It's absolutely huge and does the original justice. Plus it does a pretty decent job with OB-Xa and OB-8-style sounds as well. Might as jump, right?
6
WaveWarden Odin 2
All of the instruments we've covered so far have tended to do one thing and one thing very well, whether that be FM, virtual analogue, or sample playback. Sometimes, however, you need a little more variety. You need a hybrid synth. You need WaveWarden's Odin 2.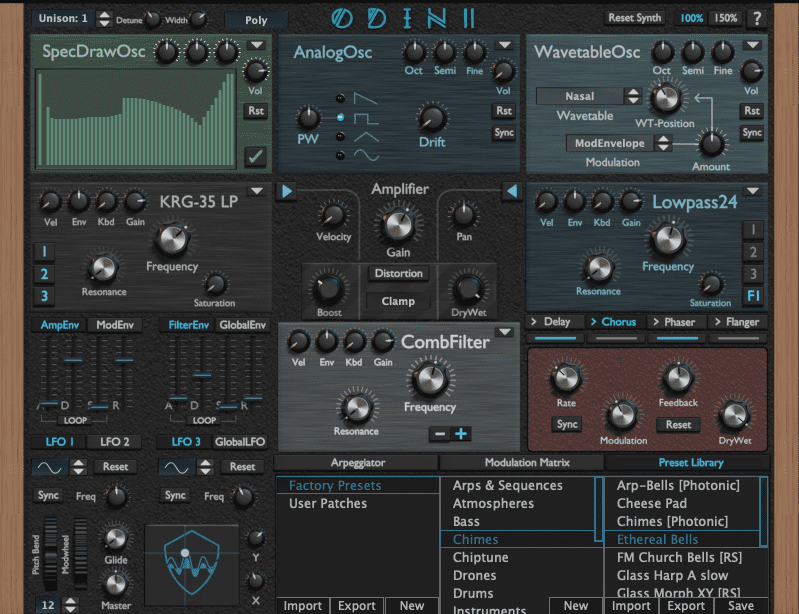 Named after the king of the Norse gods (and with more than a passing resemblance to Reason Studio's similarly godlike Thor), Odin 2 gives you a plethora of oscillator and filter types in a flexible setting. Let's start with the oscillators. There are analogue, wavetable, multi, vector, FM and phase modulation, and chiptune and noise oscillators. There are also three drawable oscillators: Wavedraw, Chipdraw, and Specdraw, the latter an additive oscillator. Filter types include 12dB and 24dB variants of lowpass, bandpass, and highpass filters, plus emulations of the SEM, Moog-style Ladder, Korg 35 A.K.A. the MS-20 filter, as well as a comb filter, formant filter, and ring modulation. There are enough slots for three oscillators and three filters each, enough for truly massive tones. Four effects (delay, chorus, phaser, and flanger) and distortion at the amplifier stage, plus loopable envelopes and LFOs round out the synthesis package.
It's hard to believe that all this synthesis power is free. This is doubly mind-blowing when you actually hear the thing. Quality all the way. And with so many different kinds of sound sources, there's really nothing Odin 2 can't do. King of the gods, indeed.
7
Surge
surge-synthesizer.github.io
Free
If you thought Odin 2 was godly, check out Surge. It's probably the most feature-packed free polysynth available, with an almost bewildering amount of flexibility. Multiple oscillator types? Check. Tons of filter emulations? Check. Incredible effects? Check. Extensive modulation section? Yes, check. Even MPE? You bet. And here's Roger Linn demonstrating it.

There's no way we'll be able to cover everything Surge can do here so let's just hit some of the highlights. The three-oscillator section is ridiculously deep, with eight types, including wavetable, of which 523 are available. Of course, you can add your own too. Why not? There are two filters also in eight different configurations, with algorithms from Odin 2 and OB-Xd (above) plus plenty more. There's also a waveshaper and feedback loop for the filters. Nuts. Throw in plenty of modulation plus a ton of effects (including from open-source effects king Airwindows) and… we're just getting started really. We haven't even mentioned that each patch contains two entirely separate scenes for layering and splitting.
Surge started life as a paid instrument but is now completely open-source. It's clearly a labour of love and the passion the contributors have for it is clear in every incredible feature. Plus it's being updated all the time. Surge is nothing short of a super synth and should be in everyone's plugin folder. We can't recommend it enough.