In this holiday edition of Best Of, we round up the most drool-worthy gifts of the 2020 season.
The holidays are upon us. Time for spending time with family and loved ones, enjoying the spirit of the season, and of course giving gifts. If you've got an electronic music producer in your gift-giving circle it can be hard to know what they're going to like. All those piano machines do look alike, don't they? But seriously, trying to give a gift that will make the receiver jump for joy is hard enough when it comes to things like clothes or consumer electronics. There's no way you can be expected to know what the producer in your life is going to find exciting.
Well, that's what this run down is for. We've assembled a list of 10 of the best holiday gifts for music producers. If you're buying, just peruse our list—organized in order of ascending price—and pick the one that looks like the most fun. If you're a producer yourself, message this article's URL to the giver, sit back, and wait for the big day, confident that you're going to get something more fun than another post-ironic ugly Christmas sweater.
1
DJs You Can Eat Jigsaw Puzzle
store.attackmagazine.com
£19.99
There's more to life than the studio, certainly. After an all-night session of programming beats, it can be nice to relax with the fam or the crew with a jigsaw puzzle of food-themed DJ fun.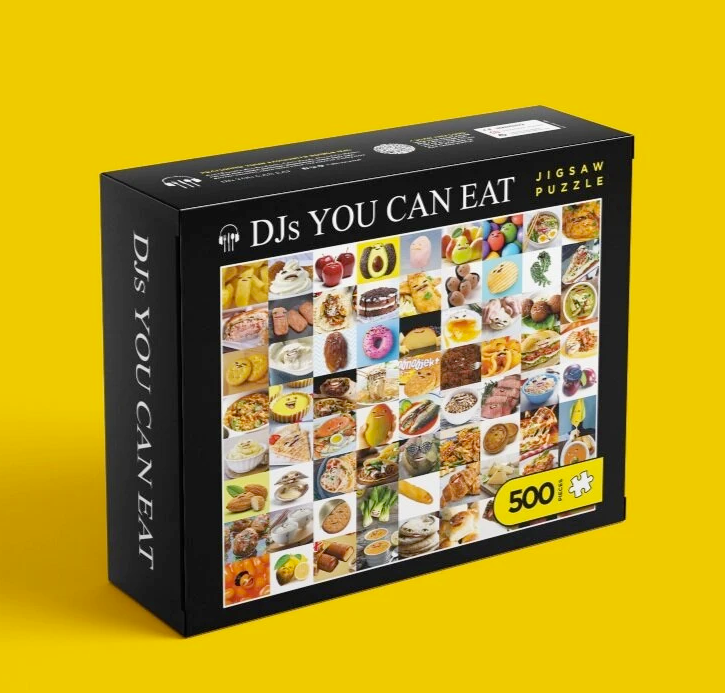 DJs You Can Eat started as a Tumblr page and was reborn recently on Instagram. Essentially, they Photoshop the faces of famous DJs and producers onto food. The real fun is in the pun-tastic names they come up with, like Rich Tea Hawtin, Julio Mashmore, or our favourite, Moodynaan. The jigsaw puzzle version combines the best of the series into a 500-piece puzzle, meaning you'll have plenty of opportunities to laugh at the pictures as they come together.
DJs You Can Eat is actually the brainchild of design studio CCGW, whose clients include clubs like Ministry Of Sound as well as hotels, restaurants and other lifestyles brands. But don't let the big names fool you. DJs You Can Eat is about as down to earth (and as fun) as you can get.
2
The Secrets Of Dance Music Production Book
store.attackmagazine.com
£29.99
We don't often toot our own horn here at Attack. We'd rather get on with bringing you the best in features, news, reviews and tutorials related to dance music and production. But we do have something we're rather proud of that we think would make an excellent holiday gift for music producers, The Secrets Of Dance Music Production.

At over 300 pages, The Secrets Of Dance Music Production is a very comprehensive guide to producing electronic music and pulls together all you need to take a mix from concept to club-ready master. There really is a king's ransom worth of material here, from drum programming and synthesis and sound design through to mixing and mastering. There are tons of walkthroughs plus over 500 audio and project files. It's all very practical and eminently usable stuff.
If you're just getting started (or someone in your life is expressing an interest in music production) this is the perfect book. Even if you're a veteran producer there's always more to know and more to learn, and you're sure to find plenty of that here.
If only there was a resource like this around when we were coming up.
3
Attack X Sam Moore T-Shirts
There are plenty of T-shirts out there with band names on them. There are not so many with dance music genres though. Yes, yes, we hear you. No one wants to wear a shirt that says "techno" on it though. Even in the early '90s that was poseur city. So what's a punter to do?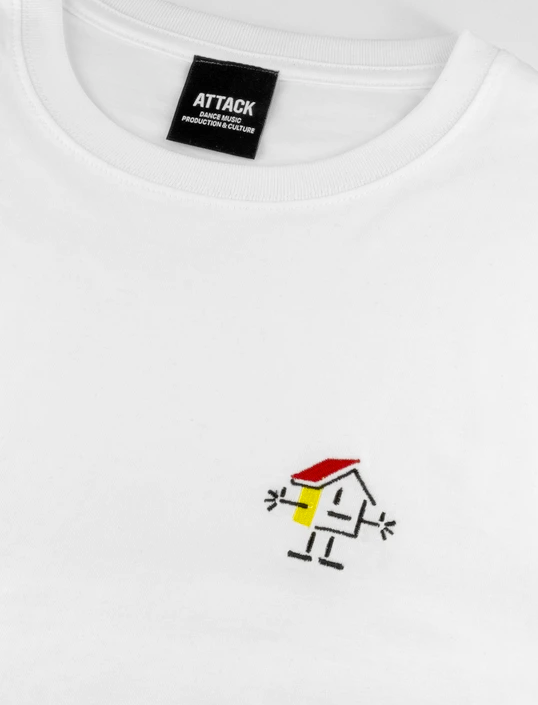 Illustrator Sam Moore has provided a number of clever depictions of dance music genres for Attack, and we've put them on T-shirts. They're irreverent, cute and pretty funny. Some of our favourites include acid house, tech house and the one pictured here, minimal house.
The shirts are embroidered in the UK on 100% cotton and made on 190GSN. T-shirt colours are available in black and white, suitable for the club, the after-party, the cafe, or anywhere you want to display your love of dance music without actually making a big deal about it.
4
Cremacaffe Design Tabletop Stands
store.attackmagazine.com
From £34.99
Much of our music-making gear is meant for the tops of tables. Forget the studio, we're all shooting overhead YouTube videos on the kitchen table now. But seriously, with all of the cool desktop gear out now, the occasional stand can come in handy. Creamcaffe make a series of stands that are perfect for adding height and a viewing angle to your gear whilst also looking pretty smart.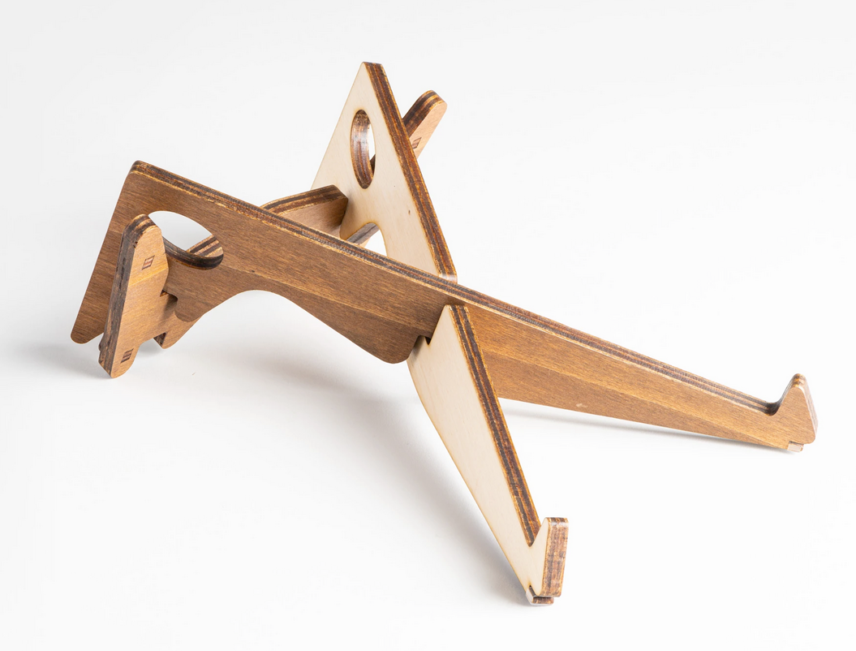 Kolibri is a lightweight (half the weight of your cell phone!), all-natural X-shaped stand meant for synths, drum machines, laptops, you name it. It can accommodate up to an 18-inch laptop.
Spike XL is designed for heavy devices and can be set up for two different viewing angles, 30 degrees and 60 degrees. It's also available in two finishes, Natural Poplar and Walnut.
Kosmo is a double stand that can be used to hold one piece of gear at 30 degrees or two at 15 degrees each. The two stands fit together using interlocking pieces and are easy to assemble thanks to their different colours.
5
Wiley Crew 808 Society Bomber Jacket
poshmark.com
£52
Wiley Crew is a New York-based boutique apparel company that makes music gear-themed bomber jackets. They do a TB-303 one, a TR-909 one, and this, our favourite, the TR-808.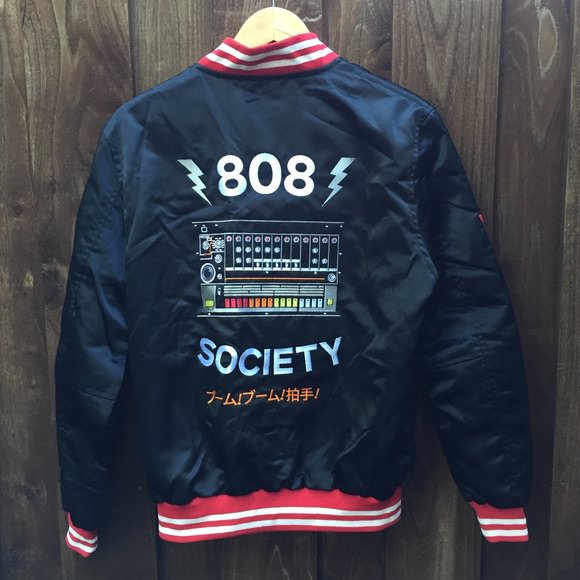 The jacket is black with red and white sleeves and collar. It's the embroidery, however, that really make this special, with elements of the iconic Roland drum machine on front and back. Up front are four buttons in the classic colour scheme and the words 808 Society, whilst on the back, there's a full representation of the machine itself, along with some lightning bolts and Japanese lettering (which translates to "Boom! Boom! Clap!").
There are plenty of 808-influenced pieces of attire out there, such as Roland's collaborations with Puma and Uniqlo, but there's just something special about this one.
6
CCTV Quadtech-101 Full DIY Kit
thonk.co.uk
£70
Eurorack continues to be a trailblazer in the world of synthesis. It also continues to be a sizable drain on bank accounts and ruiner of marriages. The solution? DIY kits. Thonk sell all kinds of Eurorack and desktop kits and parts and are worth a look if you have even basic soldering skills.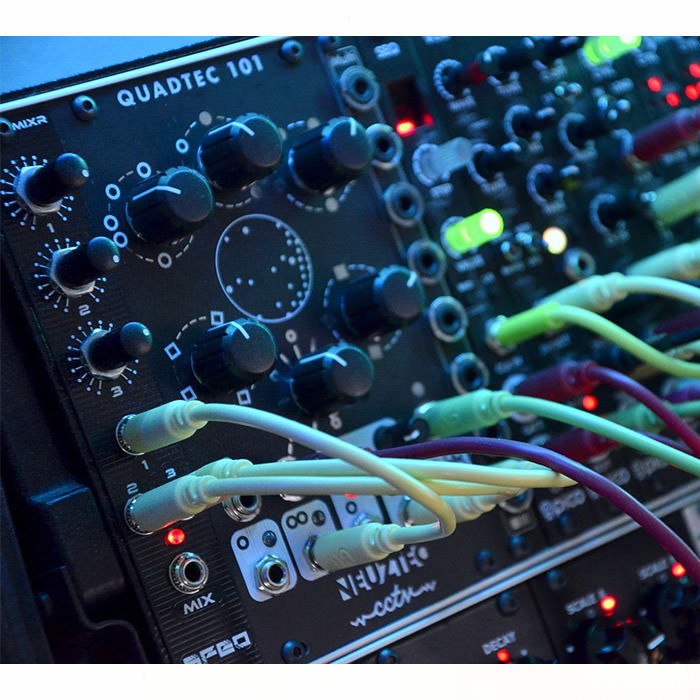 CCTV's 14HP Quadtech-101 is a quad-panning dual waveshaping oscillator unit that functions both in a Eurorack environment and desktop (via a 9-volt battery). The digital oscillators contain wavetables that can be shaped in real-time, resulting in basic waveforms like triangle and saw but also more esoteric shapes such as cello, evenangle, and FM. There are four outputs, allowing for quadrasonic panning, which can be controlled by a triangle wave.
The through-hole kit contains about 70 components and was designed to be easy to assemble no matter your skill level. If you've never picked up a soldering iron before, we recommend you practice on some cheap kits first though. Why not make it a DIY holiday?
7
Teenage Engineering Pocket Operator Capcom Series
Teenage Engineering Pocket Operators make the perfect gift. They're small, inexpensive, and tons of fun. The Swedish company recently teamed up with Japanese video game giant Capcom to create the Capcom series, with Street Fighter and Megaman units the end result.

PO-133, the Street Fighter one, is based on the PO-33 K.O!, a sampler with a built-in microphone. This newly branded version features 16 Street Fighter sound tracks and samples from the game. The machine contains eight melodic sample slots, eight for drums, 15 punch-in effects, and 40 seconds of sample memory.
The Mega Man unit, numbered PO-128, is an eight-bit synthesizer and sequencer based on the PO-28. There are 15 sounds plus a micro drum, a three-track sequencer with parameter locks, glide control, and punch-in effects, and 128 pattern chaining. It also comes with 16 Mega Man sound tracks based on the original video game.
For producers of a certain age nothing gets the nostalgia flowing like old-school video game sounds. This series adds the graphics too. Now, where's the Mortal Kombat edition?
8
Korg Volca Drum
www.korg.com
£119
Pretty much any unit in Korg's Volca series would make a fantastic present but we're going to have to go with our favourite, the Volca Drum. Something of a secret weapon, Volca Drum is a digital drum machine that uses DSP synthesis to allow users to create their own percussion sounds. We're suckers for drum synthesis of any kind, and the Volca Drum is pretty unique.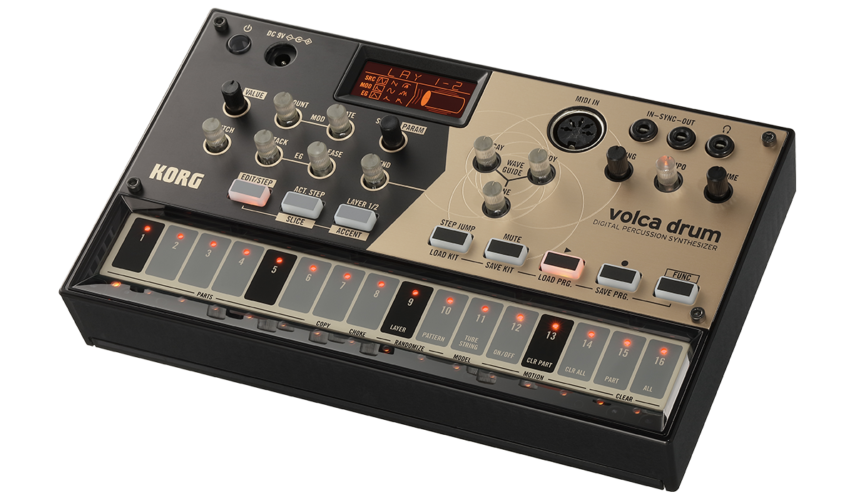 There are six analogue-modelling drum parts on hand. Unlike some digital drum programs, you're not restricted to what each part can be (kick, snare, hats, etc.). Each is effectively a blank percussion slate. Start with a waveform (sine, sawtooth, noise) and go from there. Each part has two layers, additional tone shapers like bit crush and drive, plus there's a physical modelling waveguide resonator to add metallic reverb-style effects.
It wouldn't be a Volca without a sequencer (unless it's the mixer), and the Drum supports both step and real-time recording. There's motion sequencing for recording live tweaks, pattern chaining, plus additional functions like slice, active step, accent and choke.
A lovely LCD, etching on the face, and the usual speaker and portability are the icing on the cake. The Volca Drum is a standout in the already solid Volca range.
9
Audio-Technica AT-LP60XBT Bluetooth Turntable
Not everyone needs a fancy-pants DJ turntable. Sometimes you just need a nice platter to play your records and maybe do some sampling. If this is you, tell the (wealthy) people in your life about the Audio-Technica AT-LP60XBT.

The AT-LP60XBT is a fully automatic belt-drive turntable. It includes a Dual Magnet phono cartridge with a replaceable stylus that integrates into the headshell. It plays 33 1/3 and 45rpm records and includes an adapter for you 7" collectors. There's also a removable hinged dust cover.
What makes the AT-LP60XBT a must-have is Bluetooth connectivity. Of course, you can use it with the included RCA output cable if you wish, but wireless connectivity means you have a lot more choice in where you put it, perfect for those of us with cluttered studios.
The turntable is available in black, white/black and red/black. Send a letter to Santa today. Maybe promise him you'll rip some of those classic funk records for him to sweeten the deal.
10
Zoom H3-VR
zoomcorp.com
£229
For the last entry in our list, we freely admit that it might be a little over the top. But if you're serious about sound recording and have people who want to support you, why not shoot for the moon?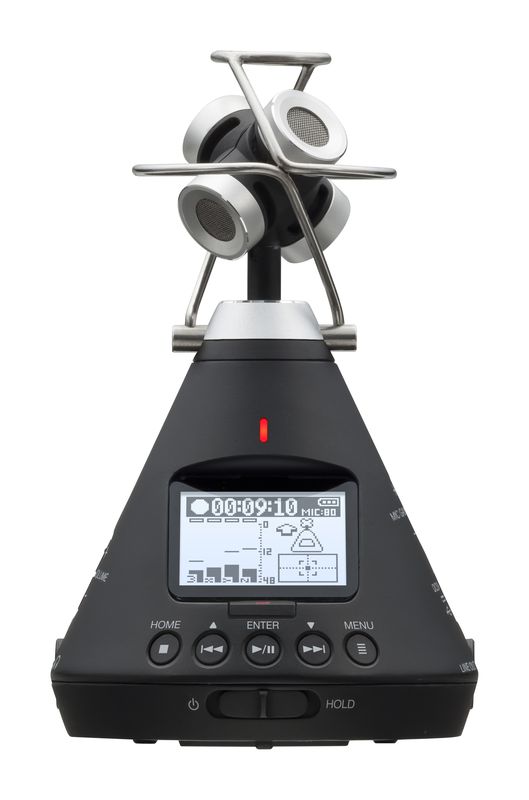 Zoom have really made a name for themselves with portable recorders and the H3-VR is the latest evolution in their highly respected line. What's so special about it? It records in 360 degrees, perfect for capturing audio for VR, AR and mixed-reality content. It can do live streaming as well. It even has a six-axis motion sensor, meaning you can orient the mic in any direction and it will automatically calibrate it for.
Ambisonic audio is the latest thing and while it hasn't impacted music production yet, having one of these in your arsenal means you're ready for when it does. Even if you don't need the full Ambisonic functionality, the H3-VR will also do binaural 3D stereo, standard stereo, and 5.1 surround.
Zoom's H3-VR is next-level field recording at a not-so next level price. Put this on your list and give us all a VR sound bath.
*Attack Magazine is supported by its audience. When you purchase through links on our site, we may earn an affiliate commission. Learn more.