Moog have put the classic Minimoog Model D back into production with all of the extras from the 2016 run plus some much-requested new features.
Moog's Minimoog Model D is a stone-cold classic. The analog monosynth first went into production in 1970 and helped set the blueprint for what a synthesizer could be. With its three oscillators (one pulling double duty as an LFO), famous Ladder filter, and instantly recognizable sound, it's appeared on countless hit records across many genres and is still a much-desired instrument even in 2022.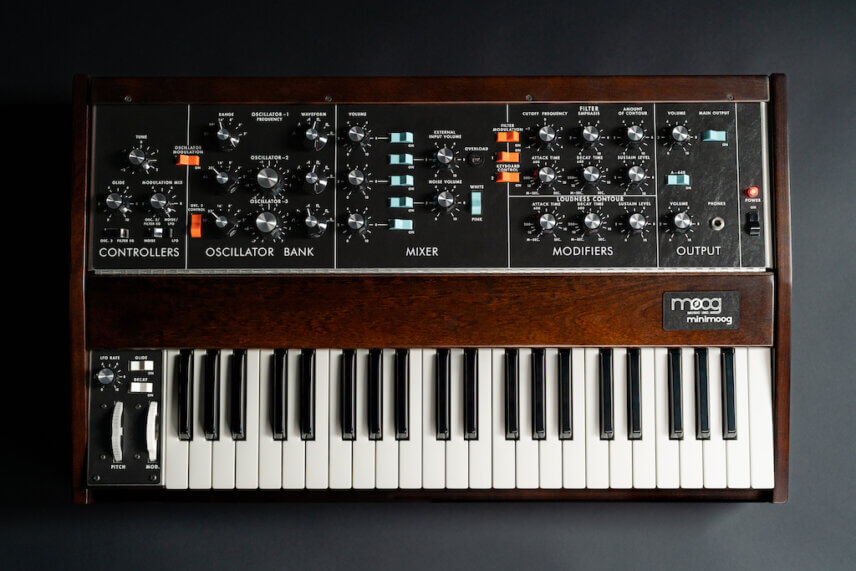 Moog have decided to give the people what they want and have put the Model D back into production. The new Minimoog has all of the functionality of the original plus the permanent modifications that Moog added for the 2016 run. These include a dedicated analog LFO with triangle and square wave shapes to free up that third oscillator, a Fatar keybed with velocity and after pressure available via top panel CV jacks, MIDI, improved pitch wheel calibration, and a mixer feedback knob.
New to the 2022 run is a spring-loaded pitch wheel. This much-requested feature, which is standard on many modern synthesizers, brings the Minimoog's playability up to date. It also has MIDI functionality updates, "allowing for improved modern studio integration," as Moog says.

Of course, the look is the same, from the Tolex-covered front panel to the locally sourced Appalachian cherry cabinet with walnut stain and hand-finished aluminum chassis.
In addition to the synth itself, which is hand assembled at Moog's Asheville, North Caroline factory, Moog have also announced accessories for the new Minimoog, including an SR Series Case, ATA case, and dust cover. These will work with any edition of the synth, old or new.
The new Moog Minimoog Model D is now shipping. See the Moog website for more on the synth and accessories.
The Moog Minimoog Model is priced $4,999 US, £5,299 UK and recommended EU price of €5,999.
Want to create a classic Moog sound? You can use Wavetable 👇
While you're here, you may enjoy...