pCloud, the leading cloud storage service has announced its Black Friday Deals. Customers can expect a huge sale of its Lifetime Plans with savings of up to $5,000 off!
Who is pCloud?
pCloud is a cloud storage company that was launched in September 2013.
The mission was to offer much improved cyber security for both individuals and businesses. The company has become synonymous with an unmatched user-friendly experience including a tonne of features at great prices. Plus, it's great for musicians whose plugin library, samples and projects take up too much space on their hard drives.
pCloud's Competitive Pricing Plans
Most consumers are price-led first, so let's get down to the bottom line. pCloud is renowned for its generous pricing models and non are more generous than their Black Friday offers. We'll come to those shortly, but a quick word on their Lifetime plan!
This plan requires just ONE payment and the customer in return gets Lifelong access to the pCloud Premium Plan. Lifetime plans can be stacked up to 16TB currently.
Black Friday pCloud Deals
Despite competing on price all year round, the real deals are to be had over Black Friday. It can be hard to cut through the mix of offers during this shopping bonanza, but with savings of up to $5,000, pCloud will turn your head.
Here are the offers:
From November 21st to 27th:
Users will have the chance to receive up to 10TB storage with up to 85% OFF. Getting the 10TB Lifetime plan saves you more than $5,000:
500GB Premium Lifetime: 75% off or –$570 > $139

Save more than $400!
2TB Premium Plus Lifetime: 75% off or $1,140 > $279

Save around $900!
10TB Custom Lifetime: 85% off or $6,000 > $890

Saving more than $5,000!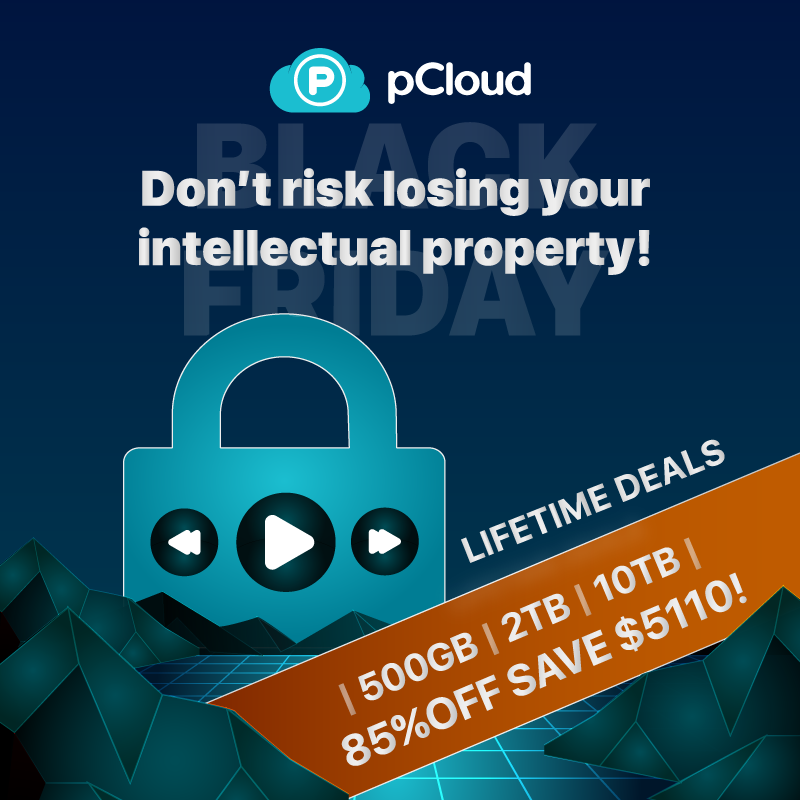 What else?
pCloud is used for collaboration! With customizable share links- password protection, expiration date, branding links (for authenticity) and editorial privileges.
pCloud also offers:
Protecting your Intellectual Property
Metadata detected- sorting files and creating Playlists
Collaborate wherever you are, whenever
Streamline your workflow and preserve authenticity – share links, etc
Unique pCloud Encryption
pCloud sets itself apart with its zero-knowledge encryption. The pCloud Crypto Folder is a part of the LIFETIME Arsenal as well, giving even more cost-effective options to users, who have already decided to become a LIFETIME cloud storage member.
Cloud comes armed with a tonne of features that can help your music career further. For example:
Expiration dates
Unique share links
Get detailed stats for your links
Password protection
Branded links
Automatic uploads on mobiles (iOs and Android)
Built-in video player
Video streaming
Built-in audio player with playlists
Unlimited file size and speed

pCloud Pass – The Latest Feature To Secure Your Music
During the last 12 months, the ambitious team at pCloud has continued to develop by releasing new features and even a new product: pCloud Pass.
pCloud Pass is the secure password manager for your passwords and personal data. Users can use it to log in to websites with a single click, fill online forms with their payment details and create strong passwords with the built-in password generator.
With this new app users can save their credit card details and use secure notes to write down alarm document IDs, bank account numbers, pin codes, and more.

pCloud Pass uses client-side encryption to ensure users' data is protected from all kinds of attacks. This means that everything clients save gets encrypted on their device before it's uploaded to the pCloud servers. Only users can decrypt the data by using the Master Password.
Find out more about pCloud and their Black Friday savings.
*Attack Magazine is supported by its audience. When you purchase through links on our site, we may earn an affiliate commission. Learn more.