Newfangled Audio are currently running a "50% off everything". Read on to see what's available and grab a bargain. If you have a taste for plugins that end with 'ate', then Newfangled Audio is the company for you.
Newfangled Audio have announced their "50% off everything" sale. Discounts include:
Generate which is now available for $79,
Saturate which is now available for $25
Punctuate which is now available for $49
EQuivocate which is now available for $49
Pendulate which is always free!
The Elevate mastering bundle is also on sale for $99 and includes Punctuate, Saturate, and EQuivocate plug-ins.
In addition, Newfangled Audio also has a few new updates. For Saturate these include a new Anti-Aliasing mode, Symmetry control and Ceiling control.
For Generate, the plugin features new artist presets from both The Unfinished (Dune, No Time To Die) and Spektralisk (Moonfall, Edict).
The Newfangled audio sale runs from May 3rd till May 31st.
About Newfangled Audio
Elevate: Powerful mastering bundle

KEY FEATURES
Analyzes and alters the gain, speed and transients of each filter band in real time
Includes presets by: APS Mastering, Matt Lange, Jeremy Lubsey, Eric Beam, ROCAsound, Chris Tabron and John McCaig.
Automatically adapts the attack, release and look-ahead parameters for each filter band to greatly reduce "pumping" and breathing artifacts and perceived distortion.
Preserves or emphasizes fast transients to avoid squashing your mix.
Uses linear phase auditory filters — based on the Mel Scale — to manipulate the audio in a way that is natural to your inner ear.
Read our tutorial on Elevate.
Generate: "Chaotic polysynth extraordinaire"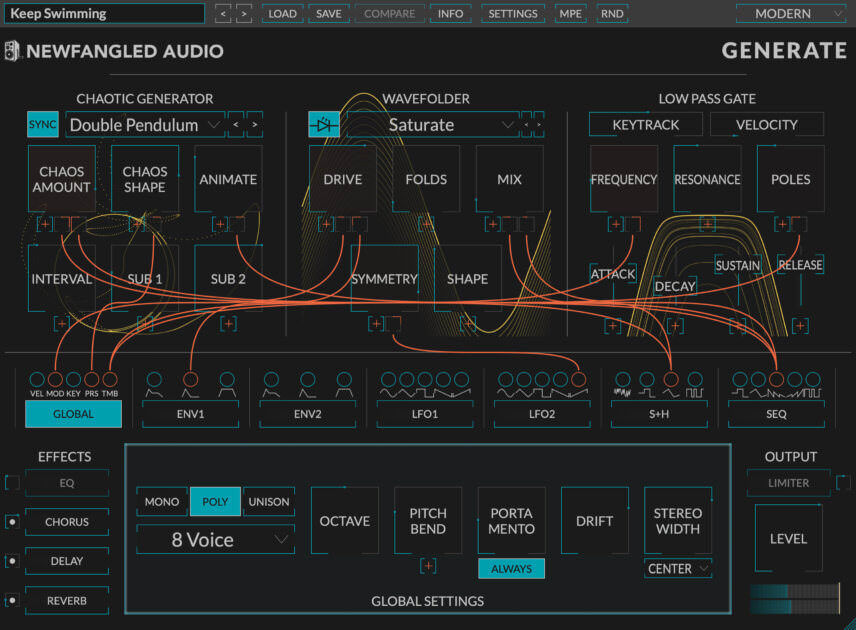 KEY FEATURES
(NEW!) Generate 1.3 adds new wavefolders based on the Saturate algorithm and a model bent version of the Buchla 259
(NEW!) Generate 1.3 adds the ability to modulate the effects
(NEW!) Generate 1.3 includes an updated Sequencer

Novel chaotic oscillator has 8 types: Double Pendulum, Vortex, Pulsar, Discharge, Turbine, Helix, Crescent, and Magma
5 Wavefolders based on the Buchla 259 Complex Waveform Generator, our Saturate plug-in, Fractals, and a special Animated Equation
Low Pass Gate based on the Buchla 292 adds controls for POLES and RESONANCE
Modulate all controls with MIDI/MPE, two Loopable Envelopes, two LFOs, Sample and Hold/Random, and a Step Sequencer
Pendulate: Free chaotic monosynth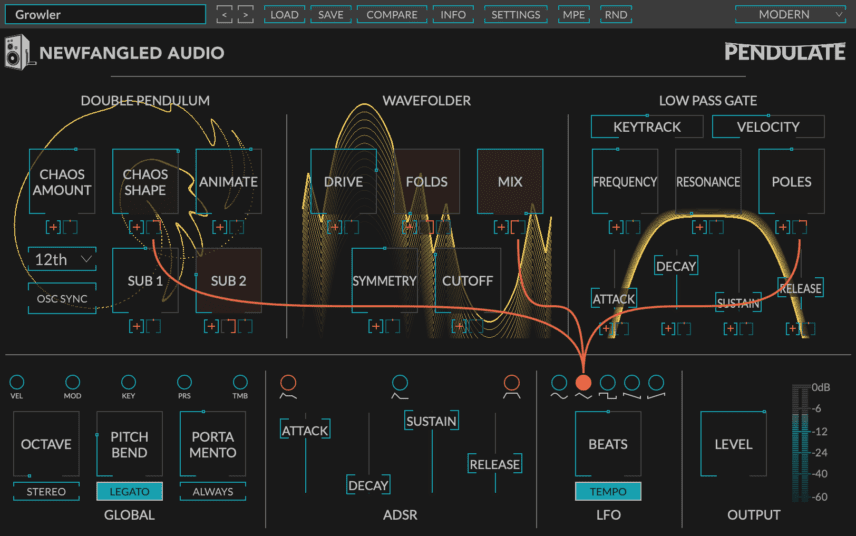 KEY FEATURES
Novel chaotic oscillator based on the double pendulum makes sounds you've never heard before, but will want to hear again
Wavefolder based on the one in the Buchla 259 Complex Waveform Generator, adding MIX and CUTOFF
Low Pass Gate based on the Buchla 292 adds controls for POLES and RESONANCE
Innovative modulation UI allows modulation over every control from the main page, allowing up to 325 simultaneous modulation routings
MPE support allows amazing control from innovative new controllers

Equivocate: Human ear EQ

KEY FEATURES
Simple yet musical, the 26 linear phase auditory filters are shaped to approximate the critical band filters in your ear.
Match EQ feature matches the tone of one track to another. Blend two tracks to sound like they came from the same source, complement each other for better separation, or make a final master have a similar tone to a reference track!
Click and swipe your mouse across the gain slider field to draw an EQ curve. Then toggle Draw Curve off to fine tune.
Use the output level Auto button to automatically compensate for level changes introduced by the EQ.
Punctuate: Intelligent transient shaper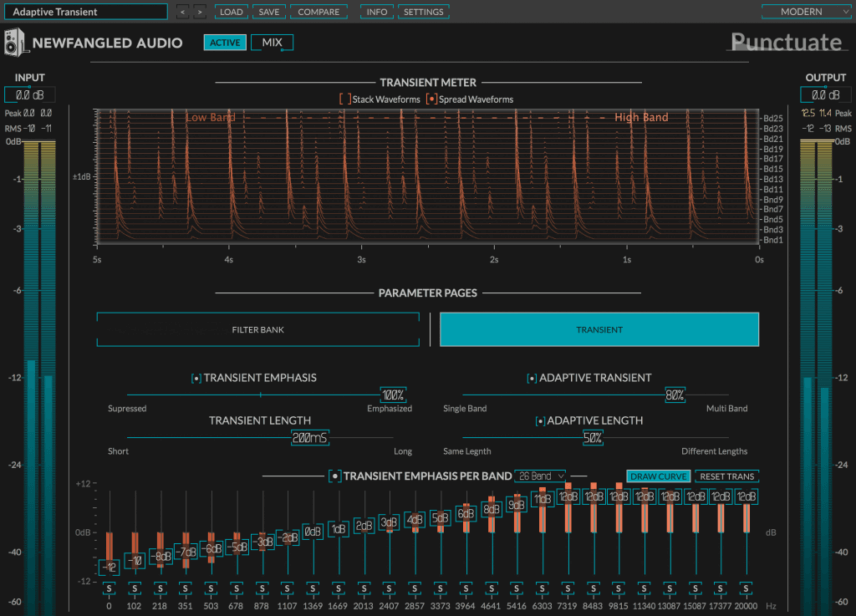 KEY FEATURES
Multi-Band Transient Emphasis or Suppression magically reshapes the dynamics or your single channel or whole mix
Auditory Modelling means that even drastic changes sound natural
Intelligent Adaptive Algorithms allow you to control up to 26 transient shapers with just 4 controls
Integrated metering shows you what the algorithm is doing at all times
Filter Bank page lets you modify the filters and solo each channel for expert tweaking if desired
Saturate: Spectral clipper and psychoacoustic overdrive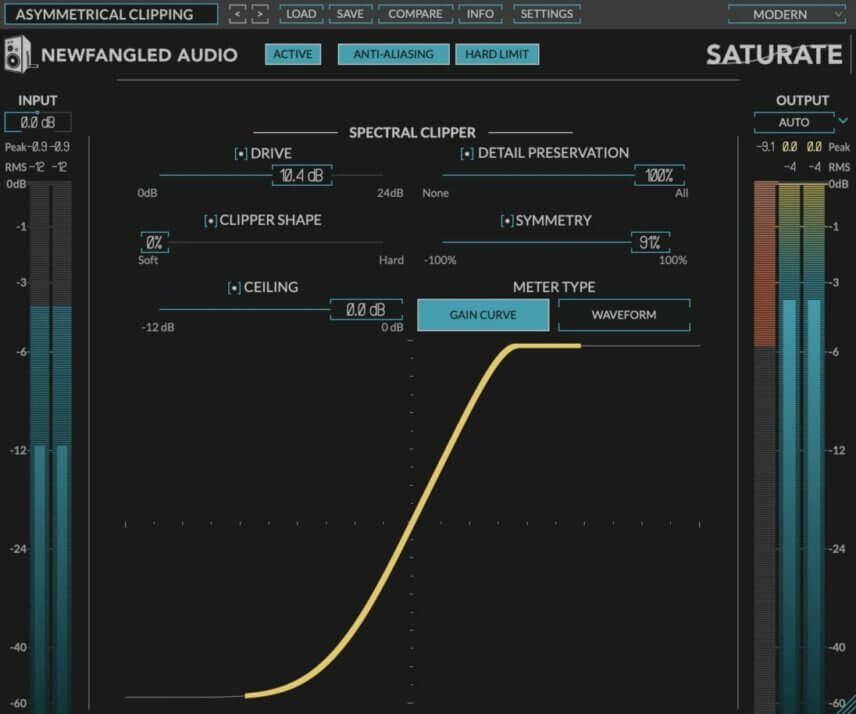 KEY FEATURES
(NEW!) Saturate 1.10 adds an anti-aliasing mode removes aliasing artifacts better than oversampling
(NEW!) Saturate 1.10 adds a unique Symmetry control allows you to add even harmonics for a richer tone
(NEW!) Saturate 1.10 adds a ceiling control allows you to set the clipping threshold
Saturation plug-in ideal for single tracks or the entire mix
Unique Detail Preservation algorithm maintains tonal balance and fine detail for an open and
Check out Saturate
The sale runs from May 3rd till May 31st. To purchase visit Newfangled Audio.
While you're here, you may also enjoy: