Just ahead of his debut album, 'Skin', on Omena Records, we caught up with Aleksandir and asked him to walk us through it track by track.
Istanbul based Aleksandir is best known for his breakout 2018 hit 'Yamaha' released on London label 'Tessellate'. But is his debut album, 'Skin' released on Omena Records, more of the same or a development of the talented producers sound? As he puts it, despite lots of nods to his past, it jumps away from his 'housey/ technoey' roots, but not too far…
At times sparse, at moments reflective – it's a smorgasbord of influences morphed into a fine release showcasing not just advanced production and groove skills, but excellent harmony and song writing to boot. We asked him to run us through the beautifully detuned nine track 'Skin' track by track – how he made it, complete with helpful production tips and what each tune means.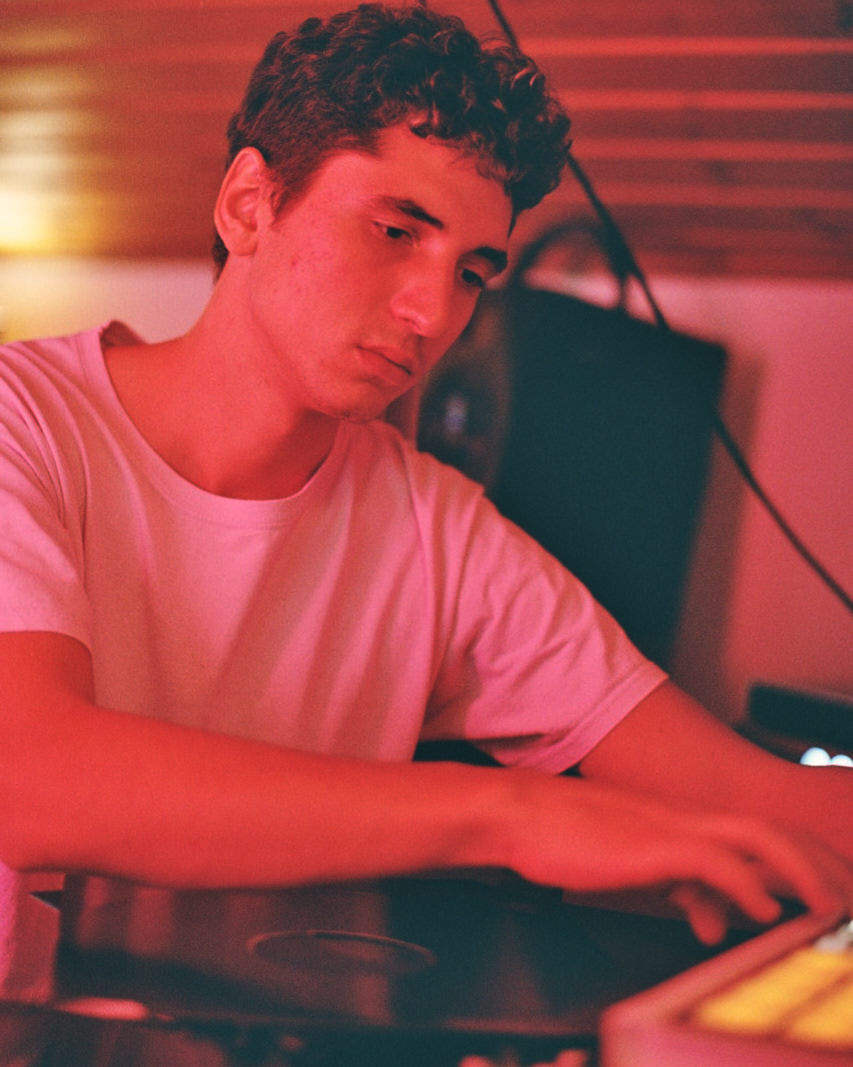 I Used To Dream
This track is where I feel I successfully put together most of my creative ambitions for the album. I wanted to infuse breaks-based drum patterns with poppy vocals – influenced by my 2019 obsession with Frank Ocean and all recent things breaky (eg. Overmono). I also wanted to have lots of switch-ups and extended intros and outros featuring different melodic passages and field recordings, which were greatly influenced by my love for JPEGMAFIA's ADHD-style production on his latest album. It all came together quite close to what I had hoped for, and if there's a vibe on this album which is likely to be continued on future works, the more beaty / poppy sounds on the latter part of this cut are probably it.
One thing I've been doing a lot is putting a super low feedback flanger on all my breaks. The break on the second half of this tune is an example of that, makes them sound super fat! One important thing is to make sure to seperate the low end / bass and run that mono when you do this though, as stereo bass can cause all sorts of issues later on.
Threshed
This is one of the more club leaning cuts on the album. I wanted to balance the vocal-lead tracks on the album with some more sparse, darker, clubby tunes. Threshed was definitely one of these tunes, fleshed out on my flight back from a tour in Australia – you can hear my flight announcement at the beginning of the breakdown – this one is a bit of an ode to UK techno sound. And the brief passage at 00:43 with the funky bass stabs is the tiniest ode to Baltimore club rhythms and stab sequences.
That stabby sequence starting 00:42 til 1:14 was made using Step FX, a fairly recent addition to Logic Pro. I've been using that quite often to generate these sequence gate effects, here that works by running the main pad sound and bass through Step FX to make them gated and create this stabby sound. I'm sure the same can be accomplished using arpeggiators or just hand played chords, but Step FX made that super easy.
One thing I've been doing a lot is putting a super low feedback flanger on all my breaks. The break on the second half of this tune is an example of that, makes them sound super fat.
Prado
Definitely the most club oriented track on this album. While most of the album was composed in a period of change and turmoil for me, this track was composed at the end of that period at a happier point of my life. I think the heavier hemes and concepts in my head that I wanted to study had been fleshed out and all I really needed was some peak-time emotional club material, and that's how Prado came to be. The main chords in the breakdown don't coincide with a big drop or any of the drums until the final section starting around 4:20. I really wanted to compose a melody that can function seperately in various parts of the track, with different chord progressions underneath. My favourite thing is probably the two melodies that follow each other, playing different variations in the same scale (the steel drums and the synth line which plays concurrently).
All the main synths on this were created using Logic Retro Synth or TAL U-NO-LX (another personal favourite). Logic also has surprisingly good imitations of certain acoustic instruments, this includes the pan drum sound used in this song and also Calvert, sounds super realistic and has a lot of personality to it when you use it across various velocities, it can get pretty fierce if you "hit" it hard! Another tip here is to not disregard Apple loops that come with Logic, I had never looked there for samples before, but I found quite a few useful bits for this album, including the darbouka percussion sound in the second part of the track. It's interesting how you don't look right in front of you for things sometimes, but they've been there all along!
Also, for all the detuned synths all over the place (including the plucked lead lead in the breakdown here), Izotope Vinyl is the trick!
Interlude
I haven't sampled other peoples music all that much throughout my discography (excluding breaks / drums), but there's a very inconspicuous but equally expensive sample on this one.. That was fun! Initially a part of Calvert, this just serves as a little beaty palette cleanser. Again, I'd love to play with these slower tempos and hip-hop influenced beats for my next project, take a step further away from house and techno.
Lots of formant pitch on my voice here, all those vocal pitch fx and autotune on the album were accomplished with MAutoPitch by MeldaProduction, really easy to use plugin that does the job super well. I spent forever wondering how formant pitch was done in my early years of production, turns out it's like most things, you get the plugin and turn the knob!
Calvert
This is the first song with lyrics that I've ever finished and released. It tells a story of losing someone very important to me, a sort of goodbye. So it's definitely one of the most personal tracks I've ever made. It's also been a strange experiences releasing something with such emotional value for me – not something I'd done before – to open up to listeners in such a way and share such private emotions. But it was also very liberating and satisfying to start using lyrics on this project, as it enables a much more direct channel of communication and expression. It's something I would like to work on and develop further for future projects.
The beeping synth sounds (can here best right after 0:09 until the first drop, but run throughout the track) were from the Arturia Buchla Music Easel plugin, I really enjoyed their addition here, they kind of run in and out of time and add this super analog feel to the whole thing. It's a notoriously difficult synth to understand but even just modifying certain presets or fiddling with random parameters can result in some really fun sounds.
The vocals were recorded with an Avantone Cv-12, famously the go-to mic for Taylor Swift… I'm really happy with it, and although I've nowhere near mastered the ins and outs of live recording, I feel like this album has taught me a lot about recording vocals. After recording, I ran all vocals through an emulated bass amp (inspired by early Strokes recordings), a good chunk of autotune, some slight formant shift in places, a nice short reverb and a good long one (mixed to a much lesser degree).
Technicolour
This tune served as a bit of a blueprint for what the sort of sound I wanted to construct. Similar to my older works in it's melodic and chordy nature, but with hints of breaks, IDM as well. This one used to have vocals on it at the beginning, which I was quite happy with but ultimately went with the instrumental cut. I think I didn't want to overwhelm the listeners with the vocals and instead give them a more backseat role to test this new direction out on this album instead.
Also, want to give Joseph Ashworth a shoutout here for his help mixing this tune (and others on the album), a couple decibels boost on the back vocals that come in on the last leg of the track really made it come to life for me. I really enjoy that shift in frequencies and the high end air that those vocals add (3:39). It's a really good example of why "air" in tracks can be really important, be that ambient tracks in the back, noise on synths, or mixing hi-hats to the right degree, makes everything pop out and sound a lot more fresh.
Overgrown
Hugely inspired by Caribou's latest album (who has been a constant source of inspiration from the day I started producing), this was the last song I added to the album. I already had 9 tracks when I finished this, but I knew this had to be in there somehow. So I ended up replacing Yelki (which was released as a separate single before this album was announced) with this song instead. Similar to Calvert in nature, this really encapsulates the breaky pop music I wanted to make.
The song and lyrics are about happiness and lack thereof, how happiness means different things to all of us, how we all experience or attain it in different ways and how everyone is so involved with and feels responsible about each others'.
Think the stabs are the main production focus here. Maybe there's an easier way to accomplish this, but what I did here was use two almost identical presets, one with a very short attack and one with a longer one, that's why the 4th of 5 stabs has that "wub wub" sound to it, i think that's crucial to the sound. I always find it easier to cut out the bass from stabs and layer with another sub bass channel for mixing purposes. And exactly in the same way, there are two bass plugins with different attack lengths to follow the stabs.
I always find it easier to cut out the bass from stabs and layer with another sub bass channel for mixing purposes. And exactly in the same way, there are two bass plugins with different attack lengths to follow the stabs
Skin & Mind
'Skin & Mind' was conceived in the early days of a new relationship. It's a song about jealousy and self-doubt. This is in a way one of the darkest songs on the album, lyrically speaking. It was a therapeutic experience making this one and letting those feelings out, they're not things I experience or feel in the same way anymore, so in a way it felt like a way to let go of or face those emotions.
Again, I'm really proud of this one for being out of the norms of housey / technoey things I've done in the past, instead heading in a more crossover electronica direction. The sharp resonant sound at 1:29 is a favourite moment of mine, it's the kind of more evil, rugged, idm soundscape that I wanted to use a little more on this project, as opposed to the summery light fluffy sounds a lot of my older works consist of!
Also, the song ends without a return to the root chord, ending it on an ambiguous suspended moment. Had a conversation about this with a couple people – my manager James included – about whether that lack of finality was a good thing or what it meant. I'm happy I left it as it is, that lack of finality fits the themes in here for me, as there's a lot of things which began in the span of my making this album, and they've not yet ended either.
Skin is out now on Omena Records. Follow and listen on Aleksandir's Soundcloud.