About the only things in common that the various releases of Vanity Press Records have is that they're from young artists, and that label boss Dave Marroquin likes them. Justin Kelly chatted to Dave about his label, his approach to A&R, and records that play at both 45 and 33 RPM.

Dave Marroquin is not happy with the state of the US dance music economy.
"Oh, it's awful," he says. "There aren't enough record stores. There aren't enough clubs. If you want to be a successful gigging DJ, you need to get overseas, and that's just how it's been for a while."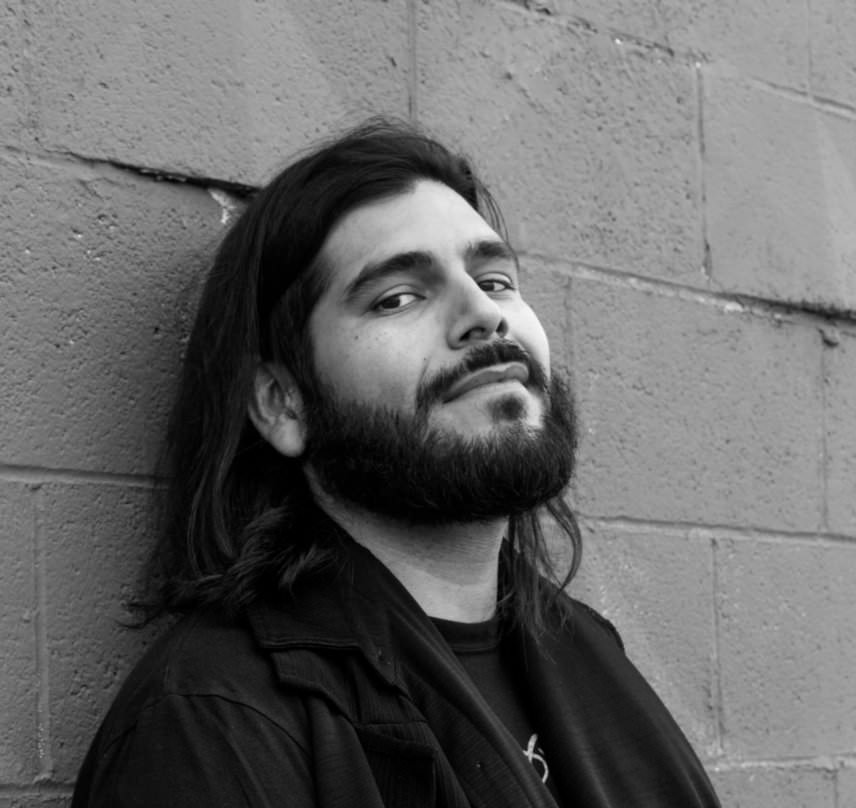 Marroquin, who heads the Vanity Press Records imprint out of Ann Arbor, Michigan, might not have immediate aspirations of being a successful gigging DJ, but he would like to be able to make the label his main gig. So I asked him: if you'd like to do this full time, and you don't think the US has the infrastructure, then why are you still here?
With no hesitation, he replies, "Because this is where all the talent is."
If that's true, Marroquin would know. Since 2016, Vanity Press has been steadily releasing music in multiple genres from the leading edge of the American electronic music underground, spanning recently familiar names like AceMo, Davis Galvin, Black Noi$e, Flora FM, and Ronan. Where some label heads might be content to sit back and choose from the stream of incoming demos, Marroquin is on an active search for the most promising young artists.
"I'm always looking for the next group of young people pushing the envelope," he said. "Like, who are the 17 to 23-year-old artists that are pushing things? Because that's always where the newest, most interesting sounds come from." That philosophy rings clear through the Vanity Press catalogue. Of the label's five 2019 releases, three were vinyl debuts: an LP from the Felt Presence crew, composed of the New York DJ/producers that threw the infamous Groovy Groovy raves in Brooklyn, and EPs from young Midwesterners Huey Mnemonic (Flint, MI) and D. Strange (Indianapolis, IN).
Pretty much everyone that I looked up to when I was getting into this said, 'Keep your day job... that way, you won't have to argue over quarters and kind of ruin the fun.
"That's what I think is what separates Vanity Press from other labels — we're breaking new artists constantly," Marroquin says. "And it takes a lot of extra A&R work to get someone's first record out. We're talking about artists that may or may not know to have intros and outros, press shots, bios – like, none of it."
Despite the lack of press shots and bios, these artists sound more like experienced professionals than novices. The Felt Presence LP is a deep and spacey exploration of leftfield breaks and drum 'n' bass, D. Strange's release is loaded with stuttering techno and electro reminiscent of classic Detroit releases, and Huey Mnemonic's EP graced us with the breakbeat house instant-classic, 'Vibrations Radio'.
The quality across releases is due in part to the way Vanity Press approaches the process of taking a record from a collection of demos to a finished product: according to Marroquin, most releases are the result of several rounds of feedback and critique. Pittsburgh's Davis Galvin, who also released an excellent EP on Vanity Press in 2019, described the process as a back-and-forth with the goal of more fully realising the artist's original vision.
"It's a lot more conceptual than just saying, 'We need sixteen more bars here,'" Galvin said. "I try to ride this space of a record that can be both dancefloor-focused and home-listening, but sometimes I can lose the forest for the trees. Dave was able to say when I needed to bring it back a bit, or that I could explore something more and go a little further out."
It's telling that Marroquin says the feedback process is his favourite part of his job as a label head: music is the priority at Vanity Press, and business comes after that. To keep it that way, Marroquin approaches the label with a hobbyist mentality that's fairly common in the region. "Pretty much everyone that I looked up to when I was getting into this said, 'Keep your day job and keep [the label] as your hobby. That way, you won't have to argue over quarters and kind of ruin the fun."
The do-it-yourself ethos is certainly a part of what makes Vanity Press and other projects in the region so unique and exciting. Without the financial pressures of a business with full-time employees, underground labels and artists can maintain a higher degree of artistic freedom. It also, however, can be a source of tension and paradox, symptomatic of the economic realities of the arts in America. Marroquin, for example, sees Vanity Press as a hobby, but he also said that he sees running it full-time as a "distinct possibility."
While in high school, Marroquin gigged around Ann Arbor playing saxophone in a jazz quartet that included producers Shigeto and Charles Trees, both of whom would go on to release EPs on Vanity Press. His focus on young artists comes from his experiences watching them and other friends getting neglected or abused by record labels.
"I've seen it countless times," Marroquin said. "No copies of records, no money, no communication. But the most common thing that was happening was a label saying, 'Yeah, we're going to put out a record by you,' and then just disappear and not follow up. Even after they get the tracks admitted."
There aren't many black or brown label heads out there. "There just aren't. This music was started by black people, and now they don't have as much of a hand in it as they used to on the production tip. And so I'm just trying to tip the scales a little bit.
The records that were getting published, he noticed, were often not coming from black or brown artists. This didn't sit well with Marroquin, who is of Mexican heritage and is close to the scene in Detroit where black musicians invented techno so many decades ago.
"There aren't many black or brown label heads out there. "There just aren't. This music was started by black people, and now they don't have as much of a hand in it as they used to on the production tip. And so I'm just trying to tip the scales a little bit."
By 2016, Marroquin, fed up with the lack of diversity, poor treatment, and the amount of good music he was seeing go unpublished, started Vanity Press. The name, he said, is tongue in cheek: "If nobody's going to do this for us, we're going to do it for ourselves."
Since then, the label has put out 17 vinyl releases covering house, techno, electro, juke, drum 'n' bass, and more, with lots of the music falling into the hard-to-describe cracks between genres (i.e. the Davis Galvin EP). The only discernible common threads seem to be 1) music that Marroquin likes, and 2) young artists.
Recent months have also seen the launch of two new sub-labels from Vanity Press. Hot 'N' Ready, an imprint focused on peak-time edits of pop tunes, kicked off in October of 2019 with an essential Beyonce re-work from Pittsburgh's Ali Berger.
Then, at the end of February, Marroquin started 3345, a new label showcasing records produced and mastered to be played at both 33 ⅓ RPM and 45 RPM.
3345's first release
is yet another vinyl debut, this time featuring bright and smooth juke/footwork from Ann Arbor's
DJ FLP,
a talented 25-year-old who lives down the street from Marroquin.
The idea for 3345 comes from the first release on Detroit's How To Kill Records, which included a track called, 'Like That' by Broodlings (The Friend) and Al Hype (Stefan Ringer). Several intrepid Discogs users pointed out that the track sounded good when played at 45 RPM, and Marroquin later learned from one of the artists that the production had been intentionally tuned for both speeds.
FLP's outing was produced the other way around; the tracks were originally imagined at the 45 RPM speed (which is what you'll hear on the digital files), but were arranged and mastered to bump at the slower rate as well. And like the Davis Galvin EP (and most Vanity Press releases), DJ FLP worked closely with Marroquin to realise the finished, dual-speed product.
"To be honest, and he might kill me for saying this, I didn't really go into it with [both speeds] in mind," FLP said. "That aspect of it was mostly [Marroquin]'s idea, but I think a lot of the input he was giving me on the tracks was to make it so that it does make sense played the other way."
In 2020, Vanity Press and its sub-labels are upping production with more releases slated than any previous year. Next up is a Hot 'N' Ready pressing from Dave Quam, and March and May will see the second and third 3345 releases. The main imprint has records slated from New York City's John Barera and Washington D.C.'s Juana, for starters.
Vanity Press Records is the kind of record label that the US could probably use a few more of: small, independent and ahead of the curve. The rest of us can be thankful that Marroquin is putting in the effort to dig for new sounds, cultivating the American underground from within.
Check out Vanity Press Records' releases on their Soundcloud and Bandcamp: