After his father passed away, Chicago resident Aaron Guice turned his attention towards helping black and brown youths without the means to explore modular synthesis. To that end, Guice's project, AFRORACK, brings modular synthesis workshops to children and young adults in Chicago's black and brown communities. For this month's feature interview, we spoke with Aaron to hear how AFRORACK is making a difference.
A few years ago, Aaron Guice was a Los Angeles-based commercial sound designer. Using various tools at his disposal, including microphones and electronic instruments, he created sounds for television advertisements and music videos, including one for the 2011 Jennifer Lopez and Fiat's 500 Cabrio car campaign. But when his father's illness brought Guice back to Chicago in 2012, he found himself entering another world of sound: modular synthesis.
What began as a means of bonding with his father, then suffering from Alzheimer's disease, turned into a life passion. Learning about the modular circuitry reminded Guice of childhood days spent working on electronics and rockets with his father. Like many Eurorack or full modular system fanatics will say, Guice's fascination with modular circuitry came to occupy most of the volume of his day. In recent years, Guice has parlayed these modular daydreams into a second career as a music educator.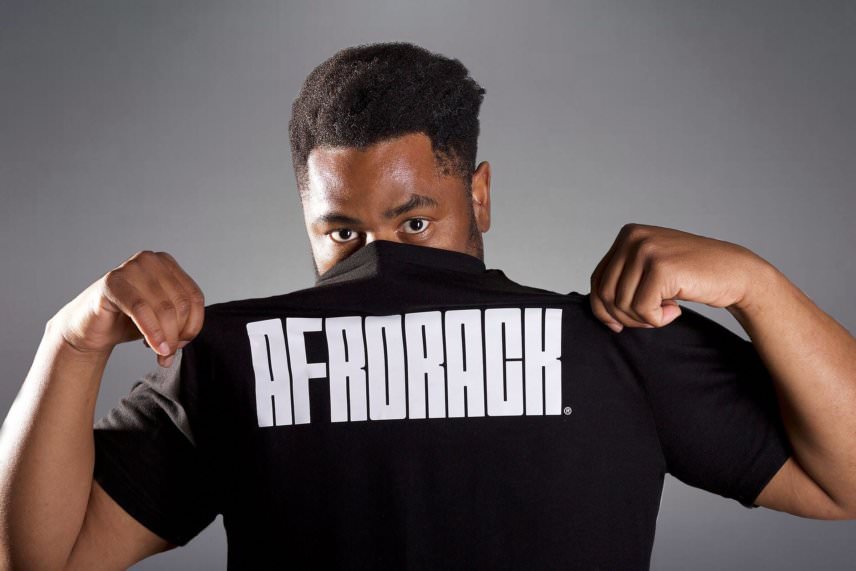 But, Guice didn't want to focus on teaching adults the ins and outs of modular synthesis. Instead, he wanted to take modular synthesis, and the modular thinking it produces, to youth communities that otherwise don't have access to what can be an expensive and hard to obtain musical technology. To that end, Guice's project, AFRORACK, brings modular synthesis workshops to children and young adults in Chicago's black and brown communities.
In a recent phone conversation, Guice spoke to Attack about the early days of AFRORACK, from the early challenge of obtaining enough modular gear to thinking about how best to impart his knowledge to kids. He also talked about his plans to expand AFRORACK to other cities, while keeping the project organizationally nimble.
Attack: Before we get to your work with AFRORACK, can you talk a bit about how you got into sound design and, later, modular synthesis?
Aaron Guice: I went to school in Chicago at Columbia College, graduating from their audio program. I ended up getting a job as an on-set recording engineer, and later on, I met a director by the name of Paul Hunter who needed someone to do sound design. I really wanted to be a composer at the time, but he needed someone to do sound design on a commercial so I said, "Okay, I'll do it." It just happened to be something that was musical, and from that point on I was sort of characterized as a sound designer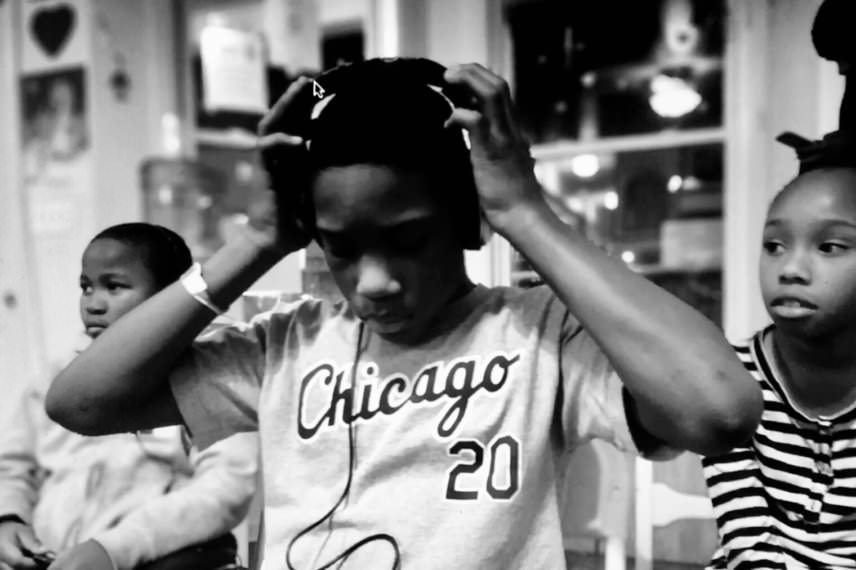 From there, I ended up moving back to Chicago when my dad became ill with Alzheimer's disease, so I put my career on the backburner to be with him. As I was taking care of him I was kind of bored because none of my music equipment was there. I ended up getting a small modular rig, and it ended up being a really cool way of us bonding and focusing.
How exactly did you and your father bond over modular synthesis?
I was very attached and close to my dad. Before becoming a plumber he was a draftsman for circuit diagrams and so on. We built electronics and rockets, among other things growing up. Music therapy was part of his daily routine. My dad played the cello, but as the disease grew he lost his ability to play and connect with his cello. I would play the drums for him and he really liked that but the modular reminded me of when I was a kid when it was just us together working on those projects like before. Modular became a healing ritual.
My dad was in a coma for three months before he passed. During that time I would record things on my phone. I'd play the drums, do some modular stuff, and have it all on my phone to play for him. It was our thing. That was the last thing we had a chance to bond over. Those moments with the modular before the coma, things made sense again. I almost forgot he was sick at all. It was fun again.
That transition from "rock star sound designer" to caretaker for my dad humbled me. It changed me forever. See, my dad helped build so much of Chicago. He worked on nearly every important landmark—the Sears Tower, John Hancock center, amongst others. My mom helped educate Chicago's children; she taught for nearly 30 years. It's way more personal than people realize. It's more than just my own money, my own time. It's that connection through tradition. My parents are the true inspiration behind this project.
How did this all evolve into AFRORACK?
From then on I got really into modular synthesis. There was nothing like that that I had ever touched before. There was nothing else like it and I needed to do it.
One of the first things I did when I got into modular is I started looking for other black artists. I ended up finding Robert Aiki Aubrey Lowe (aka, Lichens), who is a pretty fantastic modular composer and owns the modular shop Control in Brooklyn. He's super awesome. I know it's a kind of naive Google search, but he was one of the only guys who came up. Even in sound design there weren't many black sound designers, so I felt kind of alone out there.
Obviously I proved myself wrong later, but I wanted it to be something I could share with other black people. And that was kind of the basis for AFRORACK.
This is interesting because with modular because there is such an emphasis on the machine and de-emphasis on the human operating it. That's not to say that race and ethnicity aren't part of the modular world, but it's interesting that you wanted to find or create a community beyond the modular scene, which is already pretty niche in a way.
As I was saying, it's a naive Google search but I was super curious. I mean, I go into the store and buy a small modular setup, which later became a laughable setup signal chain-wise, but I was new and I wanted to find other artists. At the store, there was no one black there, no one of color. There was definitely a void, and there had to be other black people who were also curious or who could benefit from this if they just had the knowledge.
Modular is kind of interesting because some people tend to fetishize the gear, but the one really cool thing is that modular tends to become a platform for a lot of different things. AFRORACK is one platform where people can talk about ideas of equality. I love that it's more than just sounds, it's more than just music, and more than just technology—it's literally a platform for new ideas.
How long after you first immersed yourself in the modular world did you conceive of AFRORACK?
It was right after my dad passed in 2016. By then, after putting my career on hold for such a long time, the industry had changed so drastically. That's not to say that they didn't need sound designers, but they weren't making million-dollar commercials anymore. The last commercial I worked on was the Jennifer Lopez Fiat commercial in 2011, so I didn't really have a reason to go back to LA. I was in Chicago, my dad had passed, and I wanted to start over again. There was this idea of how can I help other people discover this technology? So, it was at the end of 2016 that I felt comfortable enough that I could teach this, and I didn't see anyone else doing it.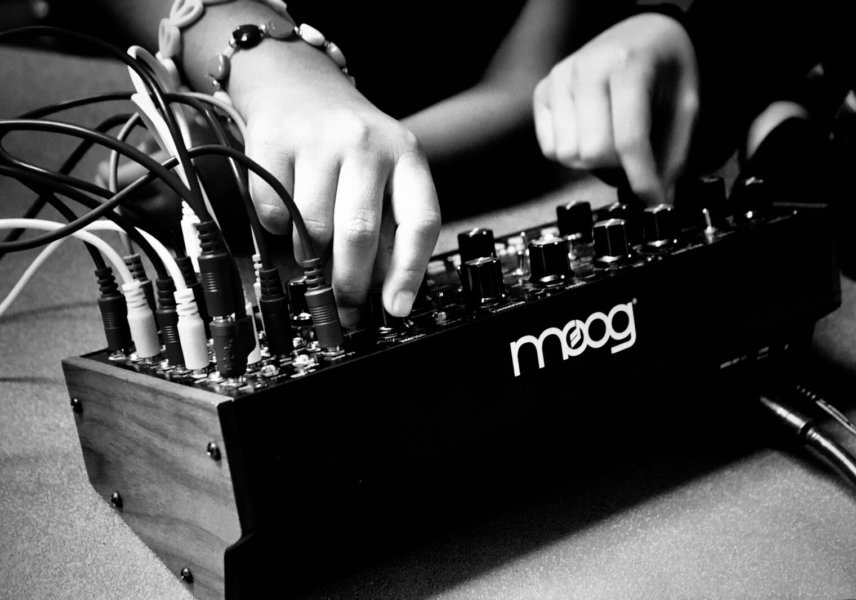 The origins were pretty humble. This all started with my money as far as getting synthesizers. Later on, Moog was kind enough to get involved. I was lucky enough to get some Mother-32s for the workshops, and depend on them to repair the units.
I wanted to find a way to educate kids in a more open way so that they didn't feel like they needed to know music to start playing with synthesizers. I'm a big believer in overcoming limiting belief. Adults are often super scared of touching synthesizers because they don't play music or read music. But, I feel like music is something that is in all of us, and if we can overcome that fear and just play then we can discover what is in that play. 
One of the workshop's concepts is using a graphic score, which I use a lot for organizing ideas and time. I encourage kids to either draw, write, or use colors and shapes to describe musical events they would like to happen, or describe a passage of time, or describe some sort of interaction with the machines over time. That works really well.
When I have a more structured class, like 10 to 15 kids, I will do a modular ensemble where the kids are able to play as if they're in a jazz group. With modular, they have no basis of communication so they have to create their own, and then they're able to interact with each other almost like a jazz group, taking turns and solos, working together, figuring out what kind of voicing works. It's really interesting to watch that develop in the kids, and they fearlessly do it. The older they get at the top of the age range I teach, which is 16 years old, they're a little more fearful of making mistakes. I've had greater success with the 6 to 14 age range, and they make some of the coolest music.
Kids definitely are often more fearless when it comes to learning new machines, whether that's a mobile device or a piece of music equipment.
I've had mixed reactions. Some people see wires and they get really intimidated because they think they're going to make a mistake. But with modular synthesis you can't really make a mistake, which is cool for kids because they're in school all day and there are plenty of mistakes there. When you hand them something so open-ended like modular synthesis, where you create the story and the answers, their minds just open up and there is a whole new type of freedom there.
I want to go back to when AFRORACK was just a notion. When you were first trying to make this idea an actuality, what did you do? You had to obtain the gear, but you also had to find willing participants. How did you approach these tasks?
For gear, I started with my own money, so I needed to find gear that was robust and would survive workshops. Luckily, that happened to be Moog products. As for finding participants, there is a lot of cool stuff happening in Chicago. There is something called a "block party" at the Art Institute of Chicago and then there are community centers, so it was literally, "Hey, I wrote this proposal for this class" and they liked it and had me out.
When you hand them something so open-ended like modular synthesis, where you create the story and the answers, their minds just open up and there is a whole new type of freedom there.
So, I didn't have to find kids. I found an event that was already happening that could host AFRORACK. From there, I've found my own places like The Silver Room, which is a community store that supports black entrepreneurship. There are a lot of these things in Chicago.
Recently, I joined forces with the Old Town School of Folk Music, who has a long history of teaching music. People think of Old Town and they think they're teaching ukulele or something like that, but they created this outlet called Music Moves, which allows people to go out into the community and do workshops and presentations for kids and adults. That was a group that helped connect me with the community center in Englewood called iGrow, where I've done a lot of good work.
Chicago is a network of community happenings and I just kind of rode the wave. I did one workshop, then another, and from then on not only did people enjoy it but they wanted to see more. The problem was that it was only me and only my money, so I had to find some way of organizing it where I could get more help from companies and the community. That's when I started reaching out to companies for more support.
How are AFRORACK workshops structured?
My mom was an educator in the city and I spoke to her a lot about education before I started. It's kind of like a Montessori approach to learning, so they actually start to play first. They start to play and explore the instrument, making all the mistakes until it doesn't make sounds anymore. Questions will come up like, "What is this little thing here, it's called the LFO?" and then I explain it.
I found that this is the best way to make them feel comfortable because explaining a bunch of concepts and saying "Go play" can be a little intimidating; and, again, they have to follow these rules. I'm trying to create this sonic playground for these kids to interact with, and the best way to do that is for them to be completely free. The questions come and I definitely have the answers.

There are a lot of different types of classes. I do these things called "drop-in experiences", and I'm going to be doing one next week at a record store in a black and brown community. It's going to be pretty simple: I'm going to set up a bunch of different types of synthesizers—some modular, some semi-modular, and some microphones because I also like to incorporate sound design because of my background. I'm just going to let the kids play and we can talk about what it means to make music with signal paths and different kinds of sounds. But, it's always cool when they discover stuff on their own and kind of reverse engineer it and figure out why they got this outcome.
What sort of microphones do you use for sound design?
I usually love to bring along contact mics. They're super fun and you don't have to worry about feedback and things like that. It's simple stuff like amplifying a contact mic and running it through a delay, or attaching it to a comb and plucking the teeth, or popping bubble wrap and handling tinfoil. These are all things that sound otherworldly when run through a contact mic, but it also allows you to observe an object in another way from the inside.
How are you encouraging or educating these kids beyond the workshops? That is, what happens after they leave the workshop?
iGrow Chicago is a community organization in Englewood on the southside, and they've transformed these abandoned buildings into these places of education and wellness. There is yoga, meditation, healthy cooking classes, poetry readings, all these different things to help nurture the community. No one's shooting or selling drugs within a four-by-four block radius. They've created this peace zone, which is super phenomenal for a place like Chicago where you're dealing with violence everywhere.
I was able to go into iGrow's wellness house and teach modular synthesis. One of the things I loved about it is that I was going to be able to have the same group of core students every Wednesday. These drop-in experiences are cool, but where do I go from here? My dream was always to give the kids constant access to technology so they can grow with it, so they can think about it in their everyday lives and possibly use it to problem-solve.
There is this joke in the modular community where we say we think modular. It's a different way of thinking where you break things down into smaller pieces and solve them in a completely different way. Modular allows you to see the same issue or same problem from multiple angles. So, being able to go into a community center is where I wanted to be and what I wanted to be doing with AFRORACK.
It's part of a Chicago Public School after school program, so you have to fall within a lot of that structure. There was a big CPS strike and I couldn't teach the kids for three weeks. That was a negative thing, but the positive thing is AFRORACK can access kids who normally wouldn't have heard about it, and I'm bringing the access directly to them.
Do you ever sit there and think if some of these kids are going to go on and be musicians, and if these modular classes will have a big impact on how they design sound?
Yes, absolutely. Chicago and Detroit are best known for developing the future of electronic music: Chicago has House and Detroit has Techno. I think that with this type of influence of the modular synth is going to create this whole new genre. I think people just need to see it.
Computers are definitely the gateway to it because kids can see sounds. When you're interacting with the computer and designing sounds, it's not modular but you're definitely creating patches. I think kids have more of an interest in sound design than people my age. When I grew up the whole thing was sampling. All I wanted was the turntable and an Akai MPC to sample records. But now kids are like, "I want a synthesizer or a MIDI controller, I want Fruity Loops or Ableton", so they're almost there. Kids are loving the immediacy of the interaction with the modular machine, like turning the filter. It's really amazing to them.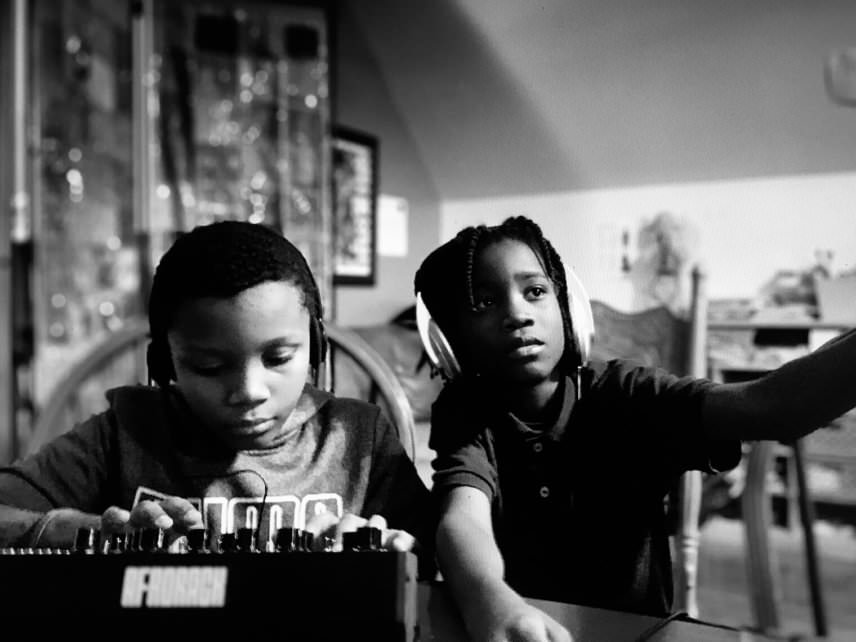 I want to find modular musicians who are also interested in education; people who are contributing something new musically but also finding ways of impacting the people you visit. I was recently traveling in the Netherlands and Czech Republic with Ali the Architect, who is from Washington D.C. and is creating this beat-driven modular hip hop. We met on the internet a few years back, and I now manage him. He got booked for a show in Utrect, Netherlands, and after that we traveled to Prague where we co-taught a modular workshop at the Synth Library Prague run by Marie Čtveráčková aka Mary C.
Right now, there are new genres being created, like modular jazz and modular hip hop. With more people actually making music with modular setups, it's opening up a whole new wave of interest in modular.
You mentioned Chicago House and Detroit Techno. These genres are full of great artists like Jeff Mills and Frankie Knuckles, but also labels like Underground Resistance, which was and still is community-focused and fairly political. And someone like Jeff Mills, for instance, has a complete mastery of the Roland TR-909. Do you ever get into the electronic music history of genres that were essentially created by black and brown artists, as well as the machines they used?
It's actually kind of funny that we're even talking about this because next week I'm going to the Techno Museum in Detroit. Actually, I go to Detroit quite often to teach and meet up with the group the North Coast Modular Collective, which is a group of engineers who put on workshops that are STEM-based for people in Detroit and the Ann Arbor, Michigan area, and we've teamed up on a lot of different projects.
I like to talk about maybe even imagining ourselves in the future with these instruments, maybe composing music beyond a time in which we are now. It makes them smile. They're not weighed down by the reality of what it's like to be in Chicago.
I think the gear is important. With modular synthesis, I usually talk about Moog because we're using Moog products, and since we're using East Coast methods of synthesis I do talk about Dr. Moog and some of his discoveries. Then I like to mention some black artists or black music that synthesizers were part of. When you start to think about synthesis or any of these evolutions in technology and music, you start to think about people like Sun Ra and Parliament Funkadelic. Then we get into this idea of Afrofuturism, which I find to be very empowering for black kids.
I think we kind of take it for granted how much time we have to think and reflect about ourselves in the future. For a lot of kids, they're surrounded by all of this chaos and violence, they don't get the opportunity. A lot of them have been affected by gun violence, whether they've seen it firsthand or their families have. Even back in the 1990s, the filmmakers would say things like kids don't get a chance to see the future. Afrofuturism gives them a moment to talk about things that we can control. We can control our future, which is what I believe. I like to talk about maybe even imagining ourselves in the future with these instruments, maybe composing music beyond a time in which we are now. It makes them smile. They're not weighed down by the reality of what it's like to be in Chicago.
Also, this is something I talked about when I was in Prague: the one thing that is universal for all of this is poverty. If people don't connect on the level of caring about whether black and brown kids have access to technology, sometimes they're able to connect with me on the idea of overcoming poverty and overcoming the entrapment of it, and what happens to your mind where it really limits your focus. So, being able to have this modular synthesis, which is this playground and freedom for the mind, is just an amazing moment we're able to have.
Like I said earlier, modular synthesis becomes this platform for all these other things. Because of living in the community, I always try to find something super positive and empowering for people to focus on so that they can grow.
Let's say a few years down the road, one of these kids contacts you and says, "Hey Aaron, I was really inspired by what we did in those workshops, and I want to make music." Do you see AFRORACK as being a resource for helping them get there as far as a career, or even a hobby or form of artistic expression?
One of the long-term visions of AFRORACK kind of piggybacks off of what Alissa DeRubeis was able to create with the Synth Library Portland and again with Synth Library Prague, which is essentially a hub where people in the community can go and learn.
I'm actively trying to create some sort of hub and I've been working with the North Coast Modular Collective, and they put me in touch with the Ann Arbor public library, which has an interesting program that allows people to check out synthesizers. I found that to be fascinating.
The structure is there and there are examples to follow, but there is a lot to overcome to create a community center where people can come to learn instruments, and possibly take them home to make music. That's a long-term goal of AFRORACK: to have permanent access to instruments in Chicago and other places.
It's only been a few years, so these are just baby steps. But things are definitely heading in that direction where people will be able to form communities around new musical technology and have year-round access on their terms and in their neighborhoods.