Matador opens up on his hybrid setup, owning exclusive vinyl and having a studio to match the seasons.
The past few years have been a time of change for Matador. While he's still touring with breakneck intensity, he's long since abandoned the industrial urbanity of Berlin for the coast of Ireland, and seems intent on embracing the quieter sides of life — kayaking or playing with his dog — whenever he can.
His house, parts of which can be seen on his Instagram feed, is 30 minutes outside of Dublin and mere meters from the beach. "So there's no excuse not to get out there when the weather permits," he says. Moving to Dublin as a teenager, Matador — real name Gavin Lynch — says he all but lost his connection to nature. Growing up in the countryside some 50 or 60 miles away from Dublin, he spent plenty of time outside as a kid. "In summers when we were off school, we were sent outside and didn't come home until dinner," he says.
Now, reconnecting to nature has become a crucial way for one of techno's hardest working acts to disconnect from his hectic, technology- and travel-driven lifestyle. Even when he's on tour, he always tries to take a mid-week trip outside the city he's visiting. "Just getting away from the concrete jungle helps me keep things stable and reset," he says.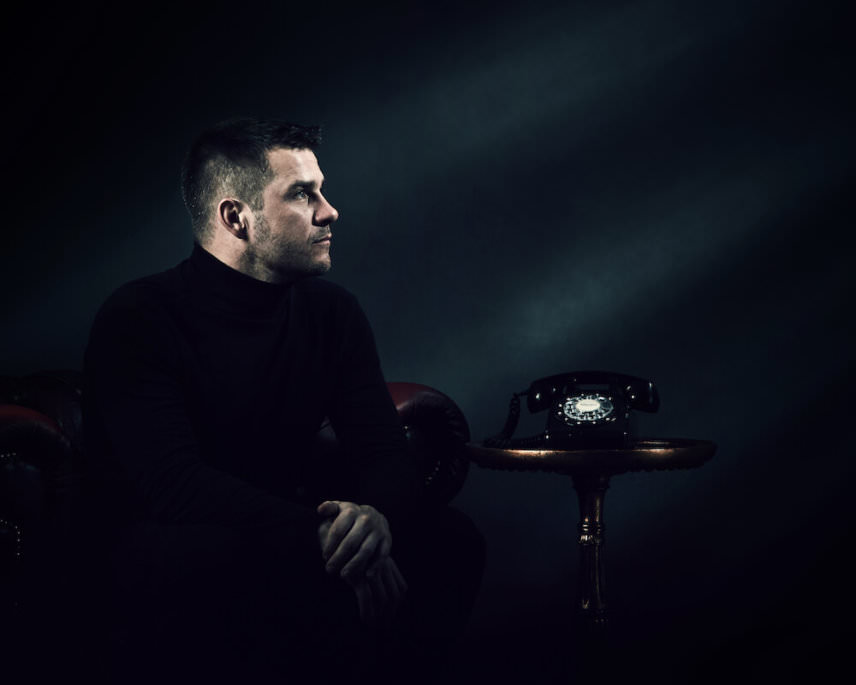 His rediscovery of the outdoors has been imbuing nature to his music. Most noticeably with his new ambient project, 95 BPM: Music To Fill The Space, which was heavily inspired by what he calls his "summer studio," where he wrote the album.
"I have one setup in a small, dark room for the wintertime, then I have a summer studio which has a big glass wall and overlooks the sea, so it's very interactive with nature," he says. Similarly, while Lynch was on tour in Australia this January, he rented an apartment overlooking Sydney's notoriously beautiful Bondi Beach. "We had these amazing sunsets, and that was another place where I got a lot of music written," he said.
Like 95 BPM, the music Lynch wrote in Sydney turned into something one might not necessarily associate with an act who has long been known as one of techno's most prominent live performers — a vinyl-only series called Cyclone. While a vinyl series in the hands of a live performer might seem ironic on the surface, Lynch explains that originally, his decision to become a live act was something of a strategic one, urged along by Richie Hawtin.
With the live thing, it's a 75- to 90-minute thing before everyone gets f*cking bored, let's just be honest about it
"I started DJing vinyl when I was 15 or 16 years old and did so right up until I was 28, when I met Rich (Hawtin) and the whole crew," he says. "I'd produced all this music, and he was like, 'right, the format for presenting this music now is best served in a live act.'" Performing live was seen as the most dynamic way to introduce his sound to the Minus audience, Lynch says, and as a newcomer, he wouldn't be competing with DJs for bookings. "There was a window for live acts more so then, so it made sense."
So Lynch ditched the turntables and CDJs he'd been working with for 12 years, and made his world debut as a live act. "I was incredibly apprehensive about it," he says. "I was like, fuck this, I've never done this before — how am I going to put this together?"
Lynch remembers his first weekend on the road with Richie Hawtin and Hobo. "I was in between gigs in the car trying to write a better intro track or trying to make edits," he says. That on-the-fly perfection lasted for years, as he won multiple awards for his live act and played events like Awakenings, Movement, and Richie Hawtin's ENTER. at Space Ibiza. "It was sink or swim," he says. "I was going into all these fucking massive shows and I was like shit."
It was a big gamble, paying huge dividends. But Lynch's success was heavily driven by his desire to keep writing new music, which in turn elevated his performances. "I needed something bigger to close, I needed something more melodic for that sunset closing, I needed something harder at that stage last night at the 45-minute mark, because my set times were moving around and you're constantly playing different environments," he says.
Lynch says he "didn't even look at a pair of turntables for four of five years." But he never lost his love for vinyl, and continued collecting records through his time as a live-only performer, while DJing at home. He also started DJing out in the last year or so, playing after parties and occasional gigs. His live setup has changed too, into something he calls a "hybrid," with Traktor, drum machines, samplers and Ableton running in the background.
The change has allowed Lynch to do something most DJs take for granted — play other people's music. "It gives me the chance to try out music that I'm potentially about to sign to Rukus, and play other artists that I haven't been able to for years," he says. He's back to buying vinyl "aggressively" again, bidding for out-of-stock releases on Discogs and rifling through back catalogues in record stores and online shops like Decks.de. "I've been filling in lots of blanks in the collection, and it's in a really good place now, thankfully," he says.
The hybrid setup also allows Lynch to play for much longer stretches of time. His fully live show usually lasted for an hour, maybe two at the most. "With the live thing, it's a 75- to 90-minute thing before everyone gets fucking bored, let's just be honest about it," he says with a chuckle. Playing different music from different artists keeps himself and fans engaged for longer.
That's not to say his hybrid sets or DJ performances drift too far from the Matador sound. They're melodic, tough, and driving, with a touch of nostalgia drawn from Lynch's earliest vinyl-collecting days. "I remember I was playing records from
Hooj Tunes
, old proggy, deep and dark stuff, and early
Drumcode
," he says; sounds he's searching for in the records he buys today.
"If I had the choice, a lot of times I'm playing vinyl over CDJs, with a good set of Conchords, a good sound system, a good mixer, and too good records — that's gold. So that's something that is very much still with me," he says.
Which is all to say that launching a vinyl-only imprint as Matador isn't as far-fetched as it might first seem. The label's first release is a three-track peak time acid stomper called Cyclone Series Vol 1. Lynch wrote the tracks using a limited setup — a 303, a 909, his computer and a few other "bits and pieces," he said. He's also limiting how many copies he'll press to just 300, 200 of which will go into the world. The rest Lynch will keep for himself. "I'm not going to go into the digital realm, because I think we're missing that exclusivity, " he says.
The only way to make digital releases exclusive, Lynch says, is by creating an edit or a remix. With vinyl, if 10 copies landed in Dublin and he managed to buy one, "I was one of 10 individuals in the city that had that record," he says. "It was fucking cool and I love that, and I think that's one of the elements that nobody even fucking realizes has been lost."
The more Lynch thought about it, the more he remembered what was special about the vinyl buying experience. "The shit that we'd have to go through to get good records, you know? Like playing nice to the guy behind the counter in the record store, and building relationships with record store owners," he says.
The sh*t that we'd have to go through to get good records, you know? Like playing nice to the guy behind the counter in the record store, and building relationships with record store owners
With his ambient project awaiting release, and his white label releases off and running, Lynch says he's now focused on doing what he does best — making new music. He's already written some 80-plus projects this year — he numbers them numerically starting in January — and is finding that the magic of making music comes easier with a little bit of rest. "I took two weeks off at the end of June, and that was my first two weeks off for 18 months," he says.
There's plenty of gigs on the horizon for Lynch, like The BPM Festival, Motion Bristol and ADE. He's been retooling how he makes music, building new patches, developing different signal flows and exploring different ways to approach writing. He's also been buying gear, including sequencers and modular equipment. "I'm sticking pretty much to old stuff, like the ARP's R2600 — I really delved into that — and all the Roland drum machines. I really got my head inside out and around all of them. So last year was the year of just developing."
A few years ago, it was sink or swim for Gavin Lynch. Now he's firmly afloat. Instead of treading water, Matador has chosen to keep on swimming, pausing only to take an occasional breath. It's this kind of passion and tireless work ethic that's placed him where he is, and will carry him through for years to come, even if waters get choppy.
Matador's Cyclone Series Vol 1 is out now. Find him on Facebook, Twitter & Soundcloud.
Read more about Matador in our My Studio and Q&A features.
Chandler Shortlidge is a dance music journalist based in Berlin. Follow him on Twitter.