Much loved mastering house, Curve Pusher, is celebrating 20 years in the industry. Having worked with Nina Kraviz, Seth Troxler and most recently on Bob Marley's "Exodus", we caught up with founder Lawrie Dunster to reflect on his achievements.
Mastering is a highly skilled art form and the last part of the studio chain before your music is released. As a business model, it's been under threat from the rise of MP3's, decline yet subsequent reemergence of vinyl and the development of algorithm mastering.
So, what does it take to stay relevant and in business? Other than hard work it requires an investment in the type of equipment no algorithm could ever match (and the experience to use it effectively), a passion to make records sound as good as possible and a demand to push the boundaries. All things considered, it's not for everyone and the significant barriers to entry have made it easier for the robots to take hold. However, as Ambivalent said in our interview from a few years ago, "letting an algorithm alter your music is dangerous and self-defeating".
It's no surprise that Curve Pusher founder Lawrie Dunster agrees with this sentiment and, with an enviable track record, its safe to assume the artists do also. It would be a stretch to imagine Nina Kraviz using an automated service for example. Things sound good for a reason and we caught up with an ever optimistic Lawrie to find out why.
Attack: First off, Happy Birthday! How's it feel celebrating 20 years in business?
LD: To be honest, we haven't really celebrated yet, other than the normal shenanigans.
We have merchandise and so on. It feels surreal the business has survived 20 years. Most people didn't give me 2 weeks when I started, let alone this long. We are one of the very few to have survived MP3s and have been open continuously throughout. Most established cutting rooms closed for many years, before re-opening when vinyl returned as it has.
We will have Curve Pusher branded T-shirts and baseball caps for sale, which will state 'Curve Pusher, Keeping Vinyl Alive Since 1999', once the new web site is launched.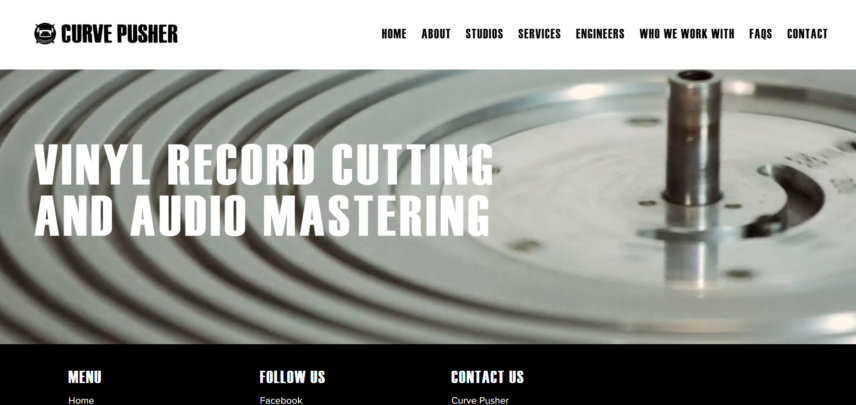 How's the new home on the South Coast treating you?
I absolutely love it here.
Having the opportunity to start again from scratch was daunting, but what we have built here is world-class now (it wasn't too shabby in Hastings!).
The mastering rooms are incredible and the quality has gone up. We have 3 Neumann lathes working and cutting records, and one recording studio. I was happy with the studios in Hackney, and would not have moved had we not been pushed out by our greedy ex-landlord, but am so happy that we were, even though I will be paying for it for years to come.
Was it challenging moving all the vintage gear?
In a word, yes! Backbreaking, very time consuming and stressful.
I imported my third lathe and a Neumann mastering console from California late 2017, so I had 2 large shipping crates that I held on to, aware the big move was on the horizon.
We then crated all the gear personally, no one from outside our close group went anywhere near the kit. I personally drove the truck 5 times to Hastings and back. There was no way we were going to let any of the gear be handled by anyone who didn't understand the value and sensitivity of the equipment. We used miles of bubble wrap!
From our conversations, Hastings Council have been super supportive in the re-location. It's great to know that there is support for artistic endeavours, especially outside the capital. What is it about Hastings that caught your attention?
Hastings is a creative hub with a stunning Old Town. I never knew until I came here…. I thought it was a retirement town.
I came here to visit a friend of my wife, Lisa, and was instantly attracted to the town and the people living here. I then had a chance meeting on holiday in Antigua, drinking at a bar with someone I'd never met, told them my story and that the building we were in was up for sale. He said he worked for Hastings council and that me and my business was exactly what the council were trying to attract to Hastings as they were going to rebrand the area as a 'music city'.
On my return, I set up a meeting where they told me they would assist with grants and interest-free loans as well as planning and finding the right property. It seemed like heaven after Hackney Cuntsal!

You've been able to expand as well. You now have two Neumann cutting lathes and the Neumann/Ortofon hybrid. How did that come about?
We have 3 Neumann VMS70 cutting lathe systems, one of which has been modified to work with Ortofon cutting amps.
I had been on the trail of my 3rd system for around a year circa August 2017, (with one eye on making the move smoother, one on upgrading and expanding) when I finally managed to put a complete system together from two different sources.
My desired system, of Neumann VMS70 lathe and SX74 head, married with Ortofon GO741 cutting amps. It's not easy finding these systems and only 20 years in the game will give you an idea of where to look.
What's the one bit of kit you simply could not live without?
Tricky… From a cutting lacquers point of view, it goes without saying we need the cutting lathe/amp/head complete system.
To be honest, in the mastering and cutting rooms, I don't have anything that I could do without. I guess in the mastering chain, the Maselec MEA-2 EQ and the Chiswick Reach Valve Compressor.
Did you draw on experiences when building your own studio from the ground up or was it still a massive learning curve? What key things were you looking to achieve with the build?
When I started Curve Pusher, the key thing was to be as good or better quality than the other cutting and mastering studios.
I had already built and set up over 20 studios as I used to live on a double-decker bus and whenever we squatted a new site, it would be time to set up and build a new studio.
So once I settled down a bit and rented the old property in Hackney, I had a pretty good idea what made a room sound good. My recording studio was built there first, and then I decided to start Curve Pusher a few years later. By that point I had already attended over 50 cuts of my own releases, so had a very clear idea of the process, but also made a point of attending cuts at all of the bigger studios at that time to see if there were any design, mastering or cutting tips I could pick up to help me.
We then proceeded with the construction of Curve Pusher Studio One. It was built on a shoestring of beg, borrowed or stolen but the results were excellent from the word go.
Then when we needed to move, we had the opportunity to design from the ground up with a proper budget. So I called in favours built up over the years, to find any tiny studio build tips that would improve the sound and usability of the studios.
I ended up getting an invite to see Dave Harries at Mark Knopfler's British Grove Studios. Dave has recorded The Beatles and Pink Floyd, and has worked at Abbey Road, and been technical director at Air Studios, Air Montserrat and British Grove, so he had an incomparable amount of experience in studio construction tips. We then teamed up with Amadeus Acoustics to design studios on CAD, to maximise the space and possibilities to build the best sounding studios possible, which I believe we have achieved.
Anything you would have done differently?
Hmm, I don't really want to regret bad decisions, as we are still here after 20 years, so its all part of the learning curve in my opinion.
What are your thoughts on the growth of algorithm mastering?
It's shit.
It's an insult to the word mastering, and is being sold to inexperienced musicians as the real thing.
You simply cannot exchange a lifetime of experience and a state of the art studio with a plugin.
You've mastered a wide range of classic records. Anything that stands out as a favourite for you?
Last week was Bob Marley's Exodus, which I felt honoured to be involved in, still and always will be one of my favourite albums.
Also Tom Petty's Full Moon Fever, which is another old favourite from my youth. Recently we've worked on both Nirvana and Amy Winehouse's records also.
What was the hardest record to get right?
Impossible to answer. I've now cut around 50,000 record sides believe it or not, so I don't even try to remember them.
Probably crazy experimental art projects on vinyl, I've done a couple that have been part of displays at the Tate Modern art gallery, which really tested the boundaries of vinyl frequencies.
For more information on Curve Pusher check our their new site www.curvepusher.co.uk.