Matador shows us around his studio space.

My Studio – Matador
My current monitors are Dynaudio's BM6A mk2s and a BM9S sub. Before these, I had a pair of entry level M-Audio BX-5s, which were quite loud and boomy (I use them now with my TV), but not quite as accurate as my Dynaudios. The sub looks after the low end, and the BM6As create a realistic impression of what's going on and transfer over to any other system well.
My second set of monitors are a crappy little set of iPod speakers. If I can get something sounding nice on these, it's going to sound (in most cases) great on a decent monitoring system.
My third source for monitoring is my trusted S-Logic Ultrasone headphones. I've had these for almost six or seven years now, and they are a source I trust with my life!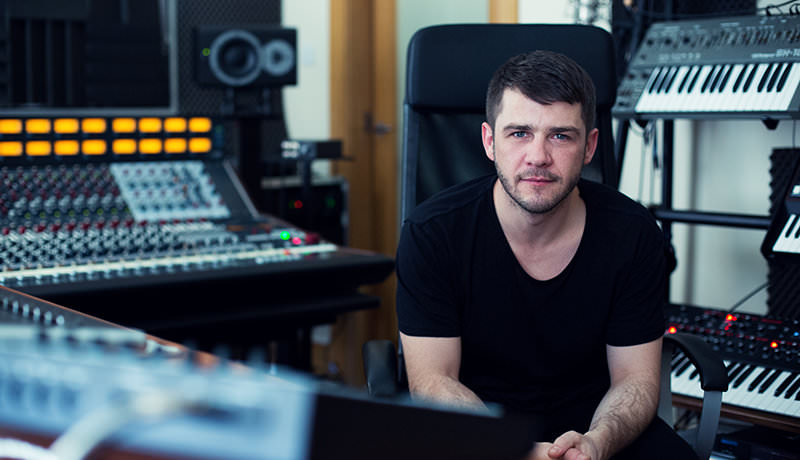 Roland SH-101
The SH-101 [top right] is one of my long-standing hardware synths. It was the second synth I bought, back when I was in sound training. It was the result of many missed chances on eBay trying to secure one, but when I got it, I used it a lot and learned it inside out. It's quite a simple instrument, as far as synths go, but it packs one of the heaviest punches in the studio. The sub-oscillator is one of the fattest, purest tones available to man!

Apogee Symphony 32 x 32
The sound card is one of the most important links in the chain, and how the conversion sounds must be true. Apogee does it better than anyone in my opinion. I've used Apogee cards from near the start of my career; I've had numerous Duets, Quartets & now a Symphony 32 x 32 I/O.
The Symphony is modular, allowing you to expand with an extra card, with numerous configurations to choose from. Along with ThunderBridge, latency times are at an all-time low, making this one of the best sound cards out there at the minute. You also have the option to add another Symphony module, boosting the channel count again.

Thermionic Culture Vulture
A tone from my SH-101 going directly into my Apogee card sounds pure, clean and very sweet. However, I can colour this tone in a few different ways before it hits the converters. The Thermionic Culture Vulture is a device regularly patched in to give some grit, be it subtle or aggressive – this unit delivers warm valve distortion at its best! I've heard some well-known engineers talk of putting full stereo mixes through these, but one I can vouch for is an 808 or 909 kick drum though this unit and BOOM!

Rupert Neve 5088
Having a board in your studio may not be feasible in a lot of cases, but these days we are seeing more and more accessible options from well-known manufacturers, the 500-series modules being a perfect example of this. In my setup I recently added a Rupert Neve 5088 desk. An amazing sounding board, from the very first mix I threw up on it, I was sold.
The desk again is entirely modular, allowing you to add extra channels, a VU board or automation, and you can most impressively expand the penthouse with the incredible Portico modules as you see fit. I went for the Shelford 5051s and 5052s, and above the group/master section I've installed 5042, 5043 and 5033 modules, giving me a multitude of pre-amps and dynamic options. This desk sounds amazing no matter what I throw at it!

Model
The Matador…
Matador's debut album, Ructions, is out now on his own Ruckus label. Find him on Facebook, Twitter and SoundCloud.