In the final tutorial of our Korg trilogy, we show you a few tips and tricks using the Korg SQ-64 hooked up to an SV2.
We complete our Korg YouTube trilogy by sharing a few tips and tricks using the relatively affordable and fun to use Korg SQ-64. In our previous video, we cover some of the reasons for using the hardware sequencer and in the latest tutorial, we show you how to record Rhodes, use pattern grids and create changing patterns. And yes, that is a Beyonce doll in the video…
If you haven't already, you can read our review of the SQ-64 from 2020.

HOW DOES IT STACK UP WITH THE COMPETITION?
At around £220, the SQ-64 is affordable broadly speaking.
The Arturia Beatstep Pro, at £165, is the closest competition and does include an adapter. Korg's own SQ-1 is only £70 but is rather limited, function-wise. There is also the Akai MPK mini mk3 at £90 which is a well-loved upgrade on the mk2 but at that price point, its feature set is limited. For the price, the SQ-64 is great with polyrhythms, ease of use with a modular rig, highly portable and hell it just looks great!
If you don't already own a hardware sequencer, Korg's SQ-64 should be high on your list of options. It's relatively affordable, fun to use, and looks dead cool. It can also function as a controller in its own right as well as convert MIDI to CV for modular gear and vintage synths. It also plays nice with just about anything.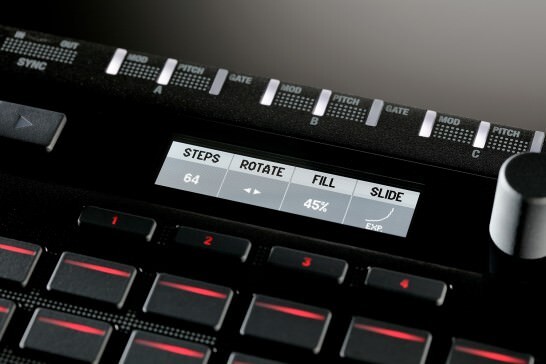 FREEBIES
The SQ-64 comes with a wide range of music software from Izotope including 'Ozone Elements', 'Skoove' which will help you improve your keyboard playing skills, 'Reason Lite' DAW software, as well as software synths from Korg and other brands.
FEATURES
Sequencer: 64 step sequencer with 3 melodic tracks with up to 8 note polyphony, and 16 monophonic rhythmic tracks
Tempo: BPM30.0 – 300.0
Connections:

Inputs:
MIDI IN connector (φ3.5mm stereo mini-phone jack, use a type-A MIDI converter cable)
SYNC IN jack (φ3.5mm monaural mini-phone jack, 20V maximum input level)
Outputs:
MIDI OUT1, 2 connector (φ3.5mm stereo mini-phone jack, use a type-A MIDI converter cable)
SYNC OUT jack (φ3.5mm monaural mini-phone jack, 10V maximum input level)
CV GATE output A/B/C jack (φ3.5mm monaural mini-phone jack, 10V maximum output level)
CV PITCH output A/B/C jack (φ3.5mm monaural mini-phone jack, 10V maximum output level)
CV MOD output A/B/C jack (φ3.5mm monaural mini-phone jack, 10V maximum output level)
TRIG output 1~8 jack (φ3.5mm monaural mini-phone jack, 10V maximum output level)
Power: USB bus power, or DC 9V AC Adapter ([- o +], separately sold)
Dimensions: W x D x H): 341 x 119 x 39 mm / 13.42 x 4.68 x 1.53 inches
Weight: 1.0 kg / 2.20 lbs
Included items: Owner's Manual, USB cable
Accessories (separately sold): KA350 AC Adaptor, Patch cables MS-CABLE-YL


FOLLOW ATTACK MAGAZINE