How to clear a sample? Do I need to clear a sample? What about one-shots? In this article we breakdown the most common sampling queries.
Whatever stage your career is at, it pays to know the legal implications of sampling. A year ago we released our second book "Make Your Music Make Money" and some of the most common questions we've received has been about sampling.
We've therefore decided to publish this excerpt from our book The Secrets of Dance Music Production that was written by Attack after consultation with a UK lawyer. Whether you're an underground artist, a chart-topper or somewhere in between, knowing the rights and wrongs of sampling can help avoid nasty surprises later in your career.
I've found a sample in a commercial song that I want to use. Do I need to clear it?
Yes!
It doesn't matter if you want to use a beat, acapella or musical loop, using another person's original sound recording without prior permission constitutes copyright infringement.
Sampling without permission infringes copyright in several ways. Firstly, it is a breach of copyright in the original sound recording. Secondly, it is a breach of copyright in the underlying music (and, where applicable, lyrics) and thirdly, it constitutes unauthorised use of one or more of the performances in the original work, such as a riff, hook or drum part.
Does this apply to all samples? Are short samples like drum hits or one-shots ok?
In UK law, under the Copyright Designs and Patents Act 1988, in order for infringement to take place a 'substantial part' of a copyrighted work must have been used.
Substantiality in UK law differs somewhat from its US counterpart, the doctrine of 'substantial similarity'. Moreover, US copyright law permits the defence of 'fair use', which has been invoked in a number of cases – although not always successfully.
So what constitutes a 'substantial part'?
In short, it might seem small but it's substantial.
The UK case of Produce Records Ltd vs BMG Entertainment Ltd (1999) established that a 7.5 second sample of 'Higher And Higher', a track originally recorded by The Farm, constituted infringement when appropriated by veteran Latino duo Los Del Rio for their summer hit 'Macarena'.
In Ludlow Music Inc vs Williams (2000), a two-line lyrical 'sample' of the song 'I'm The Way' written by Loudon Wainwright III formed the basis of a dispute, with the judge ruling that the extent of the copying was substantial, "although not by much".
So is sampling a single drum hit OK?
The answer here can be no more certain than 'probably'.
Copyright owners would have a tough job proving the use of a single drum hit was 'substantial' and there is the additional practical fact that if a drum sample is layered and tweaked it is nigh-on impossible to identify its source.
But that won't shield you from court action if a copyright holder takes exception to your usage. Nor does it mean a judge will side with you if a case ever proceeds that far. It's important to be aware of this.
What about classic breaks?
Breakbeats, like the infamous Amen Break, have been sampled so many times that they sometimes feel as if they are part of a legitimate sample cannon.
But they enjoy no dispensation from copyright and very few judges would take the line that the use of a full break was not 'substantial'.
What happens if I chop, re-play or disguise a sample?
If no-one notices your sample use then you are likely to get away with it.
Certainly you have a far better chance of dropping beneath the legal radar than those who use samples as they are. However, if your disguised sample is identified then the ramifications for infringing copyright remain the same.
What happens if I I'm caught out?
The question on everyones' mind.
If you are deemed to have breached copyright then a judge can make a number of demands. You might be required to pay a significant – perhaps unreasonable – percentage of royalties to the copyright holder.
A stubborn publisher may demand 50-100 per cent of the publishing income for the privilege of using their words or music, something the Verve learned the hard way when, following the release of Urban Hymns in 1997, they were obliged to hand over 100 per cent of the royalties for 'Bittersweet Symphony' to Abkco Records.
In more extreme cases, an artist can be forced to withdraw a record from sale completely. In 2003, Indian composer Bappi Lahiri and Saregama India Limited sued Dr Dre and Universal Music for $500 million over the use of an unlicensed sample on 'Addictive', the debut single from Truth Hurts' album Truthfully Speaking. Dre was also given an injunction preventing the continued sale of the record which by then had shifted more than 200,000 copies.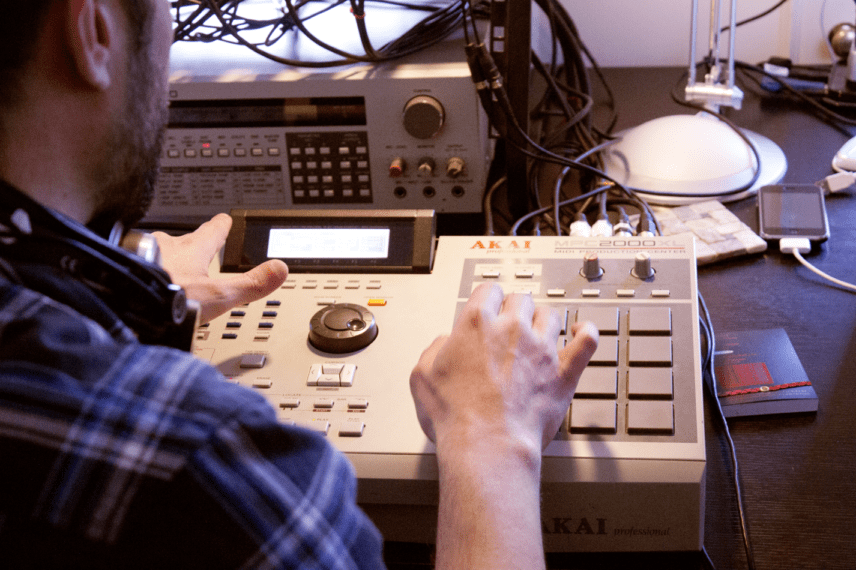 I'm thinking of going legit. How do I legally clear a sample?
Good!
The good news is that most labels, publishers and artists are happy to give their permission to artists looking to re-work their music – for a fee. All you need do is track down the copyright holders which can be tiresome and cumbersome. Before doing so it's worth recapping the different royalties we're talking about.
First, you'll need to find out who the original writer(s) of the work are, and which publisher(s), if any, represent their interest or share of copyright in the song.
Once you know the publisher and authors, you provide them with a copy of your new record, a copy of the original sampled record, and an isolated copy of the sample in question. The publisher is then in a position to consider the fee, contact the original composer(s) for permission(s) and start negotiations over copyright ownership and royalty splits on the new record.
Next, the record company must be asked for permission to use the original sound recording. Master rights have their own price tag, and sometimes artists or labels will refuse to give their permission to use a sample. If no permission is given, or the price tag is too high, you needn't abandon a project: as long as you can license the publishing rights, sample recreation companies like Replay Heaven should be able to construct an authentic-sounding reproduction of the recording.
How much does it cost?
The second question on everyone's mind! There's no 'rate card'.
Sample clearance companies usually charge a flat fee – somewhere between £275-£400 for a straightforward job. But that's just for their services. The fees to clear the samples themselves will be considerably higher and will depend on everything from the notoriety of the original record to the prominence of the sample in the new record, as well as your profile as an artist and likely sales of the new record.
For a track using a brief clip of a recording you may be able to settle at around £2,000-3,000. For more significant uses, the sky's the limit; Puff Daddy's 'I'll Be Missing You', which sampled the Police smash 'Every Breath You Take', cost a reported £500,000 in publishing royalties.
That likely dented the music mogul's bank account but he must have been confident to recoup that and probably did. It's Puff Daddy after-all.
What if I don't want to release the track? Do I still need permission to put it on SoundCloud or YouTube?
In theory, yes. Any track containing an uncleared sample should not be uploaded to the internet.
Although largely untested legally, under UK copyright law putting a track online – even if not traditionally 'released' – would constitute a violation of the 'making available' or 'communication to the public' right which covers distribution via electronic means.
In the US the Digital Millennium Copyright Act 1998 provides explicit protection against illegally downloading and distributing music. This means you need written permission from all copyright owners to use any samples contained in the track – including movie dialogue and speeches etc – even if you have no intention of making money by releasing a track.

Attack Magazine readers can save 20% when you distribute your music with iMusician.
Learn More.
Are samples from sample libraries safe?
Yes and no.
Reputable libraries ensure that all samples are 100 per cent copyright cleared. Less reputable ones don't.
Even among reputable names, check every license before using a sample from a pack; some libraries carve out exemptions in their licence agreements that you wouldn't expect.
If you liked this content, you might enjoy our book Make Your Music Make Money, available now from the Attack Magazine online store.