Extra features! More polyphony! So much cheaper! Here are 10 synth plugins that improve on the synths they're emulating.
Hardware is great, no doubt about it. This is especially true for vintage synths. They just sound special, don't they? They can also be a pain in the ass, truth be told. They're often huge and can occupy a lot of space. Because of the time that they were made, they're generally limited in terms of features. They're also always breaking down. And don't get us started on the price.
Plugins, on the other hand, are killing it. As sound quality improves year after year, prices are trending downward. And, because there are no physical limitations, emulations of classic synths often include additional features that weren't possible on the original unit like extra modulation capabilities and voices.
Here then are 10 of our picks for soft synths that improve on the original in some way. As always, items are listed in order of ascending price.
ML-VST PG-8X
Like your awkward teenage brother, synthesizers were going through changes in the mid-1980s. Thanks to the Yamaha DX7, everyone wanted digital. Roland, however, was still ploughing the analogue synthesis field and would do so until 1987 with its sample-based DX7 killer, the D-50. In 1985, though, the best they could do was analogue which sounded digital, and that was the JX-8P.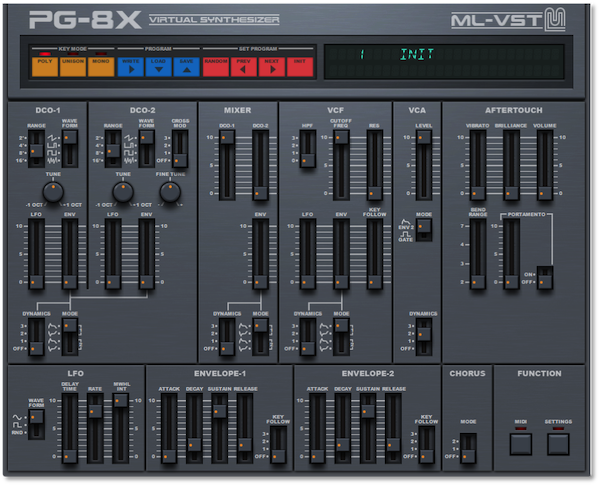 Crisp and clean in an "is that really analogue?" way, it's the perfect contender for software emulation. Enter developer Martin Luder. Working under the name ML-VST, he's turned the synth into PG-8X, a freeware VST (currently no AU or AAX) and made one of the best-sounding free plugins around.
PG-8X has all the functionality of the original, including two DCOs with multiple waveforms, hard sync and oscillator cross modulation, a 24dB/Octave resonant lowpass filter, a three-stage highpass filter, two exponential envelope generators, and all the performance and aftertouch capabilities that made the original so popular with live musicians.
It's also got an emulation of the chorus (also available as a separate plugin) plus it can handle SySex data from the original. And now for the improvement: it has 12 voices of polyphony. That's double the original.
Moog Model 15 App
Can an app ever replace a full modular synthesizer? My goodness no, but that's why this article isn't called "The Ten Best Soft Synth Emulations That Can Replace The Hardware." Given the choice, most of us would rather have an original 1973 Moog Model 15, or even the recent limited-edition remake. Given that the remake alone costs north of $10,000, we'll take the $29.99 app and call it a day.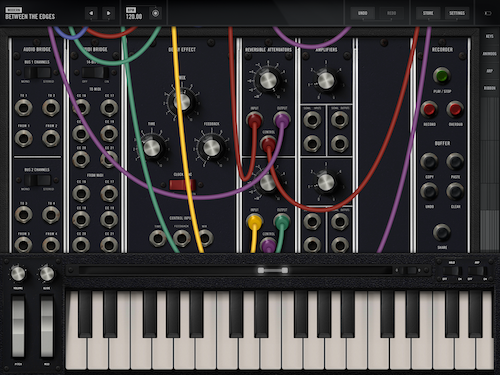 The Mac-only app (sorry, Windows and Linux massive) works on iOS, MacOS or in your DAW as an AUv3 or with the free VST wrapper from Moog.
The software recreation includes all of the famous modules from the original like the Moog 921-series oscillators, 904A Low Pass Filter and even the 907 Fixed Filter Bank. The app also features an on-screen keyboard, an 1150 ribbon controller, an eight-step sequencing arpeggiator and the Animoog keyboard with its 22 built-in scales and polyphonic modulation.
We said there would be improvements over the original, and along with the Animoog keyboard, there's MIDI integration (naturally), a looping recorder module, a ping-pong delay and an extension cabinet for creating additional effects. It can also do four voices of polyphony – you'd need four original Model 15s for that. We don't even want to imagine how much that would cost.
Cherry Audio GX-80
If you've made it this far without getting pissed off, this may be your breaking point. Yes, we're saying a piece of software improves on the original CS-80. How can we make such a bold claim? Because GX-80, by firing-on-all-cylinders developers Cherry Audio, combines a Yamaha CS-80 with a GX-1, the god-like ancestor of the CS-80. The best part? It's only $59 (as of now – the full price is listed as $79).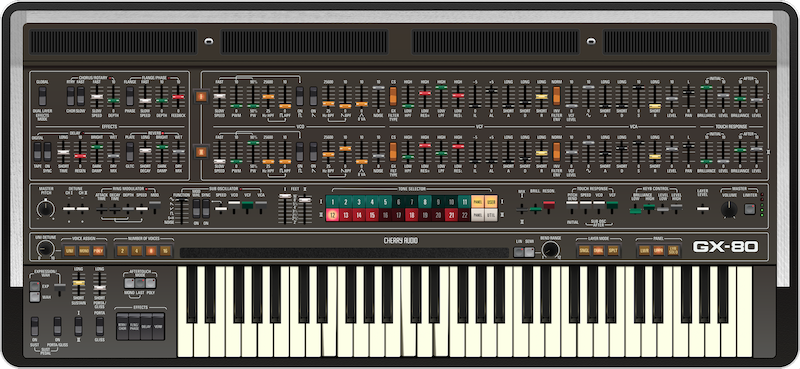 What is this strange alchemy? In their pursuit to make the best CS-80 emulation, Cherry Audio went back to the Big Poppa GX-1. The result is the dual-layer synthesis architecture you expect for an emulation of the 1978 CS-80 but it adds the 1973 GX-1's high passed resonant pulse and band passed sawtooth waves, octave-up triangle wave, and filter envelope inversion plus a switchable lowpass filter that includes the GX-1 circuit.
You can't talk about the CS-80 without mentioning its performance functionality, and GX-80 has that covered as well, with support for polyphonic aftertouch controllers and a "last-note priority" mode for simulated poly aftertouch response with a monophonic channel aftertouch controller. It also ups the polyphony to 16 voices.
Unless you're the Aphex Twin and have one of only 12 extant GX-1s plus $60,000 to drop on a CS-80, GX-80 really is the way to go.
D16 Group Phoscyon 2
Ah, the Roland TB-303. From rhythm section replacement to world-conquering dance music synthesizer. It undoubtedly sounds phenomenal but – let's face it – it's extremely limited in functionality. Just a basic oscillator, a simple (yet squelchy) filter, and a rudimentary envelope. And that sequencer. Needlessly complex, it's no wonder classic Chicago acid house was all built on random patterns.
If ever there was a piece of hardware that could use some improvements, it's the TB-303. There are many available, from hardware mods like the Devil Fish to this software version, D16 Group's fantastic Phoscyon 2.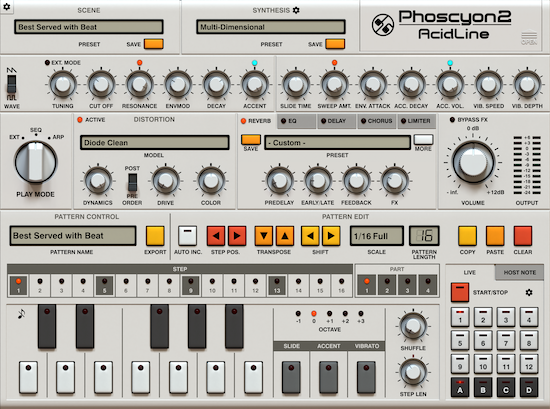 Phoscyon 2 starts with the original 303's set of knobs and functions and adds to them considerably. There's a clutch of additional parameters inspired by common modifications, including slide time, filter sweep amount, and envelope and accent controls, plus a vibrato that's new to version two. It also throws in effects, from the required distortion to others like reverb, delay, EQ and limiter.
It wouldn't be better without changes to the sequencer, and Phoscyon 2 has made many. Yes, you can do it in old-school fashion with the onboard keyboard, or you can control it with MIDI or use the piano roll screen. There's also randomization and a deep arpeggiator.
If your pockets are bottomless and only the original will do, by all means, keep refreshing Reverb. But for us mere mortals, D16 Group's software emulation is the way to go.
Roland JD-800
By the dawn of the '90s, the majority of synthesizer manufacturers had abandoned analogue for digital. This included Roland, whose 1987 D-50 ushered in a new era of sample-based synthesis. The company expanded on this in 1991 with its JD-800, a digital beast that reintroduced hands-on control via its many sliders.


The JD-800 was expensive in 1991 and it's still expensive today, with units in good condition selling upwards of $2000. If you do buy one, make sure it doesn't suffer from the dreaded red glue issue, cheap epoxy that's since melted and gummed up the keyboard. Or you could avoid the hassle altogether and get Roland's official soft synth version.
Available as part of a Roland Cloud subscription or for sale, and also as a model expansion for the Zenology instrument, the software JD-800 has all of what made the original so prized by dance music producers: the same Linear Arithmetic sample-based synthesis architecture with 108 waves that you can layer into four tones, the TVF digital filter, TVA and TVF envelopes, and original two-stage effects section.
Of course, Roland has updated the synth for the 21st century, with additional presets augmenting the 64 originals plus expanded polyphony.
If you've always wanted a JD-800 but don't have the money, studio space, or patience to clean up 30 years worth of melted epoxy, the official software version is the clear alternative.
Arturia DX7 V
Yamaha's DX7 was the first bonafide superstar synthesizer. It sold bucketloads when it was first released in 1983, largely because it crossed over from synth fans to general keyboardists. Thanks to its FM synthesis architecture, it could recreate sounds that had until then been impossible like electric pianos and marimbas.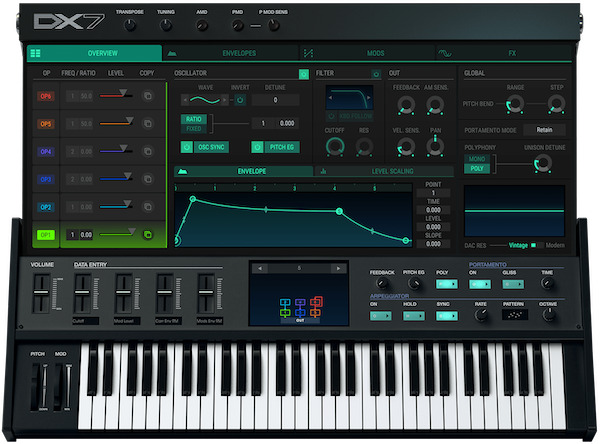 FM has had something of a renaissance recently, with modern dance music producers rediscovering its punchy basses, metallic percussion and glassy pads. However, FM has also come a long way since 1983. Gen X synth nerds may be driving original DX7 prices up but there's no reason for you to join them when Arturia's DX7 V version can do everything an original can and then some.
The biggest difference is in the waveforms available. The original only had sine waves while Arturia's offers 25 different waveforms to modulate and operate. Arturia has also taken a few pages from the book of subtractive synthesis and added a lowpass filter as well as new envelope types to each operator. There's a modulation matrix, adjustable keyboard tracking curves, an arpeggiator, and plenty of effects. Of course, it can act as a regular old DX7 if you need and even accepts DX7 SySex data.
GForce Oberheim OB-E
Oberheim's 8-Voice is one of the most legendary synthesizers ever made. From a time before analogue polyphony, it strapped together eight individual, monophonic SEM modules, each with its own two-oscillator, filter, and dual envelope architecture and controlled it all with a single keyboard. They sounded fabulous and were also fabulously expensive.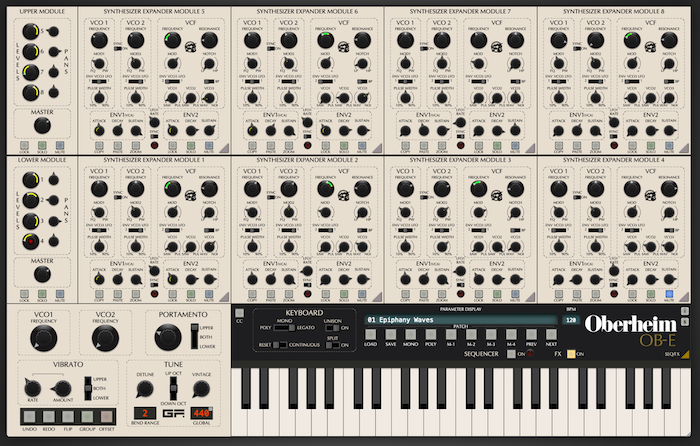 The synthesizer fanatics at GForce have created a computerized version of the famous Oberheim instrument that sounds so much like it, Tom Oberheim himself has endorsed it. They've also gone above and beyond the call of duty (cycle), expanding each SEM with an additional VCO and LFO, and velocity, filter tracking and aftertouch controls.
They've also thrown in a sequencer and effects section with delay and reverb, a vintage knob for introducing analogue-style slop, and a drum mode that turns the OB-E into an analogue drum machine.
Hey, if it's good enough for Tom, it's certainly good enough for us.
U-He Diva
You young kids that need to get off our lawn may not remember a time when soft synths didn't sound that great. U-He's Diva effectively changed all of that. It was one of the first plugins that made people sit up and go, "Hey, maybe soft synths can sound as good as hardware." It's certainly one of our favourites for that very reason. It's also because it's not an emulation of one synth but many all rolled into one.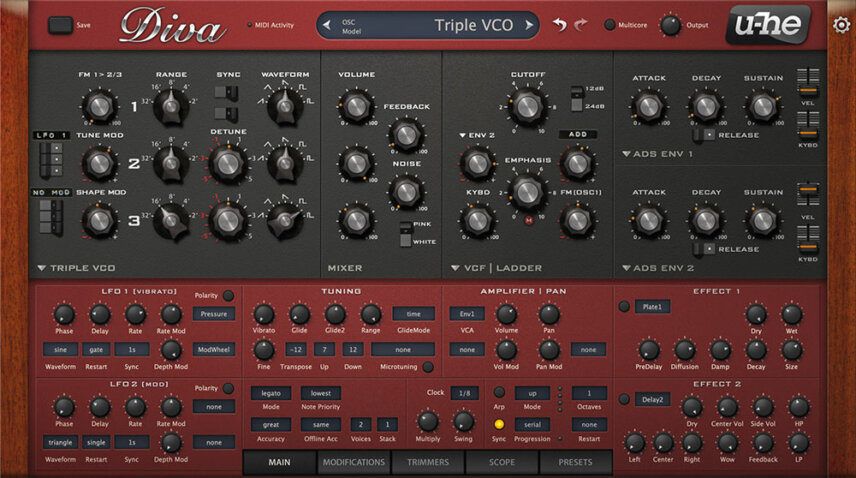 Each separate section of the synth (oscillators, filter, envelopes) gets different selections from classic instruments by Moog, Roland, Korg, and Oberheim. There are even some digital ones thrown in for good measure. (Check out this article for a full breakdown.)
This mix-and-match approach means you can build your own dream synth. Want a bass monster? Go for Minimoog and MS-20 parts. Hankering for a super poly? You'll want bits from the Jupiter-6 and Jupiter-8. Need the ultimate rave machine? Assemble some sections from the JP-8000 and Alpha Juno. It's like Eurorack but for classic synth circuits. The possibilities are endless.
Korg Opsix Native
A recent trend is fully functional software versions of brand-new hardware synthesizers on sale at the same time. Arturia's MiniFreak V is one such example. Korg has done it too, with native versions of its digital trio, Modwave, Wavestate and our recommendation, Opsix.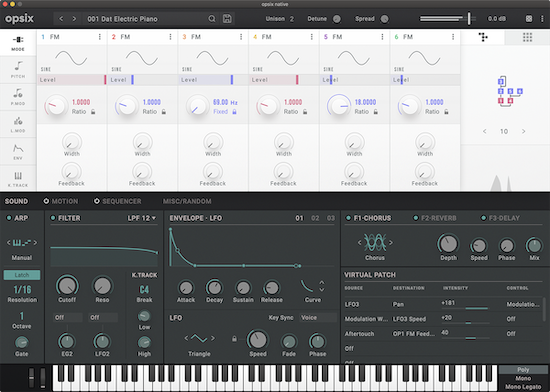 Opsix Native is the software version of its namesake hardware. It's FM but Korg calls it altered FM. That's because, like the DX7 V above, it takes basic sine wave FM as a starting point and then shoots it up to new heights. Each of the six operators can work with 21 different waveforms, which can be further tweaked with waveshaping, ring modulation, and filters.
It also has a subtractive-style section with filters and envelopes for analogue-style synthesis shaping. Throw in effects, polyphonic motion sequencing, and a modulation matrix and you've got a powerful synth on your hands… or rather, in your computer.
If Opsix Native is exactly the same as the Opsix, how can we be touting it as an improvement? The GUI. Working with a synth as complex and powerful as Opsix is much easier on a computer than via small LCD screens. It's also much cheaper.
XILS-lab XILS 4
EMS's VCS3 is a stone-cold classic synthesizer. Originally released in 1969 (before the Minimoog even!), the desktop device is a synthesist's dream. It's found its way onto countless records over the decades and remains a pinnacle of synthesizer arts. Hard to improve on that, eh?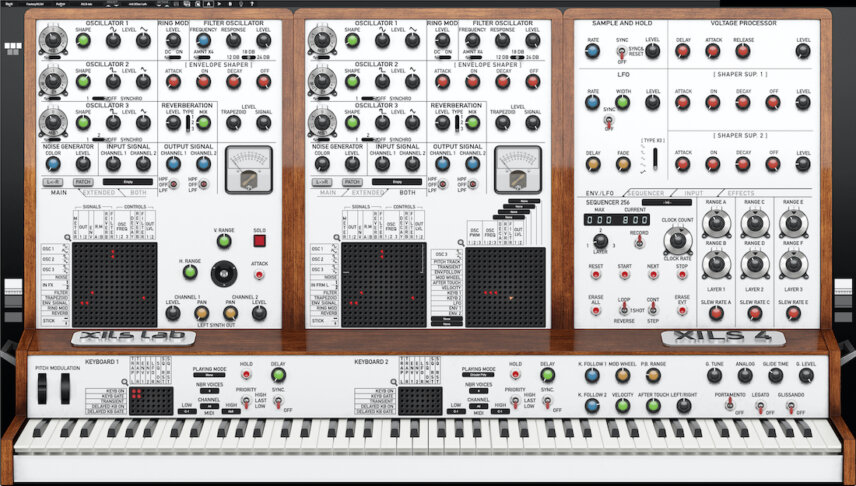 How about if you had not one but two VCS3s combined plus a sequencer? That's the idea behind XILS 4, XILS-lab's recreation of the prototype-only EMS VCS4. This monster of a modular includes 12 VCOs with waveshaping, hard sync, and two extra noise oscillators; two multimode filters with three modes (12/18/24dB/Octave); and four of the famous Trapezoid looping envelopes. There's also a polyphonic LFO, three pin matrices, effects, and a polyphonic sequencer inspired by the EMS 256 with multiple recording modes.
XILS-lab make great-sounding instruments and XILS 4 is no exception. It's also a synthesis powerhouse.
Want more? Check out Attack's series "The Best…", where we run you through the best of everything from hardware drum machines to online production courses.
Follow Attack Magazine