Not content with dominating the tech house charts, Toolroom Records' Mark Knight and James F. Reynolds have turned their attention to plugins. How does Infinite, their debut plugin, sound and fit into your workflow?
Plugins designed by artists are often a little different from those that come from the minds of software designers. They tend to skew specific, with a very targeted goal that meets a certain need. Infected Mushroom's Pusher from Waves recreates their mastering chain while Dada Life's ubiquitous Sausage Fattener beefs up (or should that be porks up?) your audio signal with saturation.
Infinite, the debut plugin from Toolroom Academy, is the brainchild of producers Mark Knight and James F. Reynolds, who wanted a single plugin to generate transitions.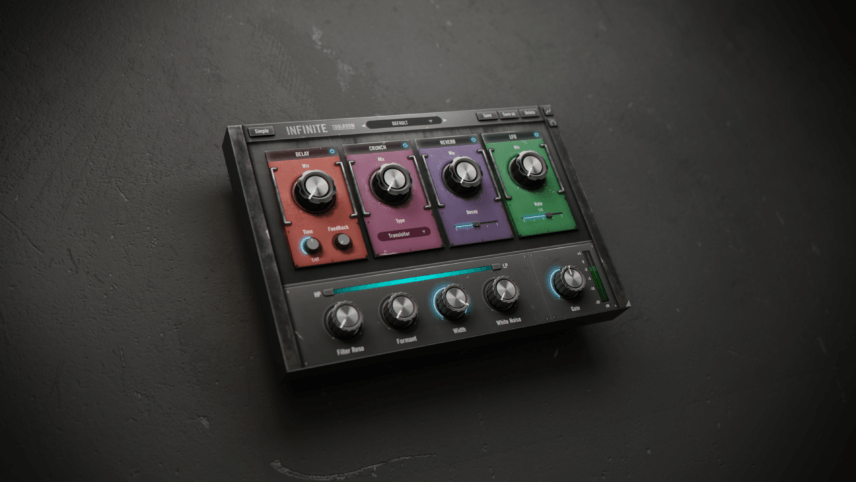 Transitions are incredibly important to modern dance music, guiding energy with risers, cool downs, and other changes. Rather than load up a whole slew of plugins and automate each one individually on every new song, the two decided to make one plugin that could do it all. "For the last 20 years I've been thinking about creative ways to add effects and transitions to my music, and this often requires using multiple plugins and time-consuming automation," says Reynolds. "The idea for Infinite was born out of these needs."
Is Infinite good enough to replace a folder full of transition effects plugins? Let's find out.
The Effects
When you first open Infinite, you're greeted with a simple – make that extremely simple – interface. There's a large, single knob and when you crank it to the right it adds instant transition effects: filter, reverb, delay, even white noise. If ever there was a plugin that did what it claimed to do, it's Infinite.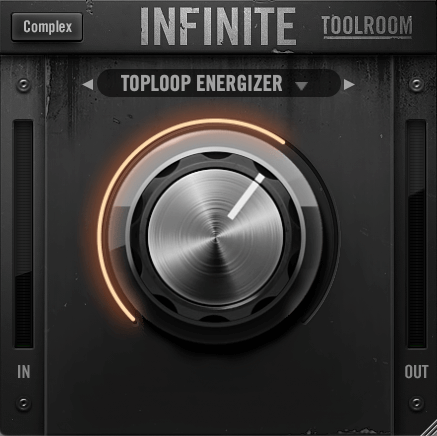 Of course, there's more to it than that. Hit the Complex button at the top left to reveal the effects under the hood. There are four effects modules in the upper half of the panel: Reverb, Delay, Crunch (saturation), and LFO for amplitude modulation effects. Each of these has its own knob marked Mix, an on/off button, and additional controls at the bottom that are specific to each type, such as time divisions for the LFO and multiple saturation types on Crunch. These four effects can be moved around to change the signal flow.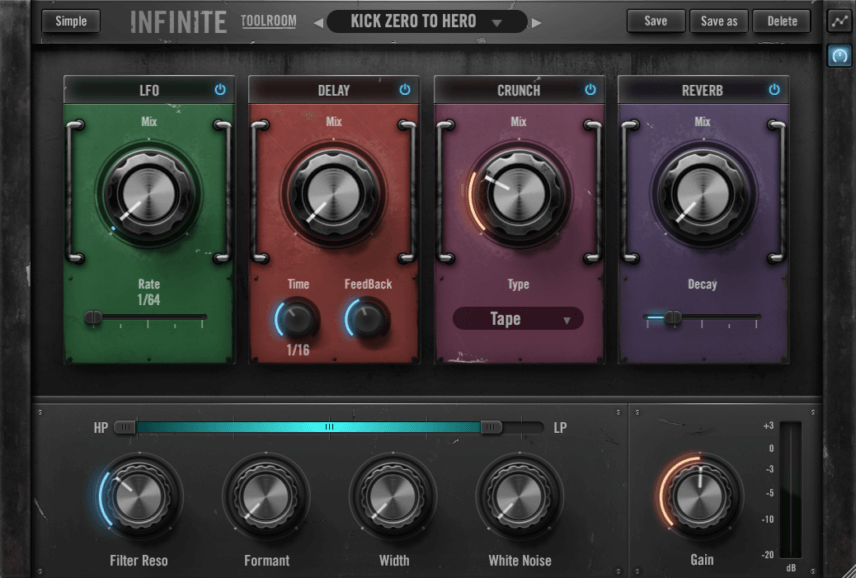 At the bottom of the panel is the Filter, with a continuous slider that runs from HP (highpass) to LP (lowpass). There's a knob for filter resonance, Formant (which adds a vowel-like flavor to the signal), Width, and of course that ever-important transition effect, White Noise. Lastly, there's a Gain knob. It's basically anything you could want for creating an effective transition.
If ever there was a plugin that did what it claimed to do, it's Infinite.
Internal Automation
You could use Infinite as a basic multi-effects plugin, and it certainly sounds good enough for that, but that would be ignoring its intended use. Transitions are never static and Infinite really comes alive when you automate it.
Of course, you can automate each parameter separately in your DAW but then you'd be forgetting that big knob on the main screen. In case you hadn't figured it out yet, that one knob to rule them all is actually a macro, and mapping effects to it is where the fun comes in.
Use the in-plugin automation setting to assign parameters to the macro. Each parameter has a graph for adjusting the amount of effect as tied to the macro knob. Finally, just automate the main knob in your DAW. It's all very intuitive and you'll be crafting complex transition effects in no time.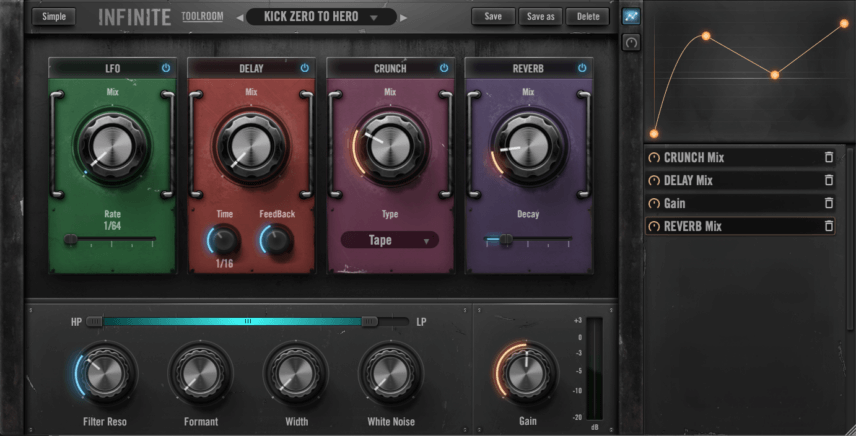 Sound Quality
None of this would matter if the plugin didn't sound great but it does. It's just as you'd expect when the designers are artists who intend to use the plugin in their own productions. All the effects are very usable in dance music, from the tempo-synced delay to the widescreen reverb.
It's also light on your CPU meaning you can use it across a number of tracks without taxing your computer – another benefit to a single transition plugin.
If you own one of the many excellent Toolroom sample packs and then throw Infinite into the mix, you're going to end up in tech house heaven.
Infinite In Use
To see how well Infinite performs, we tried using it on a number of different instrument tracks in a techno tune we're making. The plugin features 40 presets designed to replicate the essence of Mark Knight's music. Mark and the developer went through a bunch of his biggest records, deconstructed the breakdowns, and replicated the drama into Infinite. If you own one of the many excellent Toolroom sample packs and then throw Infinite into the mix, you're going to end up in tech house heaven.
Let's start with a riser on a topper loop. This one has Crunch, Delay, a highpass filter and resonance, Formant, Reverb and even some Gain and White Noise.
The original loop:
With Infinite riser: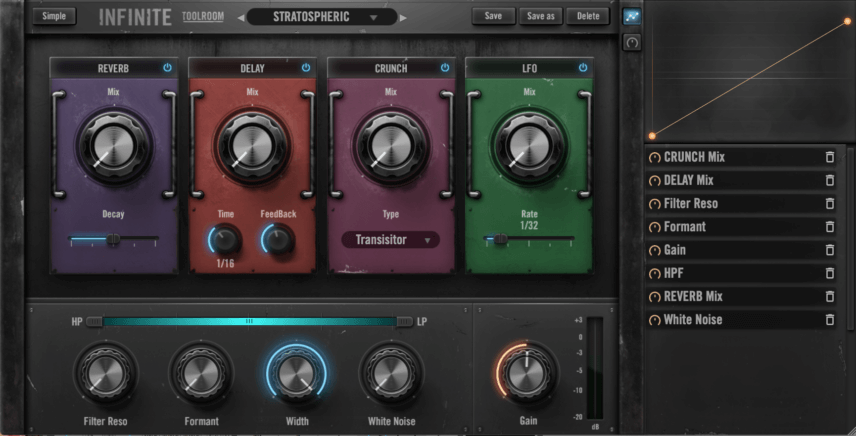 Another common transition effect is the cool down, or downer. This one has Filter, Gain, Reverb, White Noise and Width affecting a synth line.
The original synth loop:
Now on its way down: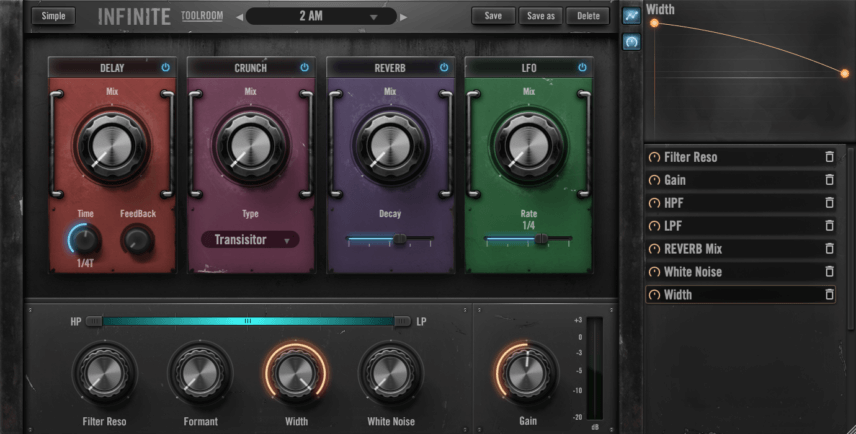 Here's a Sound Shaper preset designed to add some sizzle to a topline. We have it affecting a melodic percussion sound.
The original percussion line:
With Infinite: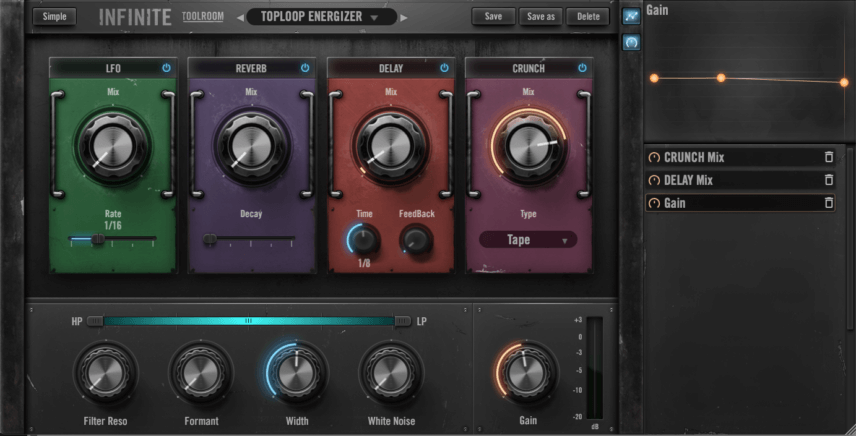 Some effects are less massive, like the FX Shots Inserts section of the presets. This one called Technique is affecting our bassline.
The original bassline:
With Infinite:

Finally, to hear how it sounds on the master, here's a cool down preset we designed ourselves strapped across the stereo bus.
The original audio:
And getting cooled down by Infinite:

The Final Word
We were surprised at how easy it was to build up exciting and useful transitions with Infinite. With internal automation features you can keep things as simple as you need or get much more complex with the graph.
As we mentioned before, the sound quality is top-notch as well, meaning you'll have no qualms about reaching for this for any production. We'll even be using it as a basic effects processor. That Formant effect will come in handy for bass tweaking.
Infinite isn't perfect. We'd love to see the main macro knob on the Complex page too so we can easily check the effect without having to switch screens. We wouldn't complain about more presets either. These are just quibbles though.
Infinite is a smashing debut from Toolroom Academy. It fulfils a definite need and at only £49.99 the price is certainly nice. We can't wait to see what they do next.
*Attack Magazine is supported by its audience. When you purchase through links on our site, we may earn an affiliate commission. Learn more.
FOLLOW ATTACK MAGAZINE