Next up on the digital test bench is Eventide's Physion Mk II. It's been six years since Eventide released Physion I. In that time, what has the New Jersey company added to an already impressive plugin?
Eventide has been innovating for decades. Their relentless pursuit of creative new approaches to signal processing continues to pay dividends. From their H-Series effects to the Newfangled line of mastering plug-ins, the company seems to have taken the concept of "evolve or die" rather literally.
Exemplifying this approach is their powerful Structural FX divide incoming signal. The algorithm works by scouring the regions for periods of relative stability in terms of time and frequency. It considers those to be Tonal. After subtracting those regions from the input, what remains is Transient. Where this separates Physion Mk II from compressors or other dynamics processor tools is it's not level-dependent.
The technology under the hood was first introduced with the original version of Physion. In more recent times it was further developed with their Split EQ – which allows separate equalisation of both structural transient and sustain segments. Eventide has now released a significant revamp to Physion with version 2 (Mk II). What's new and how can we use it? Let's find out.
What's New With Physion Mk II?
First of all, the GUI has been redesigned to bring it in line with Split EQ, providing a consistent look across their Structural Effect line. Global A/B comparison and handy Undo and Redo controls elevate Physion Mk II to a more professional-feeling sound design tool, while mouse-hover tooltips make it much easier to learn exactly what everything does without resorting to the manual.
In terms of the actual effects, they've added a classic Eventide Reverse Delay for both the Transient and Tonal effect layers with optional crystallizer mode and a sidechain input for external delay triggering. The Tonal effect layer now features a more powerful Pitch shifting mode with Poly/Mono mode selection, a Tone control, and detuning in cents for each of the three available voices.
The structural division relies on Physion's central Structural Split area. You can deactivate the Structural Split to use Physion Mk II as a simple parallel effects processor. It's likely to make some sense if you just want access to some of Eventide's unique included effects. However, in most cases, Physion Mk II is best deployed as designed: to split the incoming signal in real-time between Transient and Tonal layers for discrete processing.

This is achieved through a Transient Decay dial and optional Smoothing. You can also select the signal source type from a menu for optimal input processing – and lock it so the setting is retained while exploring different presets with the same signal source.
Physion Mk II is best deployed as designed: to split the incoming signal in real-time between Transient and Tonal layers for discrete processing.
Understanding the GUI
Physion MK II's main real-time waveform display clearly delineates between the two phases, with Transients above and Tonal below, and a simple balance slider adjusting the audible (and corresponding visual) focus between the two layers.
You know it's serious when you're in a lane of your own.
To hone your structural division, it's helpful to solo each layer in turn – easily done via the headphone icon in their respective gain sections, below their level meter on the right side of the window.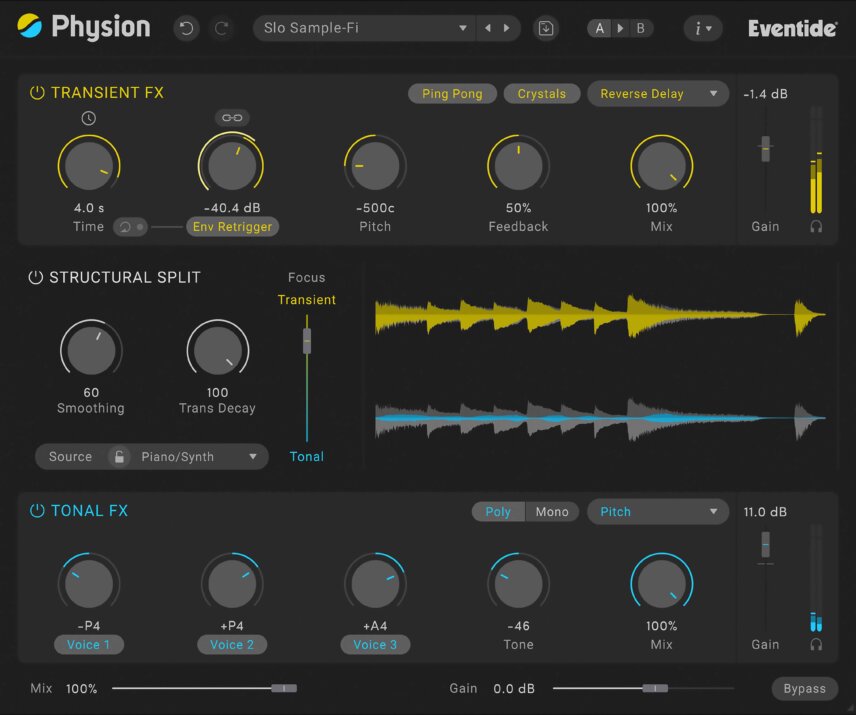 Each layer offers a slightly different effect menu suited to the structural source. There are all sorts of fun ways to accentuate or diminish either layer for mix purposes. Alternatively, you can get incredibly creative to transform a sound by focusing on a specific layer, or drastically changing each layer in a variety of ways.
While the possible surgical mix applications are numerous, Physion MK II excels as a sound design tool, easily arriving at mutated expressions of any material, adding harmonic richness or spatialization. It's perfect for reinterpreting remix parts or breathing new life into any stale material.
Final Thoughts
Going forward, a dedicated modulation section could help give movement to some of the more static effects. Furthermore, the ability to add multiple effects to each layer would greatly enhance the sound design capabilities. Having said that, both of these wishes only speak to how much fun Physion Mk II already is to play with. Quibbles at best with a highly designed well thought product.
The structural split alone is one of the most exciting new sound design tools to emerge in recent years, and the future is bright as Eventide continues to add new features, effects, and possibilities. It's hard to find any alternatives other than their own Structural Effect line. You know it's serious when you're in a lane of your own.
Physion Mk II is available for $99 currently.
The Verdict
The Final Word
A triumphant return for Physion from Eventide.
*Attack Magazine is supported by its audience. When you purchase through links on our site, we may earn an affiliate commission. Learn more.