Audiomodern's slick new updates may have just turned Playbeat into the only software random-sequence generator you need.
Randomization of patterns and plug-ins that offer this can often be a double-edged sword. On the upside, generating endless grooves that you would have otherwise had to program manually is made simpler than ever. On the downside, you can easily get carried away whilst clicking the random buttons repeatedly and forget to hit save. The updates Audiomodern have implemented in Playbeat 3 present an array of solutions to this very problem while introducing a new style of workflow for pattern randomization.
In this review, we'll look at Playbeat 3's key standout features including the game-changing auto-remix button, new windows for sampling, mixing and exporting, and a unique new preset management system. 
Playbeat 3 At A Glance
At its core, Playbeat 3 (VST/VST, AU, AAX, iOS and standalone) is an eight-channel sequencer. The generator also includes advanced controls for randomization for each individual channel – or all channels at once. Randomizable parameters include Steps, Density, Pitch, Volume, Flam and Pan. You can see the main tab where there are dice buttons to the left of each of the parameters in the below picture.

The big red button at the top is the master randomizer. It randomizes all six at once and, if you have 'ALL' selected, the randomization will apply to all eight channels. This appears chaotic but the lock icon at the right of the channels allows you to disqualify channels from the reshuffling.
The sequencer alone is also quite powerful and allows for useful techniques such as setting separate timing, step count and swing values for each channel.
Any audio file can be loaded into the eight channels and the new SAMPLE EDIT window lets you set sample start, end times and edit fades. The general volume of each sample's channel can be set in the new MIXER window. Version 3 comes with a few hundred internal samples that you can also choose from.
Remixing and Exporting
One common drawback of randomized buttons in many sequencer VSTs is that results can feel unrelated to each other. This can make it hard to use each generated sequence as a new section in your track. Our favourite new feature introduced in Playbeat 3 is the Auto-Fill Remix button and it addresses this very issue.
Its functions allow you to create unlimited remixes of patterns based on your current pattern, without making chaotic changes. Every time you click the Auto-Fill Remix button, Playbeat gives you sixteen different pads. You can then click on the pads to change the pattern. Like all of Playbeat's parameters, these pads can then be mapped to a MIDI controller. This has great applications for both studio jamming and live performance.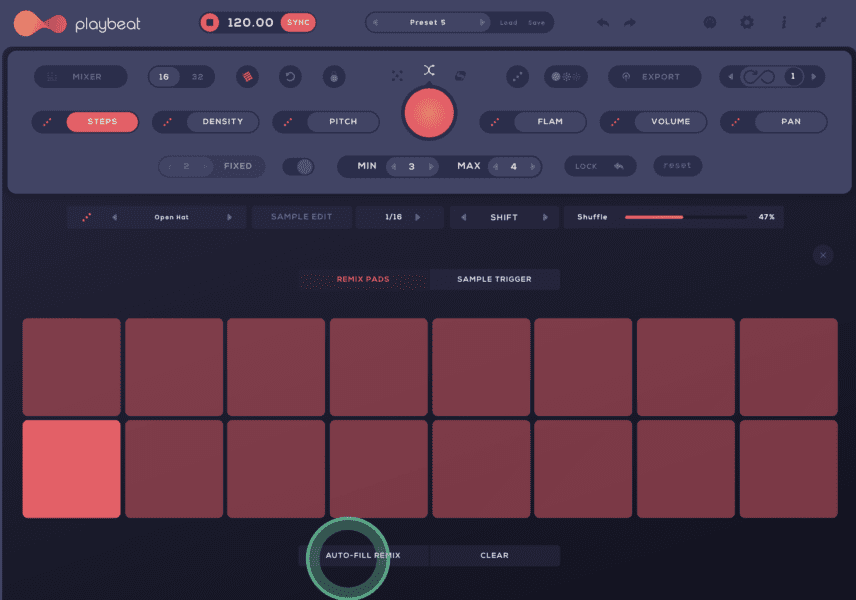 Here's an example of a UK Garage-style pattern where we jump between the remix pads in real-time:
The SETTINGS window makes it possible to MIDI map any parameter in the plug-in to your MIDI controller. You can also route the eight channels to separate MIDI channel outputs. For example, to send MIDI to multiple drum machines and synths.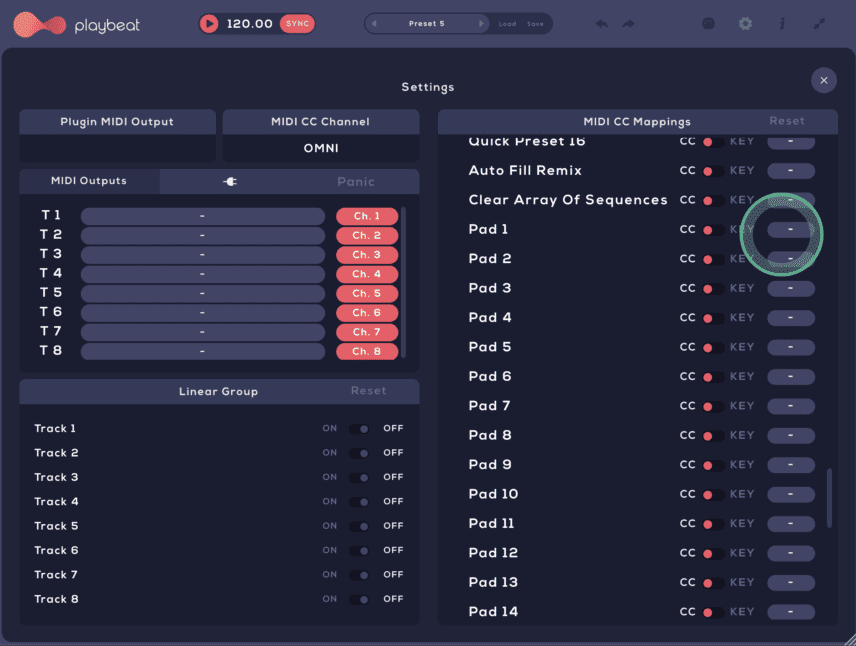 Jamming with the remix pads and MIDI mapping is all great, but at this point, we're again faced with the problem we discussed at the very beginning of this article. We can easily press remix or randomize repeatedly without saving our best moments.
This is where the new EXPORT window comes in. Audiomodern have called this section of Playbeat "the most flexible system on the market today" for exporting. In this case, their use of hyperbole might actually be on point.
Once you're happy with a pattern you can click EXPORT. After that, simply drag-and-drop the MIDI file or audio file of any of the eight channels straight into your DAW. You can also drag out the fully combined audio or all MIDI files at once. This is a truly convenient feature that we hope to see more of from other plug-in developers in the future.
An example of a workflow that we favoured was using the patterns of each Auto-Fill Remix pad, exporting the full audio of each pattern, and then loading them up as clips in Ableton's Session View to jam with.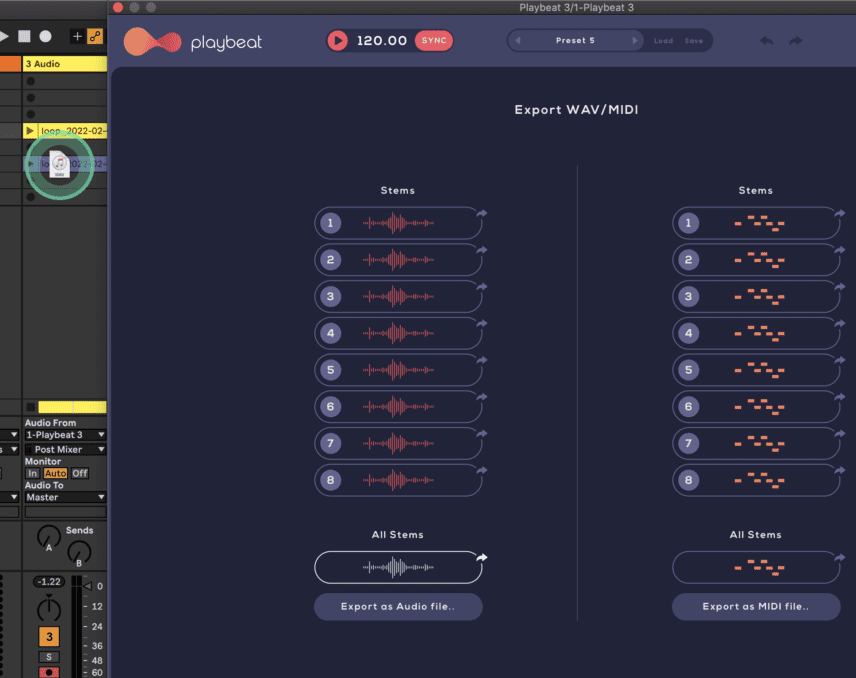 Interactive Preset Packages
The last major update version three brought to Playbeat is a new preset management system. Presets can now be gathered into packs that you can customize with artwork, descriptions and genre/mood tags that make them easily searchable. With one click, you can export an entire pack, including any amount of pattern presets you choose as well as the audio files of the samples you've loaded up in the eight channels' samplers.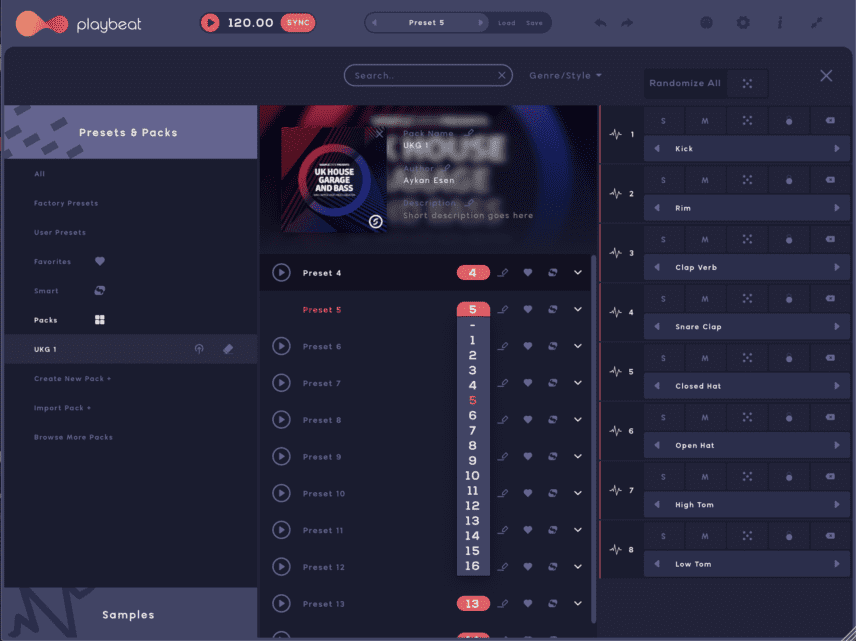 The highlight of the preset features is undoubtedly the Quick Preset option. When a preset is selected as a Quick Preset it appears as a number at the bottom of the main sequencer window. This again makes it easy to jump through variations while jamming out an arrangement or performing live, especially if you're using a MIDI controller with knobs and buttons mapped to switch between Quick Presets.
We particularly liked the option to include presets with different audio files in the same preset packs. This could present a new means of effective sample organization for many producers.
Price and Competition
At £49.94, Playbeat 3 for Mac and Windows is quite affordable and is currently on sale (at the time of publication) from its full price of £58.39. Owners of previous versions can upgrade for £16.08 and the iPad iOS version costs £7.39 on the App Store. It is also part of Audiomodern's Music Composition Suite bundle alongside Chordjam, Riffer, Gatelab, and Filterstep, currently priced at £109.14.
Playbeat 3 is cheaper than other similar products on the market, such as DrumComputer by Sugar Bytes. Like Playbeat, it also features randomization of steps, velocity, probability, pitch and other parameters in a sequencer interface. Despite this, it is much more focused on sound design, with eight sound engines that you can endlessly randomize.
DrumComputer's price point is slightly higher at £88.77. Accusonus' Rhythmiq priced at £110.22 is another option on the market for generating multiple patterns from one beat. It separates drum parts from within a loop into kick, snare and hat stems and you can re-arrange the stems, decrease the number of hits and randomize the patterns all in real-time.
It is definitely more focused on audio-processing as opposed to MIDI-note randomization. A cost-effective alternative would be the Max For Live device Hexo priced at £33 by K-Devices. It has much fewer features than Playbeat, but it's a good shortcut to generate random poly-metric patterns for both drums and MIDI instruments. 
If you don't already have a go-to MIDI sequencer with randomization-related features, Playbeat 3 should be at the top of your list. It has a slight learning curve, but the slick GUI, automatic remix function and drag-and-drop export workflow make it easier than ever to add variety to drums across long arrangements.
The Verdict
The Final Word
Powerful updates and an affordable price make this a contender for the only software random-sequence generator you need.
FOLLOW ATTACK MAGAZINE
Check out our Elektron Sound Packs




Electronic sounds for Analog Rytm, Digitakt, Digitone, and Analog Four.