AIAIAI update their modular headphones with two new configurations designed for studio use. Michael Gallagher tests them out.
Danish company AIAIAI has made a name for itself producing high-quality modular DJ headphones. Their ethos is based on responsible design, using recycled materials where possible, and enabling the replacement of components to reduce waste. When we reviewed their TMA-2 headphones back in 2015, we rated them highly.
AIAIAI have now released two new versions designed specifically for music production: the TMA-2 Studio (£200) and TMA-2 Studio XE (£160). Both include new drivers made from an innovative bio-cellulose material, tuned to provide enhanced sonic detail. They are closed-back headphones, like previous TMA-2 versions, which means they provide good isolation for recording or use in noisy environments.

The quoted frequency response is wide at 10Hz to 40kHz. Impedance is low at 32 ohms, so they will work fine with low output devices such as smartphones as well as with most studio gear. AIAIAI state that the headphones contain 30% recycled material and the packaging 100%, which is good to see, although the driver magnets use neodymium, which can be environmentally damaging to produce. Both models feel extremely robust and have a reassuring two year warranty.
Differences between TMA-2 Studio and Studio XE
As for differences, the more expensive TMA-2 Studio model has a thicker, more padded headband, with earpads covered in a soft fabric called Alacantara. The Studio XE has a narrower headband, and earpads covered in PU leather, similar to Sennheiser HD25s. Unlike the HD25s though, the earpads on both models sit around the ears rather than on them, which helps with comfort. It's also worth noting that the modularity means the XE could be upgraded later, and the costs are reasonable (e.g. £45 for the Alacantara ear pads).
Unboxing is somewhat unconventional. The recycled packaging and modular design mean that each component comes in a separate bag, leaving the user to assemble the finished product. It's an enjoyable process, reminiscent of another Danish classic, LEGO. No tools are needed. All the parts push together easily by hand.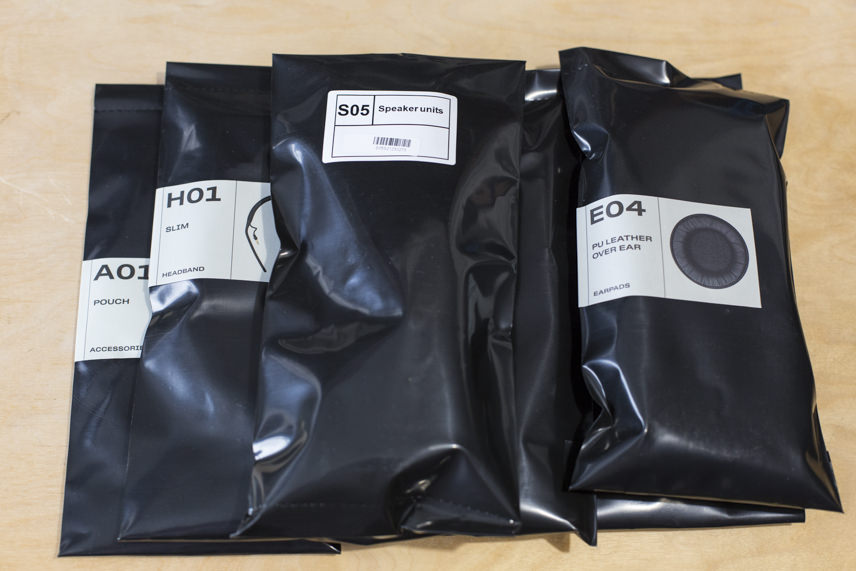 In an age of rapid obsolescence it's good to see a product that feels designed for longevity. The cable connects with an ingenious push then turn-to-lock action, so it can be detached easily to avoid cable strain when packing in a bag, or easily replaced if it ever wears out. The cable can also be connected to either side, so it's easy to turn the TMA-2s into a single-sided headphone, which could be handy for tracking and DJ use. One minor issue is that the labelling of left and right is hidden on the inside of the headbands. Making this more prominent would help with ease of use.
Sound Quality
The most important aspect of studio headphones is sound quality, and in this respect both models performed well. We began with a few hours of breaking in which helped open the sound up. Listening to some recent finished mixes, everything was present and correct, with no obvious 'hyped' regions. The bass was full and extended down into the sub without becoming exaggerated. The midrange was detailed, with good separation between different elements. The high end was airy with a revealing character. Running a test oscillator reinforced the impression of wide frequency response, with bass dropping off below about 35Hz, a gentle lift in the upper mids, and the high end extending up to the limits of hearing.
We put both models through their paces with a range of typical studio tasks. Tracking modular synth percussion parts, the detailed high-frequency response helped with judging effect send levels and filter settings. For mixing duties, the TMA-2s slotted into our workflow with ease, both for general adjustments and more specific tasks where we would normally turn to headphones, such as setting panning, checking reverb tails, fine EQing, and evaluating the low end without the influence of a room. In general, it's not ideal to mix on headphones alone, so like any cans these will probably work best when used as part of a wider workflow, including referencing to other tracks, listening on studio monitors and other systems.

In use, we detected a small sonic difference between the two models, with the more expensive TMA-2 Studio just edging it over the Studio XE. Both have the same drivers, so presumably something about the earpads subtly affects the acoustic performance.
Position in the Market
Comparing to two other common studio headphones, the Beyerdynamic DT770 Pro and DT880 Pro, both TMA-2 Studio models held up well. Frequency response sounded similar to the 770s, but the TMA-2s were more detailed in the mids and more extended in the highs, giving a greater sense of clarity and air. The DT880s were the best of the bunch through the mids and highs, perhaps owing to their semi-open design. The 880s tend to be a little light on bass however, so in that region the TMA-2s felt more trustworthy for mixing dance music.
Another key factor for studio use is comfort. The Beyerdynamic DT880 Pros were the winner here, but the TMA-2s were still comfortable enough for extended use. Again the Studio model had a slight advantage in this area over the XE.
Summing up, perhaps the biggest attraction of these headphones is as all rounders, with the sonic finesse required to work in a studio setting, but also robust enough to chuck into a rucksack for DJing, location sound, or general music listening on the move. By comparison, studio headphones such as the Beyerdynamic DT880 or Sennheiser HD650 might be more comfortable for extended mixing but are unsuited to being taken outside that environment, so are much less versatile.
If you're a dance music producer who, pre-COVID at least, working on the move, shifting between home studio, DJ gigs, trains, planes and who knows where else, these new TMA-2 Studio headphones could cover all of those bases. The price point is a little higher than some of the competition but seems fair for a set of headphones that can do everything, particularly given the modularity and environmental credentials. Overall we found the TMA-2 Studio model to be worth the extra £40, but on a more restricted budget, the Studio XE is still a very solid performer.

The Verdict
The Final Word
High quality headphones for the studio and beyond.
The Verdict
The Final Word
High quality headphones for the studio and beyond.