House producer and DJ Nachtbraker dropped his excellent Fatoe Morgana EP in February, so we thought we'd get him to talk us through how he put the tracks together.

Nachtbraker is a Dutch house producer and DJ who has released his own idiosyncratic brand of house music on labels like Heist, Dirt Crew, Hudd Traxx and his own Quartet Series. He put out his four-track EP 'Fatoe Morgana' on Aus Music in February, a collection of tracks illustrating his continued development as a producer. We got Amsterdam's Night Hawk to talk us through his creative process writing and producing this EP.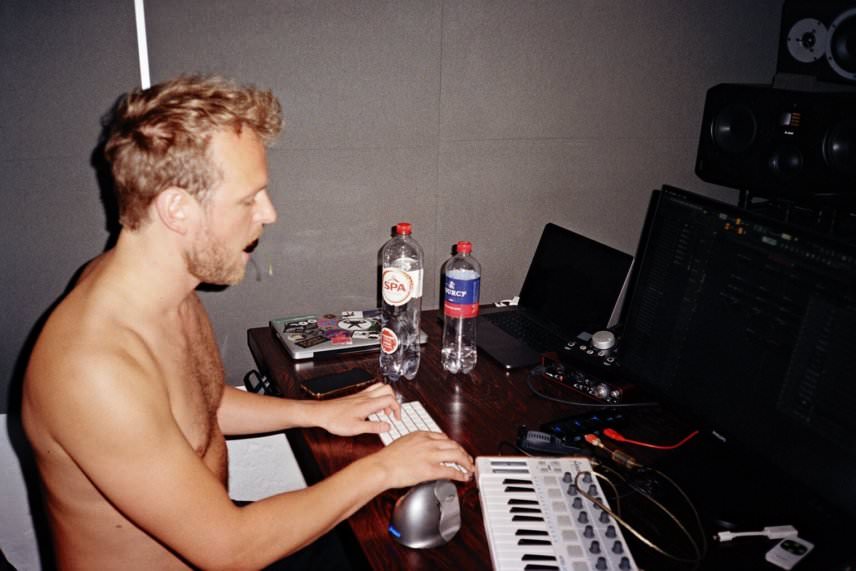 'Fatoe Morgana' is my first release outside of my own labels for two years. I've self-released my debut album and four solo EP's on Quartet Series and the Nachtbraker label respectively. Aus Music felt perfect for me because of their recent strong output and the legacy of the label.
But more importantly, this release also marks the change in sound I've undergone the past two years. Whereas my music was previously more sample-based, I now mainly use synths to write my melodies. Also my average BPM's have been going up and are around 130 now, both in productions and DJ sets. I think at the moment my music is heavily inspired by early and late 90's Dutch House and Techno. High tempo, joyful melodies and some unorthodox arrangements. Think of the music that Outland Records (an Amsterdam record store and label, now closed, unfortunately) put out. In a way, I feel I've matured a lot in my music and my DJ sets are very much aligned with my productions now, which is a really nice feeling I have to say.
The name of the EP is kind of wordplay on Fata Morgana which means an illusion or seeing a mirage at the horizon of a desert. Fatoe is Dutch street language for joke; if you are familiar with my work then you probably know that I do a lot of this kind of wordplay.
My workflow is always pretty random and really depends on the sounds that trigger me. I usually go through my sample bank and through synth presets to get inspired. I use a lot of Arturia synths like the Prophet V and the Synclavier, but they have so many nice soft synths, I can easily spend days tweaking and playing around with them. Also, they sound amazing. Since I started making music about 12 years ago I have always worked in FL Studio, it's got many great native plugins and after 12 years fine tuning my workflow I can safely call this my home.
Besides that, Fabfilter Pro-Q2 is maybe my most used plugin and is on every channel in my mixer for mix down purposes. Also, Soundtoys Radiator is a plugin that I use very often, it can give your synth that extra warmth you sometimes need. In some cases, I run my tracks or part of tracks through my Revox A77 tape recorder, which is next to my Roland MC303 and JV-1080, the only pieces of gear I own. I'm an "in the box" guy indeed.
Fatoe Morgana
Fatoe Morgana is the pillar of this EP. This was the first track I wrote of the bunch. This goes for the whole record actually but I finished 90% of the track within a matter of hours. From arrangement to writing the melodies, it all came out in one flow, which I think in the end always makes the best tracks. What I wanted to achieve for a long time and finally felt I managed to do was to have this some sort of circular continuous movement in a track where all elements push each other and move forward in a simultaneous flow. I wondered for some time whether to shorten the long break in the track, but after playing it out a couple of times I found that it was super effective on the dance floor and only captivated the people even more. What I love most about this one is how it manages to completely fill a floor, like a warm shower.
QT and The Lizards
On this tune I wanted to work with multiple melodies working together. As you can hear in the song, there's three synth melodies and the bass has got its own melody too. It felt really interesting to experiment with this and am very happy with the result. Even though the track is pretty melancholic, it keeps the energy high on the dance floor. Fun fact, the picture of me in the studio was taken while I made this track.
De Zon
This song came together very quickly. I was working from home, on the headphones to not disturb my neighbours. The lead melody was done within the first minute after I started and I knew I had something nice on hands. Turning that into a full track is always the trick though. Everything went in one flow. I put down some basic house music percussion and gave it some swing. Got another synth (Arturia Synclavier) and layered down the strings on top of the lead melody. And there I felt I had a true house track. I've wanted to experiment with a vocoder for some time now so I taped my Shure microphone to my desktop lamp so I could play chords while singing. I joked with a friend about how Dutch Folklore singers always have these trivial poetic titles to their songs and how I wanted to do that too. So since I had a lack of lyrics I decided to sing "Een nacht, naar de zon". Which means "A night to the sun", which obviously doesn't make sense. But it sounds nice and the tune is an ode to that spring sun which was shining in my face while I was making it.
När Hon Inte Är Där (Sunrise Mix)
This one has a bit more personal and melancholic touch to it. At the time of writing this song, I fell deeply in love with my girlfriend who is Swedish. It was a bit tough in the beginning as she was supposed to move back to Sweden at some point which made it uncertain if we'd be able to continue our relationship. När Hon Inte Är Där means 'when she's not there' in Swedish and is an ode to all lovers out there missing their loved one.
Nachtbraker's 'Fatoe Morgana' is available here
Follow Nachtbraker on Facebook and Instagram