R&S Records newcomer Primitive World goes into detail about his process, showing us around his hardware-packed London studio.

Primitive World – My Studio
This is my studio. I'm lucky enough to have a good sized room in my flat that I can dedicate to it. The whole set up is a bit precarious, but it works for me. I tend to write / arrange and mix everything here, but occasionally will go to a bigger studio to have better monitoring and another set of ears on the track. In the past years, I've gone from being a frustrated 'in the box' producer to a full on gear junkie with a room full of equipment, a lot of which is expensive, tempremental and only does one specific thing well.
The reason I use all this old stuff is to get contrast and context, the different flavours / textures that they give you.  By using all of these different converters, effects, processes, I'm finding that I'm automatically getting more separation than I ever did before working in the computer alone, each sound has a character and personality of its own that is pleasing to the ear. This means I have to work less hard with EQ and compression etc. to achieve a sound that I feel good about.
Another reason of wanting to work with machines is the sheer joy of tangibility, we live in such a virtual world these days, there's a real pleasure of working with machines that you can touch, feel and even smell the digital ozone of warm components. The tactility of the knobs and buttons, the sense of manual labour, rather than being a computer bound information worker. There's something more escapist and fantastic about sitting down and working with these machines that were built to high specifications for professional usage. Having limited options in terms of signal chains / processors etc. forces you to make do with what you have and get creative. From a creation point of view, interesting things start to happen when you push things into distortion, feed them back into themselves, or chain a series of effects together – magic moments start to happen without planning and mistakes can be embraced and accentuated.

EMU SP-1200
What is there left to be said about this machine that hasn't been said before? it's the most recent addition to my studio, but it's immediately become my favourite. It's the only sampler I've used that I would say does something truly magical to the sound – no matter what you throw at it, how much you re-pitch it, it just sounds amazing. The classic trick of recording vinyl samples in at 45 + 8 and then repitching them down to get more sample time gives you access to the amazing sparkling ring modulation.
The chunky design and tactility of the buttons and faders is fun, and makes the workflow very simple (if limited), much more fun than drawing in MIDI blocks on a piano roll. I grew up listening to classic 90s era hip hop, and my favourite producers had the 1200's sonic fingerprint is all over their productions – it's a huge part of the classic soulful sound of that era. Of course on a house music tip we can't forget Kenny Dope and Todd Terry, both SP users – just listen to a track like 'Jam The Mace' by Kenny Dope (recording as House Syndicate).
It's a lot rawer and less polished than later MAW productions, but to me that's the charm of it.

Akai MPC3000
Another classic machine, designed by the great Roger Linn. Its main characteristic is the classic groove and swing. I've used the various templates in Ableton and Logic that are based upon it, but there's just something about the real thing that is undeniable. It just gets me excited and gets my head bobbing right from the get go, with no mouse clicking or menu diving. Have a listen here.
I remember when I first got it and started playing around, it instantly made me understand how this machine contributes to the sound of the likes of Green Velvet, Pepe Bradock, Moodymann and Mobb Deep (circa their second album). It's fully loaded with the Vailixi OS (lots of extra features) and an internal compact flash card which means no switching out floppies, and that alongside the RS-16X program you can load sounds onto the card on the computer for ease of use.
The MIDI functionality means that this really is the heart of the studio – all synth parts get recorded in, sequenced and quantised in here, then sent back out again. The converters are quite pristine with a bit of bite to them, so I tend to use sounds that already have had some colourful analogue to digital conversion (like Goldbaby's great SP1200 sample pack). Really it's all about the workflow with the MP though – simple to use, and a lot of fun – particularly the timing correct button and 16 Levels repitch/velocity option is so fast and intuitive to turn the sounds inside out.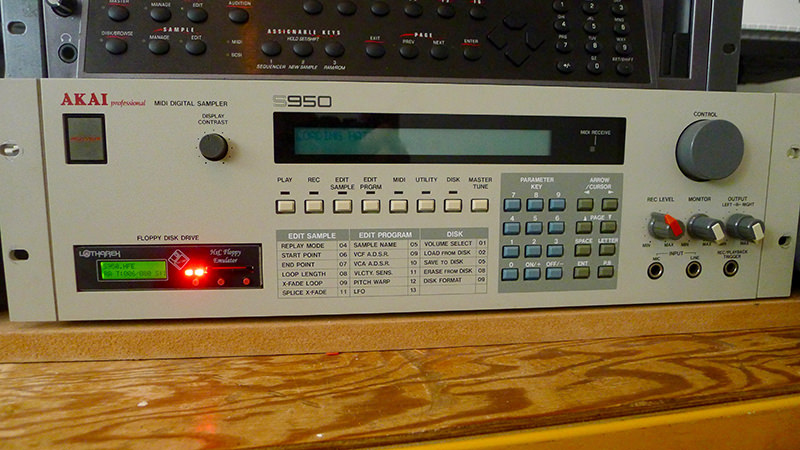 Akai S950
Another legendary sampler, but one that I haven't really found myself warming to so much. It has a bit of a cold sound, which works in certain applications, but when judged in a wider palette of sounds like the SP-1200 (its contemporay) it feels a bit hollow and lacking in warmth and depth. It does however have the famous time stretch heard on early jungle records and fantastic crunch and punch to sounds that you put in there, particularly for percussion. Have a listen to what it does to a snare here.
The filter's famously been used extensively by the likes of DJ Sneak. Here's a quick example.

EMU E4XT
This Emu is much more modern than the SP-1200 and is most famously known for the morphing Z-plane filters (listen here) as particularly nailed by Ed Rush and Optical. It's loaded with max memory and an internal hard drive with a ton of sample libraries on it, including the old Emulator sounds, which are great. The actual sound of it is quite transparent, which hasn't immediately drawn me to it, but It's quite a deep machine, with the various patching and modulation options – so I need to get my head around it more. In the meantime it's been great for throwing on an extra layer for a lead or bass for extra detail and interest via the MPC.

Korg Electribe ES-1 MKII
This was one of the first pieces of hardware I bought, and I still have a soft spot for it. It's a step sequencer with eight separate sample slots that you can fill from a smartmedia card – for each one you can repitch, reverse, pan, etc incredibly quickly and intuitively. It has a lo-fi and cheap but cool digital effect section, and bizarrely a delay on the master output for extra madness. It's great for jamming out quick ideas and crazy fucked up little loops, but sounds a bit shitty on its own as its sample rate is 32kHz and the whole thing does sound pretty cheap and gritty, but not in a bad way. I now use it as a single element of a track (it has only one stereo output) syncing the MIDI clock to the MPC. Check out this step re-pitched 808 bass drum that I randomly jammed into a cool loop – with added internal chorus, master delay and flipping the reverse button – here.

Sequential Circuits Six Trak
Everyone knows the Prophet series from Sequential Circuits and DSI. The Six Trak is one of the less popular early models that was a bit cheaper – however it does the lovely Prophet-style lush pad sounds (listen here), chunky bass sounds, weird FX and lots more – listen here and here.
It has six VCOs and VCFs which you can stack into one crazy, massive patch, or six different monosynths, much like the DSI Tetra. One major downside is that it only has a single knob for changing parameters, so programming can be quite laborious, however this app allows you to control everything hands on over MIDI link up.
Also, it only has a single monophonic output which is quite limiting, and digital envelopes, so it can't get super snappy fast sounds, but for the money (I paid £800 – Prophet 600s seem to be going upwards of £1200 these days) it's a very reasonable way to get the classic Sequential Circuits sound and a really lush old polysynth.

Ensoniq Mirage and Floppy Disks
The Mirage is a neanderthal sampler – incredibly heavy and cumbersome to program, but it has analogue filters and envelopes which are sublime and so fat sounding. Have a listen to this sampled SixTrak chord sequence triggered from the MPC3000 here.

Alesis Quadraverb, ENSONIQ EPS16+ Rack, Yamaha SPX900, Antelope Orion converters
Apparently the Quadraverb was used extensively by Aphex Twin on Selected Ambient Works… I bought it after I got the Midiverb II, and from what I had read online, I was expecting it to be quite a bit superior, but I've never really gotten on with it – the effects just sound a bit sterile and like a plugin to my ears, hence why it's currently gathering dust until I can be bothered to sell it. Just goes to show that you should always try things out and trust your own ears rather than relying on others' opinions, particularly when units like these are so cheap to come by these days (for now at least). Here's how it sounds.
El-P of Run The Jewelz and formerly Company Flow has always been a big inspiration to me musicially, his bold fusing of sci-fi dystopia, raw, bomb squad style production and chunky analogue synthesis. He's killing it now with Run The Jewels, but to me, his masterpiece was his production / beat making for Cannibal Ox's 'The Cold Vein'. Listen to that here.
He's been a longtime advocate of the EPS16+. It's 16-bit, but has a smoky quality to the audio. The whole of Ensoniq's range of devices tend to sound pretty cool. Also, the internal effects are pretty unique and interesting, particularly the infamous Waveboy effects – you can hear the weird 'voder' effect on a beat that I made here. It gives a bizarre gibbering effect which I love – very psychedelic.
The SPX is one that I heard good things about, bought from a studio that was having a clear out, for £100, and I've never quite got on with it. It's noisy and hissy, the noise floor is quite bad, but I've used it on a track quite recently, and actually all that noise and dirt actually sounds pretty good come to think of it! Having said that I do like that kind of stuff, so it might not be for everyone. The 'symphonic' preset is supposed to be a bit of a classic.
Antelope are a company who make extremely expensive high-end word clocks and converters. Their Orion model is a revolutionary AD/DA unit that works via USB and allows up to 32 channels in and out of high quality conversion, at an extremely reasonable price. For me this is a great option as it means that I have every channel on the desk ready to record, post fader – so I can EQ, distort the gain, etc, and then track that in to the DAW.
It's transparent, clean and user frienldly and has a variety of options.

Alesis Midiverb II, Lexicon Vortex, Urei Model 537, Zoom Studio 1201…
The Midiverb is one of my all time favourite effects. I've got two, because one is never enough. It has something truly magical about it – the primitive converters give a sweet saturation that livens up a sound, giving it more personality and mojo – particularly the chorus. It's very intuitive to use with 99 presets, one wet/dry knob, and input/output volumes which can be cranked into overdrive. The audio breaks up in a really interesting way. Here's the chorus over the Sixtrak synth.
The Vortex is a crazy morphing delay unit that Lexicon put out in the early 2000s – primarily aimed at Robert Fripp-style guitar players. It was completely misunderstood at the time and was discontinued shortly after. It's actually pretty great at creating weird swirling textures in the background. It has tap tempo, which changes the delays in real time, as you can hear in this example here.
The Zoom 1201 is cheap and cheerful – most of the effects are pretty crappy, but like with most of these kind of devices there are a few that just work in some situations. Having the contrast of the cheapness of the sound alongside other more meaty and muscular elements helps with separation also. There are so many different settings across three different modes, and they're written so small I just generally tend to twist the knobs randomly until I find something that works.
The Urei Model 537 graphic EQ is a bit of an ugly duckling – the plastic on the sliders is really cruddy and it's falling apart. It doesn't see a huge amount of use – I mainly like it as a tone shaper, running stuff through it to give it more of a vintage vibe – it's nice to really ream the signal through it to get it to break up and give a different texture also.
The Art Proverb 200 is another funky piece of junk. It's a crappy multi-effect unit that I scored for £20. It seems to contantly be overloading, but has some quite unique and outlandish presets – some spatial stuff and strange reverse reverbs and delays. Check out a few of the presets here – it gets pretty crazy at the end.
The Lexicon PCM 70 is a great unit – super expensive back in the day, it's now relatively affordable (£300/400 or so), and has this wonderful grainy yet classy quality to it. The reverb is so rich and spacious. It adds a lot to any sound – plus it sounds good when you drive it into the red just a touch. There are a number of different versions of the unit, but you can reinstall the older presets which have some really funky effects in there – there's some chordal delays which I used on this track (listen for the weird guitar-sounding lead).
The last unit is a Hairball Audio clone of the classic Urei 1176 compressor, based on the original 'blue stripe' version which I believe is the original incarnation and the most 'colourful'. Anything you put through this comes out sounding more expensive somehow – it does something to the signal that just makes it come alive. I use it in parallel in mono (listen here), mainly for drums via one of the group sends.

MXR Carbon Copy Delay and Cabling
I don't own many pedals but the Carbon Copy is definitely an essential – it's a true analogue bucket-brigade delay that has a wonderfully feathery, soft quality. You can calibrate the wow and flutter/modulation of the wet signal by opening up the back of the unit to give it an extra woozy quality to it. The best thing about it is that it never breaks down or needs repair (unlike a Space Echo), and you can pick them up pretty cheap (around £60). Hear it in action with some Six Trak bass here.
Probably the least sexy topic in any studio, I mostly use Van Damme cables with Neutrik connectors simply because you'd be shocked how much of a difference bad cabling makes to the sound. Sometimes this can be used to good effect if you want to go for a trashy sound, but if you're looking to preserve what's there, this isn't the place to try and cut corners – best to make these kind of aesthetic choices consciously rather than having them impair your sound unwittingly. I've always avoided patch bays for this very reason – unless you're spending a lot of money on one, there's a very real possibility that you're losing definition and detail.
I think a lot of us electronic musicians are quite obsessed with convenience over quality sometimes. Best to try both ways to see if the loss in tone is worth it to you. One of the main advantages of working out of the box is that by picking a signal chain and hard-wired effects that work for you, you're not having to spend time revinventing your signal chain each time you start work on a new piece of music. It really streamlines workflow having tried and tested channels.

Soundtracs Topaz
I got this desk for a steal – £160 from some guy in the Lake District. My mother picked it up and drove it down to London for me, while my dad modded the desk to give a hotter signal out of the tape outs (he did an electronics degree back in the 70s and built his own DJ setup!). Truly a family affair. It's a 24-channel in-line desk which means I can have all my gear spread out across the board, with alternate tape ins and outs to record and send from the computer. This means I can drive the pre-amps and shape with the EQ when tracking my line-level stuff (SP, MPC, synths) into the computer, which means that the sound is already closer to a finished state.
It has four stereo busses, which I use for parallel effects including the two Midiverbs (usually one chorus, one room verb), the 1176 (drums and/or key elements that need to stand out), and the Zoom Studio 1201 (special effects). I also have the Lexicon PCM70 and Carbon Copy on auxiliary effects sends, returned back to channels on the mixer for extra flexibility. The EQs and gain sound really nice and warm – you can really saturate stuff in a cool way – the master output is pretty much constantly in the reds.
Another technique that I use in my mixdowns is utilising the different circuitry and converters of the various samplers and machines with their varying sample rates to help colour the signal path and give defined roles and a distinct personality to each of the sounds. To me that's all part of the fun of mixing and recording out of the box – all the little distortions, hums, hisses and mistakes all tell their own little story. I'm basically just using the computer now as a tape machine for recording the audio in and then doing some re-editing and deleting here and there.
Primitive World's Purple Caps EP is out now on R&S Records. Find him on Facebook, Twitter and SoundCloud.