This channel is sponsored

Free Acoustic Advice and Buy Direct.
Visit GIK Acoustics
Flag-bearer for true acid house, Chris Moss shows us around his studio, crammed full of acid classics.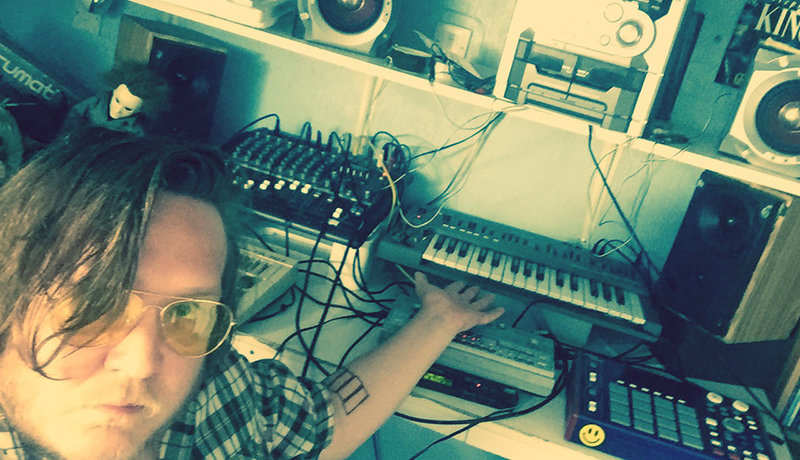 Chris Moss Acid – My Studio
So, let's begin with the boring stuff first. This is my amp and speakers.
I blew up my actual good amp whilst making Slam The Box.
… And I'm still waiting on my brother to sort me out with a new amp, so for the last year I've been making – or rather, hearing – music coming out of one speaker. I'm kinda used to it now, and I like the rawness of it too.
The Mission speakers aren't in action since the amp blew up, but they are generally what has been used since 2005.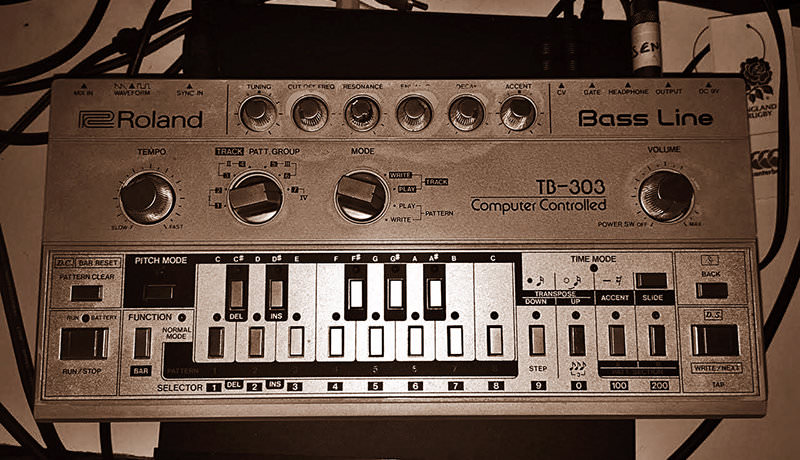 Roland TB-303
What can I say about this? I've done like 5,000 acid tracks with this 303, and it's travelled the world with me. I've covered Mozart and Cliff Richard, made a 48-step bassline and screaming techno with it, and it only broke once! Not bad. If you haven't checked out any of my stuff before, this is what this particular 303 sounds like:
Or a wealth of other variants on my Bandcamp.
It's a major mainstay in my sound and sequencing. I bought it for about four or five hundred pounds in the null mid 2000s when 303s weren't as cool as they are today.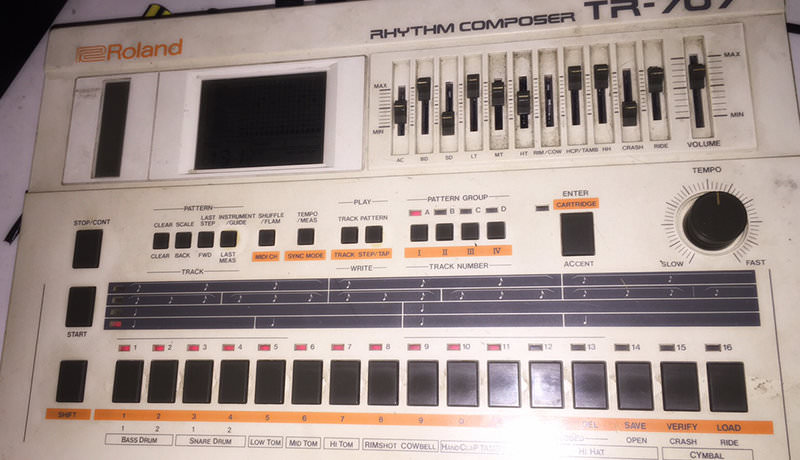 Roland TR-707
So, to me the 707 is the king of house music, from the very first time you hear a track with a 707 it kinda gets better and better. People like Armando and Marshall Jefferson made this thin and pointy drum machine turn into a monster. As with most of my gear, my 707 is partially broken as the toms sliders are a bit touchy – it pretty much just needs a clean, I reckon.
Here is a track with the 707. Nothing groundbreaking, but it has some nice examples of flam and shuffle: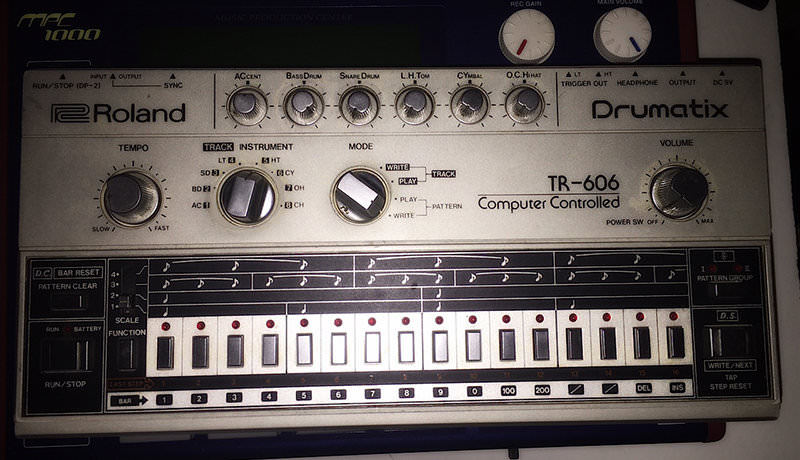 Roland TR-606
Another massive mainstay in the gear up to a few years ago. Put a bit of reverb on this bad boy and it turns into a monster! I fell in love with its sound after hearing Universal Indicator and people like Ceephax overdriving the 606…
It also fares up quite well at other genres too, like punk. Big Black apparently used one, but to me it sounds like a TR-707 – but what do I know? Recently I've not used the 606 for a while, as there's a dodgy sync connection and it jumps around. While I miss the interaction with the 101, one day it'll be back and I'll be as happy and excited as the day I got it.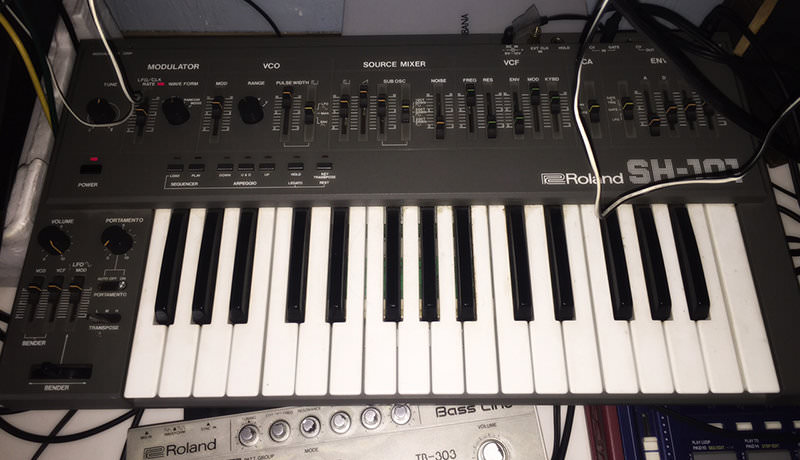 Roland SH-101
The big boy. I think this is my favourite synth ever – there's so much you can do with this. I bought it when 'acid' was slightly unpopular so all the Roland gear was going for cheap(er) than they are today. I got it for around £300 if I remember correctly, from Japan.
There's a release coming out on Acid Waxa pretty soon that's me on the first night I got it, and rolled out 15-odd tracks in an hour, 'testing' the 101 out. The pairing of a 101 and a 303 is the ultimate dance party assault weapon.
This exact 101 was responsible for this bassline: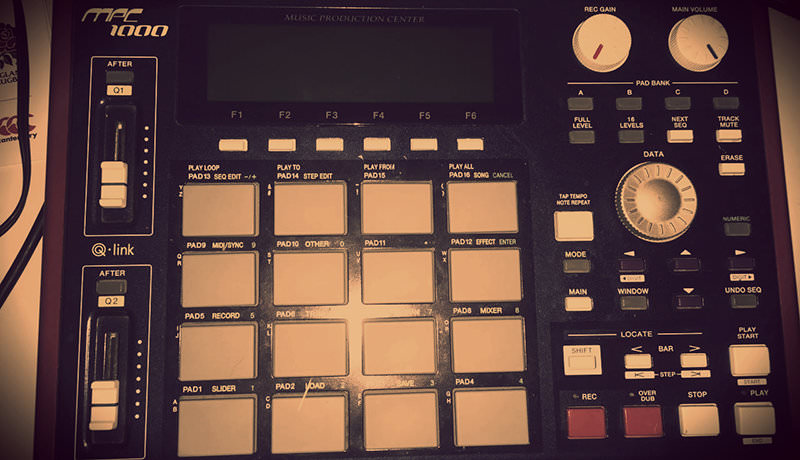 Akai MPC1000
I had really wanted one of these for ages and ages and ages. Finally I check the local Gumtree and boom, some old guy was selling his for £150! I rang him up and he was serious that he can't let it go for any less then £150 (sure, fine!). So I raced around to his place and bought it, took it home and a few of the pads were broken (if you're gonna get an MPC 1K, get the black version).
So out of curiosity I opened it up to see what the problem was, and pretty much broke everything whilst doing that: the Q sliders don't work, and 16 Levels don't work. I bought some metal paste to try and fix the pads at least, went over to my mate's and swapped all the faulty pads with crucial mode functions to ones that work.
So while it is a pretty much broken MPC1000, I've learned how to make the most of it, and mainly just use it as a drum machine as no real music writing can be made. I'm content with that. One day I might get a new one.
You can hear my MPC1000 drumming techniques on everything from 2013-2015, such as 'Getchu':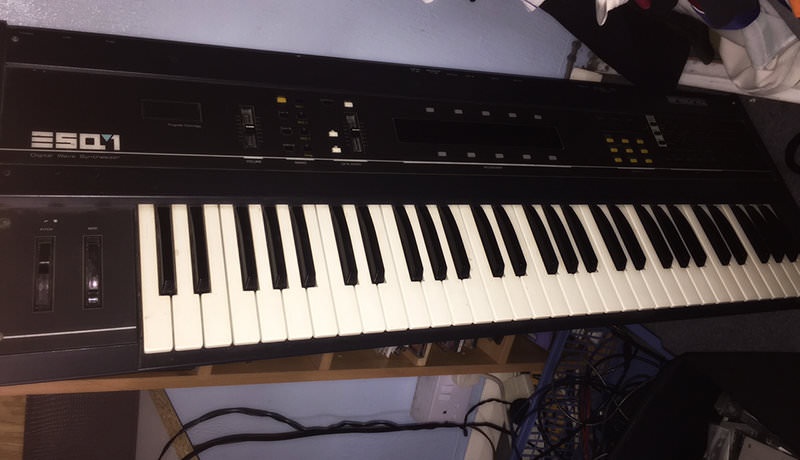 Ensoniq ESQ1
I bought this off EDMX in 2007 for about £50 I think, because he had two of them. It was my mainstay synth from around 2007-2009, but then the memory battery died and I lost all my patches, so I gave up.
When I was well into it I used it on almost everything, a favourite of mine being this track:
… And this one:
Sequencing on it did my head in, so I used to sequence on Ableton then MIDI it into the ESQ1 and use it as a sound bank. Lots of fun was had with this synth. I might not use it ever again, so I keep it for nostalgia's sake.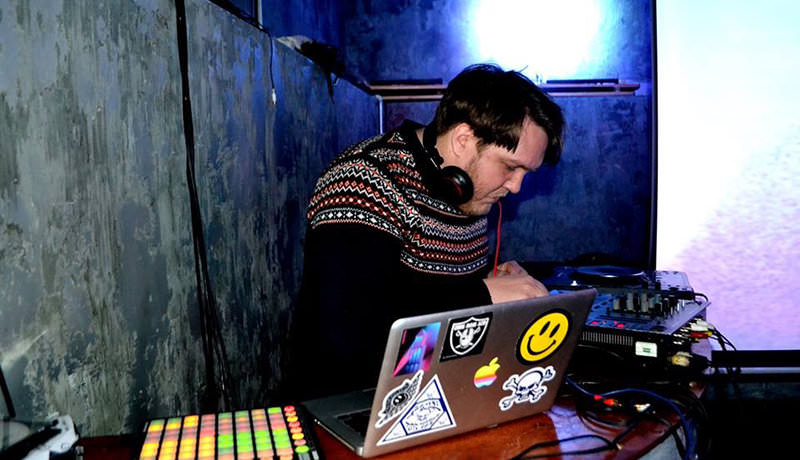 MacBook Pro
My laptop. I use it for Ableton, for live sets and mastering and editing tracks, plus everything else. Everyone probably has one so I don't need to talk too much about it but I will talk about how I make tracks.
I use Audacity to record my tracks, which are all recorded live then edited (always in one take) and then put into Ableton, then stuff is added that I can't be bothered to do in the 'live' take.
In a live gig, Ableton just has stems – usually audio samples like the RoboCop samples in 'Acid 209', for instance, plus longer samples that I can't put in my MPC 1000, drum loops and sometimes full tracks (tracks are usually played when I need to switch banks on the 303).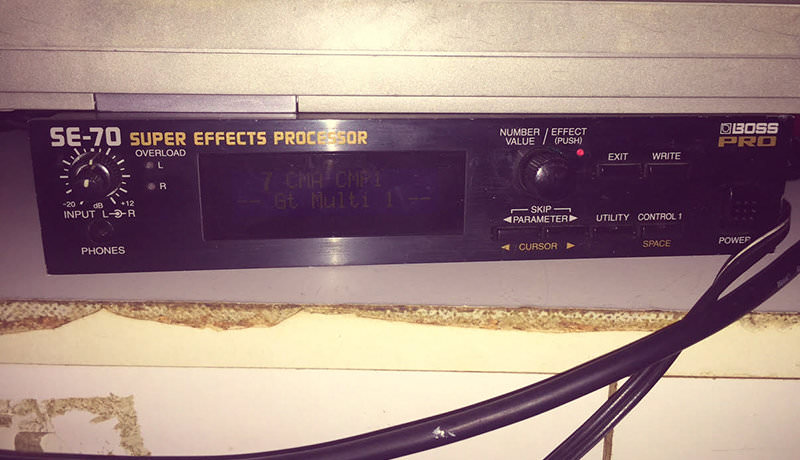 Boss SE-70 FX Processor
I could pretty much do with about 6 of these. It's an awesome little effects unit, full of fun reverbs, delays and flangers. I picked mine up in about 2006 for £70 from a guitar shop and still am really excited about this little box. It's been used on everything I've done since 2006 (9 years of music!). One nice example is 'Schottky Diode', a real nice effect of being able to detune.
There are four sets of delay to make a very interesting rhythm, and there are far too many examples, so I'll just leave it here.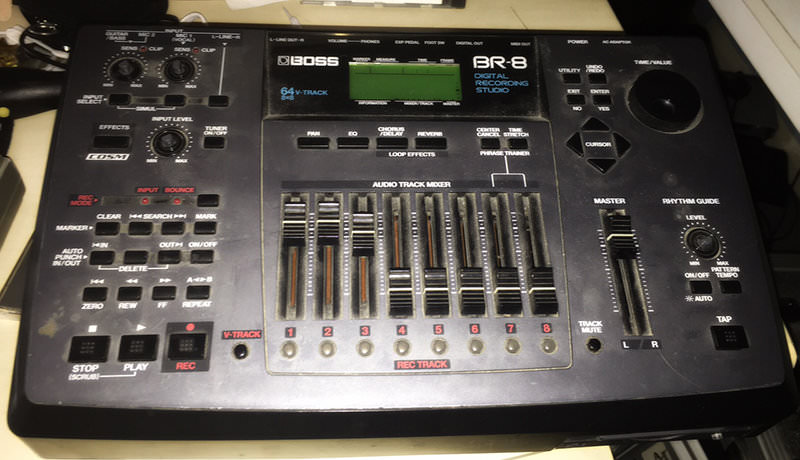 Boss BR-8 Digital 8-Track
This dirty bit of gear is a Boss BR-8 Digital 8-Track. I use it only for guitar music. My Pork album was recorded entirely on the BR-8.
It's well old, too. You record on to Zip disks, so you only have like 10 minutes to smash out a tune, which is a good way to work. It has some pretty cool effects built into it, especially for guitar and distortion. I used the reverb once on a track called 'Sub Remember', which is a 303 playing at like 40 bpm.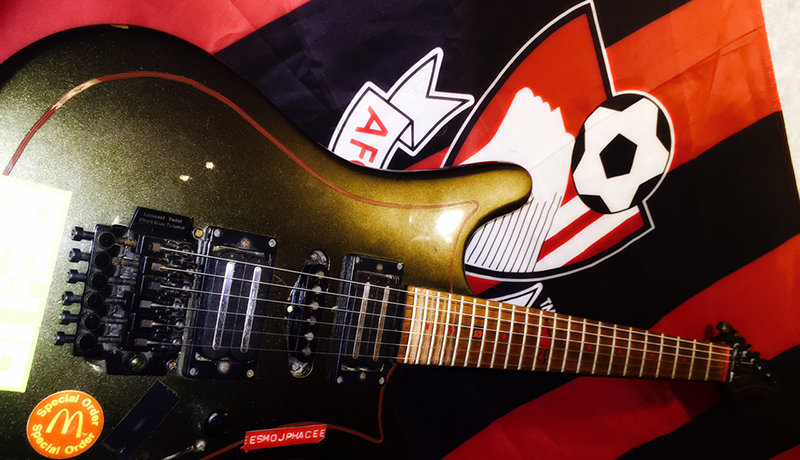 Electric Guitar
Marlin Masterclass. Looking at this guitar you'd think 80s hair metal, juiced-up power guitar with two active humbuckers and a Floyd Rose… A lot of this is true. It's a cheap Japanese-made super cock-rock guitar.
It took me thre days to set up the Floyd Rose last week. Nightmare. It was a gift from my cousin (the superstar DJ Hijack) when we were mere teenagers. I also have a Flying V but the nut broke, so it's in storage.
If you heard the Pork album I posted earlier you'd hear this guitar. I love it.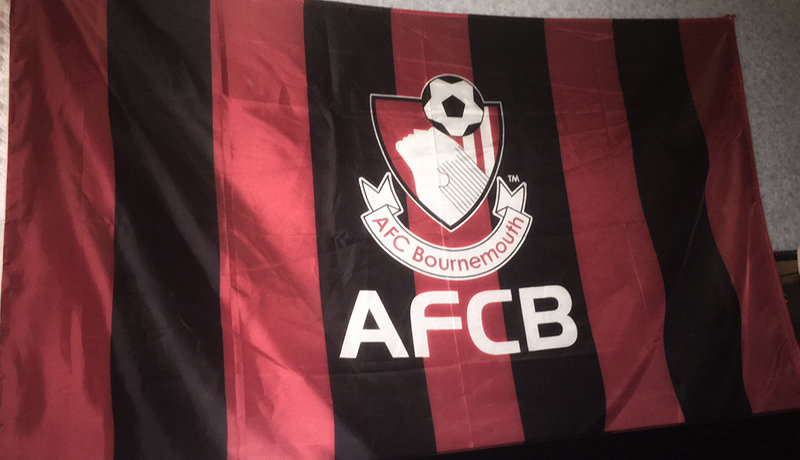 AFC Bournemouth Flag
Finally, gotta represent. No studio is complete without a football scarf or flag hanging up in it, so here is my AFC Bournemouth flag!
Chris Moss Acid's Righteous Acid Beats EP is out now on Computer Controlled Records. Find him on Facebook, Twitter and SoundCloud.
My Studio is sponsored by

Treating over 5,000 rooms worldwide annually with acoustic panels, bass traps, and diffusors from our locations in the U.S. and UK (Europe), it is clear that GIK Acoustics is the #1 choice for recording studios, listening rooms, home theatres, restaurants, churches, and live auditoriums.
GIK Acoustics not only provides the largest selection of high quality, patented, eco-friendly products at affordable prices, but provides clients with professional acoustic treatment design assistance and friendly support staff to help achieve the best acoustically sounding space possible.
Visit GIK Acoustics for more information.