For a debut album, 'Bound' by Lake Night has a host of impressive collaborators. The album features the late great Miles Cooper Seaton, Maria Uzor, Roxanne de Bastion and Leo Duncan. We asked Lake Night to introduce himself and his wide-ranging electronic sound.
Who are you?
I am David aka Lake Night, an electronic musician and producer.
Where are you from?
I was born in Northern England, lived most of my life in London and I'm now living in Tokyo.
What do you sound like?
Organic electronica, with touches of techno, ambient and contemporary classical influences.
Why should we follow what you're doing?
Because it would make me very very happy and you might like what I do.
Which of your tracks sums you up? Why?
'The Heart in Slow Motion'. It's emotive electronica that embodies my love of melody, analog synths, and strings.
It's quite a personal track, written shortly after my dad passed away. Just realising how fragile life is and that we don't have all the time in the world.
What or who is your biggest influence and why?
I think it's impossible to pinpoint what you do to a single source. Your musical tastes are constantly evolving with new sounds discovered, gradually shaping who you are as an artist.
But some of those who shaped me are Brian Eno, Aphex Twin, Laurel Halo, Jon Hopkins, and Robot Koch. All have amazing sound design underpinning music with feeling.
What have you released so far? What else have you got coming out in the near future?
I've released a few singles throughout the year leading up to my album 'Bound', which just dropped. It features guest vocals from Miles Cooper Seaton, Ten Fé, Maria Uzor and Roxanne de Bastion.
I'm currently finishing a new EP for release towards the end of the year.
How did you get into DJing/ producing to begin with?
I was obsessed with music from an early age which led me to start too many dodgy bands when I was a teenager.
As embarrassing as those bands were, it did teach me how to write music and play some instruments, which obviously helped when I came to make music properly.
After I got into electronic music, I knew that's what I really wanted to do. I got introduced to a guy who was making house tracks who showed me the basics and gave me some cracked software. I bought a computer and then began the arduous learning curve. It took me at least a year or two to make anything even half-decent or original. Then a few more to find my own voice.
What are three things on your studio shopping list?
I recently bought the QU-Bit Electronix Data Bender which is a mad, circuit bent, glitching Eurorack module. It's very well designed and excellent fun, so I'm eager to delve deeper into their range.
Surface: a physical modelling voice, with 8-voice polyphony will be great for my more ambient tracks.
Aurora: a spectral reverb that sounds lush on their YouTube videos.
Bloom: a fractal sequencer that can generate and mutate infinite melodic offshoots from your initial sequence. I love just noodling and seeing what happens and this seems perfect for those "happy accidents" as Bob Ross would say.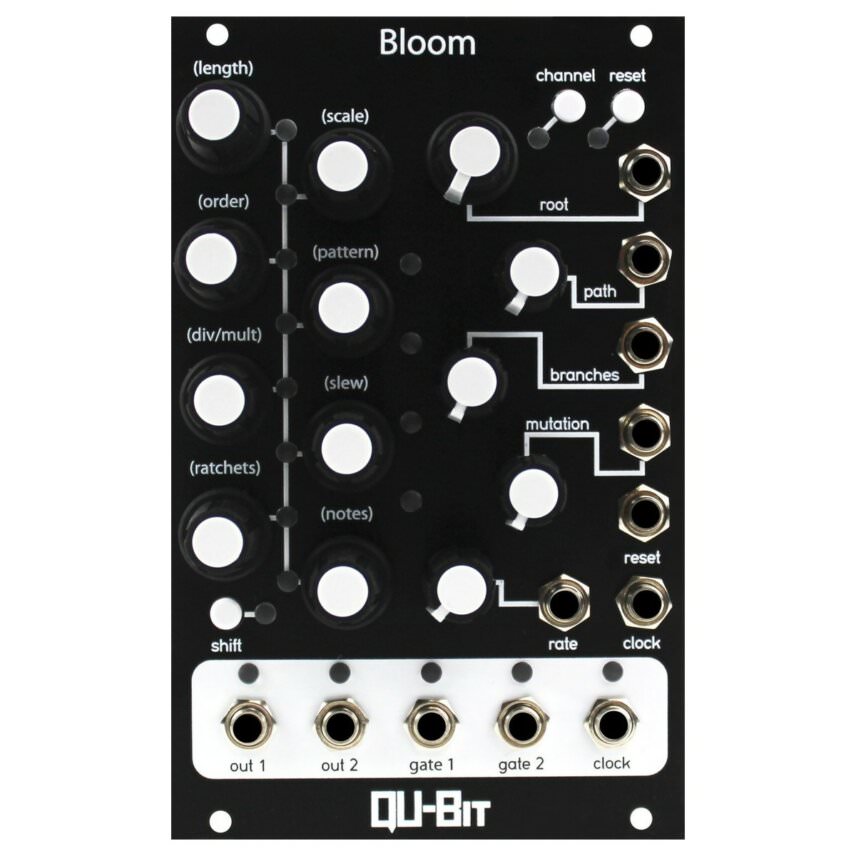 Who or what have you sacrificed for your art?
Time with people I love and too much money to think about without getting sad.
Where can we hear your music?
Bandcamp and all streaming services.
What one song would feature on the soundtrack to your life?
Brian Eno – 1/1 (From Music For Airports 1)
What motivates you?
Creativity and other peoples art. From music to film, to painting, it all feeds my brain with ideas and inspiration. I love learning about others' creative processes and working out how their approach could lead to a new tangent for me. It makes me want to get better at what I do.
Tell us an interesting fact about yourself.
When I was a small child, I was kicked by a horse so hard I almost fell down a ravine. I hate horses.
Complete this sentence: At heart I'm just a …
Human pyrotechnic..
What's the best bit of advice you've received?
Bit of a cliché but stay true to yourself. Otherwise, any success will feel hollow and any failure will be filled with regret
Where will you be in five years' time?
Hunched over a massive Eurorack system, performing at the Royal Albert Hall.
Lake Night's debut album 'Bound' is out now on Bad Life. Listen on Bandcamp.
Follow Lake Night on Instagram.