With a nasty addiction to modular synthesis and an EP out featuring a remix by Matrixxman, we asked David Castellani to introduce himself.
Who are you?
My Name is David Castellani and I am an electronic music producer with a nasty addiction to modular synthesis. I also co-run the clothing brand, After Infinite, with my girlfriend, Brittney, and am in the works of launching a Eurorack company named Anti-Kulture.
Where are you from?
I was born in Italy, lived in Chicago for 20+ years and now live in Los Angeles. I find myself at home both here in the States and in Europe.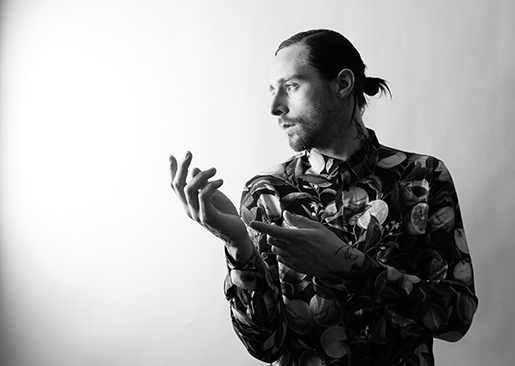 What do you sound like?
Like an intersection where fluttering oscillators and resonant filters collided with a rolling drum line – all while under the influence of psychedelics.
Why should we follow what you're doing?
If music is a daydream, I will help take you away from your monotony and help fill your ears with color.
Which of your tracks sums you up? Why?
I think Alpha Gamma on my debut solo EP does a good job of expressing how I feel inside. The mixture of the mood and detail in that track are great representations of the way I view myself
What have you got coming out in the near future?
The next thing I have lined up is the release of a video shoot performance I've recently recorded. We put a lot of energy into this production and am very excited to get it out to the world.
What have you released so far? What else have you got coming out in the near future?
I've recently launched my own record label, Noetic, which has debuted three original EPs including some prime remixes by Redshape, Matrixxman & Voiski. Plenty more music is en-route, but nothing I can chat about just yet.
What or who is your biggest influence and why?
My family is definitely my biggest influence. They are the reason I am who I am and that I can get to where I am going. I do it all for them.
How did you get into DJing/ producing to begin with?
I went to a sound engineering program after high school and quickly got into production. This was over 20 years ago. From there, DJing just came as a natural step.
What are three things on your studio shopping list?
1. Strymon Starlab
2. Udo Super6
3. Every Eurorack module ever made
Who or what have you sacrificed for your art?
I sacrifice a part of myself every time I make a track, slowly unravelling my inner being and meticulously weaving it into my sound
Favourtie place to play to so far?
We used to throw boat parties on the Chicago coast line during the summers. It's a magical place to enjoy dance music.
Where can we hear your music?
You can find me on Soundcloud below, on Beatport or Spotify.
What one song would feature on the soundtrack to your life?
I'd like to choose 'When The Levee Breaks' by Led Zeppelin. Amazing song.
What motivates you?
Love, other people, synthesizers, technology, animals, science, travel, film, learning & teaching.
Tell us an interesting fact about yourself.
I taught at Columbia College in Chicago and at inner-city elementary schools for many years.
Complete this sentence: At heart I'm just a …
Pasta addict. No joke.
What's the best bit of advice you've received?
Don't settle for your first idea. Take the time to reflect deeply and search for the best you can be.
Where will you be in five years' time?
Buried in music, family, pasta and dumbfounded at the wonder that surrounds me.
David Castellani 'Electrochemical EP', with a remix by Matrixxman is out now. Listen on Beatport.
Follow David Castellani on Instagram.