We sat down with Fabian Appolaire aka TAOS ahead of his release 'Reflections' on Pont Neuf records.
Who are you?
I'm Fabian Appolaire aka TAOS which is also my middle name. I used to play drums when I was a teenager. I love Black music (soul, jazz, hip hop, funk, house & techno). I discovered electronic music at 16 and I am now 27.
Where are you from?
I am from Issy-les-Moulineaux a French town in the Paris suburbs. I am also a resident at Villette 45 studio held by the mastering engineer Mathieu Berthet. It is in the northeast of Paris where cool crews are evolving (Dko, Discomatin, Aurèle and… of course my Pont Neuf Records family).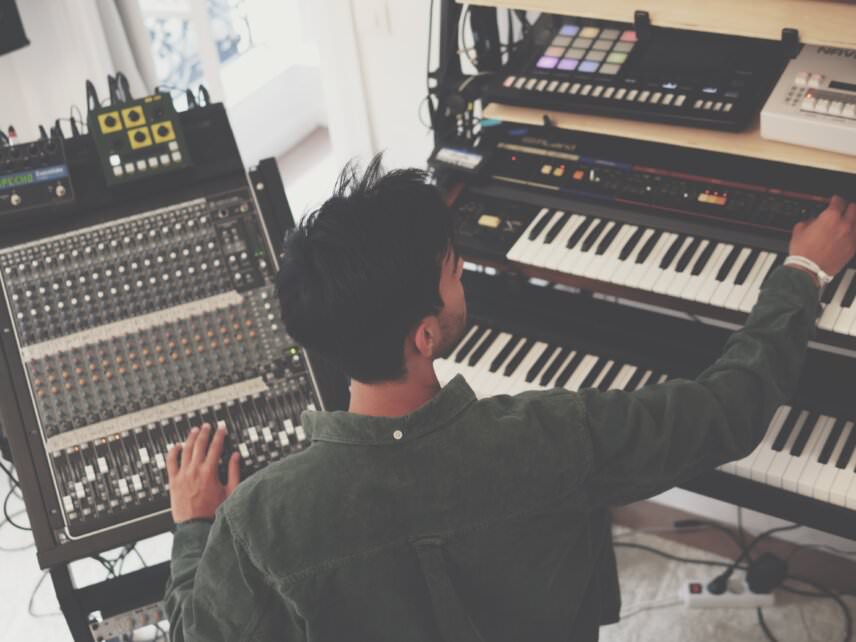 What do you sound like?
I sound like a mix between house music, ambient electronica, abstract hip hop, acid-jazz broken beat, add a little pinch of funk, soul and big respect for indie rock.
Why should we follow what you're doing?
My project is made of homegrown organic music I tried to make from the heart. From the ideas laid down on my keyboard day after day, to the wonderful singers recorded, from the electronic instruments which are mainly analog loved synths and to the sound processing made with the top-notch engineer and pieces of gear from Sodasound Studios. It's like a meal where you know the ingredients have come from local farms. No additives.
Which of your tracks sums you up? Why?
I would say "Souvenirs". For its mystic electronica vibe with a hip-hop intention concluding with some loud Juno 6 arpeggios. So, a kind of extraversion by an introvert.
What have you got coming out in the near future?
My first album is coming out on Pont Neuf Records! It features some great singers and musicians.
What or who is your biggest influence and why?
My biggest influence would be Thom Yorke. I love his sense of sincerity, authenticity, and simplicity you can feel in his music.
Some music pieces are so complex you need a PhD to write them. With Yorke's music, it's sometimes only four chords, but everything is there. The complexity of being simple but still relevant is definitely a challenge. 
How did you get into DJing/ producing to begin with?
I began producing first with a looper pedal. I used to use it to record my electronic drums and my brother's cheap Casio keyboard when I was 14.
Then I went to the FNAC to buy my first DAW software "Samplitude Music Studio" at 15. I discover DJing with my friend Cosmonection with whom I had a duo with back then.
We did our first DJ "gigs" at 17 in the basement of some high school friends with some crappy computer speakers and "cheap vodka" kind of high school parties vibe…
What are three things on your studio shopping list?
I would love to buy the new LXR-02 drum synthesizer from Erika Synths x Sonic Potions. It sounds so futuristic.
Otherwise, I definitely want and need an H3000 Harmonizer from Eventide. It is a 1980s digital sound processor with such warmth… I recently bought a Prophet 5, a synth I've been dreaming about for a long time, with all my savings.
Who or what have you sacrificed for your art?
I mainly sacrificed sleep because I always wanted to keep a balance between, work friends, music etc. I disappointed a few people from being sometimes too much focused on music projects. I realized it but am working on it.
What's been your favourite place to play so far?
I would say the Concrete for my first EP released party with Neue Grafik and K15. I had been so often to this place as a clubber and it influenced me a lot. Unfortunately, it's now closed but it was/is legendary and will be forever in our hearts.
What one song would feature on the soundtrack to your life?
I guess with this autumn vibe it would be this one-minute track "3 AM" from Thundercat. The lyrics really resonate with me.
What motivates you?
I think my motivation comes from the personal gratification of putting sounds together. I get a lot of energy from people connecting to their emotions, ideas and storytelling. I try to infuse all of that in my music.
Tell us an interesting fact about yourself
I have actually another alias in a totally different musical world: "Saudade" which is a minimal house project. I am currently working on a dawless analog live set.
Where will you be in five years' time?
Above all, I really want to master my sound and to find something more personal through the hybridization of my influences. I'll be trying to push the envelope as far as I can with the means available.
Taos Reflection is out now on Pont Neuf. Find Taos on Instagram.
📷  Thomas Brandy